Maud Aubrey (Miner) Atkins
(1869- ? )
Maud Aubrey (Miner) Atkins was born on Sept. 30, 1869 in Lewis Center, Delaware County, OH, the daughter of Eli B. and Mary Lovenna (Olney) Miner.
As a young woman, she would have moved around frequently with her parents to places such as Pierceton, IN (1870-1873), Plymouth, IN (1873-1875), Warsaw, IN (1875-1876), and Knoxville and Sweetwater, TN (1876-1906).
On Dec. 8, 1891, when she was age 22, Maud married Elijah L. Atkins (1855- ? ). Elijah was a native of Tennessee, and was 14 years older than his wife.
Circa 1900, when the federal census was taken, Maud and Elijah resided with her parents on Laurel Street in Knoxville, Knox County, TN. He worked as a dealer in a dry goods store, while she is listed as a school teacher. At that time, after eight years of marriage, they had not had any children.
The Atkinses likely separated in the middle of the decade between 1900 and 1910.
When the census was enumerated in 1910, Elijah was listed as a boarder in the Laurel Street home of George W. Burns. He is recorded as being "married" and as a bookkeeper in a clothing store in Knoxville.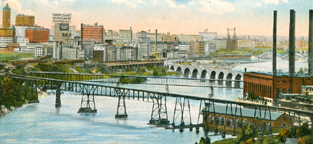 The milling district of Minneapolis, in the early 1900s
The same 1910 census shows Maud living in her parents' household in Minneapolis, Hennepin County, MN, where they had moved in about 1906. She was marked as "divorced" and as a school teacher.
Maud taught in the Madison School in Minneapolis.
Maud's father died in 1913, and so she continued to live with her widowed mother -- who suffered from facial cancer -- for many years. The 1920 census shows them residing together on Clinton Avenue in Minneapolis. Also making their home there were Maud's widowed aunt, Eva Farnsworth, and lodger Rosa Cook. While Maud is shown to be "married" on this census, no husband is marked as being in the household.
In 1925, Maud's mother died, and Maud's fate after that is unknown.
Copyright © 2007 Mark A. Miner