As a young girl, Jennie moved with her parents to a farm near Lafayette, Tippecanoe County, IN, which is where she may have met her future husband. Later, the Miners migrated again to Missouri, with Jennie apparently in tow. While the rest of her story is not proven with precision, the circumstantial evidence is strong, and follows here.
At age 18, Jennie married Civil War veteran Jeptha M. Lame (1843-1880), son of Isaiah Lame. The ceremony took place in September 1872 in Lebanon, Boone County, IN. Jeptha was 12 years older than Jennie. He stood six feet tall and had a dark complexion.
Jeptha was a farmer who as an 18-year old resided near Thorntown, Boone County, IN. During the Civil War, and eager to join the fray, he went to nearby Lafayette, Tippecanoe County to enroll in the U.S. Army on Oct. 23, 1861. He was assigned the rank of Private in the 40th Indiana Volunteer Infantry, Company K.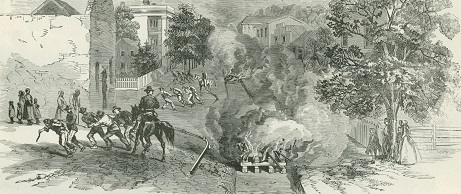 Union troops destroy the railroad at Jonesboro, where Jeptha was wounded
Jeptha and his regiment saw action in Georgia. On about Sept. 1, 1864, he was wounded by a gunshot in battle at Jonesborough (today "Jonesboro"), GA. The enemy musket ball struck his left shoulder and cut through his upper body toward his right upper back, where it lodged. He was taken to Tennessee where he was treated for 10 days in a field hospital in Chattanooga, and the bullet was extracted. He then was transferred to the U.S. Hospital No. 19 in Nashville, where he remained for two more weeks.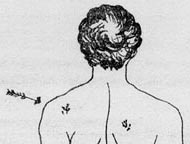 Surgeon's sketch of
Jeptha's Civil War wound
A physician's sketch, showing the entry and exit points of the musket ball, is seen here.
Describing the wound, Jeptha later said it "causes almost entire loss of use of left arm and great weakness of back, preventing to a great extent [my] performance of manual labor."
At the expiration of his two-year term of service, Jeptha was discharged on Jan. 11, 1865. In August of that year, Dr. M.H. Bonnel, a physician examining Jeptha, stated that "the wound is still open, perhaps will heale."
After returning home, Jeptha filed a petition to receive a pension from the federal government in compensation for his wartime wound. The petition was approved, and on Feb. 5, 1866, he received his first monthly check of $8.00. The following year, the pension was reduced to $6.00 monthly, and again in 1873 it was lowered to $4.00. In 1874, it was increased again to $6.00 monthly.
By 1873, the newlyweds had migrated to Missouri, where they resided in Butler, Bates County. A year later, on Aug. 10, 1874, son Charles Raymond Lame was born. By 1878, the Lames had moved again, to Jefferson, Cole County, MO.
A surgeon examining Jeptha in 1874 wrote: "The shoulder droops, and is much weakened, and the nerves of the spine are injured to such an extent as to affect the left side from the neck to the small of the back -- and at times prevent him from performing any labor whatever." When checked immediately after the war, Jeptha weighed 144 lbs., but over the years, he regained weight and by 1878 was up to 165 lbs.
Jeptha committed an act of manslaughter in the mid-to-late 1870s, in which he was found guilty and sentenced to a seven years' sentence in the Missouri Penitentiary at Jefferson. Without benefit of a divorce, Jennie moved to Danville, near Bloomington, IL. At the age of 21, on Feb. 3, 1876, she married again to George W. Reynolds ( ? - ? ). At the time, he was a prisoner in the jail at Danville. Reported the Bloomington Pantagraph, "George Reynolds, a prisoner in the calaboose, and Jennie Lame, were married on Sunday afternoon. After the ceremony Mr. Reynolds was taken back to his quarters, and Mrs. Reynolds returned to her home."
It's believed that George also was a Civil War veteran, and a fellow member of Jeptha's regiment, the 140th Indiana Volunteers.
Adding more to the bizarre story, by 1879, George must have discovered that Jennie was still legally wedded to her first spouse. He sued her for divorce in Supererior Court Lafayette, IN, and she in turn sued Jeptha for divorce, in the Circuit Couirt, also in Lafayette. She petitioned the court for custody of her son and for a cash settlement of $2,000.
The tale turned into national news. On Jan. 20, 1880, the Burlington Free Press, Vermont Watchman and State Journal and Vermont Chronicle, all in Vermont, reported that "Two divorce suits are pending at Lafayette, Ind., in which the same woman is plaintiff in one and defendant in the other... Mrs. Lame and Mrs. Reynolds being the same person."
The news also was published in the Pittsburgh Post-Gazette, stating that "There are thirteen new divorce cases docketed in the Tippecanoe County Courts, and among the number there is one noticeable circumstance which has not, perhaps, a parallel in the history of Indiana -- that is, where a woman is at one and the same time both a plaintiff and defendant in a suit for divorce... Ohio may beat Indiana in the number of great men in office and out, but when it comes to getting up in diforce muddles the Hoosiers are certainly one ahead of the Buckeyes."
Jennie's case against Jeptha was dismissed, with Jennie ordered to pay costs, with the news reported, among others, in the Chicago Tribune. By that time, Jeptha already was dead.
Jeptha suffered from heart disease, which led to his death. He passed away from its effects on May 30, 1880, at Jefferson City, MO. No obituary was printed in the Butler newspaper, according to on-site research by family members in 2009.
After that, Jennie's fate is unknown, lost in the mists of history.
~ Son Charles Raymond Lame ~
Son Charles Raymond Lame (1873- ? ) was born in about Aug. 1873. He was just eight years of age at the time of his father's death. The underage boy was assigned a guardian -- his grandfather, Isaiah Lame ( ? -1884), of Danville, Vermilion County, IL, and later of Bennett, Lancaster County, NE.
In 1884, Isaiah signed an application asking the federal government to award Jeptha's pension to the boy. Ruth (Calvert) Lame, Isaiah's wife, signed the document as a witness. When Isaiah died that same year, the legal custody of the Charles was taken over by his uncle, Isaiah Hickman Lame (1854- ? ).
According to family lore, Charles resided with his uncle Isaiah until age 18, when he "left Nebraska and the sorghum molasses making business that the family had going." Charles may have felt he had escaped the world of sorghum molasses, but "after trying several other things, and on his second marriage with the kids coming, he and his wife started their own molasses making business in Louisiana, Pike County, MO early in the century."
At the age of about 23, in 1896, Charles wedded his first wife, 16-year-old Margaret J. "Maggie" Brownfield (Aug. 1883- ? ). They produced an only son, Raymond W. Lame.
The Lames moved from Missouri to a home in Mexico, Audrain County, IL, where circa 1900 he earned a living as a hotel cook. The marriage ended sometime during the decade between 1900 and 1910.
Charles' second wife was 27-year-old Martha Frances "Mattie" Doyle (May 2, 1884-1963), daughter of James and Martha (Jackson Doyle of McCune Station, Pike County, MO. The wedding took place in about 1901.
They produced seven children, among them Ruby M. Rubemeyer, Roy Lame, Ruth Capps, Hurley Guy Lame, Howard Lame, Laura Leona Buchheit and Leonard Lame.
By 1910, the Lames had relocated to Louisiana, Pike County. Their home that year was along the Louisiana and Ashley Grove Road, and Charles labored as a farmer.
Charles' fate is not yet known. Sometime between 1917 and 1930, Mattie married again to Andrew John Capps (1868- ? ). The 1930 federal census shows Mattie and John together with four of her Lame children in Buffalo Township, Pike County. Circa 1948, Mattie relocated to Hannibal, Marion County, MO, where she resided at 700 Center Street.
As her health failed, Mattie was admitted to Levering Hospital in Hannibal, where she died from pulmonary tuberculosis at the age of 79 on July 29, 1963. Her daughter Ruby was the informant for the death certificate. Interment was in Riverview Cemetery in Louisiana, MO.
Son Raymond W. Lame (1898-1925) was born on Jan. 30, 1898 in Mexico, Audrain County. He married Edna ( ? - ? ). Their home in 1925 was in Spencer Township, Ralls County, MO. Tragically, on Aug. 29, 1925, Charles was killed in an automobile accident at the age of 27. His remains were placed into repose in Mexico Cemetery, with Margaret Roberts of Mexico signing the official Missouri certificate of death.
Daughter Ruby Mildred Lame (1903-2004) was born on May 26, 1903. In 1919, when she was age 15 or 16, she wedded William Theodore Rubemeyer Sr. (May 14, 1901-1963), a native of Fredericktown, Madison County, MO and the son of Jasper and Hattie (Young) Rubemeyer. They dwelled in Louisiana, MO. She was a talented musician, playing the piano and accordion. The couple produced these known children -- Willella I. Rubemeyer, Virginia Ruth Triplett, Mary Frances Cole, Naomi Gottman, William Theodore Rubemeyer, Raymond Rubemeyer and Cleo Ransdell. Sadly, their eldest daughter died at about the age of one in 1921. William passed away in 1963. Ruby lived as a widow for another four decades. She reached her 100th birthday in May 2003 but only lived for another eight months and died on Jan. 23, 2004.
Granddaughter Virginia Ruth Rubemeyer (1923-2018) was born on May 16, 1923. She married Charles Forrest Triplett ( ? -1979). He had been married previously and brought two sons to the union -- C. Robert "Bob" Triplett and Edward "Eddie" Triplett. The couple bore one son of their own, Forrest Glenn "Skeeter" Triplett. The remained together for 37 years until his death in 1979. Virginia survived her husband by 39 years and endured the untimely passing of 56-year-old son Forrest in Feb. 2000, as he was on a wait list for a heart transplant. She supported herself during those years as a bookeeper for Trost Auto Parts. She was a member of the First Christian Church. Reported a newspaper, "Virginia's life was full of family, friends, and faith. She loved spending time surrounded by loved ones, telling stories and sharing laughs. Virginia enjoyed jazz and Dixieland music and attended many concerts at the Apple Shed in Clarksville, dancing the night away. She was an avid reader, loved history, and always stayed engaged with current events. Virginia had a special fondness for dolls and built up a large and varied collection over the years; the grandchildren spent many hours exploring her doll room. She also enjoyed refinishing antique furniture and was skilled in the art of caning chairs. She found a love of travel in later life, visiting her grandkids in multiple states and taking a tour of England. Virginia was also known for her cooking and baking; family and friends have many fond memories of time spent at her kitchen table." As a resident of Maple Grove Lodge, she died at the age of 95 on Nov. 4, 2018. Burial was in Riverview Cemetery in Louisiana.
Granddaughter Mary "Frances" Rubemeyer (1925-2002) was born in 1925. On April 12, 1944, at the age of about 19, she wedded Oliver William "Ollie" Cole (Sept. 21, 1922-2009). The nuptials took place in Louisiana, MO. They were the parents of Sharon Jean Blake. Oliver served in the U.S. Coast Guard for four years. He worked for Harbison Walker Refractories in maintenance capacities for 38 years, with retirement in 1984. They belonged to Southside Baptist Church in Vandalia, and he was a member of the Masons lodge in Vandalia, Ralls County. He like to camp, hunt and fish as well as search for Indian artifacts. Sadly, Frances passed away on Nov. 30, 2002. Oliver outlived her by a little more than six years and succumbed on Jan. 18, 2009. They rest in Vandalia Cemetery in Vandalia, Ralls County, MO. Sadly, their daughter Sharon (1946-2014) passed away in Santa Fe, Monroe County, MO on Christmas Eve 2014.
Granddaughter Naomi "Hoot" Rubemeyer (1929-2018) was born on Aug. 26, 1929 in Louisiana, Pike County. At the age of 17, on March 14, 1948, she was united in holy matrimony with Albert Lee Gottman (July 7, 1928-1994), son of Russell and Lora Gottman. Their marriage lasted for 46 years. They lived in or around Hannibal, Marion County, MO and were the parents of Allen Gottman and Janet Hurst. For 53 years, the Gottmans owned and operated the Swan and Gottman Service Station, with their son Allen joining the business at some point. Naomi worked in the family company for more than half a century, providing secretary and bookkeeping services. They were members of Clover Road Christian Church. A newspaper once said of Naomi that she "loved working for the betterment of Hannibal. In particular Naomi loved Hannibal's Main Street and she always supported the betterment of Market Street, the location of the family's established business. Naomi loved the arts, she enjoyed jazz and Dixieland music and liked to watch live theater performances. An avid reader, Naomi enjoyed books, collected antique dolls and was a former member of the Mark Twain Chorale. Naomi was civic minded and was actively involved in many organizations and groups of over the years. Some of Naomi's community involvement included: past president and former director of the Hannibal Arts Council and past president of the Hannibal Chamber of Commerce, where she was the first woman elected to this position. Naomi also was awarded the Hannibal Chamber of Commerce Pace Setter Award. For many years Naomi served as a Chaperone for Hannibal's Tom and Becky Program, she was also a Torch Bearer for the United States Olympic Torch in Hannibal, a founding member of the Great River Jazz Society, a former member of the Salvation Army Board, a former board member of the Mark Twain Association for Mental Health and a former member of the Fannie Griffen Art Club." Sadly, Albert died in Jan. 1994. Now widowed, Naomi lived for another 24 years. As a patient in Luther Manor Nursing Center, she passed away in Hannibal at the age of 89 on Oct. 4, 2018. Interment was in Hannibal's Grand View Burial Park, with Rev. Tim Goodman leading the funeral service.
Grandson William Theodore "Bill" Rubemeyer Jr. (1938-2009) was born on May 18, 1938. In 1956, when he was 18 years of age, he was wedded to Elaine Yvonne Saint-Dizier (April 28, 1935-2013), a native of Toul, France and the daughter of Paul and Paulette (Roth) Saint-Dizier. After moving back to the United States in 1958, they made a home in Frankford, MO. William died at the age of 70 on May 7, 2009. He rests for all time in Riverview Cemetery in Louisiana. Elaine followed him into death on July 15, 2013 as a patient in Missouri Baptist Hospital in St. Louis.
Grandson Raymond "Mick" Rubemeyer (1942-2001) was born on May 27, 1942. He was united in holy matrimony with Sharon Jean Trower (1959-1996). They were the parents of Meredith Rubemeyer and Donnie Rubemeyer. Sadness enveloped the family on Sept. 3, 1996 when Sharon succumbed at the age of 37. Her death occurred in Columbia, Boone County, MO. He dwelled in or around Ralls County, MO. On March 2, 2001, he passed away at the age of 58. They rest in Salt River Cemetery in Saverton, Ralls County. Inscribed on his grave marker are the words "Loving husband and father, friend to all," and on hers are "Loving wife and friend to Mick, loving mother of Meredith and Donnie."
Son Roy A. Lame (1906-1982) was born on Oct. 22, 1906 in Louisiana, Pike County, MO. In 1927, at the age of about 19 or 20, he was joined in wedlock with Mamie "Ruth" Stone (April 16, 1911-1981), a native of Pike County and the daughter of Olie Monroe and Mamie J. (Foster) Stone. They produced a son, Milburn Leroy Lame. Ruth and Roy died a year apart. She passed first, in Oct. 1981, at the age of 70. He outlived her six months and entered eternity on April 1, 1982. They are buried together in Riverview Cemetery in Louisiana.
Grandson Milburn Leroy Lame (1928-2006) was born on Aug. 10, 1928 in Louisiana, Pike County, MO. At the age of 26, on May 28, 1955, he married Bridget Morrissey (Feb. 26, 1924- ? ). He was a veteran of the U.S. Army. On April 25, 2006, at the age of 77, Milburn died in Pontiac, Livingston County, IL. He rests in St. Marys Cemetery in Pontiac.
Daughter Ruth E. Lame (1908-2004) was born on July 5, 1908. She was united in matrimony with Lloyd Capps (1896-1984). They made a home in Louisiana, Pike County, MO. Lloyd passed away in 1984. Ruth survived him by two decades. She died on Feb. 6, 2004. Burial was in Riverview Cemetery in Louisiana.
Son Hurley Guy Lame (1910-2009) was born on July 19, 1910 in Louisiana, Pike County, MO. At the age of 11, he began working at two local dairy farms and at age 19 as a laborer in a nursery. While in St. Louis on March 16, 1935, he was joined in marriage with Anna "Elizabeth" Travis (Aug. 30, 1914-2007), daughter of Thomas Wade and Nora Catherine (Posyer) Travis. Their union endured for 72 years until the separation of death. They were the parents of a son, Kenneth Dale Lame. For two decades, he was employed by Hercules. The Hannibal (MO) Courier Post once said that Hurley "was kind and decent, an honorable and gentle man in every sense. He worshipped his Lord every day, he loved and provided for his family, and he adored his grandchildren and great-grandchildren. Few things in life gave him more joy than small children. He devoted much of his time to reading and studying his Bible, and actually wore out several. He came of age during the Great Depression, which greatly shaped his life. He lived frugally and was never given to excess. He had an excellent memory, and was a walking encyclopedia of the history of Louisiana during the last century." Sadly, Elizabeth died on Nov. 23, 2007 at the age of 93. At the end, he was admitted to Pike County Memorial Hospital, where he succumbed at the age of 99 on Sept. 1, 2009. An obituary in the Courier Post referred to Hurley as "one of Louisiana's oldest residents." Interment was in Riverview Cemetery in Louisiana, MO, with Rev. Alfred Daves officiating. The pallbearers included K. Philip Lame, Jon Travis Lame, Charles Hults, Charles Lame, Kent Travis and Alan Akers. In an obituary, the family asked that any memorial donations be made to the Elizabeth Travis Lame Memorial Nursing Scholarship, in care of Mercantile Bank in Louisiana.
Grandson Kenneth Dale Lame ( ? - ? ) was married to Ruth "Ruthie" ( ? - ? ). They were the parents of Kenneth Philip Lame, Jon Travis Lame and Michonne Alice Hults. Ruthie graciously has provided important material for this biography. Circa 2009, their home was in Salt Lake City.
Son Howard Glen Lame (1912-1969) was born on June 10, 1912. In 1930, at the age of 17, he labored in a nursery in or around Buffalo Township, Pike County, MO. He married Edith Jones (March 9, 1915-1983), a native of Montgomery County, MO and the daughter of James Williard and Bessie Irene (Hudson) Jones. On New Year's Day 1969, Howard passed away at the age of 56. Interment was in Riverview Cemetery in Louisiana, MO. Edith survived her husband by 14 years. The Grim Reaper cut her away in 1983.
Daughter Laura Leona Lame (1916?- ? ) was born in 1916 or 1917 and appears to have been a twin with her brother Leonard. She wedded or was a companion of John Buchheit.
Son Leonard E. Lame (1916- ? ) was born on June 28, 1916 and appears to have been a twin with his sister Laura Leona. He resided in Louisiana, Pike County, MO. Leonard passed into eternity in Dec. 1968. He is in eternal repose in Riverview Cemetery in Louisiana, MO.
Copyright © 2005, 2007, 2011, 2018 Mark A. Miner