Samuel Miner was born in 1842 in either Pennsylvania, East Palestine, Columbiana County, OH or near Champion, Trumbull County, OH. (There are differing accounts.) He was one of 13 children of Joseph and Elizabeth (Forney) Miner. He was a veteran of the Civil War, and fortunately survived, unlike one of his ill-fated brothers.

Obituary, 1898
Samuel stood 6 feet high, with brown hair and blue eyes. During the Civil War, he and his brother Albert both served with the 19th Ohio Volunteer Infantry.
Sadly, his brother Albert died as a prisoner of war after incarceration in the Confederacy's notorious Libby Prison in Richmond, VA.
Samuel himself suffered from bronchitis while in the Army, and his lungs began to trouble him in January 1864, when his regiment was stationed at Strawberry Plains, near Richmond, VA. George M. Hull, sergeant major of the regiment, later recalled:
On the march to Strawberry Plains and during our stay there our men were [in] need of suitable clothing for their comfort and were poorly supplied with shoes. Many of them contracted severe colds as the weather was cold and stormy. Among those who took hard colds I well remember [Samuel Miner] as being one of their number. When we reenlisted for three years more service, [Samuel] did not reenlist as he was not in a fit condition of health. but remained behind when the Company went on furlough.... I can testify that [he] was as good a soldier as ever handled a gun...
Samuel was treated at New Hope Church in the spring of 1864 when he was sent to a field hospital.
During the Battle of Big Shanty (Kennesaw), GA on Sept. 24, 1864, during the Atlanta Campaign, Samuel was captured by the enemy. (Two years before, Big Shanty was the site of a famous Civil War escapade -- the Union Army's capture of The General railroad engine, later made famous in the Walt Disney film, The Great Locomotive Chase.)
Samuel was held as a prisoner of war at the Confederacy's other horrible prison, Andersonville. He continued to suffer from a "severe" cold while in prison and, in his own words, "have coughed more or less ever since. When I have a cold I raise a great deal of dark colored matter and mucous filled with small lumps."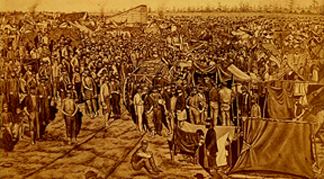 Wartime view of a group of emaciated prisoners at Andersonville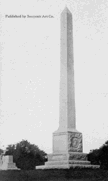 Ohio Monument, Prison Park, Andersonville
Samuel was paroled at Savannah, GA on Nov. 26, 1864, and reported for duty at Camp Parole, MD on Dec. 3, 1864. He was discharged on Feb. 11, 1865, and he returned home to the Warren area. According to neighbor John W. Masters of Warren:
He was pretty well used up when he got home in the winter of 1865. He looked pale, weak and debilitated. Coughed and complained of lung trouble and had the appearance of going into consumption [tuberculosis].
Samuel was treated by Dr. Horace D. Dillon circa 1867 and by Dr. J.R. Nelson circa 1876.
On Feb. 25, 1868, Samuel married Hannah Callahan (1848-1922), a native of Ireland. The ceremony took place in Greenville, Mercer County, PA, and was performed by W. Burk, a justice of the peace.
They had 10 children -- Charles S. Miner, George B. Miner, Sylvester H. Miner, Mary Mulvahill, Cloie Colletta Bishop, Edna J. Miner, Zell Schall, Myrtle I. Miner and Azalia Miner, and an unidentified infant. Sadly, the infant died at three weeks of age in May 1873.
John L. Smith, a longtime neighbor, once said he "knew them well and know that they were well respected people [who] reared a good family of children."
In September 1871, Samuel was elected as an officer of the I.N. Dawson Fire Company No. 1, to serve with L.F. Hardman as "axmen." The news was reported in the Western Reserve Chronicle.
Sadly, daughter Mary died in May 1891 shortly after giving birth to a son, named Harry B. Mulvahill. Grandmother Hannah "took said child in her own family and reared him as her own child and he took the name of Miner."
Samuel was a carpenter and, as listed in the 1880 census, also worked as a millwright. He and Hannah moved to Warren shortly after marriage and resided there for 60 years. They moved into their longtime home at 115 First Street in about 1870.
Said the Warren (OH) Tribune, Hannah "was a member of the Rebecca Lodge and of the Women's Relief Corp and when able was a regular attendant at the services of the Second Christian church."

Rare bird's eye view of Warren at the turn of the century
Samuel's physical problems grew worse over the years, as evidenced by "hoarseness and huskiness of voice." He was awarded a government pension as compensation for his wartime illnesses, at a rate of $14 per month.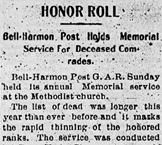 Western Reserve Chronicle, 1898
In the last three years of his life, Samuel was "an intense sufferer from rheumatism." Hannah later wrote that he was "entirely disabled from manual labor and from following his trade of carpenter, and he not only exhausted the little money he had saved in treatment for said disease but mortgaged [his] house for funds to go to bath cures..."
Sadly, Samuel died of a stroke at home on Oct. 2, 1898. The Western Reserve Chronicle in Warren said he "was stricken with paralysis, Saturday morning, resulting in his death at an early hour this morning." He was laid to rest at Oakwood Cemetery in Howland Township.
He was memorialized in December 1898, when the "Bell Harmon Post G.A.R. … held its annual Memorial service at the Methodist church" in Warren, said the Tribune:
The list of dead was longer this year than ever before and it marks the rapid thinning of the honored ranks… Adjutant M.J. Sloan, of the Post, then read the list of veterans who had died during the past year. They are: … Samuel Miner…"
At the time of Samuel's death, daughter Azalia and several other of their children resided in their home.
Hannah outlived her husband by 24 years, as well as five of her adult children.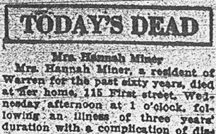 Tribune obituary, 1922
She passed away on Aug. 30, 1922. She had suffered for an unidentified illness for three years prior to her passing. "For the past three months she had failed rapidly," said the Tribune, "but during her long illness she bore her suffering most patiently."
The Tribune noted that "a large concourse of relatives and friends assembled to pay a tribute of respect to her memory." At the funeral, the Rebekkah Lodge performed a ritualistic ceremony, and Mrs. J.M. Gledhill, Miss Olive Gledhill, R.E. Gordon and Miss Lillian Clapp performed music. "The pallbearers were William Bishop, sr., William Bishop, jr., Ben Burton, Leslie Bland, William Williams, Fred Schall. Many beautiful floral offerings were placed on the casket by friends, and the body was laid to rest in Oakwood cemetery."
Samuelis mentioned in a lavishly illustrated, 2011 book about one of his cousins who also was a veteran of the Civil War -- entitled Well At This Time: the Civil War Diaries and Army Convalescence Saga of Farmboy Ephraim Miner.
The following adult children also are buried at Oakwood:
~ Son George Miner ~
Son George Miner ( ? -1904) was born in (?).
He relocated to South Carolina, where he "was connected with the Southern Cotton Oil Mills of Chester."
Sadly, he died of typhoid fever there on Aug. 9, 1904, age unknown. The funeral was held at his mother's home in Warren, and he was buried at Oakwood Cemetery.
~ Son Charles S. Miner ~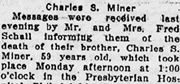 Obituary, 1928
Son Charles S. Miner (1869-1928) was born in 1869 and "reared in Warren and spent his early manhood [there]," said the Warren Tribune Chronicle.
The name of Charles' wife is not known, but their children were Dr. Allen Miner of Philadelphia and Helen Legget of Albany, GA.
Later, in the 1920s, he moved to Newberry (Augusta), GA, where he was "a member of the Chester, S.C., Masonic Lodge and was held in the highest regard in his home city in business and social life."
Charles died of pneumonia at age 59 on May 28, 1928 at Presbyterian Hospital in Philadelphia, where he had gone for surgery. His remains were returned to Warren for burial at Oakwood Cemetery, with his pallbearers including Fred McBerty, Edward Shoenberger, James S. Gildard, Frank Rowland, Thomas Wyndham and Lewis Little.
Son Dr. Allen Miner resided in Philadelphia.
Daughter Helen Miner married (?) Legget. She made a home in Albany, GA.
~ Daughter Cloie (Miner) Bishop ~
Daughter Cloie Miner (1874-1926) was born in 1874.
She wedded William A. Bishop.
In 1922, they lived in Cleveland, Cuyahoga County, OH, at 1666 East 82nd Street.
Cloie died suddenly on March 12, 1926 due to acute indigestion. She was laid to rest at Lakeview Cemetery in Cleveland.
~ Daughter Zell (Miner) Schall ~
Daughter Zell Miner ( ? - ? ) was born in (?).
She married Fred Schall and resided in Warren circa 1922-1928.
Copyright © 2003, 2005, 2006, 2009, 2012, 2019 Mark A. Miner
Andersonville prisoners image courtesy of the New-York Historical Society furnished through the Library of Congress