Home

William 'Lincoln' Miner
(1867-1937)

Linc Miner
William "Lincoln" Miner was born on Aug. 25, 1867 near Kingwood, Somerset County, PA, the son of Ephraim and Joanna (Younkin) Minerd. His father, a Civil War veteran, named him after President Abraham Lincoln.
When Linc was eight, his mother died, and was laid to rest in the J.F. Younkin Cemetery in Paddytown, Lower Turkeyfoot Township, Somerset County. Two years later, when he was 10, his father married a cousin, Rosetta Harbaugh. Linc was said to have been born slightly mentally retarded, but was able to read and write and hold a job, unlike his brother Freeman Grant Miner, who had more serious mental disabilities.
Herman Younkin, grandfather of Linc and Grant, wrote a will in mid-September 1885, and left substantial funds for the care of the boys. In his words: "Further I will to my grandchildren namely Lincoln Minard and Grant Minard each the sum of three hundred dollars to be paid to them or their Guardians as the case may be as soon as the affairs of my estate is settled up." Then in 1906, when Herman's widow Susan wrote her will, she also bequeathed funds to Linc and Grant in the amount of $25 each.
Linc is said to have once been married, briefly and circa 1908, to Alice Pearl Ohler (1888-1973). She was 21 years younger than her husband, and the daughter of Joseph and Sarah (Phillippi) Ohler of Humbert, Lower Turkeyfoot Township. He later claimed he was age 41 at the time of marriage, and she 20, which places the year at 1908.

Marriage of Linc and Pearl, and the birth of son Melvin, as documented in the 1912 book, Descendants of Jacob Hochstetler.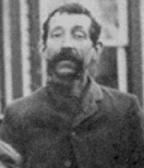 Linc, early 1900s
They produced had one son, Melvin R. Miner, born on July 6, 1910, in Humbert, Somerset County.
One of Linc's nieces recalled that Pearl "was no good, and one day when she was away from their house (down toward Humbert) Linc packed up all the household furniture onto his wagon and moved out. His wife came home to an empty house." Other sources say that it was Linc who came home to the empty house. By April 1910, when that year's census was taken, Pearl had the name "Miner," but was living with her parents in Upper Turkeyfoot, and was marked as having been married for less than a year. She was pregnant at that time, as no son is listed with her in the census. Melvin would have been born after his parents separated, and likely never knew his father.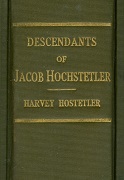 Descendants of Jacob Hochstetler
In the book Descendants of Jacob Hochstetler, published in 1912 by the Brethren Publishing House of Elgin, IL, Pearl is listed as Linc's wife, and Melvin as his son. By the time of publication, however, the marriage probably was already over.
Evidence suggests that Pearl married again within a few years to John C. Strawderman (1883- ? ) of Upper Turkeyfoot, the son of William and Sarah (Showman) Strawderman of the family of Jane (Younkin) Showman. Her young son then took the surname of his step-father and ever after was known as "Melvin Strawderman." The family is shown together on the federal census of 1920, with two additional daughters.
In all, Etta and John had four children of their own -- Etta Thomas Dushaw, Sarah Phillips, Robert Strawderman and Bessie Eutsey. By 1930, the family relocated to Grey, Jenner Township, Somerset County, where John and Melvin labored together in local coal mines. Alice later moved to Indian Head, Fayette County, and was a member of the Assembly of God Church.
Single again, and never to remarry, Linc resided in Barronville, Somerset County, and often sent penny postcards to his sister Minnie Gary as a way to keep in touch. But he never stayed anywhere very long, and seemed to thrive on travel to exotic spots.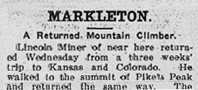 Meyersdale Republican, 1913
In July 1913, the Meyersdale Republican reported that Linc had just returned from a three-week trip to Kansas and Colorado. He claimed to have walked to the top of Pike's Peak (14,147 feet above sea level) and back again. The Republican reported:
He started the ascent with a companion at 2:25 p.m. … and reached the summit between 11 and 12 o'clock at night and saw the sun rise and also a storm raging at a lower altitude. They left at 6 in the morning and reached the foot hills at 10 the same forenoon. This makes Mr. Miner's third trip to Colo., and this time he was determined to reach Pike's Peak or "bust." A small daily newspaper, called the Pike's Peak News, is published near the summit, in which the names of tourists climbing the mountain are registered. Lincoln, remembering the fate of Dr. Cook, who claimed to have reached the North Pole but could not prove it, saw to it that his name was registered in the Pike's Peak News and brought a copy back to show that "he was thar." He was so impressed with the mountains that he now climbs one of the stupendous mountains surrounding Markleton every morning.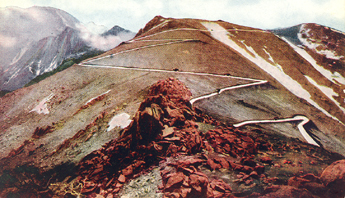 Pikes' Peak, from an old postcard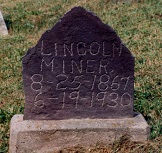 Linc's crudely lettered grave,
with a death date off by 7 years
In 1920, Linc was living with his brother Harry in Kingwood. Later in life, Linc resided with his brother John near Kingwood, but left after a disagreement with John's wife Susie.
Old family postcards show that Lincoln also traveled to Riverside, Riverside County, CA in July 1924, where he stayed at the Hotel St. George. The purpose of the trip is lost to history, but he may have gone there to work. The federal census of April 1930 shows Linc boarding at the Tetley Hotel or the YMCA in Riverside, where he lisred his marital status as divorced and his occupation as a gardener in local lawns and parks.
In the early 1930s, Linc and Grant resided together north of Kingwood. Harry "Tom" Younkin, a young cousin whose grandmother lived nearby, delivered freshly baked pies to the bachelor brothers. Tom's father, Otto Roosevelt Younkin, became president of the first Younkin Home-Coming Reunion in 1934. In fact, Linc's brother Grant was the first person to arrive at the Younkin clan's first national home-coming reunion, held at the Kingwood Picnic Grove, in September 1934.
Stricken with cancer of the rectum, Linc was admitted to the Somerset County Home and Hospital. He died there at the age of 69 on May 19, 1937, having suffered for about one year. He was laid to rest in the Younkin Cemetery in Paddytown. On his official certificate of death, he was marked as "Married" (and not "Divorced" which was an option on the document) and that his wife's name was "Pearl Ohler."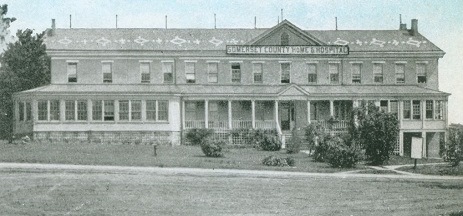 Somerset County Home and Hospital, where Linc died in 1937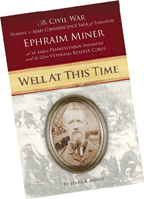 Book picturing Linc
His death was noted in local newspapers as well as in a letter from his step-first cousin (and Younkin reunion secretary) Charles Arthur Younkin to reunion president Otto Roosevelt Younkin. (Click here to see the two-page letter, dated May 29, 1937.) Later, a short article about Linc's passing was published in the inaugural issue of the Younkin Family News Bulletin, published at Christmas 1937.
Linc was buried at the Younkin Cemetery near Paddytown, in the same graveyard where his brother Grant and their mother and Younkin grandparents rest for eternity. His rough-hewn grave marker was hand-carved by George Colflesh, who felt guilty for teasing Linc and Grant during their lifetimes. Linc's stone erroneously gives his date of death as June 19, 1930 -- off by nearly seven years. Fortunately, his brother Grant's hand-carved stone contains accurate dates.
Their cousin, William Rose, who was killed in a railroad accident in 1910, also rests for eternity at the Younkin Cemetery.
Linc is mentioned and pictured in a lavishly illustrated, 2011 book about his father -- entitled Well At This Time: the Civil War Diaries and Army Convalescence Saga of Farmboy Ephraim Miner. The book, authored by the founder of this website, is seen here. [More]
Former wife Alice Pearl Strawderman spent many years in Melcroft and Indian Head, Fayette County, before moving in her final years to LaFayette Manor in Uniontown. She and her husband no doubt relished following the career of their daughter Etta Thomas Dushaw, who "was a pastor of full gospel churches near Ohiopyle for 20 years," said the Connellsville Daily Courier. John passed away on Jan. 12, 1966. Alice survived him by seven years, and died at LaFayette at the age of 84 on Feb. 12, 1973. At her death, reported the Daily Courier, she was survived by 13 grandchildren, 26 great-grandchildren and two great-great grandchildren.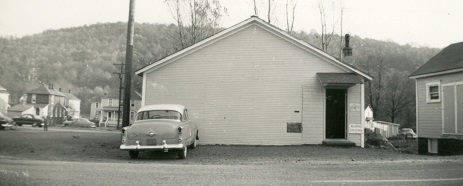 Post office in Melcroft, a town where Linc's ex-wife lived
~ Son Melvin R. Miner a.k.a. Melvin Strawderman ~
Son Melvin R. Miner, a.k.a. Strawderman (1910-1977), was born on July 6, 1910, in Humbert, Somerset County, a few months after his parents separated. He thus likely never knew his birth father, William Lincoln Miner.
After his mother remarried within a few years to John Strawderman, Melvin took the step-father's surname -- "Strawderman." By 1930, when Melvin was age 20, he lived with his mother and step-father in Grey, Jenner Township, Somerset County. There, he labored with his step-father in local coal mines.
Melvin married Estella F. Beck (1918-2013), daughter of Edison T. and Anna N. (Kalp) Beck. They resided in Indian Head, Fayette County, PA, and they had two children, Shirley Olbrysh and Merle E. Strawderman.
(In an interesting twist, Estella's brother Edson "Carl" Beck married a distant cousin of Lincoln's, Sybil Miner (1929-2006), daughter of Raymond and Rebecca [Rugg] Miner, also of Indian Head.)

Rare aerial view of Indian Head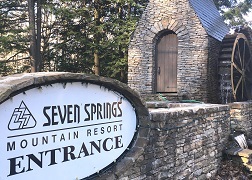 The Strawdermans' workplace

Circa 1951, Melvin made his home in Champion, Fayette County. He was a longtime coal miner and a member of the United Mine Workers of America Local 1742 and of the Melcroft Assembly of God Church. Both Melvin and Estella were employed at Seven Springs Mountain Resort, and in December 1962 he was pictured in the Connellsville Daily Courier helping to install an enlarged compressor, used to make artificial snow.
Melvin died at the age of 66 in Somerset Community Hospital on May 28, 1977. He was laid to rest in the Donegal Cemetery, following a funeral officiated by Rev. Roger Pence.
Estella outlived her husband by more than 35 years. In 2013, she passed away in the Guardian Angels Personal Care Home in Perryopolis, Fayette County. Rev. Ron Schaeffer led her funeral service, with burial in Donegal Cemetery.
Melvin's son Merle E. Strawderman made his home in Woodbridge, VA in 1977.
Melvin's daughter Shirley Strawderman married Richard Olbrysh Jr. Circa 1977, they lived in Parma, OH.
Copyright © 2001, 2005, 2007-2008, 2011, 2013, 2019-2020, 2022 Mark A. Miner