Basil A. Minerd Sr.
(1897-1981)

Obituary, 1981
Basil A. Minerd Sr. was born on Oct. 10, 1897 in Amesville, Athens County, OH, the son of Jacob and Martha "Bessie" (Buck) Minerd Jr. He had grey eyes and brown hair, and was a farmer.
Basil was married twice. On June 6, 1916, at the age of 19, he wed 18-year-old Augusta Evans (1897- ? ), daughter of Grove and Rebecca (Coen) Evans of Guysville. Rev. O.W. Smith of Guysville officiated.
Tragically, Augusta died after just a few years of marriage, sometime before 1922.
On April 10, 1922, Basil wed his second wife, Audrey Lonas (1909-1992), a native of Athens, and the daughter of Charles Otto "Ott" and Bessie I. (Carsey) Lonas. He was age 24 at the time, and she was 18. The ceremony was led by Pearl W. Helwig, a justice of the peace in Athens County.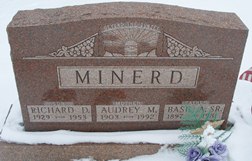 Clark's Chapel Cemetery
Their 10 children were Jean Beal Secoy, Donna France Creighton, Shirley Morris Fender, Earl Edward "Eddie" Minerd, Basil A. Minerd Jr., Charles Minerd, Roger Minerd, Gary Minerd, Richard Dow Minerd and Larry Lee Minerd.
One of their daughters recalled hearing that the Minerd family was of Cherokee and Irish descent.
Circa 1918, Basil labored for D. Evans in Guysville. In late August 1927, Audrey made news in the gossip column of the Athens Messenger when she "and children were the guests recently of Mrs. Edgar Burton" in Harmony, Athens County.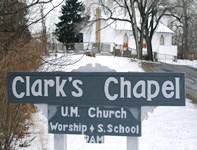 Athens County, OH
Sadly, their son Richard, a veteran of an ABN infantry regiment during World War II, succumbed at the age of 23 due to heart disease on Feb. 27, 1953, and was buried at Clark's Chapel Cemetery in Athens.
Basil passed away in 1981, at the Logan Health Care Center in Chauncey, OH, at the age of 83.
Audrey outlived him by 11 years, and died on July 30, 1992. She was laid to rest beside her husband and son Richard at Clark's Chapel Cemetery.
At the time, she was survived by 32 grandchildren and several great and great-great grandchildren.
~ Son Earl Edward Minerd ~
Son Earl Edward Minerd (1922-1996) was born in 1922 in Canaanville, Athens County, OH.
He was a U.S. Army veteran and was twice married. The first union ended in divorce.
At the age of 38, in 1961, he worked in a factory in Columbus, Franklin County, OH.
On Jan. 7, 1961, Earl eloped to Wise County, VA with 33-year-old fellow factory worker Mary (Willison) Corns (1927- ? ). Lee Stanley officiated.
Mary was a native of Pike County, OH and the daughter of Clinton and Mary May (Caldwell) Willison, and was divorced from her first husband.
They resided in Licking County, OH.
Earl died at home at the age of 74 on Aug. 29, 1996.
~ Daughter Donna (Minerd) France Creighton ~
Daughter Donna Minerd ( ? - ? ) was born in (?).
On Sept. 24, 1958, she married 24-year-old Merle Arthur France (Aug. 31, 1934-2012), son of Ivan and Ruth France of Nelsonville. They were wed at New Martinsville, Wetzel County, WV, by the hand of Rev. W.H. Sliter. At the time of marriage, both Donna and Merle both resided in Sistersville, WV.
The couple produced these known children -- Vern France, Lynn Minerd France, Gregory France, Audrey France, Michael "Mike" France and an unnamed infant daughter who died shortly after birth in February 1964 Bethesda Hospital. The baby's remains were interred in Greenwood Cemetery.
Merle served as a private in the U.S. Army
Circa 1964, their home was at 805 Shinnick Street in Zanesville, Muskingum County, OH.
Later, after a divorce, she wed (?) Creighton ( ? - ? ) and made her residence in Athens.
Merle spent his years in The Plains, Athens County. He succumbed at the age of 77 on April 13, 2012 while a patient in Riverside Methodist Hospital in Columbus. At his request, his remains were cremated and placed into repose in Clarks Chapel Cemetery. His survivors included 13 grandchildren and 14 geat-grandchildren. An obituary appeared in the Athens Messenger.
Son Vern France married Cara (?). In 2012, their home was in Athens, OH.
Lynn Minerd France dwelled in Athens in 2012.
Son Michael "Mike" France wedded Kylena ( ? ). They resided in Wilmington, OH.
Daughter Tina Marie France was deceased by 2012.
Son Gregory Allen France (1961-1986) was born on July 10, 1961. He died three days after his 25th birthday on July 13, 1986. Interment was in Clarks Chapel Cemetery in Athens County.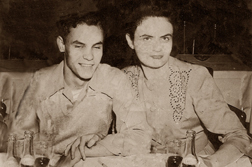 Basil and Lillian Minerd
~ Son Basil A. Minerd Jr. ~
Son Basil A. Minerd Jr. (1927-2001) was born on April 8, 1927.
During World War II, he served in the U.S. Navy.
World War II era
Basil was married twice, first to Lillian Greenberg ( ? - ? ). They are seen here.
The Minerds had three children -- Robert Allen Miner, Patricia Thomas and Richard Dean "Rick" Minerd.
After the Minerds divorced in about 1954, Basil married again and lived at Moses Lake near Spokane, Grant County, WA, with a second family of two sons and two daughters.
Lillian also married again, to Jesse Rutherford ( ? - ? ).
Basil died on Nov. 12, 2001, at the age of 74, in Washington State.
Son Richard Dean "Rick" Minerd is the retired Chief of Police in Obetz, a suburb of Columbus, Franklin County, OH, where he spent a decade in law enforcement. Earlier in his career, he worked for 10 years as a public affairs officer with the Franklin County Sheriff's Office, and was frequently quoted in hundreds of news stories in the Columbus Dispatch and on radio and television in connection with crime-fighting activities. He was quoted in Time Magazine (Dec. 15, 2003) for his work to help catch a sniper along Ohio's Interstate 270 who had gunned down numerous motorists before being captured. Rick also has been quoted or mentioned in the New York Times, USA Today and Cleveland Plain Dealer. In 1991, he appeared on a segment of television's America's Most Wanted with John Walsh to apprehend an escaped rapist. Prior to his career as a police officer, he was a radio news, sports and talk-show broadcaster with some of the most popular radio stations in Columbus -- WTVN, WCOL, WNCI and WMNI. Rick considered but did not pursue an election campaign in 2008 for the office of Sheriff of Franklin County. In 2009, he authored his memoirs, Life Is A Jukebox: Real Stories of Triumphs and Tragedies, issued by Trafford Publishing and available on Amazon.com. The volume is described as "a police chief's look back at both sides of the police tape and the unlikely circumstances that made him step from one side to the other." He also is the author of Honey, I Promise! and Deputy in Disguise. In 2013, he was a guest panelist at the national Minerd-Minard-Miner-Minor Reunion, speaking on the topic of "What's Your Legacy?"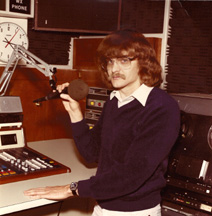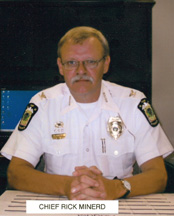 Richard Dean "Rick" Minerd in his two primary careers -- as a Columbus radio personality (circa 1984) and later as chief of police in Obetz, OH (2005). Below, Rick's books Life Is a Jukebox, Honey, I Promise! and Deputy in Disguise.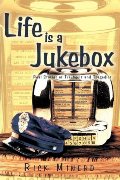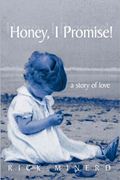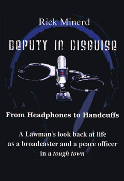 ~ Daughter Shirley (Minerd) Morris Fender ~
Shirley Minerd (1936-2009) was born in 1936.
She married (?) Morris and (?) Fender but later in life used her maiden name.
Shirley bore two children -- Ronald Morris and Debra Perez.
Said the Athens Messenger, Shirley resided in Glouster and "was a member of the Jacksonville Eagles and was an avid bingo player."
She passed away at the age of 73 on June 10, 2009. Interment was at Clarks Chapel Cemetery. At the time of her passing, she was survived by 11 grandchildren and several great-grandchildren.
Son Ronald Morris married Sue. Their home in 2009 was in Columbus, Franklin County, OH.
Daughter Debra Morris wedded (?) Perez. She lived in Columbus in 2009.
~ Son Larry Lee Minerd ~
Larry Lee Minerd (1941-1972) was born in 1941. He faced a lifetime of run-ins with the law, leading to his tragic death.
In November 1969, wanted by the Adult Parole authority in Athens, he was apprehended in Temple, NH. State troopers in New Hampshire identified him through the National Crime Investigation Center (NCIC). Extradited back to Athens County, he faced legal charges there. In the 1970s, he made his home in Columbus, Franklin County, OH.
Tragically, while in Atlanta at the age of 31, he was mortally shot by a rookie police officer in December 1972 when he held up an employment office and held a teenage girl at gunpoint as a hostage. The story was covered by the Associated Press wires and made headlines in newspapers around the country.
~ Son Charles Minerd ~
Son Charles Minerd ( ? - ? ) was born in (?).
He married Carolyn Lowe ( ? - ? ). They resided in Springfield, Clark County, OH.
The Minerds had eight children -- Terry Dean Minerd, Charles "Chuck" Minerd, Steven Minerd, Douglas Minerd, Mark Minerd, Mindy McBurnett, Ronnie Minerd and Donnie Minerd.
In 1981, Carolyn remarried to Paul Thomas "Tom" Earles (Sept. 12, 1934-2009) and continued living in Springfield. Tom died at the age of 74 on Sept. 1, 2009.
Son Charles "Chuck" Minerd was deceased by 2011.
Son Steven Minerd was deceased by 2011.
Son Terry Dean Minerd (1960-2011) was born on July 14, 1960 in Springfield. He and his wife had one daughter, Brittany Gundolf. Terry was a U.S. Army veteran and enjoyed NASCAR racing. He died on Nov. 4, 2011, at the age of 51, with his photograph and obituary published in the Springfield News-Sun. Rev. Rick Clos officiated at the funeral service.
Son Douglas Minerd wedded Paula (?) and lived in Columbus, Franklin County, OH in 2011.
Son Mark Minerd was united in matrimony with Amy (?). He dwelled in Georgia in 2011.
Daughter Mindy Minerd was joined in wedlock with Steve McBurnett and made their home in 2011 in Georgia.
Son Ronnie Minerd resided in Springfield, OH.
Son Donnie Minerd wedded Maggie (?). In 2011, they lived in New Carlisle, OH.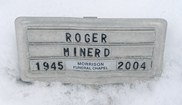 Clark's Chapel Cemetery
~ Son Roy "Roger" Minerd ~
Son Roy "Roger" Minerd (1945-2004) was born in 1945.
He and married Billie Jo Dixon Kiraly (Oct. 4, 1948-2015), daughter of Charles and Harriett Dixon and adopted daughter of Danny and Mabel Kiraly. She was a native of Hollister, OH.
The couple produced two children -- Roger D. Minerd Sr. and Brenda Moore.
After a separation, Billie Jo began keeping company with Rodney Wright and they remained together in Hollister for the next 32 years until the separation of death. She and Roger divorced in 1986, and she carried the "Minerd" name for the rest of her life. She enjoyed flower gardening, fishing, camping, raccoon hunting and watching television evangelist Rod Parsley. She and here friends Judy and Jack Hogsett frequently played cards together, and she considered friend George Hogsett as a son.
Roger lived at Glouster, where he was a member of the Glouster Eagles.
On Halloween 2004, tragedy struck. While "participating in Glouster's trick-or-treating ... his homemade 'swamp man' costume caught fire ... while he was giving out candy," said the Athens Messenger. He died of his burns on Nov. 2, 2004, at Ohio State University's Medical Center in Columbus. He was laid to rest in Clark's Chapel Cemetery.
Billie Jo passed away at Fairfield Medical Center in Fairfield, Lancaster County, OH at the age of 66 on Aug. 8, 2015. An obituary in the Athens Messenger noted that she was survived by nine grandchildren, all of them living in Glouster. Rev. John Wright led her funeral service at the Bishopville Church of Christ, with burial in Hollister Cemetery.
Son Roger Minerd wedded Misty (?) and lived in Glouster.
Daughter Brenda Minerd was married to (?) Moore at one time. In 2015, her home was in Glouster.
Copyright © 2005-2012, 2018 Mark A. Miner