Elizabeth (Minerd) Rankin Rice
(1899-1979)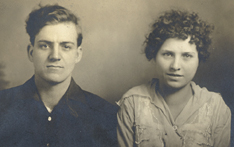 William and Lizzie Rankin
Elizabeth Virginia "Lizzie" (Minerd) Rankin Rice was born on July 9, 1899 in Coolspring or Dunbar near Uniontown, Fayette County, PA, the daughter of Charles B. and Ada (Tressler) Minerd.
On March 19, 1917, when she was 16 years of age, Lizzie married her first husband, 24-year-old Charles "William" Rankin (1893- ? ), the son of John and Mary (McLaughlin) Rankin of Dunbar. The groom was eight years older than the bride.
In 1917, the Rankins dwelled in Dunbar and in the 1920s at Hoover, Fayette County.
They had three children -- James A. Rankin, Mildred Ada Nugent and an infant boy. The baby boy died unnamed on Sept. 11, 1917, only 10 hours old, from bleeding inside his brain. He was buried in Mt. Auburn Cemetery. William's father John was the informant for the Pennsylvania death certificate, and signed his name with an "X."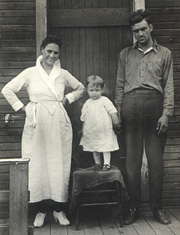 Lizzie, son James, William, 1919
Bill and Lizzie are seen here with their young son James, circa 1919. The photograph likely was taken by Lizzie's brother Frank Minerd, who was an excellent amateur photographer and took many pictures of the Minerd family during this era.
Circa 1930, the Rankins resided on Kiner Avenue near Masontown, Fayette County, where Bill worked as a machinist in a local coal mine. In 1935, their home is believed to have been Grays Landing, Fayette County. Bill was a member of the United Mine Workers of American local union 6321.
The Rankins apparently separated sometime before 1940. That year, when the federal census was taken, Lizzie headed a household with her son and daughter, living next door to her parents in Nicholson Township. John Rice, a 33-year-old Wisconsin-born road construction laborer, was a lodger in the household.
Bill boarded in 1940 in the home of Dakota (Piper) Efaw and her son Robert on North Water Street in Masontown. His occupation was recorded as "fireman - steam shovel."
Mildred Rankin Nugent
Lizzie and Bill's marriage, which had lasted more than three decades, ended with a divorce in 1948. He later married his housemate Dakota and lived with her at 231 Fairview Avenue in Masontown. He died at the age of 80 on March 3, 1974 in Uniontown Hospital. Burial was in Church Hill Cemetery in McClellandtown.
To earn financial support for herself, the single Lizzie worked as a housekeeper and was a member of the Christian Temple of God Church of Uniontown.
Tragedy struck the family in July 1946, when the Rankins' son in law Robert Nugent was killed in a coal mine accident at the Robena Mine in Carmichaels, Greene County, PA. More details are below.
Lizzie also suffered the passing of her son James, in Maryland, in 1975.

Lizzie and John Rice
At age 52, Lizzie married 44-year-old coal miner John P. Rice (1907-1992), a native of Green Bay, WI, on Nov. 1, 1951. John was a longtime laborer at United States Steel in McKeesport, near Pittsburgh, PA.
The Rices lived in Masontown, Fayette County. They adopted a daughter, Edna Wilson, who resided in Racine, Racine County, Wisconsin, circa 1979.
Lizzie died on Oct. 26, 1979, at the age of 80. At the time of her passing, she had 12 grandchildren and eight great-grandchildren. She is buried at the Greendale Cemetery in Masontown. Her obituary was published in the Masontown Sentinel.
Lizzie and John are seen here in an undated photograph, which she inscribed on the back and sent to one of her nieces. In the photo, she seems to be gesturing with her right hand.
John later married his widowed sister in law, Ida Mae (Keefer) Minerd. Her first husband, Ross Minerd, had died in 1956. She brought 14 adult children to the second marriage -- David Ray Minerd, John Frank Minerd, Charles D. Minerd, Paul Edward Minerd, Melvin Marshal Minerd, Rosalie Shields, Ruth Lesavage, Melda Metts, Frances Lilley, Ella Mae Minerd, Martha Shipley, Beverly Yauger, Gracie Bryner and Karen O'Neil.
John passed away on June 25, 1992 in Uniontown, at the age of 85. He also is buried at Greendale Cemetery.
The fate of adopted daughter Edna Wilson is not known.
~ Son James A. Rankin ~
Son James A. Rankin (1918-1975) was born in 1918.
When he was age 21, in 1940, he lived with his separated mother and was employed as a "new worker" in Nicholson Township, Fayette County.
He married Bernice K. (?) (1917-2008). They had one son, Richard A. Rankin.
Bernice was employed at House Glass Corporation in Point Marion, Fayette County for half of a century.
James and Bernice divorced, and he later remarried.
James died in Silver Spring, Montgomery County, MD in September 1975.
Bernice passed away at the age of 91 on Sept. 13, 2008.
~ Daughter Mildred (Rankin) Nugent ~
Daughter Mildred Rankin (1921-1993) was born on Feb. 4, 1921 in Hoover, Fayette County, PA.

Robert's obituary, 1946
She was united in marriage with Robert Nugent (1915-1946), son of William and Margaret (Riddey) Nugent of Lemont near Uniontown.
They had four children -- Patricia Ann Nugent, Janet Faye Bowman, Bonnie Jean Swift and Robert James Nugent. Sadly, daughter Patricia died at the tender age of two years in 1943, followed by son Robert in 1947
In 1946, the family lived in the Masonic Building on North Main Street in Masontown. Robert was employed at the time as a snapper with the Robena Mine of U.S. Steel Corporation, operated by the H.C. Frick Coke Co. in Carmichaels, Greene County, PA, the largest coal mine in the world at that time.
Tragedy struck on July 17, 1946, when he was caught in a fall of slate in the mine and killed when his neck was broken and his chest crushed in the accident. His broken remains were buried in the Masontown Cemetery, following a funeral led by Rev. Freeman Ankrum of the Masontown Brethren Church. He is one of the last known cousin to have been killed in a coal-coke-steel accident in our family, in a long, tragic string that began with one of Elizabeth's second cousins in 1884.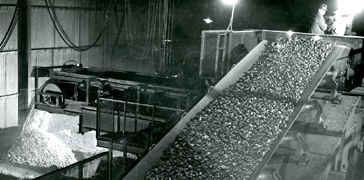 Coal fed into blending bins at U.S. Steel's Robena Mine to insure chemical uniformity needed to produce metallurgical coke.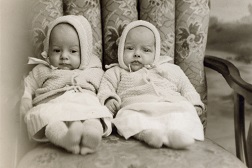 4-month-old Nugent twins Bonnie & Bobby
Adding heartache to the tragedy, Mildred was pregnant with twins at the time of her husband's death. The babies -- Robert and Bonnie -- were born on Nov. 25, 1946, four months after the accident.
They came into this world prematurely, at seven months, with Robert weighing 2 lbs. and Bonnie 1½ lbs. Remaining in her home in the Masonic Building, Mildred had her hands full with sickly newborns.
The ill-fated Robert never outlived infancy. Stricken with encephalitis (brain infection and inflammation) and pneumonia at the age of nine months and 24 days, he died on Sept. 19, 1947. His remains were placed into rest in Masontown Cemetery. A short obituary appeared in the Uniontown Morning Herald.
At some point in time Mildred had another daughter, Judith Petrock Ewing.
In May 1970, Mildred injured her ankle in an automobile accident on Route 21 near Uledi, and was treated at Uniontown Hospital.
She passed away on Sept. 20, 1993, at the age of 72, and was laid to rest beside her husband.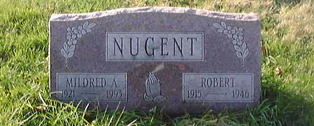 Robert and Mildred (Rankin) Nugent's grave at Masontown Cemetery
Copyright © 2000-2002, 2007-2008 Mark A. Miner