Eva Kate (Minerd) Twyman
(1894-1986)

Eva Kate
Eva Kate (Minerd) Allen Twyman was born on Dec. 4, 1894 in Dunbar, Fayette County, PA, the daughter of Charles A. and Sarah (Kincell) Minerd.
In 1910, at age 16, Eva Kate is known to have worked as a sales lady at a grocery store in Dunbar.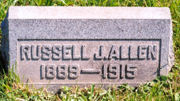 Hill Grove Cemetery
Eva Kate's first husband was Russell J. Allen (1889-1915).
They were not married very long before he died suddenly at age 26, in 1915, of a heart attack. Russell is buried in the Minerd family plot at Hill Grove Cemetery in Connellsville, PA.
As a young widow, Eva Kate went to Washington, DC, where she worked as a telephone operator during World War I. The Nov. 1, 1918 Connellsville Daily Courier reports that she "was called home from Washington, D.C., where she is employed, by the death of her brother in law, Millard Allen of West Newton."
While in Washington, she met Paul Edward Twyman, Sr. (Oct. 15, 1895-1973), a native of Earlington, Hopkins County, KY. On Dec. 27, 1918, they were married in a ceremony held in Baltimore, MD.
In the early years of marriage, the Twymans dwelled in Washington, DC, where their first three children were born.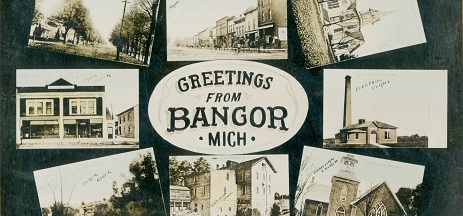 Bangor, Michigan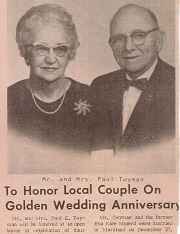 Bangor Advance, 1968
By 1930, they relocated to Oak Park near Chicago, IL, where they raised their family of four children -- Emma Jane Wood, Pearle Alice "Pat" Nyman, Paul E. Twyman Jr. and Laura Evelyn Olson.
While in Chicago, Paul Sr. worked for the Meihle Printing Press Co.
In 1942, Paul Sr. retired, and the Twymans moved to Bangor, Van Buren County, MI, near where the family had rented a summer cottage for many years.
In retirement, Paul Sr. served as the first mayor of Bangor. They were members of the Simpson United Methodist Church and the American Legion and auxiliary.
The couple celebrated their golden wedding anniversary in 1968 with an open house at the Simpson Church. The Bangor Advance carried a prominent photograph and article.
Paul died five years later, on Aug. 1, 1973.
Eva Kate survived him by 15 years, and passed away on February 8, 1986 in Glenwood Christian Nursing Home, Lamont, Ottawa County, MI. Rev. John Willis officiated at the funeral service. An obituary in the St. Joseph (MI) Herald-Palladium said she was survived by 14 grandchildren, 23 great-grandchildren and one great-great grandchild.
They are buried together at the Arlington Hill Cemetery in Bangor.

L-R: Pearle Nyman, Paul Twyman, Laura Olson and Emma Jane Wood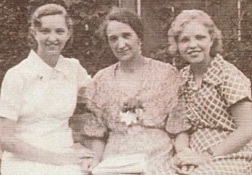 E.J., left, with her mother and sister Pearle
~ Daughter Emma Jane (Twyman) Wood ~
Daughter Emma Jane Twyman (1919-1996) was born on Oct. 25, 1919 in Washington, DC. She grew up in Chicago and in Bangor, MI.
On Sept. 3, 1938, at the age of 18, she eloped with 21-year-old gasoline station attendant Roger Morton Wood (April 3, 1916- ? ), the son of H.A. and Ethel (Trim) Wood of Bangor, MI. Their nuptials were held in Bryan, Williams County, OH, with justice of the peace L.S. Hall officiating. Emma Jane fibbed on her marriage license that she was age 21.
They resided in Kentwood, MI in 1973 and in Coopersville, MI in 1986.
Emma Jane passed away in 1996.
~ Daughter Pearle Alice "Pat" (Twyman) Nyman ~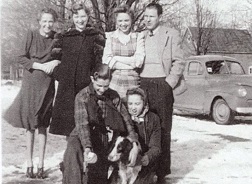 Pat and Fred, standing, right, with Pat's
mother (left), siblings, and family dog, 1942
Daughter Pearle Alice "Pat" Twyman (1922-1999) was born on Feb. 23, 1922 in Washington, DC.
At the age of 18, on New Year's Day 1941, she wedded 25-year-old Fred A. Nyman Jr. (Feb. 4, 1915-1981), a native of St. Louis. Their nuptials were held in Carrollton, Carroll County, KY.
They were the parents of Frederick Craig Nyman, Linda Nyman, Patsy Gorgacz, Paula Macko and Pamela Zimmerman.
In 1953, the Nymans relocated to Midland, MI. Later, in retirement, they moved to San Antonio, TX.
Sadly, Fred died at the age of 65 on Jan. 30, 1981 in San Antonio.
Pearle outlived her husband by almost 19 years. She returned to Michigan and passed away on Nov. 30, 1999 in Midland, MI.
Son Frederick Craig Nyman (1952-2012) was born on April 10, 1952 in South Haven, MI and grew up in Midland, MI. He migrated to Zapata, TX in 1981 at the age of 29 and was a member of the Chippewa Chapter of Demolay. Frederick was the father of Jessica Gayle Free. He was a longtime companion of twice-widowed Pauline Arvilla (Taylor) Garvin (March 8, 1927-2011), daughter of William S. and Lorene G. (Kirgen) Taylor of Springfield, MO. Pauline "spent her adult life in Jefferson City, MO where she worked for the Jefferson City Street Dept, Sterling Excavation and Construction and The Jewel Shop," said an obituary. "She was a co-owner of Disposal-All Service and involved in the community through various organizations." Frederick loved to fish, hunt and take photographs, and he and Pauline loved to travel cross-country and camp at national and state parks. They also had a camp in Soldier Lake National Forest in Michigan's Upper Peninsula. Tragically, while driving in Boerne, TX on Aug. 26, 2012, he was killed in a vehicular accident. His remains were cremated. An obituary was printed in the Midland Daily News.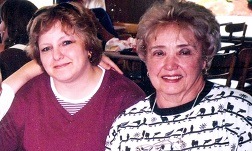 Pam Zimmerman, left, and her aunt Laura
Olson, 2000 Minerd-Miner Reunion
Daughter Linda Nyman resides in Midland, MI.
Daughter Patsy Nyman wedded Stanley "Stan" Gorgacz. They have made a home in Interlochen, MI.
Daughter Paula Nyman married Michael Macko. They established a residence in Shorewood, IL.
Daughter Pam Nyman married Doug Zimmerman. They dwell in Dewitt, MI. Pam generously has provided many insights into this branch of the family and, with her aunt Laura, sister Linda and son, came to the 2000 Minerd-Miner Reunion in southwestern Pennsylvania.
~ Son Paul E. "Bud" Twyman Jr. ~
Son Paul Edward "Bud" Twyman Jr. (1926-2016) was born on Dec. 3, 1926 in Washington, DC and grew up in Chicago and thence in Bangor, MI.
He joined the U.S. Army Air Corps during World War II as a aviation cadet, and was discharged in 1946.
For about a year after the war's end, he was a charter aircraft pilot. He then enrolled in Western Michigan University, where he met his future wife, Louise Jannette Tait ( ? - ? ), a native of South Haven, MI. The couple were united in matrimony three days before Christmas 1949.
They bore four children -- Paul Edward Twyman III, Kathy Westcott, William Twyman and Lawrence "Larry" Twyman.
During his working career, Paul was employed by Inland Container for 18 years and then joined Du-Wel Metal Products. From there he worked for Grand Rapids Plastics and then accepted a position in South Bend, IN with SPI Industries as vice president and then general manager. He retired in 1994 at the age of about 68.
In retirement, the couple moved to Lakeland, FL and resided in Cypress Lakes Golf Resorts.
Paul passed away in Lakeland at the age of 90 on Dec. 14, 2016. An obituary said he was survived by 11 grandchildren and nine great-grandchildren.
Son Paul Edward Twyman III
Daughter Kathy Twyman was joined in wedlock with (?) Westcott.
Son William Twyman
Son Lawrence "Larry" Twyman
~ Daughter Laura Evelyn (Twyman) Olson ~
Daughter LauraTwyman (1930- ? ) was born on Jan. 18, 1930 in Chicago.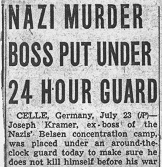 Chicago Tribune story, 1945
On Dec. 21, 1950, she wedded World War II veteran David Leonard Olson ( ? - ? ).
David was a graduate of Soumi College and served in the U.S. Army during the war. During the Nuremberg trials after the war's end, David was assigned to guard the prison cell of Nazi war criminal Herman Goering.
They were the parents of two sons, David Olson and Stefan Olson.
After the war's end, David received a bachelor's degree from Western Michigan University. He went into a career as an educator, receiving his first assignment at Bangor High School, teaching mathematics and science. Later, he became principal of the Romeo (MI) High School for 26 years, including at the time the new building opened. Today the auditorium is named in his honor.
Laura served for many years as deputy clerk of Washington T0wnship, Macomb County, MI. They were members of the First Methodist Church in Romeo.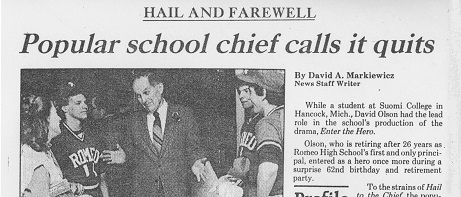 News story about David's retirement
In 2000, she and her niece Pam Zimmerman traveled from Michigan to attend the national Minerd-Miner Reunion and to tour the family grave plot at Connellsville's Hill Grove Cemetery.
Son David Olson
Son Stefan Olson
Copyright © 2000, 2002, 2005, 2010, 2019 Mark A. Miner