George Burt Minerd
(1888-1960)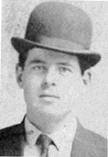 George B. Minerd
George Burt Minerd was born on June 5, 1888 in Pittsburg, Crawford County, KS, the son of Azaniah "Melvin" and Harriet (Baldwin) Minerd.
George was the first child in the Samuel Minerd family branch to be born in Kansas after the family migrated away from Fayette County, PA. He also is the first to have returned to Western Pennsylvania in adulthood. He grew up to become a railroader, working as a locomotive fireman, and was married at least four times.
He was considered tall and stout, with grey eyes and black hair.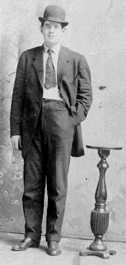 Full-length pose
For reasons still not known, George as an adult returned east, and lived for a time in Pittsburgh, Allegheny County, PA. In 1913, he resided at 5505 Second Avenue in Pittsburgh, where his occupation was given as "fireman." Whether or not he was in contact with his father's cousins in nearby Fayette County, a distance of just 45 miles, is not known.
In 1913, at the age of 25, George married 22-year-old Margaret M. Davison (1891-1920), a resident of Hays, near Pittsburgh, PA. Margaret was born on Feb. 22, 1891, the daughter of English immigrants George and Mary (James) Davidson. The marriage occurred on April 10, 1913 at McKeesport.
They had one daughter, Olive Mae Levister, born in Pittsburgh circa 1913.
During World War I, when George registered for the military draft, he was employed as a locomotive fireman with the Baltimore & Ohio Railroad in Pittsburgh. On the registration card, it was noted that he had partial paralysis of his left arm. They made their home on Watson Street in about 1917.
When the federal census was taken in January 1920, the family lived in Hays Borough in Pittsburgh, in a house on Irwin Street. The census-taker recorded that George's occupation was as a streetcar motorman. The official also erroneously logged George's age as 52 instead of 32, and his birthplace as Pennsylvania rather than Kansas.
Tragically, Margaret contracted lobar pneumonia and influenza the month after the 1920 census was enumerated, on Feb. 19, 1920, at the age of 29. She was laid to rest in the South Side Cemetery.
Staying with their daughter Olive in Western Pennsylvania, George spent eight years as a widower.
He married his second wife, Alice (Cadman) Hardin (1884-1928), on Nov. 23, 1921. Alice was twice widowed, a resident of Hays, near Pittsburgh, and was age 27 at the time. Her parents were Spyre (otherwise known as "Arnie" or "Sammie") and Mary J. (Luker) Cadman.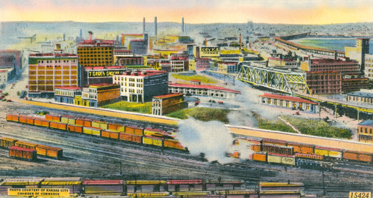 Kansas City's busy railroad yards and central industrial district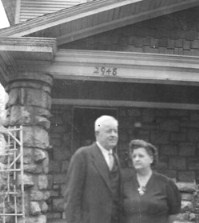 George and his 3rd wife, Lillian
George and Alice relocated westward to Kansas City, Jackson County, MO in about 1924, and remained there the rest of their lives. They made their home at 5224 Sadie Street. Sadly, Alice suffered from a pulmonary embolism, and she died from its effects at the age of 43 on July 1, 1928, at a hospital in Kansas City. Her remains were returned to Pittsburgh, PA for interment.
George did not remain a widower for long. Just five months after Alice died, he married for a third time, to Lillian Pepper (1888- ? ), a Jackson County resident, on Dec. 18, 1928. Their marriage license is on file at the Jackson County Recorder of Deeds office in Independence. She had a son to a previous marriage, Charles E. Pepper (1908- ? ), who was born in Michigan.
When the federal census was taken in 1930, George and Lillian made their home on Colorado Street in Kansas City. Stepson Charles E. Pepper was in the household as well. George was employed as a fireman on the railroad, and Charles worked as stock boy in a local drug store.
In 1943, they lived in Kansas City. Their residence in the mid to late 1950s was 348 South Lawndale in Kansas City.
George suffered in his later years from acute heart disease and hardening of the arteries. He died in Kansas City's St. Mary's Hospital on Feb. 18, 1960, at the age of 71. He was laid to rest in Forest Hill Cemetery in Kansas City.
The fate of Margaret is unknown.
~ Daughter Olive Mae (Minerd) Levister ~
Daughter Olive Mae Minerd (1913- ? ) was born in about 1913 in Pittsburgh, Allegheny County, PA.
Olive married (?) Levister.
Nothing more is known.
Copyright © 2000, 2008, 2009, 2012, 2018 Mark A. Miner