Walter Edgar Minerd
(1873-1953)
Walter and Kathryn
Walter Edgar Minerd was born on April 19, 1873 in Bullskin Township, Fayette County, PA, the son of Calvin and Mary (Means) Minerd Sr. He is seen here with his second wife, Kathryn.
As a young adult, Walter resided in Scottdale, Westmoreland County, PA. In November 1896, said the Connellsville Courier, he came home and "enjoyed his Thanksgiving dinner with his parents."
On Aug. 14, 1898, the 23-year-old Walter married 28-year-old Esther Gertrude Conliff (March 31, 1868-1908), a native of Pennsylvania and the daughter of English immigrants Martin and Margaret (Smith) Conliff. They were wed at the home of Mr. and Mrs. B.F. Crall in Uniontown, Fayette County.
They together produced six children -- twins Mary Ellen Hough and Margaret Reiland Berkey, Walter "Albert" Minerd, Dorothy Williams Josephine Cramer and Wilbert Allen Minerd.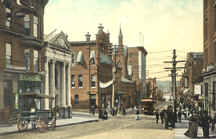 Rare old postcard photo of
Main Street in Connellsville
Walter was a butcher who worked in meat shops in Connellsville and Uniontown, PA. In 1927, he was one of the few family members to have a telephone number listed in the phone directory -- "340."
Sadly, while in childbirth, Esther suffered problems when the baby's placenta covered her cervix causing bleeding. Esther was unable to recover and died in Fairchance on Jan. 5, 1908 at the age of 39. She is said to be buried at the Catholic Cemetery in Braddock, near Pittsburgh.
Afterward, daughter Josephine was sent to live with her grandparents, Calvin and Mary (Means) Minerd, where she was raised to adulthood.
In about 1911, Walter married widow Kathryn Jane Ann (McMullen) Orwig (1884-1972). She was the daughter of John Benjamin and Henrietta (Prinzler) McMullen and had been married once before, to George Orwig. Kathryn brought a son, Charles K. Orwig, to the marriage. Walter and Kathryn then went on to have two children of their own -- Dorothy Funk and Helen Fassett. Kathryn thus helped to raise her son, two daughters and five step-children, totaling eight young lives.
Walter registered for the military draft during World War I, and listed his occupation as butcher for F.P. Goodwin of Fairchance, where the Minerds resided. He maintained his membership in the First Baptist Church of Fairchance. In 1930, he agreed to serve as an alumni superintendent for the Fayette County Christian Endeavor convention, held on June 12-13.
When the federal census was taken in 1920, Walter and Katherine made their home in Fairchance. Walter's seven children, and Katherine's son, were in the household, as was Katherine's 75-year-old father, John B. McMullen. Walter's occupation was listed as butcher in a meat shop.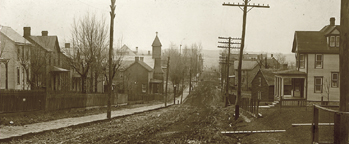 Early view of unpaved Morgantown Street in Fairchance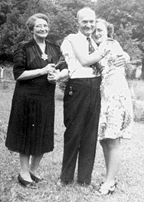 With granddaughter Pauline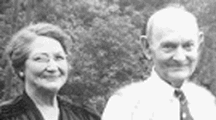 Kathryn and Walter
In November 1921, when daughter Josephine married Russell Cramer, "the bride and groom were guests of honor at a wedding dinner served at the home of the bride's parents…," said the Uniontown Morning Herald.
Walter and Kathryn are seen here with granddaughter Pauline in 1946.
They suffered various injuries over the years due to freak accidents. In July 1927, they were "severely cut and bruised when they were thrown from their automobile as they attempted to miss striking a lightness car parked on the main highway near Bethelboro," said the Uniontown Morning Herald. The following year, in winter of 1928, Kathryn was injured in a fall, with the news reported in the Daily Courier. While walking with Mrs. Clarence Gruver to the Baltimore and Ohio Railroad station to board a train for Uniontown, she tripped on a broken step on North Arch Street. She was taken to the home of Mrs. James Quinn on Arch Street, and when she was stable enough to move again, was brought to her home on 509 Johnson Avenue.
Initially, Walter's business -- the Minerd Meat Market at 306 North Pittsburgh Street in Connellsville -- met with success and public acclaim. The business was featured in a Sept. 26, 1928 "Who's Who" special edition of the Daily Courier, which said it was:
... the people's favorite store for fresh meats and one of the best in Connellsville... this market has built up a wonderful reputation and is entitled to its well earned recognition. At this Meat Market you get the best of meats -- all kinds -- and they are fresh, juicy and tender, and in many instances you pay the lowest prices in town. It makes no difference how you want it -- broiled, baked, fried or stewed -- there's a tang of delicious flavor when you use their quality meats, and their modern equipment and display refrigerator counters keep meats fresh and fine at all times. The owner, W.E. Minerd, is to be congratulated on the success of his business. In this business Mr. Minerd finds both his work and his hobby, having chosen this line when a small boy and beginning in the slaughter house where he worked for 15 years. We recommend this place because the proprietor truly is living up to the reputation of the establishment and believe that "Cleanliness is next to Godliness." He treats all customers with unfailing courtesy and gives them their money's worth. He has cheery "good morning" and "good evening" for you.
In the long run, however, the meat market went out of business. A nephew once said that Walter did well when working for others, but just could not make a go when in business for himself.
Later, in 1929, the Minerds moved to Cuyahoga County, OH, where Walter established a store in Cleveland, assisted by his stepson Charles Orwig. During their years in Cleveland, Kathryn was an active volunteer in Republican Party activities for more than two decades.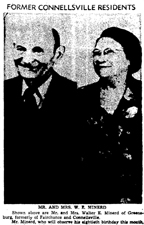 Connellsville Courier
The Minerds frequently returned to the Connellsville and Fairchance areas to see relatives and friends. They are known to have visited over the years with Walter's married daughter Josephine Cramer (1949), married sister Gertrude Ullery (1936 and 1937), and second cousins James C. Minerd Jr. and Etta McDowell, and also with the family of Walter's aunt, Minerva Inks. In August 1920, while still residing at Fairchance, they attended a family reunion held at the home of Walter's aunt, Mrs. Henry McLaughlin, in West Newton, Westmoreland County. During many of these visits, they brought stepson Charles Orwig and his young son Robert Orwig.
Mr. and Mrs. Walter Sheering and their daughter Thelma, who lived in South Connellsville, visited the Minerds in Cleveland for several weeks in July 1931.
Walter received national exposure in 1933 when he was featured in Ripley's "Believe It or Not" column. On Nov. 20, 1933, Ripley's nationally syndicated cartoon depicted Walter in a hat and knee-length coat, with the caption, "Walter Minerd of Cleveland has worn the same coat 32 years." Among the newspapers known to have published this cartoon was the Canton (OH) Repository.
Little is known of Walter's last years. They resided at 10520-F Mt. Carmel Avenue in Cleveland. When Walter celebrated his 80th birthday, on April 19, 1953, just a few months before his death, their photograph was published in the Daily Courier.

Green Ridge Memorial Park
Walter passed away in June 1953. His remains were returned to Connellsville for burial at Green Ridge Cemetery. At his death, he was survived by 18 grandchildren and 10 great-grandchildren. His bronze grave marker is seen here.
Kathryn survived her husband by five years. On Sept. 3, 1955, she celebrated her 70th birthday with a party at the home of her married daughter Helen Fassett in Cleveland.
Kathryn died at the age of 72, on June 16, 1958, also in Cleveland. The Uniontown Morning Herald said she "had been ill for several years." They are buried together at Green Ridge Memorial Park in Connellsville. Daughter Helen also rests for eternity in the family plot.
~ Daughter Mary Ellen (Minerd) Hough ~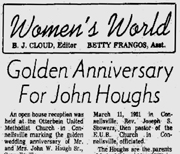 Uniontown newspaper, 1971
Daughter Mary Ellen Minerd (1899-1977) was born in 1899.
She married World War I veteran John W. Hough Sr. ( ? - ? ), the son of Joseph L. Hough of Connellsville. The wedding took place on March 12, 1921.
The Houghs had four children -- Esther Turner, John W. Hough Jr., Harold Joseph Hough and Donald Ray Hough.
They were residents of Snydertown near Connellsville, at 619 Snyder Street, for more than half a century. John labored locally with the Baltimore and Ohio Railroad, retiring in 1959 after working there for 43 years. He belonged to the World War One Veterans Association, Barracks 2773, and Lodge 1049 of the Maintenance of Way of the B&O Railroad. They were members of the Otterbein United Methodist Church and its Win One class for more than 50 years.
Mary Ellen had possession of the old Minerd family Bible which listed family names and births. The Bible was used to document the birth of her brother Wilbert when he sought a delayed birth certificate during World War II.
Mary Ellen enjoyed visiting her relatives and in April 1947 is known to have traveled to Cleveland with her sister Josephine Cramer to visit their father, who had been ill but recovered. During the trip, they also made a stop in Titusville to see daughter Esther Turner and sister Margaret Berkey. In March 1971, the couple celebrated their golden wedding anniversary, which generated headlines in the Uniontown Morning Herald-Evening Standard.
At the age of 78, Mary Ellen passed away at Connellsville State General Hospital on Nov. 18, 1977.
Daughter Esther Hough married William Turner and resided in Titusville, Pa circa 1977.
Son John W. Hough Jr. lived in Connellsville in 1977.
Son Harold Joseph Hough resided in Connellsville.
Son Donald Ray Hough (1935-2014) was born on June 27, 1935 in Connellsville. He married Loretta Keyser and they enjoyed 55 years of married life. They were the parents of Gregory Hough and Michelle Porter. Donald was employed for many years with Anchor Hocking Cap Plant in South Connellsville, specializing in inspections. They were members of the East Connellsville United Methodist Church, and he belonged to the Moose lodge. At the age of 78, apparently having spent his entire life in Connellsville, he died there on May 9, 2014. The Connellsville Daily Courier noted that he "was the last surviving member of his immediate family." He was laid to eternal rest in Normalville Cemetery.
~ Daughter Margaret (Minerd) Reiland Berkey ~
Daughter Margaret Minerd (1899- ? ) was born in 1899.
She first married Elmer J. Reiland ( ? - ? ), and lived in McKeesport, near Pittsburgh.
They divorced a short time later, and she married sawyer Lloyd L. Berkey ( ? - ? ), the son of Lewis and Mary (Dietrich) Berkey.
They lived in Titusville circa 1947-1953. She is buried in the Titusville, PA area.

Josephine and sister Margaret
~ Daughter Josephine (Minerd) Cramer ~
Daughter Josephine Minerd (1901- ? ) was born in 1901.
She married Russell Cramer ( ? - ? ) in November 1921 at the parsonage of the First Baptist Church at Fairchance. Following the ceremony, led by Rev. G.M. Riley, a wedding dinner was served at her parents' home.
The couple had seven children -- Marjorie Biller, Walter Cramer, Wilbert Cramer, Pauline G. Tikey Meloni, Donna Brooks, Dorothy Stoner and Eva Jean Hunter.
Cramers made their home in Morgan Station near Connellsville.
Daughter Pauline Cramer (1922-2014) was born on Sept. 6, 1922 in Upper Tyrone Township. She was a licensed practical nursing, employed over the years at Connellsville State General Hospital and in private duty positions. She attended St. Paul's Lutheran Church in Uninotown and was a member of Liberty Baptist Church, Uniontown. She was married twice, first to (?) Tikey. Her four children were Sandra Lunka, Carolyn Klafehn, Anita Snyder and Russell Tikey. She attended several Minerd-Minard-Miner-Minor Reunions over the years, including one just a little more than six months before her death. She passed away in Uniontown Hospital on Jan. 9, 2014, at the age of 91. Burial was in Mt. Olive Cemetery.
~ Son Walter Albert Minerd ~
Son Walter "Albert" Minerd (1903-1975) served with the US Army during World War II, but never married. He lived in Connellsville during the 1950s, making his residence at 225 Water Street.
In 1945, after his discharge from the Army, he lived on McCoy Hollow Road. In April that year, he made news when he was injured in an automobile accident while a passenger in a vehicle driven by Mrs. Hazel Schroyer of Scottdale. The Daily Courier said the automobile was struck by another car on the Springfield Pike and that Walter "sustained contusions of the left elbow and laceration and contusions of his left leg and knee."
In December 1946, he lived at Moyer near Connellsville, and made news again when he was robbed of $150 in cash while "asleep on a street car as he was going home Wednesday evening and rode beyond his stop to Murphy Siding. What happened during the intervening time is quite a mystery and [police] officers declared they need considerable information to help solve the case," reported the Daily Courier.
He passed away at the age of 72 in the Connellsville State General Hospital on Sept. 15, 1975. He was laid to rest in the Normalville Cemetery in Fayette County.
~ Son Wilbert Allen Minerd ~
Son Wilbert Allen Minerd (1907-1989) was born on April 12, 1907 in Uniontown, Fayette County.
He also served in World War II. Before the war, Wilbert had moved to New York City, where he worked for the Electrolux Corporation. He rented an apartment at 274 Madison Avenue.

Purple Heart medal
Then, when the war broke out, he enlisted, and was assigned to the Third Army, serving in France under General George Patton. During the war, as an Army private, Wilbert won a Purple Heart and made headlines when he stayed on duty for two days to care for an injured comrade despite being wounded himself. In a letter to his sister Mary Ellen, later reprinted in the Connellsville Daily Courier, Wilbert wrote:
A few Jerries flew down on us and started firing on us… Well, about 11:30 they came over and dropped flares which hit the field like daylight. Then they started to drop their bombs. Well I thought it was the end. Some of the men that ride with me got under my M-4 … I pulled them out, of course, cause the Jerries wanted to hit it. They got over one hedge fence. I then heard someone on the other side of the field calling 'please help me.' I could hear him saying 'help me' so then I double-timed across the field to get him. As I was putting him over the hedge fence they (the German planes) got (machine -gunned) me. I then stopped for a while. I mean I kissed the ground till they flew over the field. Then I picked this fellow up again and carried him to another hedge fence. I had to have help to put him over that fence after me being hit. Then two other fellows that were on the other side of the fence helped and they took care of him. No one knew I was hit … Then we started again, leaving the ones that we would not see again behind. I drove all that day until about 8 P.M. I was so tired that I fell asleep as I sat down to look at my wound.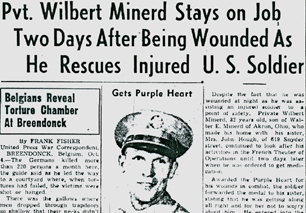 Top headline, Connellsville Daily Courier, Oct. 4, 1944
After the war, Wilbert moved to Cleveland, and married Lillian Clark (Aug. 4, 1928-1997), who was almost a quarter century younger than her husband. They produced a son, Russell A. Minerd and a daughter, Nancy Claire Arndt.
They divorced in February 1978.
Wilbert died in Cleveland on Dec. 1, 1989, at the age of 85. He is buried at Holy Cross Cemetery in Cleveland, OH. His funeral arrangements were handled by Berry's Funeral Home.
Former wife Lillian lived for another 19 years after the divorce. She passed away on March 16, 1997. On the 20th anniversary of her death, in 2017, her son published a notice in the Cleveland Plain Dealer, saying "Thank you for being my Mother."
Son Russell A. Minerd (1951-2017) was born in about 1951. He graduated from Fairview High School where he performed in the concert and marching bands. During the Vietnam War era, he served in the U.S. Air Force in Hawaii and Germany during a four-year period from 1968 to 1972. Upon returning home, he obtained employement as a truck driver and joined the local union no. 407. He resided in an apartment in Cleveland for two decades and performed handyman work around the complex. He enjoyed photography and animals, with a love for the Cleveland Animal Protective League. He also was involved with the production of several films made in Cleveland, among them American Splendor, Antwone Fisher and Collinwood. Sadly, less than two weeks after placing a notice in the Cleveland Plain Dealer on the 20th anniversary of his mother's death, Russell passed away at the age of 66 on March 29, 2017. An obituary appeared in the Plain Dealer.
Daughter Nancy Claire Minerd married Alan Arndt. They have made their home in Parma, OH.
~ Daughter Helen E. (Minerd) Fassett ~

Uniontown Morning Herald
Daughter Helen E. Minerd (1911- ? ) -- also known as "Muriel E.," -- was born in 1911.
She was "widely known" during her high school years in Fairchance and Connellsville, a newspaper once said.
She married Merle E. Fassett ( ? - ? ) on Jan. 7, 1935 at Ripley, Chautauqua County, NY, following a custom set by her sister Dorothy a few years earlier. In reporting on the wedding, the Uniontown Morning Herald said that while the groom was from Cleveland, he "has visited Uniontown a number of times." At the time, Helen was "associated with a beauty parlor" in Cleveland, while Merle was "employed as a printer."
They had at least one son, Junior Fassett.
The Fassetts made their first home in Cleveland. An August 1946 edition of the Connellsville Daily Courier reported that Helen and Junior spent a visit with Helen's sister, Josephine Cramer, of near Broad Ford, Fayette County. Later, the Fassetts moved to Pittsburgh. Nothing more is known.
~ Daughter Dorothy (Minerd) Williams Funk ~
Daughter Dorothy Minerd (1914- ? ) was born in 1914.
She married James Williams ( ? - ? ) of Cleveland, Cuyahoga County, OH on Oct. 8, 1933. The ceremony took place in Ripley, Chautauqua County, NY.
They made their first home in Cleveland, where James was manager of the Zanol Company.
Later, she married Lester E. ("James") Funk ( ? - ? ). They resided in Macedonia (1950s) and Warren, Trumbull County, OH. The Funks traveled to Connellsville in the summer of 1953, in company with Dorothy's mother and step-brother Charles Orwig, to visit the Fassetts on East Fairview Avenue. Said the Courier, "The Clevelanders are also spending some time with other relatives and friends in Fayette county during July."
The Funks resided in Warren in 1977.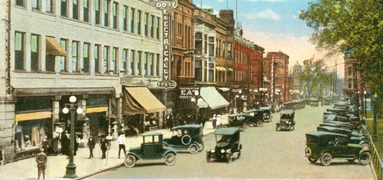 Park Avenue in Warren, OH, looking south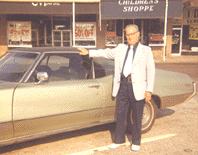 Charles Orwig
~ Stepson Charles Orwig ~
Stepson Charles Orwig (1908- ? ) was born in 1908.
He is seen here posing proudly with his gold-colored automobile, circa 1972. He was a graduate of the Uniontown High School Class of 1927, and resided in Connellsville in 1927.
The following year, he accepted employment in Toledo, OH with the Kroger Grocery and Baking Company.
By 1935, he was manager of the Fishers Company store in Cleveland. Circa 1977, he made his home in Florida.
Copyright © 2001-2002, 2008-2009, 2012, 2017 Mark A. Miner