James Calvin Minerd Jr.
(1890-1959)

James C. Minerd Jr.
James Calvin Minerd Jr. was born on Aug. 7, 1890 in Dunbar Township, Fayette County, PA, the son of James C. and Suvina (Yauger) Minerd Sr. He was one of 15 children, and a veteran of World War I.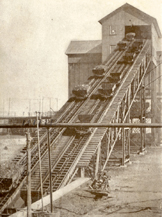 York Run coal tipple
Jim married Eliza Mae Hess (1891-1951), the daughter of John and Anna Elizabeth (Hagerty) Hess.
They did not reproduce and spent their entire married life in Star Junction, near Perryopolis, Fayette County.
During World War I, Jim served in the American Expeditionary Forces.
Jim later spent several decades earning a living as a carpenter. Early in his career, he labored at the H.C. Frick Coke Co. mines in the Uniontown area -- Buffington, Cardale, York Run, Star Junction (1920s) and perhaps others. A rare old postcard photograph is seen here of the tipple of the Frick mine at York Run.
During Jim's tenure at the Star Junction Mine, it was owned by a group headed by the Cochran family interests, and operated under the name Washington Coal & Coke Co. The plant had a large, buff-colored smoke stack with the initials "W.C.&C.Co.," vertically inlaid down the length of its face with fancy black bricks.
A nephew recalled that when the H.C. Frick Coke Co. purchased the mine during the Depression, circa 1929, the Minerds wondered how the bricks would be replaced to now read "H.C. Frick." But Frick's managers decided not to use the stack and tore it down, solving the problem.

Washington Coal & Coke's No. 2 mines, Star Junction, circa 1914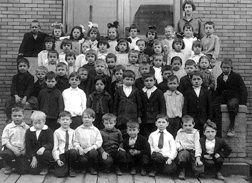 Eliza (back, right), Star Junction School
During the ownership transition, the plant was shut indefinitely. Jim worried whether he would continue to be employed after Frick took over, but he kept his job. Later, when the mine closed after World War II, Jim was transferred to U.S. Steel's Clairton Works so he could complete his employment and receive full pension benefits.

News headline
Eliza was a teacher for many years at the Star Junction Elementary School, primarily in the years from just before World War I to the start of World War II.
Seen here, Eliza stands in the back row at top right, with one of her classes of elementary students. This photograph graces the cover of our 1997 reunion booklet, A Sense of Wonder.
It's said Jim was a "great churchman" and enjoyed serving as a deacon and teaching Sunday School at the Star Junction Baptist Church.
In the photo seen here, Jim (second from right) is seen with his second cousins Calvin Minerd Jr. (second from left) and Larmer A. Minerd (far right) all dressed in their fine suits and hats, and perhaps ready for a day's outing in the automobile. Also in this image is George Garrison (son-in-law of cousin Gertrude Ullery). The photograph is dated 1919, and was found in the collection of a niece of Calvin and Larmer's.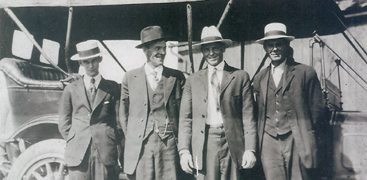 James, second from right, with some of his Minerd cousins
At least once, and possibly more, Jim and Eliza toured and had their photograph taken at Braddock's Grave, a French and Indian War site, and a popular tourist stop along the National Highway (US Route 40) near Uniontown. (For more about our family's important connections with this historic site, click here.)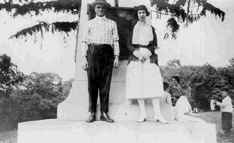 At Braddock's Grave near Uniontown
Tragedy shook the family on the ill-fated morning of April 3, 1951. While preparing breakfast on their coal stove, Eliza's clothing caught fire, and she suffered severe burns about the neck, chest and arms. She did not go to any local hospital for treatment, but stayed at home, and lingered for two days. She succumbed to her insurmountable burns on April 5, 1951, at the age of 60.
Eliza's obituary in the Connellsville Daily Courier avoided any details of the cause of her death. It named her surviving siblings as Mary Scott of Fayette City, Selina Elwell and Emma Hess of Star Junction, John Hess of Star Junction, Ewing Hess of Connellsville and James Hess of Vanderbilt.
Jim spent eight years as a widower, and died at home of a heart attack on April 17, 1959, at the age of 69. His brother Harry, living at the time in Uniontown, was the informant for the official Pennsylvania certificate of death.
They are buried together at Pleasant View Cemetery in Smock.
Copyright © 2001-2002, 2015 Mark A. Miner