Etta (Minerd) McDowell
(1887-1947)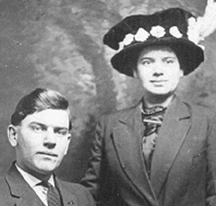 Charles and Etta McDowell
Etta (Minerd) McDowell was born on Jan. 9, 1887 in Lemont Furnace near Uniontown, Fayette County, PA, the daughter of James Calvin and Suvina (Yauger) Minerd Sr.
At age 23, in 1910, Etta worked as a maid in the household of Charles B. Franks, the manager of a local coal and coke plant.
On Aug. 16, 1911, at the age of 24, Etta married 22-year-old Charles Widdup McDowell (1889-1971), the son of James and Elizabeth (Biddle) McDowell. He was a native of Hazelwood near Pittsburgh and apparently moved to Connellsville at the time of marriage.
They had five children -- Raymond Arnold McDowell, James Calvin "J.C." McDowell, Anna June McClain, Katherine McDowell and Marjorie May Beighley.
Heartache rocked the family in the summer of 1916 when six-year-old daughter Katherine contracted a case of pneumonia. She was unable to recover, and died on July 3, 1916. Her remains were placed at rest in Connellsville's Hill Grove Cemetery.
Charles was a laborer with the Baltimore and Ohio Railroad. He also worked at one time for the H.C. Frick Coke Company and the West Penn Railways System. His final work in his long career was as a carpenter, and he belonged to the Carpenters Local Union No. 321.
The McDowells lived on Jefferson Street in Connellsville, Fayette County. They later sold the residence to Etta's brother Frank. In 1948, their home address was 106 East Connell Avenue in Connellsville. The family were members of the Central Methodist Church.

The B&O's busy yards at Connellsville, with the Youghiogheny River at right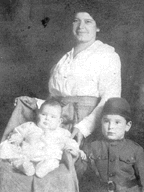 Etta with J.C. and Raymond
Etta is seen here with her sons J.C. (left) and Raymond (right).
The Connellsville Daily Courier once said that "Active in church work, she was a member of the Central Methodist Church, an honorary member of the W.W. Pickett Class, a member of the Onward Class and Circle No. 4."
Etta passed away at age 60 on June 11, 1947, after a "brief illness," said the Daily Courier.
Charles outlived her by 24 years. He spent his final years in Cuyahoga Falls, OH to be closer to his married daughter Marjorie May Beighley. At the age of 82, on Nov. 1, 1971, he was admitted to the Akron City Hospital. He died there a few weeks later, on Nov. 17, 1971. His remains were returned to Connellsville to join his wife in eternal repose in Green Ridge Memorial Park.
~ Son Raymond Arnold McDowell ~
Son Raymond Arnold McDowell ( ? -1978) was born in (?).
He resided in Columbus, OH in 1971.
Raymond died in 1978.
~ Son James Calvin "J.C." McDowell ~
Son James Calvin McDowell (1918-2000) was born on July 14, 1918 in Connellsville. He likely was named for his grandfather James Calvin Minerd Sr., although he liked to say he was the namesake of his mother's cousin, Calvin Inks.
At the age of 22, on Sept. 17, 1940, he was united in marriage with a distant cousin, Marie Hawkins ( ? -1993), daughter of Henry and Martha Jane (Showman) Hawkins, granddaughter of Jeremiah and Melinda (Bungard) Showman and great-granddaughter of David and Jane (Younkin) Showman.
The couple had four children -- Charles Henry McDowell, Robert Arnold McDowell, Anna June McClain and Marjorie May Beighley.
From 1935 to 1942, J.C. served in the National Guard. Following his father's occupation, J.C. was a longtime railroader in Connellsville. Later in his career, he was promoted to foreman and was transferred to Akron, OH, where he boarded in Cuyahoga Falls, OH with his married sister and commuted to and from Connellsville. He retired in 1980.
He also a member of the Otterbein United Methodist Church, King Solomon's Lodge of the Masons, Ancient Accepted Scottish Rite Valley of Uniontown, Fraternal Order of Eagles of Connellsville and Comas Club of Connellsville. In addition, he was a life member of the South Connellsville Rod and Gun Club, and a member of Ducks Unlimited and the National Wild Turkey Federation.
J.C. was interviewed several times by the founder of this website, and provided significant information for the understanding of his mother's family branches. He passed away in Highlands Hospital at the age of 82 on Aug. 1, 2000. He was laid to rest in Green Ridge Memorial Park, with his Masonic brethren helping to conduct a memorial service.
Son Robert Arnold McDowell married Shirley Harford. They had two children -- Eric Lee McDowell and Deborah Ann Martz. They made their home in Connellsville and have attended several of our national family reunions.
Eric & Jacqueline

Grandson Dr. Eric L. McDowell and his wife Dr. Jacqueline M. McDowell both are educators at Berry College in Rome, GA, a school that

U.S. News & World Report

ranked number one among comprehensive colleges-bachelor's in the South in 2002. Eric is Assistant Professor of Mathematics, and formerly taught mathematics and computer science at Bethany College in West Virginia. Jackie is Dean of Berry College's School of Education and the Human Sciences. In 2003, Eric received one of the college's most prestigious awards -- the Dave and Lu Garrett Award for Meritorious Teaching -- presented annually to the faculty member judged to have been most effective during the year. He is believed to be the first before-tenure faculty member to receive this honor.
~ Daughter Anna June (McDowell) McClain ~
Daughter Anna June McDowell (1923-1978) was born in about 1923. As a young woman, she worked for Bell Telephone Company in Connellsville.
On April 13, 1946, when she was 23 years of age, Anna June was joined in marriage with World War II veteran Oliver M. McClain ( ? - ? ). The nuptials were celebrated at the First Methodist Church of Frostburg, MD, performed by Rev. Watson E. Holley.
They are believed to have had two children -- among them a son Richard S. McClain.
During the war, Oliver served for 30 months as an ordnance specialist in the U.S. Armed Forces. Upon receiving his discharge, he returned home and joined his father and brother in operating Mack's Tire Service in Uniontown.
They made their residence in Irwin, Westmoreland County, PA. Later, they retired to Fort Lauderdale.
She entered eternity in Lauderdale on Oct. 13, 1978.
Oliver died there on March 14, 1990.
~ Daughter Marjorie May (McDowell) Beighley ~
Daughter Marjorie May McDowell (1929-1986) was born on Jan. 6, 1929 in Connellsville.
At the age of 19, Marjorie married Stanley R. Beighley ( ? - ? ), son of Della Beighley Coiner of Connellsville and Daytona Beach. The wedding was held on July 17, 1948 in the Central Methodist Church. At the time, Stanley was a student at the University of Florida at Gainesville. According to an article in the Connellsville Daily Courier, out of town guests came from such diverse locales at Uniontown, West Newton, Vanderbilt, Pittsburgh, Bobtown, Keisterville, Large and Liberty, as well as Columbus, OH.
They made their home in Connellsville in 1949 and later moved to Cuyahoga Falls, OH, where they lived in the 1970s.
Sadly, Marjorie passed away in July 1986.
Copyright © 2001-2003, 2014-2015 Mark A. Miner