'21st Century Families'
Highlights 2000 Reunion
'Watch Less TV and Stay Close to Home' is Advice of Award- Winning Writer Jeff Minerd in Presentation at National Reunion; Family Plants Tree and Fills Time Capsule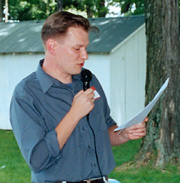 Jeff Minerd
KINGWOOD, PA, July 8, 2000 -- "Watch less TV and stay close to home" was the advice given by award-winning writer Jeff Minerd, seen here, to a crowd of 115 at the recent national reunion of Western Pennsylvania's Minerd-Miner-Minor clan, to help families deal with the unique challenges and pressures of the 21st century.
The reunion, held at Kingwood, Somerset County, also featured a tree planting and time capsule filling as symbols of the clan's "commitment to the future of the family."
Minerd is an award-winning writer and now a staff editor with The Futurist, the national magazine following social, scientific and technological trends that may affect the future. His short story, "Stepping Off," won the F. Scott Fitzgerald Short Story Contest, and was published in 1997 in the prestigious North American Review.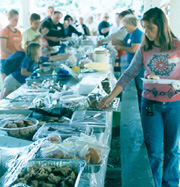 Chow line
He is the great-grandson of Rev. William Mullen Minerd, a former laborer at the H.C. Frick Coke Co.'s Brinkerton works near Mt. Pleasant who became a well-known United Brethren (Methodist) minister, serving for 35 years in Fayette, Westmoreland and Somerset Counties.
The clan's 15th annual reunion drew cousins from 28 Western Pennsylvania towns, and nine states, representing 24 of the 800 separate family branches that existed before 1900. The family descends from pioneers Jacob and Maria (Nein) Minerd Sr. who settled on the Fayette-Somerset County border in 1791. Today the number of known descendants and their spouses is 13,000, and counting.
The Uniontown (PA) Herald-Standard said the effort is "an extraordinary genealogical treasure hunt" and that the family is "perhaps the most thoroughly researched of all the old Fayette County clans."
More than 60 old photographs, news clippings and papers were provided for the family's archives and for its new website, www.minerd.com. Twenty-five items were placed inside a special time capsule, to be opened at the 2050 reunion.
A sugar maple tree was planted in a ceremony at the Odd Fellows Picnic Grove in Kingwood, site of the reunion nearly every year since 1986. The tree was donated by Jack and Doris (Sands) Hawker of Morgantown, WV, and was accepted on behalf of the Odd Fellows and the Rebekkah Lodge of Kingwood by trustee Everett Sechler. Seen here, treasurer Melda (Miner) Bittinger helps plant the tree.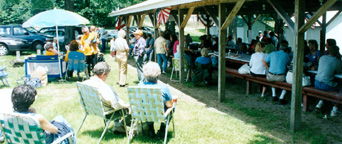 Reunion-goers bask in the brilliant field of sun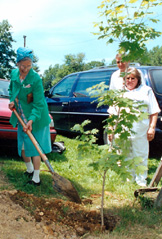 Planting a sugar maple
Minerd's remarks focused on the challenges, choices and opportunities ahead for families, with advice on how to create balance in the years ahead. Based on the magazine's research, his predictions – some bad, some good -- included:
Family relationships are in danger. We may expect imperfect loved ones to operate as efficiently as computers and lose patience if they do not respond as swiftly, or obey as readily, as machines. The virtues of sacrifice and long-term commitment, so essential to effective marriage and parenthood, will become rare. The chances of a marriage ending in divorce, which today are between 40 percent to 50 percent, may increase even more.
We will have less time for others. The more free time we have, the more work and activities we will try to cram in. As a result, we will have less time to spend with others.
We're going to live longer. Some scientists believe that a human cell free of disease will live 120 years before dying of natural causes. Thus future relationships will involve multiple layers of descendants. Seniors will know more great-grandchildren and great-great grandchildren -- with the opportunity to interact with each other.
We'll be in better health. Scientists will continue to discover the cellular and genetic components of disease and aging, and devise remedies based on this specialized knowledge. The recent completion of the human genome sequencing will play a huge role. People may be able to achieve longer lives either by manipulating their cells, or through a partnership between their bodies and computers.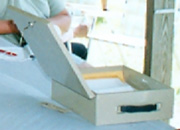 Time capsule
The social trends threatening families may be reversing. Many Americans seem to realize that a lifestyle based on personal gratification is not satisfying, and they desire to connect with something larger – a family or a community. National polls show that Americans are accepting that they can no longer have it all, need to choose among career, family and other desires, and are more willing to make sacrifices for others.
Watching TV, Minerd said, should be more of social/family activity, and viewers should talk about what they see. Choosing to live and work close to home and family provides a more realistic opportunity to balance career and family goals. Young adults who live close to their parents and siblings can experience more of close, day-to-day relationships, to help each other and form bonds between grandparents and grandchildren.
Seen here, the time capsule is a metal strongbox which locks with a key.

Sugar maple
Receiving door prizes were Norman Clark Gary of Markleton, PA, the eldest relative in attendance; Robert L. Culp of Mission Viejo, CA, who traveled the furthest distance; Elmer E. Miner of Elgin, IL, and Melda (Miner) Bittinger, of Grantsville, MD, who have had perfect attendance over 15 years; Rose Gillmer, of New Castle, PA, who had the most recent birthday; and Laura Miner, of Mill Run, PA, age 11 months, the youngest cousin in attendance.
Alvin and Pauline (Ream) Leslie of Fort Hill, PA, and Robert L. Plants of Ashtabula, OH donated jars of their homemade honey as door prizes. Michael Smith of Fayetteville, PA, led games for children; Sid Miller, of the Waynesboro Record Herald, took a photograph of the entire group for the fifth straight year; and Tammy (Miller) Smith of Fayetteville oversaw sales of specially printed T-shirts and the group photograph.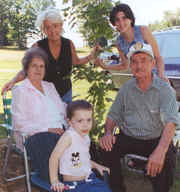 5 generations, Enos branch
In what is thought to have been a first at the Minerd-Miner-Minor Reunion, a "five-generation" photo was taken of descendants of a Civil War soldier -- Perry Enos and his wife Joanna (Minerd) Enos. The group, seen here, included their grandson Frank Enos, and then Mae (Richter) Grimm, Peggy (Grimm) Ritenour Mansberry, Lorelle Beth Ritenour and Alyssa Brooke Ritenour.
Officers of the reunion committee are Mark A. Miner, president, of Beaver, PA; Melda (Miner) Bittinger, treasurer, of Grantsville, MD; and Rosella (Resh) Miner, secretary, also of Grantsville.
The family's website, www.minerd.com, contains hundreds of pages of biographical information and many rare photographs documenting the clan's impact on communities across the nation over the past 200 years.