Home

George Washington Younkin
(1854-1923)
George Washington Younkin was born on Jan. 30, 1854 in or near Kingwood, Somerset County, PA, the son of Frederick J. and Delilah (Faidley) Younkin.
In early adulthood, although they were not married, Washington fathered a daughter with Isadore "Dorie" Heinbaugh (Oct. 6, 1861-1943), daughter of William "Jackson" and Adaline Elizabeth (Whipkey) Heinbaugh.
The daughter was given the name Catherine "Katy" Younkin.
Years later, Washington's name came up in conversation between his brother William and double cousin Charles Arthur "Charleroi Charley" Younkin, an organizer of the Younkin National Home-coming Reunion, who was trying to sort out all of the disparate branches of the sprawling, massive family. In an October 1935 letter to another double cousin, reunion president Otto Roosevelt "Pete" Younkin, he wrote: "Also am told that Wash Younkin, bro of Wm. L. Younkin, was married and left his wife on account she was not a fit person. Also that there was one child."
Isadore eventually married coal miner John F. Ohler (Sept. 20, 1867-1947), son of Andrew Ohler. The couple resided in Meyersdale, Somerset County and bore four offspring -- William H. Ohler, John H. Ohler, George Dewey Ohler and Orpha Ohler. In 1895, when her 16-year-old daughter Katy sought to marry a 57-year-old widower, Isadore signed her consent to the union.
At the death of his mother in 1913, Washington was to have inherited the family farm in Hexebarger, but apparently he did not take steps to do so.
Unmarried in 1920 at the age of 67, he dwelled with his nephew Charles Milton Younkin and family in Hexebarger. That year, the census-taker recorded him as "retired."
He traveled to Arkansas to visit his sister Hila Hawkins. He died in her home on May 26, 1923 at the age of 69. Family researchers think he may have gone to Kansas where his brother resided, and to have died there, but no death certificate nor Find-a-Grave listing have been found. Somerset County orphans court records state that he "died intestate, unmarried and without issue." His sister Hila paid $145 in burial costs, which were reimbursed by the estate of their late mother.
Isadore outlived Washington by two decades. She dwelled in Coal Run near Meyersdale in rural Elk Like Township. Having borne cardiovascular disease, she was stricken with a cerebral embolism at the age of 71 and succumbed to death on Jan. 6, 1943. Interment of the remains was in St. Paul Cemetery near Meyersdale. Her widower lived for another four years in his home in Boynton and passed away at age 79 on Jan. 16, 1947.
~ Daughter Catherine "Katy" (Younkin) Tressler ~
Daughter Catherine "Katy" Younkin (1879- ? ) was born in 1879 in Upper Turkeyfoot and grew up in Kingwood. She also may have used the surname "Johnson" prior to marriage.
At the age of 16, on Aug. 26, 1895, she married 57-year-old widower and Civil War veteran Samuel Tressler (March 26, 1837-1925) of Kingwood, son of Daniel and Catherine (Burkholder) Tressler of Pinkerton, Elk Lick Township, Somerset County. Justice of the peace Jacob Kreger performed the ceremony, held at Samuel's residence.
Friends said that the couple had lived together before marriage and had produced a child out of wedlock.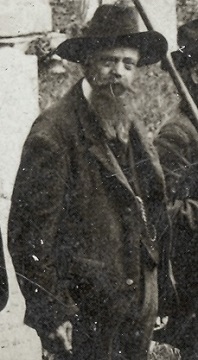 Samuel Tressler, Civil War soldiers' reunion, Jersey Baptist Church
Samuel had been married once before -- in Maryland in 1864 -- to Catherine Elizabeth "Betsy" Warner ( ? -1891), who died on or about April 4, 1891.
He thus brought a number of children to the marriage with our Katy -- George W. Tressler, Anna "Missouria" Blubaugh Judy, William "Lloyd" Tressler and Ira Tressler. (Five other children from the first marriage died young, including several due to diphtheria -- Judson Tressler [1867], Sherman Tressler [1877], Noah Tressler [1871]).
Katy and Samuel produced four known children of their own -- Edna May Parnell, Etta Tressler and Thelma "Fern" Chidester Tressler. Daughter Etta is believed to have died young.
Samuel stood 5 feet, 11 inches tall and weighed 153 lbs., with a fair complexion, blue eyes and dark hair. During the Civil War, he was drafted on Sept. 1, 1863 but failed to report for military duty. He and other fugitive conscripts evaded authorities for nearly 19 months. During that time, he worked off and on when he felt like it, including for farmer William Holliday, and spent time in others' homes who were trying to protect him. His mother once recalled, "He staid at home, and kept out of sight."
Then, on or about March 21, 1865, he along with William Warner and Stephen McNare surrendered to federal agent Zach Phillippi while at the home of Mitchell McClintock. In remembering the incident many years later, he said:
The night I was captured it rained and I got wet. I did not get cold while walking but while standing at Stephen McNare's barn I got very cold, there was snow on the ground. I persuaded the officer in charge of me to take me to the house and let me warm as I was cold and chilly.... I rode to Somerset in my wet clothing; we stopped at Gephartville for breakfast. I dryed myself as much as possible when we stopped..... When we reached Somerset Jail we got with Jacob + Levi Sterner, Zach Bittner and Herman B. Coughenour who were deserters.
After a night in jail, he and the others were dispatched to Chambersburg and then Carlisle where they immediately was placed in the 99th Pennsylvania Infantry. From there, the "new" soldiers were shipped to Baltimore and to City Point, VA. Four days after his arrest, he found himself arriving at the in army trenches at the front of enemy action at Petersburg, VA.
During his three-plus months of service, he was a private with the 99th Pennsylvania Pennsylvania Regiment, Company C. He wrote this many years later: "In April 1865 & the latter part of March -- we had to do a great deal of hard marching from which I contracted varicose veins of both legs -- And in May or June 1865 at Washington DC I became afflicted with Rheumatism. I was not in any Hosp. and received no medical treatment while in the army... I had no faith in our surgeon."
After the Confederate surrender at Appomattox in April 1865, he and the 99th Pennsylvania camped at Bailey's Cross Roads near the District of Columbia, waiting in their tents for their honorable discharges. During that time, Samuel began to complain in his German tongue about his illnesses. Friend A.B. Coughenour, who also spoke German, listened to the words being spoken and understood what they meant.
The men received their discharges near Washington, DC on July 1, 1865. They traveled from the District of Columbia to Philadelphia to receive their final pay and paperwork at Camp Cadwalader, and then returned to Somerset County. During the final leg of the trip, he walked from Johnstown to Jenners Cross Roads, where he slept in a hay mow before resuming his journey. On the last day, he was met on the road by his brother Charles Tressler who borrowed a horse from his employer Jacob Philippi so that the exhausted Samuel could ride the rest of the way.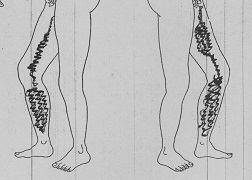 Surgeon's sketch of Samuel's varicose veins
.
National Archives
Arriving at his mother's, he was "out of his mind" and his brother Harrison "watched a window to keep him from jumping out" until his health began to improve somewhat. He recalled later that "Dr. D.E. Meyers -- now deceased -- treated me for a few weeks immediately after my return home. Otherwise I have had no medical treatment since my discharge. I am often not able to do any work at all." He showed his legs to family and friends, who saw big, thick black lumps and veins, some as massive as a finger.
Samuel resided in Pinkerton until about 1870, chopping wood and working for the railroad. He also worked for James Cunningham and then spent three years living and working at John Broucher's farm. He moved into his mother's home in about 1868 and then in about 1870 moved to the farm of Valentine Hays, and from there found a tenant home on property owned by Jacob J. Rush and later by the Pittsburgh and Connellsville Coal and Coke Works. Having spent a decade residing in the tenant house, he then moved to the Rush farm, where he resided circa March 1890. In addition to farmwork, he also furnished stone masonry services.
Rush once said that "I never saw a man have more complaints." In December 1879, some 16 years before he married our Katy, he was awarded a military pension from a disability caused by varicose veins of both legs, rheumatism and heart disease. [Invalid App. #326.713 - Cert. #503.608] Among his friends who wrote testimony attesting to his complaints during the war and afterward were Herman Coughenour, Jacob Sterner, Zachariah Bittner, Cyrus Warner, Noah Phillippi and Adam Nickelsen.
Later in life, Samuel suffered from hardening of the arteries, irregular heartbeat and chronic bronchitis. A special examiner was dispatched to visit Samuel in Ursina to ascertain the precise facts of his pension claims. In a subsequent report, written on Sept. 17, 1890, investigator James Matthews wrote that Samuel "is naturally deficient in brain power, and a chronic grumbler. After spending two days with him I was glad to escape from his wearisome talk about his multifarious ailments."
In April 1894, his son George questioned the validity of his father's claims and wrote a letter to the government, saying that the father's "reputation is very bad in almost every respect. The witnesses whose testimony is hereto attached testified reluctantly through fear of the man who is vindictive and dangerous." The son further wrote:
I saw Samuel timber for 25 years. I have worked in grain field with him. Worked in the woods with him. I have seen him doing diferent cinds of heavy work. I have seen him carey big loads on his back. I have seen him jump over fences 3 to 4 feet hie. I have seen hi ressel, throw men down. I can prove I have seen him run. I have seen him hold up one leg by the toes and jump over and back with the other leg. I have seen him put his legs up strait and walk on his hands. He can travel ol over the mountain hunting doo more walking then common man.... I have seen himm wade cricks and rivers in winter time hunting. Samuel Tressler has bin a stout able man to work since the war and his is able to work a Pretty fair Day work yet.
Another acquaintance, James M. Marshall, said that Samuel "has always been a great hunter and has hunted a great deal since the war. He knows every path and ravine in the mountains." Katy's cousin Dr. Winfield S. Kuhlman, a physician of Ursina (of the family of Louisa [Smith] Kuhlman), wrote that "I used to hunt with him for deer in the montains around here and we used to tramp from morning till night. He stood it as well as any of us, and was always active and nimble." Henry C. Cramer of Kingwood said that Samuel "has never shown any signs of rheumatism or any other disability during that time. he has not worked for he never would work. He has spent most of his time hunting and running after bad women. he boasts of his physical strength and says he can twin a hand-spring."
Katy's cousin by marriage, justice of the peace Jacob Kreger (of the family of Eli S. Younkin), wrote that "He has not worked to amount to anything since he got his pension... His reputation for truth is not good." Son-in-law Alexander Blubaugh noted that Samuel "brags about his strength and how he can whip anyone in a fight. He is a man of bad character and spends his pension money on bad women, at least always did until recently when he got married. His own children have nothing to do with him."
Sadly, Katie is believed to have died sometime between 1898 (when their daughter Fern was born) and the year 1900, when Samuel and six-year-old Edna boarded on the farm of his late wife's uncle and aunt, William Lincoln and Margaret (Nicola) Younkin in Hexebarger, near Kingwood. The home was just two doors away from the residence of Eli and Sarah (Leichliter) Younkin.
In 1912, Samuel was named in the Meyersdale Republican as one of the members of the Ross Rush Post of the Grand Army of the Republic who marched in the Memorial Day parade in Confluence. Said the Republican, "the services brought out a good crowd who took part. The exercises commended at 10 o'clock when the procession formed in the centre of town and marched through the principal streets.... After marching over the principal streets to the Casselman bridge, the beautiful and impressive ceremony of casting flowers upon the waters as a tribute to the dead sailors and the seamen was performed. The procession then reformed and marched to the Christian church...."
Toward the end of his life, Samuel was almost entirely bedfast and lived with his married daughter Edna Parnell near Confluence. In May 1922, she wrote that he was "bedfast nearly all the time and has not been out of the home for over three months; [his] eyesight is poor and his hearing is especially bad; that she nearly always dresses & undresses [him] - he cannot raise his arms or reach back; [he] must be combed and bathed by her; [he] must be led to stood oft times by her; she must attend [him] at his bedside a great deal; that [he] is weak in mind and memory."
Samuel died in the Parnell residence at the age of 88 on April 30, 1925. His remains were placed into repose in Johnson Chapel Cemetery in Confluence. [Find-a-Grave] An obituary in the Meyersdale Republican called him "an industrious, honest man" and noted that he was survived by 28 grandchildren, several great-grandchildren and a brother, Charles Tressler of Addison Township.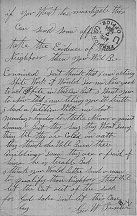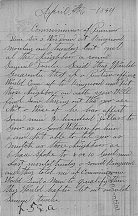 Letters which George W. Tressler sent to the U.S. Pension Commissioner in 1894 objecting that a pension was being paid "dishonestly" to his father Samuel.

National Archives
Stepson George W. Tressler (1865-1899?) was born in about 1865 in Somerset County. Evidence hints that he was joined in matrimony with Samantha Jane Nicklow (1865-1949), daughter of John A. and Elizabeth (Ohler) Nicola/Nicklow. (George's half-brother Lloyd later married Samantha's widowed sister Sarah Catherine.) The five offspring born to this marriage were Samuel Cleveland Tressler, Milton Harrison Tressler, Arthur Noah Tressler, Daisy "Grace" Pugh and Walter George "Skinny" Tressler. The Tresslers dwelled in Meyersdale, Somerset County. In April 1894, he wrote a series of three letters to the U.S. Pension Commissioner in Washington, DC, protesting that his father's Civil War pension had been dishonestly gained. He spent several days in Kingwood speaking with local residents who agreed to tell his and their side of the story should a government investigator be dispatched. He then sent their names to the pension commissioner, among them justice of the peace Jacob Kreger (of the family of Eli S. Younkin), Alexander Blubaugh, Henry Cramer, Frank Snider, brothers Freeman Younkin and Irvin Younkin (of the family of Rev. Herman Younkin), William Kreger and Edward Kreger, all "of a round Kingwood." George reputedly died in about 1897-1899 of causes not yet known, but this fact needs to be confirmed.
The widowed Samantha dwelled in Summit Township, Somerset County, with her widowed mother moving into her home to help care for the children. In 1905, Samantha wedded a second time to widower John C. Christner (July 10, 1841-1921), son of (?) Christner. He brought three or more children to the union from his earlier marriage to Barbara Judy -- Mrs. Harvey Burkholder, Mrs. Harvey Hoover and Rudolph Christner. Samantha and John bore a son of their own, John Christian Christner (Nov. 27, 1901-1962). John was considered by a local newspaper as "a man of good character, well loved by all who knew him. He was a true and faithful member of the Garrett Lutheran church." At some point, Samantha lost her sight and was considered blind. Sadly, the 79-year-old John died at home on Jan. 14, 1921. Reported the Meyersdale Republican, "Mr. Christner was in excellent health till a year or so ago, when his health began failing. He knew his days were near at an end. Several months ago he became quite feeble and was confined to his bed, where he remained until his death." Rev. Blair Claney led the funeral service, with burial in Garrett Cemetery. In the days that followed, Samantha's mother moved into her home to be of help. The mother cut her arm on a wire on a cot she was moving, but recovered. She was taken in to the home of her sister Mrs. J.W. Meyers for additional care. Her name frequently was in the newspapers for her social activity. She further developed a serious case of gangrene in the fall of 1924, but got well. Samantha outlived her second spouse by 28 years and resided in Lower Turkeyfoot Township. She succumbed to death on Nov. 30, 1949 in the home of her son Arthur. Burial was in Ursina Cemetery. Her name also is inscribed on a family marker in the Tressler family plot in Highland Cemetery, Garrett. Thirteen years later, her son John was killed at the age of 60, in late May 1962, when struck by a vehicle while walking home from Glade City. Her son Walter was killed in an vehicular accident in June 1974.
Presumed step-grandson

Samuel Cleveland Tressler

(1886-1980) was born on March 27, 1886 in Kingwood, Somerset County. He lived in Garrett, Somerset County in 1922-1974. Samuel was united in the bonds of wedlock with Ida Alice Nicklow (1892-1968). Their children included Malinda Johnson and Jonas Tressler. Samuel passed away in Meyersdale at the age of 94 on Oct. 4, 1980. They rest together in Highland Cemetery under a stone inscribed "JOHNSON-TRESSLER."
Presumed step-grandson Milton Harrison Tressler

(1888-1928) was born in Oct. 1888. During World War I, he served in the U.S. Army and was deployed to Europe. In action in France, he was injured by poisonous gas and never fully recovered. He was married and the father of three. After the war, he resided in Rockwood circa 1926. Within a year or two, he moved to Johnstown, Cambria County. After contracting pneumonia in April 1928, his health declined, and was admitted to the Veterans Administration Hospital in Aspinwall, near Pittsburgh. On May 29, 1928, he gave in to the spirit of death at the age of 39. The body was reutnred to Garrett for funeral services led by the American Legion post of Meyersdale.
Presumed step-grandson Arthur Noah Tressler

(1891-1969) was born on May 5, 1891 in Garrett, Somerset County. He made a home in Confluence and also Fairview, Fayette County circa 1922. By 1923, he had relocated to Johnson Chapel. He wedded Sadie A. Hentzel (1895-1962). Ten children were born to this marriage -- Marie A. Clevenger Weller, Margaret E. Lee, Leona Nolf, George D. Tressler, Blair W. Tressler, Everett Eugene Tressler, Warren Glenn Tressler, Betty J. Faidley, Howard A. Tressler and Mabel J. Shipley. They dwelled in Turkeyfoot Township circa 1949. Arthur died in Niles, Trumbull County, OH on March 5, 1969. His remains were transported to Somerset County to be lowered into the sleep of eternity in Jersey Baptist Church Cemetery in Ursina.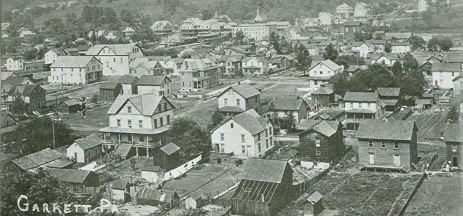 Bird's eye view of Garrett, Somerset County
Presumed step-granddaughter Daisy "Grace" Tressler

(1894-1922) was born on Nov. 8, 1894. At the age of 17, on April 17, 1912, she married 23-year-old railroad laborer Charles C. Pugh ( ? -1922), son of Daniel and Eliza Pugh. Because Grace was underage, her mother had to sign her consent to the marriage. Justice of the peace William Clement officiated at the wedding, held in Garrett, Somerset County. The couple bore six children -- Myrtle Gertrude Pugh, William Mahlon Pugh Sr., Daniel W. Pugh, Susanna Matilda Pugh, Silas W. Pugh and Mary Katherine Pugh. On the fateful night of Sept. 10, 1922, when Grace was expecting their seventh child, she was preparing her weekly washing for the next morning. Charles made the dark comment that "her preparations were useless, as they would both die together," reported the

Meyersdale Republican

. "He also told the children that they would not have a father and mother very long." He then pulled out a gun and shot Grace to death before turning the gun on himself. Added the

Republican

, " He bought the cartridges for his revolver, with which he did the shooting, in Meyersdale the previous Tuesday. On the same day he telephoned his wife's mother, who is blind, to come up to his home, and the relatives suspect that he meant to kill her also, if she had come. When the oldest child work up at night and found the dead bodies of her parents on the floor, the baby was at its dead mother's breast, trying to nurse and stained with the mother's blood."
Presumed step-grandson Walter George "Skinny" Tressler

(1897-1974) was born in July 1897. For decades, he dwelled in Garrett, Somerset County. He wedded Margaret D. Tipton (1901-1964). Their offspring were Katherine Louise Nicklow, Hilda Swindell, Betty Moore and John W. Tressler. On the fateful day of June 13, 1974, the 77-year-old Walter was riding in a pickup driven by his friend Oscar Klink. The vehicle "ran off the road and struck a wooden railing, then crashed into a bridge abutment," said the

Meyersdale Republican

. The accident occurred about a mile south of Kennells Mills on Route 55005. Walter suffered a crushed chest and was rushed to Memorial Hospital in Cumberland, MD where he was pronounced dead on arrival. Rev. Paul Snyder preached the funeral sermon, with interment following in Highland Cemetery in Garrett.
Stepdaughter Anna Missouria ("Annie" or "Missouri") Tressler (1870-1938) was born in about 1870 in Somerset County. On Aug. 20, 1888, she was united in wedlock with 31-year-old Alexander Blubaugh (May 26, 1856-1937), son of Chauncey and Catharine (Friend) Blubaugh of Ursina. The bride and groom were 13 years apart in age. Because Missouria was underage, her parents had to sign their consent to the union. The couple resided in Addison Township, Somerset County, where in 1900 he earned a living as a day laborer. They produced these known children -- Ada K. Donges, Maud Blubaugh, Lloyd Newton Blubaugh, Lola McIntyre, Richard Blubaugh and Bella Keefer. On May 22, 1905, Alexander having deserted his wife, the couple was officially divorced, with Missouri making her home in Garrett, Somerset County. On May 27, 1905, at age 28, Missouri and 25-year-old clerk Frank E. Judy (1873- ? ) united themselves in marriage. He was the son of Jerome and Barbara Judy and was a merchant in a general store in Garrett. They produced one son of their own, Ernest F. Judy, born in 1908. When Missouri was named in her father's 1925 Meyersdale Republican obituary, she and Frank lived in Garrett, Somerset County. By the early 1930s, they had relocated to Broad Ford near Connellsville, Fayette County, PA. Burdened with diabetes, Missouri was admitted to Connellsville State Hospital where she succumbed at the age of 68 on Sept. 30, 1938. Her remains were shipped to Garrett for interment. Daughter Lola McIntyre, the informant for the official Pennsylvania death certificate, gave her grandfather's name as "Daniel Tressler" and did not know her grandmother's maiden name. An obituary was published in the Connellsville Daily Courier. Former husband Alexander remained in Ursina. Toward the end of his life, Alexander was admitted to the Somerset County Home and Hospital where he died of bronchial pneumonia on Nov. 2, 1937. Burial was in Ursina. An obituary in the Republican said he was survived by children Mrs. E.P. Keefer of Scranton, PA; Ada Donges of Akron, OH; Lloyd Blubaugh of Somerset and Mrs. Clifford McIntyre of Rockwood
Great-granddaughter Ada K. Blubaugh (1893- ? ) was born in July 1888 in Addison Township, Somerset County.

At the age of 28, she resided in Cumberland, Allegany County, MD. On July 11, 1921, she was wedded to 29-year-old William J. Donges (1892), son of George and Anna (Beal) Donges of Meyersdale. William was employed in Cumberland as a rubber worker at the time of marriage. Justice of the peace Charles J. Harrison Jr. officiated at the wedding, held in Somerset. Their fates are unknown.
Great-grandson Lloyd Newton Blubaugh (1894-1979) was born in February 1894 in Addison Township, Somerset County. When in his early 20s, he earned a living as a laborer, working in Milford Township, Somerset County. On Sept. 11, 1915, at the age of about 22, he married 20-year-old Jennie M. Yutzy ( ? - ? ), daughter of Austin and (?) (Gehring) Yutzy. Rev. Harry White officiated at the wedding held in Milford Township. They produced four children, Glenn Blubaugh, Ray Orval Blubaugh, Park Blubaugh and Gladys Dyson. Sadly, Jennie passed away at a young age. Lloyd married again to Gertrude (Christner) Hicks (April 9, 1891-1978), widow of Kenneth Hicks and daughter of Samuel and Lydia (Deal) Christner. He was a member of the Eagles lodge in Somerset. Toward the end of his life, Lloyd lived on West Patriot Street in Somerset. He suffered the death of his second wife Gertrude on Jan. 12, 1978. He died at the age of 85 on May 16, 1979 in Lee Hospital in Johnstown, Cambria County. His remains were returned to Somerset for burial in Husband Cemetery, following funeral services led by Rev. Richard H. Shellenberger. An obituary in the

Somerset Daily American

said he was survived by seven grandchildren and 19 great-grandchildren. Son Glenn married a very distant cousin, Bertha Minerd, of the family of

Rev. William Mullen Minerd

of Rockwood.
Great-granddaughter Lola Blubaugh (1897-1982) was born on July 1, 1897 in Addison Township, Somerset County. She produced a son, Harry Hemminger, but the identity of the boy's father is not known. She was united in matrimony with Clifford McIntyre (1901-1972), a native of Six Mile Run and the son of James S. and Ida (Burns) McIntyre. Their home in 1938 was in Rockwood, where Clifford operated a tavern. Later they moved to Cannel Drive in Somerset. Clifford was a steward of the Veterans of Foreign Wars in Somerset. They were members of St. Peter's Roman Catholic Church of Somerset. Sadly, Clifford passed into eternity at age 71 on Dec. 5, 1972. Lola survived him by 11 years and followed him to the grave at the age of 85 on Oct. 17, 1982, while a patient in Somerset Community Hospital. Burial was in Somerset County Memorial Park, after a funeral mass sung by Rev. Samuel Tomaselli. [

Find-a-Grave

] Obituaries for both were published in the

Somerset Daily American

. Son Harry Hemminger lived in Akron, OH in 1982.
Great-granddaughter Bella Blubaugh ( ? - ? ) married E.P. Keefer ( ? - ? ). In 1937-1938, they made their home in Scranton, Lackawanna County, PA. More will be added here when learned.
Great-grandson Ernest Judy (1907-1977) was born on June 18, 1907 in Garrett. He resided in Connellsville in 1932. He resided in 1977 at 422 Coolspring Street in Uniontown, Fayette County. At the age of 70, he died in Uniontown Hospital on July 24, 1977. Burial was in Highland Cemetery in Garrett, with Rev. William Phennicie officiating. An obituary in the Meyersdale Republic noted that he was survived by his half-sister Lola McIntyre of Somerset, half-brother Lloyd Blubaugh of Somerset and an uncle, Richard Judy, of Foley, AL.
Stepson William "Lloyd" Tressler (1875-1962) was born on Oct. 17, 1875 in Addison or Upper Turkeyfoot Township. At the age of 21, on July 26, 1896, he was joined in matrimony with 16-year-old Cora Jane Growall (1880-1917), daughter of Daniel and Mary Growall of Upper Turkeyfoot Township. Justice of the peace A.S. Levy officiated at the ceremony held in the Growall home. The couple were the parents of Clinton Tressler, Walter Tressler, Molly Kreger, Ruth Kreger, Mattie Crossen, Alice Lemmon and Eva Nell Conners. Sadly, Cora Jane died in November 1917. Lloyd remained a widower for 13 years and lived in Kingwood. He was named in the 1925 Meyersdale Republican obituary of his father. He married again at the age of 52 on Feb. 28, 1930 to Sarah Catherine (Nicklow) Heinbaugh (1874- ? ), age 53, widow of Levi Heinbaugh ( ? -Dec. 16, 1926) and daughter of John and Elizabeth (Ohler) Nicklow. Justice of the peace Robert E. Craver led the nuptials. The Meyersdale Republican reported that "Mr. and Mrs. Heimbaugh received a grand serenade on their return from Cumberland where they were married, and as the bridegroom's mother, Mrs. Catherine Heinbaugh, and Lloyd Tressler were married only a few days previously, the serenading was for both couples." Lloyd suffered from asthma and hypertension for the final two decades of his life. By 1962, the marriage had ended. At the age of 87, on Dec. 3, 1962, Lloyd succumbed to a stroke he had suffered two days earlier. His remains were placed into repose in Old Bethel Cemetery in Hexebarger near Kingwood.
Step-grandson

Clinton Tressler

moved to Connellsville.
Step-grandson Walter Tressler

resided in Markleton.
Step-granddaughter Molly Tressler married (?) Kreger

. She dwelled in Markleton in 1962.
Step-granddaughter Ruth Tressler wedded (?) Kreger

. Circa 1962, she was in Markleton.
Step-granddaughter Mattie Tressler was joined in matrimony with (?) Crossen

. They put down roots in Smock, Fayette County.
Step-granddaughter Alice Tressler was united in wedlock with (?) Lemmon. They established a residence in Canton, OH.
Step-granddaughter Eva Nell Tressler married (?) Conners

. She made a home in Everson, Fayette County in 1962.
Stepson Ira Tressler (1877-1944) was born on Oct. 14, 1877 or on Nov. 27, 1876. (Records differ.) He never married. Ira resided on a farm in Lower Turkeyfoot Township. He suffered a heart attack and died on May 6, 1944. Mrs. Arthur Tressler of Confluence was the inforrmant for the death certificate. Burial was in Ursina Cemetery.
Daughter Edna May Tressler (1894-1975) was born on March 10, 1894 in Ursina. Her mother is believed to have died when Edna was very young, and she and her father lived in 1900 on the farm of William Lincoln and Margaret (Nicola) Younkin in Hexebarger, near Kingwood. On Aug. 27, 1913, at age 18, she married 21-year-old laborer John Andrew J. Parnell ( ? - ? ), son of Jasper and Samantha (Hunter) Parnell of Confluence. Justice of the peace G.G. Groff officiated. Circa 1922, their home was in Henry Clay Township, Fayette County, drawing their mail in Confluence. Later, they resided in Connellsville and Uniontown, Fayette County. The couple produced these known children -- Alice Uphold, Elva Uphold, Barbara McClintock, Lenora Tate, Delores Bird, Samuel E. Parnell, John A. Parnell Jr., Virgil Parnell and Stella Uphold. The family were members of the Calvary Assembly of God Church. Later in life, the couple dwelled in Cleveland, where their married daughter Lenora and sons resided. Their address in the mid-1970s was 13510 Colte Road. Edna died in Uniontown Hospital at age 81 on Sept. 22, 1975. Burial was in Green Ridge Memorial Park., with Rev. Richard Fogel preaching the funeral service.
Granddaughter

Alice Parnell married Howard Uphold

and resided in Confluence in 1975.
Granddaughter Elva

Parnell

was joined in wedlock with George Uphold

. Circa 1975, the couple lived in Hopwood, Fayette County.
Granddaughter

Barbara

Parnell

wedded (?) McClintock

. She dwelled in 1975 in Uniontown.
Granddaughter

Lenora

Parnell

was united in holy matrimony with (?) Tate

. Her residence in the mid-1970s was in Cleveland.
Granddaughter

Delores

Parnell

married (?) Bird

. She was in Connellsville in 1975.
Grandson

Samuel E. Parnell

relocated to Cleveland.
Grandson John A. Parnell Jr. established his home in Cleveland.
Grandson Virgil Parnell died in 1972.
Granddaughter Stella Parnell wedded (?) Uphold. She was deceased by 1975.
Daughter Thelma "Fern" Tressler (1898-1967) was born on March 2, 1898 in Somerset County. She appears to have been married twice. Circa 1914, she was wedded to Henry Chidester (Sept. 5, 1892-1918), the son of Amanda Chidester. The marriage produced four known children, James Chidester, Katherine "Katie" Crosco, Charles A. Chidester and Daniel Chidester. Henry contracted influenza in October 1918 and suffered for about two months. The young family was plunged into grief when he was spirited away by the Angel of Death the day after Christmas 1918, at home, when he was only age 26. His body placed into eternal sleep in Listonburg, with Rev. Allison officiating the funeral service. Reported the Meyersdale Republican, he was "survived by his mother, Mrs. Amanda Chidester of Listonburg, and one brother, Private Eli F. Chidester, somewhere in France. His father and one brother preceded him to the grave several years ago.... The bereaved family have the sympathy of the entire community in their sorrow." When the 1920 federal census enumeration was made, the 22-year-old single mother headed an Addison Township household with her children James, Katherine and Charles. By 1925, Fern had married again to (?) Shedskey and relocated to Acosta, Somerset County. That year, she was named in the Republican obituary of her father. The United States Census of 1930 shows Fern married to coal miner Edward J. Tressler (1899- ? ) and living in Somerset with him and three of her children. The couple bore a son, Daniel R. Tressler. By 1935, Fern was back to using the name "Chidester" and resided in Skunktown, PA. In 1940, census records show her using the name "Tressler" and co-habitating with 58-year-old Moss Hawk in Addison Township, with her teenage son Daniel in the household. At that time, her former mother-in-law Amanda Chidester dwelled next-door and was raising Fern's son James. Later in life, Fern made her residence in Confluence and suffered from chronic arthritis, hardening of the arteries and hypertension. At the age of 69, she was hospitalized in Somerset from a stroke which paralyzed her left side. After lingering for 26 days, she died on March 4, 1967. Interment of the remains was in Listonburg Cemetery. Son Charles Chidester of Confluence was the informant for the official Pennsylvania certificate of death. She was survived by 16 grandchildren and six great-grandchildren.
Grandson James N. Chidester (1914-1973) was born on Feb. 1, 1914. He was raised in part by his grandmother Amanda Chidester and, while under her roof in 1940, was unmarried and worked as a farmer. He made a home in Confluence in 1967-1973. As his health failed, he was admitted to the Butler (PA) Veterans Administration Hospital, and died there at the age of 59 on April 7, 1973. The funeral service was led by Rev. Elwood O'Dell, with burial in Addison Cemetery. The Meyersdale Republican printed an obituary.
Granddaughter Katherine "Katie" Chidester (1916-2001) was born on Feb. 9, 1916 in Harnedsville, Somerset County. On Oct. 15, 1932, when she was age 16, she stole away to Cumberland, MD to be joined in marriage with Lonnie Crosco (Feb. 3, 1910-1962), a native of Corinth, WV and the son of Italian immigrant Philip and Martha "Mattie" (Reckerd) Crosco. News of their elopment was printed in the Meyersdale Republican, which reported that "Quite an excitement was created by the blowing of the whistle at the mine on Saturday evening between 7 and 8 o'clock, but lo! when the news broke it was only the serenading of the young married couple at the home of the groom's parents..." The two daughters born to this union were Geraldine Lytle Sterner and Mildred Mitchell. Their home for years was in Listonburg, where he earned a living mining coal. After their married daughter Geraldine relocated to Chicago, Katherine is known to have traveled there for visits. The family was plunged into mourning when Lonnie was involved in a two-car vehicle accident along Route 53, about four miles south of Confluence, in mid-February 1962. His vehicle careened out of control and crashed into an incoming car. Suffering from a fractured skull and other injuries, he was admitted to Price Hospital in Confluence and lingered for several days before finally succumbing on Feb. 21, 1962. Interment was in Addison Cemetery. In 1967-1970, Katherine dwelled in Chicago, likely with her married daughter Geraldine Sterner. By 1973, she had married again to Charles James Halladay (Nov. 6, 1912-1978), son of James and Martha Halladay and a native of Georgetown, Beaver County, PA. Katherine relocated to Aliquippa, Beaver County, where James was employed in the blast furnace of Jones & Laughlin Steel Corporation. Charles died in Aliquippa Hospital on Oct. 10, 1978, with an obituary appearing in the Beaver County Times. His remains were lowered into rest in John Anderson Memorial Cemetery in Raccoon Township, with the funeral officiated by Rev. Donald Truitt. Katherine lived for another 23 years as a widow. She died in Fresno County, CA on Oct. 7, 2001.
Great-granddaughter Geraldine Eleanor Crosco (1933-2019) was born on Jan. 8, 1933 in Addison, Somerset County. She first married Robert Lytle ( ? - ? ), son of Grant Lytle of Confluence. They were wed in Oakland, MD on Oct. 16, 1947. They bore one known daughter, Gloria J. Long. By 1960, she had married again to (?) Sterner and was living in Chicago. There, she was employed by Magnacraft as an executive secretary. She enjoyed casino gambling and fishing. She is known to have traveled from Chicago to attend her father's funeral in 1962. She remained in the Windy City circa 1970. By 2008, she had wed once again to (?) Piezon ( ? - ? ) and resided with her daughter in Youngwood, Westmoreland County. She passed into the arms of the angels in the home of cousin George D. Tressler in Clovis, CA, at the age of 86, on June 19, 2019. Her body was returned to Greensburg to rest for all time in St. Clair Cemetery.
Great-granddaughter Mildred Crosco (1935-2008) was born on Jan. 30, 1935 in Listonburg. She wedded Edgar E. Mitchell ( ? - ? ). Their children were Edgar E. Kitchell Jr., Debra Ann King, Katherine Louise Trautman and twins Michael Mitchell and Cena Sark. In 1970, the Mitchells were in Confluence. By the 2000s, Mildred had relocated to Latrobe, Westmoreland County. She died in Excela Health Westmoreland Hospital at the age of 73 on May 30, 2008. An obituary appeared in the Somerset Daily American. She was survived by a dozen grandchildren and 10 great-grandchildren. Burial was in St. Clair Cemetery.
Grandson Charles A. Chidester (1917-1967) was born on Nov. 1, 1917 in Confluence. He wedded Clara Mates ( ? - ? ). The family made a home in Listonburg and produced these children -- James Chidester, Viola McCartey, Delores Augustine, Virgie Chidester, Judy Chidester, John Chidester, Edward Chidester and Dixie Chidester. Charles served in the U.S. Armed Forces during World War II. Grief blanketed the family when Charles died at home at the age of 49 on April 19, 1967, just a month-and-a-half after his mother. Burial was in Addison Cemetery, with Rev. Chester Henneman preaching the funeral sermon. The Meyersdale Republican published an obituary.
Grandson Daniel R. Tressler/Chidester (1927- ? ) was born in about 1927. He used both surnames during his lifetime. He was married and the father of George D. Tressler, Ronald Chidester and James Chidester. Daniel resided in 1967-1973 in Confluence.
Copyright © 2016-2018, 2020 Mark A. Miner
Research for this page graciously shared by the late Olive (Rowan) Duff, the late Donna (Younkin) Logan and Linda Marker.