Carrie (Minor)
Wilson Wilkinson
(1866-1932)
Carrie (Minor) Wilson Wilkinson was born on April 30, 1866 in Brownsville, Licking County, OH, the daughter of James S. and Angeline C. (Hamilton) Minor.
On Feb. 9, 1887, at the age of 21, Carrie wed John P. Wilson ( ? - ? ). The ceremony took place in Licking County, and their marriage license is still on file today in the county courthouse in Newark.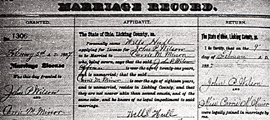 The Wilsons' marriage license, 1887
Within a year of marriage, the Wilsons migrated to Wisconsin, where their son Minor Packer Wilson Sr. was born in Aleva/Eau Claire on April 1888.
The Wilsons' marriage ended in divorce sometime before 1900. Their young son was taken into the home of Carrie's parents in Newark, Licking County.
In about 1902, when she would have been age 36, Carrie married Joseph L. Wilkinson (1860- ? ). He was a decade older than his bride.
For many years, the Wilkinsons resided in Columbus, Franklin County, OH. Their home address was 655½ South Front Street.
The federal censuses of 1910 and 1920 show Joseph earning a living as a railroad machinist. Living next door to them in 1920 were her married son Minor and his first family.
Carrie and Joseph are known to have spent five days at Christmas 1923 visiting at the home of her brother Oren Bernard Minor in New Philadelphia, OH.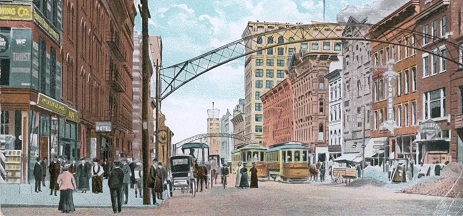 View of High Street in Columbus, north of Gay Street.

Columbus Dispatch, 1932
Carrie suffered from angina pectoris as well as myocarditis and other illnesses. Sadly, she passed away in Columbus at the age of 66 on on Sept. 18, 1932. She was laid to rest in the city's famed Green Lawn Cemetery, where many of her extended cousins in the Minerd- Minard- Miner- Minor family also rest for eternity. Her obituary was published in the next day's Columbus Dispatch.
Joseph's fate is unknown, other than the fact that he outlived his wife.
Former husband John P. Wilson lived in St. Joseph/Benton Harbor, MI in 1923. In August of that year, his son Minor came for a visit. John died in late 1923 or early 1924. Son Minor, living in Ohio, made a petition in the County of Berrien Probate Court in January 1924 asking that the court appoint Warren Carroll to administer the estate. In June 1925, the son placed advertisements in the Benton Harbor News-Palladium, offering to sell three houses at 526 Broadway, 571 Plummer Court and 583-585 Heck Court.
~ Son Minor Packer Wilson Sr. ~
Son Minor Packer Wilson Sr. (1888-1965) was born on April 29, 1888 in Eau Claire/Aleva, WI. When his parents' marriage ended early, he was sent to Newark, Licking County to live with his widowed grandmother, Angeline C. (Hamilton) Minor and an uncle, Oren Bernard Minor.
Minor is shown with this family unit in 1900 when the federal census was taken. Then when his mother remarried, he became part of the Wilkinson household in Columbus, Franklin County, OH. His occupation in 1910 was as a bookkeeper for a roofing business.
On Jan. 31, 1914, Minor was united in matrimony with Lura E. Strong (Aug. 15, 1889- ? ), daughter of Addison W. and Elizabeth (Wilson) Strong of Guernsey County, OH. The wedding was held in Columbus, with Rev. A.R. Connell officiating. At the time of marriage, both Minor and Lura worked in Columbus, he as a bookkeeper and she as a stenographer.
They bore two sons, Minor P. Wilson Jr. and Bruce N. Wilson.
Minor continued to make a living in the accounting profession. In 1920, when the U.S. Census was taken, he and Lura and their sons lived next door to his mother and stepfather in Columbus.
Circa 1930, living in Columbus, Franklin County, OH, he was employed as an accountant by a shoe manufacturing firm. He was a member of the Humbolt Lodge of the Masons.
Their address in 1932 was 193 East Northwood Avenue in Columbus.
The Wilsons' marriage ended in the 1930s or '40s. Details are not known.
Minor relocated to Cincinnati, where in 1941 he worked as a salesman.
Then in Nov. 1941, the 53-year-old Minor and 40-year-old saleswoman Lois F. Crary ( ? -2000) of 3429 Zumstein Avenue applied for a marriage license, as noted in the Cincinnati Enquirer.
The couple married. Lois brought a daughter to the union, Anne Crary. The daughter later took the Wilson name.
They resided in Cincinnati, and then in 1944 left Ohio and relocated to the west coast of Florida, making a home in St. Petersburg near Tampa. Minor placed classified advertisements in the Tampa Bay Times circa 1948 offering his part-time bookeeping and taxes services. Lois hosted meetings of the Chi Omega alumnae at her home at 1800 20th Avenue South and was active with the sorority. She also was a volunteer leader with the Panhellenic Association.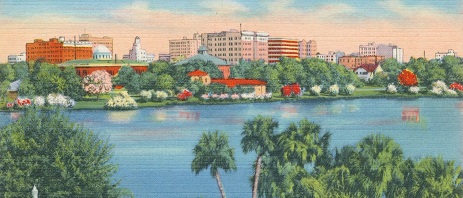 Above: St. Petersburg, 1940s, as seen from Mirror Lake Drive. Below: St. Pete's famed green sidewalk benches for shoppers and tourists.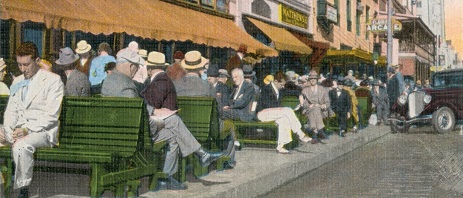 At some point they moved to Pinellas Park, with an address of 5001 58th Street North.
Minor died on Nov. 2, 1965. An obituary in the Tampa Tribune said he was survived by seven grandchildren and a great-grandchild. Interment was in Royal Palm South Cemetery in St. Petersburg.
Lois outlived her husband by 35 years. Toward the end, she became a resident of St. Petersburg's Sunshine Village Nursing Home. She succumbed at the age of 99 on Jan. 13, 2000. An obituary in the Times noted that her survivors were three grandchildren and two great-grandchildren. It did not name her stepsons.
Son Minor Packer Wilson Jr. (1915-1985) was born three days after Christmas 1915 in Ohio. His home in 1935 was in Columbus. Sometime in the late 1930s, he and his brother relocated to Los Angeles and was there when the federal census was taken in 1940. He was employed as a cleaner by a dry cleaning firm in 1940. Minor died in Las Vegas on April 20, 1985, at the age of 69.
Son Bruce Norman Wilson (1917-1997) was born on July 30, 1917 in Ohio. He migrated to Los Angeles in the late 1930s and shared a home with his brother in 1940. Circa 1940, he worked for a dry cleaning company. He passed away in San Diego on March 12, 1997. A terse death notice was printed in the Los Angeles Times.
Stepdaughter Anne Crary Wilson ( ? - ? ) was born in (?) and considered Cincinnati her hometown. As a young woman, she relocated to Florida's west coast with her mother and stepfather. On March 20, 1954, she wedded Dr. Loren Richard Baldwin (1925-1965), son of Lowell Edwin Baldwin of 5212 10th Avenue North and a native of Kansas City, MO. The wedding was held at Fifth Avenue Baptist Church in St. Petersburg, with Rev. Vaughn Johnson officiating. Said a story in the Tampa Bay Times, "the bride chose a pale blue satin suit trimmed in braid and sequins and matching hat and shoes. She carried a white orchid on a prayer book surrounded by white carnations and stock." The couple were the parents of three daughters -- Susan Kathleen Baldwin, Nancy Ruth Baldwin and Sharon Ann Baldwin. A veterinarian, Richard had received his bachelor's degree from the University of Florida and then served with the U.S. Army during World War II. After his military service ended, he attended Alabama Polytechnic Institute where in 1953 he received a degree in veterinary medicine. He and the rest of the graduating class -- the school's very first -- were pictured as a group in the Tampa Tribune. The couple established a home in New Smyrna Beach and in about 1962 relocated to Orlando where he worked with Dr. David Lynn at a veterinary hospital. Richard made news in newspapers statewide when he reported that he knew of a blue tick hunting dog which had borne two sets of puppies only five weeks apart. He was a member of Mayfir Baptist Church in Jacksonville as well as the American Veterinary Medical Association, Florida State Veterinary Medical Association, Central Florida Veterinary Medical Association and Orlando Jaycees. Sadly, Richard died in Orlando at the age of 40 on Valentine's Day 1965. An obituary was printed in the Orlando Evening Star. Anne remained in St. Petersburg, FL and was there in 2000 at the death of her mother. Anne is believed to have succumbed at the age of 86 on May 27, 2014.
Copyright © 2005, 2019 Mark A. Miner