Home

Charles 'Claudius' Minor
(1868-1934)
Charles Claudius "Claude" Minor was born on Aug. 26, 1868 in Brownsville, Licking County, OH, the son of Daniel L. and Frances (Vreeland) Minor.
When he was age four, Claude and his parents moved to the coal and clay mining town of Shawnee, Perry County, OH. He worked there as a laborer.
On New Year's Day 1895, at the age of 27, Claude entered into marriage with 24-year-old Minnie Ashbrook (Sept. 1871- ? ), of Somerset, Perry County, by the hand of W.W. Trout. In her words, at the time she "was a person of delicate health, physically weak and frail of body…"

Duck hunting at Buckeye Lake, one of Claude's favorite enjoyments.
The following year, in November 1896, Claude nearly killed his friend Henry Worthington in a freak hunting accident. Said the Shawnee Advocate (reprinted in the New Lexington Tribune):
[They] were engaged in duck hunting at Licking reservoir. They were approaching a flock and had previously decided in what manner they would fire. Worthington was rowing the boat and Miner was to have first shot. Miner was standing in the boat with his gun pointed, and as they had come very near to the flock, Worthington, believing that Miner had decided not to shoot, started to raise up in order to take aim himself, when Miner's gun went off and his hat was filled with shot. Henry keeled over apparently dead enough, but fortunately, aside from being horribly frightened and slightly burned with powder, he escaped uninjured.
The marriage was rocky, and Minnie accused her husband of "idleness" and that he had "neglected to provide [her] with food and clothing and the common necessaries of life."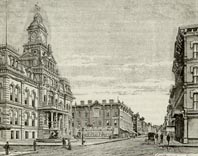 Zanesville's Main Street
In the winter of 1899-1900, the Minors resided at Zanesville, Muskingum County, OH, where he worked as yardmaster for the Baltimore and Ohio Railroad. In March 1900, he was transferred to Columbus, Franklin County, OH and continued to be employed as a railroad yardmaster. They boarded in the home of Marie Duvault.
After only a month, the dismayed Minnie left and went to her father's home in Somerset. She then sued Claude for divorce in the Probate Court of Perry County. She alleged that Claude often left her alone while he went out in the evenings. She also complained that he "compelled her to remove to Columbus, Ohio, and live in a disreputable part of the City, namely the corner of 4th, and Spring Streets where her friends refused to call on her…" After reviewing the evidence, the court found that Claude had been "guilty of extreme cruelty" and granted the divorce.
Circa 1913, Claude is believed to have earned a living as a police officer in Zanesville. By 1920, he worked as a burner in a brickyard in Shawnee and shared a home with his sister Maude, as shown in U.S. Census records.
In about 1922, Claude was joined in wedlock with his second wife, 27-year-old Edith Gertrude Rea (Oct. 3, 1894-1940). She was a native of Grant County, IN and the daughter of Albert and Laura Bell Rea. The pair were 21 years apart in age.
The couple bore one daughter, Joan "Frances" Bending.
They dwelled in 1930 on Seventh Street in Newark, Licking County. Claude earned income as a salesman in a retail general store, and Edith was a practical nurse.
At age 64, Claude began suffering from prostate and bladder cancer. He battled for more than a year, until his death in Shawnee on Aug. 21, 1934. He was buried in Shawnee Cemetery. A one-sentence obituary was printed in the Zanesville Signal.
Edith survived her husband and made a home at 1½ South Fifth Street in Newark. Three years after his death, the 43-year-old married again, on Oct. 8, 1937, to 50-year-old machinist Louis M. Stargell (Nov. 18, 1886- ? ). He was the son of Richard and Catherine (Pleasant) Stargell, was twice-divorced and a native of Alberene, VA.
Louis, said the Newark Advocate, "came to Newark in June 1906 and was employed by the Newark Stove Company until 1924. From April 1, 1925 to July 1, 1952, he was employed by the Pure Oil Company. He was a member of the Church of God." He belonged at one point to the Spritual Science Church in Newark, founded Feb. 24, 1944.
They made a home at 143 Riley Street in Newark, where Edith is known to have hosted meetings of the Sunflower Club.
Suffering from heart disease at the age of 46, she passed away on Nov. 15, 1940. Rev. W. Allen Wilson preached the funeral sermon. Her remains were placed into repose in Cedar Hill Cemetery in Newark.
Louis married again to Edna May Turner ( ? -1964). At his death in September 1957, the Advocate said he was survived by a son Walter R. Stargell of Newark and Mrs. Roy Rafferty (or "Raftery") of San Jose, CA.
~ Daughter Joan "Frances" (Minor) Bending ~
Daughter Joan "Frances" Minor (1921- ? ) -- or "Fran" for short -- was born on Oct. 18, 1921 in Shawnee, Perry County, OH.
At the age of eight, she lived with her parents in Newark, Licking County. Then as a young woman, said The State of Columbia, SC, Frances "was an adventurous person and, as a young woman, did motorcycle stunt driving. She worked as an aerial trapeze artist with the Jimmy Lynch Helldrivers." In fact, the Newark Advocate reported in September 1938 that she was among "several Newark performers [who] will be among the entrants when the Circus of Death, a motorcycle thrill program, is presented at the Mt. Vernon fairground track... Frances Minor, a Newark girl, and another local girl will give a daredevil act on a trapeze bar raised between two speeding motorcycles."
Frances entered into marriage with Joseph Friend Bending (June 27, 1915-1985), a fellow Newark native and the son of Frank and Amanda (Perkins) Bending. He was divorced from his first wife, Edith Patterson, and brought a stepson to the union, Joseph Laymoin Bending.
The couple went on to bear two daughters of their own -- Beverly Ann Grenzow and Penny McIntyre Elliott.
Frances is said to have had a "warm and generous heart and the impish twinkle in her eye."
Their home in 1959 was in Bath, OH and in 1970 in Hickory Corners, MI. For 25 years, Joseph earned a living as a painter with the Kellogg Farms Biological Center at Michigan State University.
Great sorrow blanketed the family at the tail-end of 1969 when their married daughter Beverly was killed in an automobile accident near Akron, OH.
In retirement, in 1980, the Bendings moved to Palm Harbor, FL. Their address was 27 Yawl Lane.
Sadly, Joseph died in Palm Harbor on June 11, 1985. His obituary in the Tampa Bay Times said he had been a member of the Tarpon Springs lodge of the Moose. His remains sleep for the ages in Curlew Hills Memory Gardens in Palm Harbor. His remains were cremated.
The widowed Frances then relocated to Camden, SC to be near her only living daughter. During those late years together, they were "inseparable."
She passed away without warning on June 19, 2008.
Stepson Joseph Laymoin Bending (1936-2019) was born on Jan. 10, 1936 in Newark. He spent his adult life in Newark, OH and was a 1954 graduate of Newark High School. He married Jill Colley (1939-2020), originally from Glouster, Athens County, OH, and the daughter of William and Elizabeth (Morris) Colley. They remained together for an extraordinary 61 years until the separation of death. One son born into the union was Michael Allen Bending. Following a term of service in the U.S. Marine Corps, Joseph attended Ohio State University and the American Institute of Banking. He went on to a career in finance with Licking Memorial HealthSystems and retired as director of Licking Memorial Health Professionals. In her own right, Jill was a 1957 alumna of Hebron High School. Her working career was spent at Roper Corporation and Kaiser Aluminum. Grief descended over the family at the untimely death in 2013 of their married son Michael. The angel of death whisked Joseph away at the age of 83, on Sept. 5, 2019, as a patient in Newark's Selma Markowitz Care Center of Hospice of Central Ohio. His remains were laid to rest in St. Joseph Cemetery. Jill lived for a year as a widow. Death enveloped her at age 81, in Newark, on Sept. 4, 2020.
Grandson Michael Allen Bending (1959-2013) was born on Sept. 15, 1959 in Columbus, OH. He was a 1977 graduate of Newark Catholic High School and went on to receive his bachelor of arts degree in 1981 from the College of Wooster. His is known to have been the father of Samuel Bending. In about 2009, he wed Lois Weisgerber ( ? - ? ). Stepchildren she brought into the union included Chris Wohlheter and Lindsay Rice. Said an obituary, "He worked for many years in Team Lead at RR Donnelley and was an avid reader. Having played baseball in both high school and college, he was a sports enthusiast and enjoyed coaching at several area schools, including Newark Catholic." Sadly, Michael contracted cancer. He died as a patient in James Cancer Center in Columbus at the age of 53 on May 29, 2013. His funeral mass was conducted in the St. Francis deSales Catholic Church, led by Rev. Fr. Adam Streienberger. The remains were lowered under the sod of St. Joseph Cemetery, Newark.
Daughter Beverly Ann Bending (1940-1969) was born on July 27, 1940 in Newark, OH. She made her home in Bath, Summit County, OH in young womanhood and earned a living as a billing clerk with Motor Cargo in West Richfield, OH. Two days before her 19th birthday, on July 25, 1959, she was united in matrimony with her co-worker Lloyd Carroll Grenzow (March 18, 1937-2010), a native of Akron and the son of Donald M. and Ruth Evelyn (Hughes) Grenzow of Poland, OH. Officiating their wedding was Rev. F. Bruce Johnston of Akron. Their two offspring were Brenda Grenzow and Brent Grenzow. They made a home in Copley, OH and then in about 1969 relocated to Akron, OH, where she was employed with Lyons Trucking Company as a clerk. Tragically, the 30-year-old Beverly died in an automobile accident on New Year's Eve, 1969. The Akron Beacon Journal reported that she "became Summit County's 94th traffic victim of 1969 Wednesday. She skidded into another car on icy Ohio 176 just south of West Point rd. in Bath." Lloyd outlived her by decades and may not have remarried. He made a home in Richfield, OH and was employed for more than four decades with Consolidated Freightways. He died at the age of 73 on Oct. 26, 2010. In his Akron Beacon Journal obituary, the family asked that any memorial donations be made to Children's Hospital Medical Center of Akron to benefit its Oncology Unit.
Granddaughter Brenda Grenzow has lived in Richfield, OH in the 2008-2014 timeframe.
Grandson Brent Grenzow ( ? - ? ) was born on (?). He is a 1979 graduate of Revere High School. As a young man he worked for Fishers Cafe & Pub as well as the Coliseum. He first entered into marriage with Linda Kay Coleman ( ? - ? ), daughter of Jerry and Beverly Coleman of Fort Pierce, FL. They were wed on the Fourth of July 1992 in Bronson Memorial Church of Peninsula, OH, with the marriage announced in the Akron Beacon Journal. His second bride is Becky ( ? - ? ). They have dwelled in Richfield, OH.
Daughter Penny Bending ( ? - ? ) was born on (?). She was a graduate of Revere High School in Richfield. With a deep interest in horses, she became a riding instructor at the Grosse Pointe Hunt Club in Michigan. On Dec. 9, 1967, Penny joined in wedlock with her work colleague Thomas L. McIntyre ( ? - ? ), son of Clarence C. McIntyre of Warrenville, IL. Their nuptials were held in the Richland Presbyterian Church and announced with her bridal portrait in the Battle Creek (MI) Enquirer. Thomas was an alumnus of Wheaton (IL) Community High School and had studied at Lyons Junior College of LaGrange, IL. By the time of their marriage, he was an instructor and stable manager at the hunt club. In time, she married again to (?) Elliott ( ? - ? ). Penny lived in Camden, SC in 1985-2008 and has made a life as a professional horsewoman. Evidence suggests that she owns Southern Comfort Farm, LLC in Camden and has served as a judge for the annual Camden Hunt Horse Show.
Copyright © 2002, 2005, 2019, 2023 Mark A. Miner