Home

Edward G. Minor
(1884-1950)

Edward G. Minor was born on Nov. 3, 1884, either in Washingtonville, Columbiana County, OH or in Sherrodsville, Carroll County, OH, the son of John and Emma (Howell) Minor. He was of medium height and build, with brown hair and brown eyes.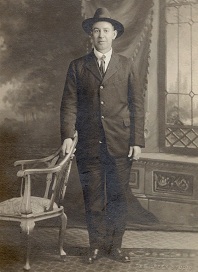 Edward, date unknown
Edward was a coal miner for many decades. He moved to near Tuscarawas, Tuscarawas County, OH in about 1915, where he resided off and on for 35 years.
During World War I, Edward registered for the military draft, on Sept. 12, 1918. At the time, he revealed to a registration agent that he was employed as a coal miner with "Minor Bros," a family firm in which he was a partner with his siblings Jacob and Clifford. He also named his mother Emma of Roswell, Tuscarawas County, as his nearest relative. He was unable to read or write, so signed his name on the draft card with an "X."
In 1920, Edward resided with his brother Jacob in Flushing Township, Belmont County, OH.
He was married in about 1927, when he was age 42, but was divorced by 1930. The identify of his wife is not known.
A decade later, in 1930, he made his home in the Plum Borough section of Pittsburgh, PA with his brother Jacob's son, Clyde Minor. Both men worked that year as pickmen in a local coal mine, and both eventually returned to Eastern Ohio. Circa 1950, Edward lived alone in a "one room home south of Tuscarawas," said the Free Press Standard.
Tragically, at the age of 65, Edward was caught in a fire in his house when a kerosene stove exploded. He suffered "second degree burns of the hips and legs" and died on Feb. 16, 1950 at Twin City Hospital in Dennison. His charred remains were laid to rest at Union Cemetery in Uhrichsville, Tuscarawas County.
Copyright © 2004, 2008, 2012 Mark A. Miner