Eva Irene (Minor) Studer
(1896-1990)
Eva Irene (Minor) Studer was born in 1896 in Tuscarawas County, OH, the daughter of John and Emma (Howell) Minor.
When she was 17 years of age, on Dec. 13, 1913, Eva entered into the rite of holy matrimony with 18-year-old William R. Studer (Aug. 7, 1895-1962), a native of Sandyville, Tuscarawas County and the son of Harvey and Amelia (Farber) Studer. At the time of marriage, William was employed by Wise Harold Company, a manufacturer of vacuum sweepers and electrical household appliances, and resided in New Philadelphia.
He stood 5 feet, 8 inches tall, with blue eyes and dark hair.
The pair produced one known son, William Loyal Studer.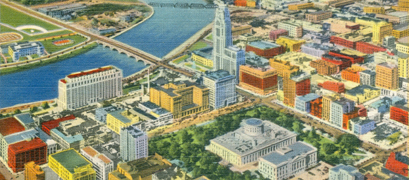 Columbus in the 1930s
The Studers moved to Columbus, Franklin County, OH, circa 1917 and by summer 1918 were in Canton, Stark County, OH, in a home at 124 11th Street Southeast.
In June 1918, with our nation engaged in World War I, William was required to register for the military draft. He disclosed that he was employed by Timken Roller Bearing Company of Canton, and that Eva was his next of kin.
The federal census of 1930 shows the Studers living on Loretta Avenue in Columbus, where William was a lineman in the roller bearing plant. The 1940 census lists them continuing to dwell in Columbus, now on Cleveland Avenue, and William working at the roller bearing company as a lineman. By 1950, he had been promoted to general foreman for the roller bearing firm.



The Timken Company in Canton, and its product line

In the last months of William's life, in August 1962 and again in late November, they received a visit from Eva's sister-in-law, Nellie of New Philadelphia, the widow of Jack.
Sadly, William passed away on Dec. 6, 1962, at the age of 66.
Eva outlived him by almost three decades. She remained in Columbus until 1985, when she moved into the home of her son in Waynesburg, OH. After an extended illness, she died at the age of 94 on Aug. 8, 1990. Burial was in Forest Lawn Memorial Gardens.
~ Son William Loyal Studer ~
Son William Loyal Studer (1914-1990) was born on or about April 1, 1914 in New Philadelphia, OH.
He was a high school graduate and attended college for a year.
He first was joined in wedlock with Mary Jane ( ? - ? ). The couple lived in Columbus in 1940, at the address of 3584 Westerville Road. At that time, he earned a living with his father's employer, the Timken Roller Bearing Company of Canton.
William is known to have served in the U.S. Army following World War II, enlisting on May 14, 1948. His term of service lasted for 18 months, and he was discharged on Nov. 10, 1949.
By 1950, the couple had separated, with William moving back into his parents' home in Columbus. His means of income that year was as a paint sprayer of gas tanks for a manufacturing company.
He wed again to Rose M. (Dale) Reed Christiansen (1903-1988), daughter of Joseph and Estella (Waltz) Dale. She had been married twice previously to Vernon Curtis Reed (1900-1959) and Elmer Stephen Christiansen (1902-1963). As such, she is believed to have brought two adult stepsons into the union with William -- Vernon Willard Reed and Robert S. Christiansen.
Her birthdate alternately has been recorded as Feb. 26 and Sept. 27, 1903.
Citing gross neglect and extreme cruelty, William sued for divorce, and the decree was made in court on April 20, 1970. He made his home after that at 7844 Welker Street Southeast in Waynesburg, Stark County, OH, and Rose at 711 Shorb Avenue Northwest in Canton.
The couple appears to have reconciled within a few years. On June 8, 1974, they slipped away to Winchester, VA to marry again. Martha F. Grim, an appointee of the Circuit Court of the City of Winchester, performed the nuptials. On their marriage license, he disclosed that this was his fourth time he had wed, and her fifth. He was age 60 at the time, and she 70.
Circa 1985, the pair dwelled in Waynesburg.
She passed away in Canton's Aultman Hospital on June 13, 1988. Burial was in Sandy Valley Cemetery in Waynesburg.
William outlived his bride by two years. He died on Oct. 10, 1990.
Copyright © 2003-2004, 2007, 2009-2012, 2023 Mark A. Miner