John Charles 'Jack' Minor
(1889-1946)

Jack and Nellie Minor

John Charles "Jack" Minor was born on Nov. 6 or 27, 1889 in Sherodsville, Carroll County, OH, the son of John and Emma (Howell) Minor. Although he overcame an early physical disability, he later was killed in a coal mining accident, one of many of our cousins who lost their lives in the coal, coke and steel workplace.
He was of medium height and build, with blue eyes and brown hair.
Jack was born with only one full arm, without the lower portion of his left arm, "but it didn't stop him, or slow him down," recalled a granddaughter.
He made a name for himself as a "one-armed sandlot baseball player in his youth," said the Dover Daily Reporter. He "played in the outfield for several Tuscarawas Co. sandlot teams and did some pitching for the clubs."

Jack Minor

As a 22-year-old, on June 10, 1912, Jack married 16-year-old Nellie Ramella (1895-1977), a native of Punxsutawney, Jefferson County, PA, and the daughter of James and May (McGivern) Ramella. Rev. A.M. Eley, pastor of the First Baptist Church, performed the nuptials. Nellie fibbed on her marriage license, giving her age as 18. At the time, Jack was employed as a coal miner and lived in Roswell, Tuscarawas County, OH.

They together bore a brood of five children: J. Charles Minor, Richard Minor, Emma E. Jones Kail, Raymond E. Minor and Joan Johnson.

The Minors moved to Tuscarawas, Tuscarawas County, OH in about 1916. They were members of the St. James Lutheran Church. In June 1917, with World War I raging in Europe, Jack was required to register for the military draft. At the time, he was a driver for P.J. Corll in Youngstown, Mahoning County, and lived in the city at 1302 South. The registration agent noted on Jack's card that he had "one arm off."

Jack later worked as a coal mine foreman for the Midvale Coal Company, and he belonged to the United Mine Workers of America.

In 1930, when the federal census was enumerated, Jack was listed as a coal miner, and the family lived along Main Street in New Philadelphia.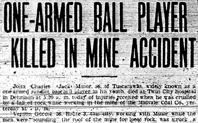 Dover (OH) Daily Reporter

At age 56, on March 22, 1946, Jack tragically was killed when "crushed by a fall of rock while working in the mine," said the Daily Reporter. He and other men "were sounding the roof of the mine for loose rock" when he was caught in a sudden rock fall. "He was crushed from the shoulders down and had to be liberated from nearly two tons of rock by fellow workmen who were in a nearby room."

His mangled remains were laid to rest in the Lutheran Church cemetery in Tuscarawas.

Nellie, later years

Nellie outlived her husband by more than three decades.

She remained in Tuscarawas, and maintained her membership at the St. James church.

Sadly, Nellie passed away at New Philadelphia's Valley Manor Pavilion on Feb. 19, 1977. She was age 81, and was survived by 12 grandchildren and 13 great-grandchildren.

~ Son J. Charles Minor ~

Son J. Charles Minor (1916-2012) was born on Feb. 4, 1916.

He was married and had two children -- Judy Miller and Charles Daniel "Danny" Minor.

He resided in nearby Uhrichsville, Tuscarawas County circa 1946. In 1977, he was in New Philadelphia.

Charles died on Feb. 11, 2012, just a week after his 96th birthday, reported the Steubenville Herald-Star. He was survived by four grandchildren and eight great-grandchildren.

Daughter Judy Minor wed (?) Miller.

Son Charles Daniel "Danny" Minor ( ? - ? )

~ Son Richard "Dick" Minor ~

Son Richard "Dick" Minor (1918- ? ) was born in 1918.

He is thought to have served in the US Navy during World War II, or immediately afterward. In 1946, he and his brother Raymond both were stationed with the Navy in San Francisco.

Dick later settled in Hayward, CA, where he lived circa 1977.

~ Daughter Emma (Minor) Jones Kail ~

Daughter Emma E. Minor (1920- ? ) was born in 1920.

She was married twice, first to (?) Jones ( ? - ? ).

She lived in Scio, Harrison County, OH, the same community where her great-great grandfather, John Minard Sr., had settled as a pioneer in 1817.

As of 1977, she was married to Wilbert Kail ( ? - ? ).

~ Daughter Joan (Minor) Johnson ~

Daughter Joan Minor ( ? - ? ) was born in (?).

Joan entered into marriage with William Johnson ( ? - ? ).

They resided in Ocala, Marion County, FL, circa 1977.

~ Son Raymond Minor ~

Son Raymond Minor (1926- ? ) was born in 1926.

He is believed to have served in the US Navy during World War II, or immediately afterward. In 1946, he was stationed with the Navy in San Francisco.

After the war, Raymond lived in Strasburg, Tuscarawas County.

Copyright © 2004, 2010, 2012 Mark A. Miner