Joseph R. Minor
(1868-1948)
Joseph R. Miner was born on Feb. 1, 1868 in Brownsville, Licking County, OH, the son of James S. and Angeline C. (Hamilton) Minor.

The Minors' marriage license, 1895
On Aug. 29, 1895, at age 27, Joseph married 23-year-old Emma Frances Gordon (1872-1947), also spelled "Jordan." She was a native of Thornville, Fairfield County, OH, and the daughter of George and Olive Gordon. The ceremony took place in Licking County, and their marriage license is still on file in the county courthouse in Newark.
The Minors produced four children – Ethel Ramsey, James R. Minor, George Raymond Minor and Julianne Olive Evans Ogier.
They moved to Newark almost immediately after their marriage, and resided there for 60 years.
Early in the marriage, the Minors resided with Joseph's parents at 10 Western Avenue in Newark. By 1900, they moved into their own home on Jefferson Street, with Joseph earning a living as a day laborer.
Joseph later obtained a position as a mounter in a local stove foundry. Eventually he went to work for the Licking Laundry.
fter the death of Joseph's father, his widowed mother continued to maintain a home in the household. In 1914, she fell getting out of bed, suffered a broken neck, and died instantly.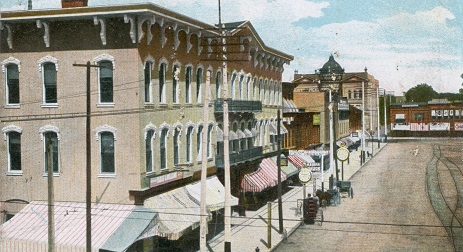 North side of Newark's town square, with curved trolley tracks in the street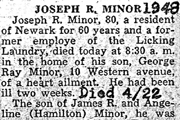 Obituary, 1948
Tragedy struck the family in the summer of 1915. Son James, age 18, who was employed as a time-keeper, drowned while swimming in Buckeye Lake. His remains were laid to rest at Cedar Hill Cemetery.
Emma passed away at age 75 on Nov. 27, 1947. The cause of death was a stroke. A newspaper said "She had been in failing health for the past eight years, and seriously ill the past week." Burial was with here daughter Olive in Cedar Hill Cemetery in Brownsville.
Joseph outlived her by five months. He succumbed on April 22, 1948, at the age of 80. He was buried next to his granddaughter Constance in Cedar Hill Cemetery, with Rev. Stewart B. Crandell leading the funeral service.
~ Daughter Ethel May (Minor) Ramsey ~
Daughter Ethel May Minor (1896- ? ) was born on Jan. 6, 1896 in Newark, Licking County. A newspaper once said she "spent most of her life in Newark."
On Oct. 20, 1914, when she was age 18, Ethel married 24-year-old meat cutter Charles H. Ramsey (Sept. 8, 1890-1954), son of Thomas and Margaret (Horth) Ramsey of Newark. Their nuptials were held in Newark, led by Rev. Charles H.A. Watterson of the Sacrament Church.
They bore a daughter Dorothy C. Cannizzaro.
Ethel resided in Newark in the 1940s at 885 Brice Avenue and 10 Western Avenue, and belonged to Blessed Sacrament Catholic Church.
The couple separated by 1946, with Charles moving to Millersport, OH.
In 1948, after the death of their father, she was sued by her brother George for allegedly and fraudulently inducing the father to change the terms of his will so that she would be named as beneficiary of his life insurance policy.
Charles passed away in 1954.
Later, Ethel moved to 668 McKinley Avenue. She died at the age of 74 on May 17, 1970 as a resident of the Newark Convalescent and Nursing Inn. A funeral mass was held at her church, with interment in St. Joseph Cemetery. The Newark Advocate printed an obituary.
Daughter Dorothy C. Ramsey (1917-1977) was born on June 12, 1917. On Feb. 20, 1946, she married John P. Cannizzaro Sr. ( ? - ? ), son of Diego "Dick" and Vincenzina (Quattrone) Cannizzaro of 66 Oakwood Avenue. The wedding ceremony was held in Blessed Sacrament Catholic Church. The couple produced four offspring -- Jennifer Bolen, Jane Meese, John P. Cannizaro Jr. and Richard J. Cannizzaro. In about 1938, John founded Cannizzaro's Body Shop in Newark and operated it for four decades. During World War II, John served with the 771st tank battalion of the 84th infantry division and saw action at the battles of the Rhineland campaign, Ardennes and Central Europe. After the war, he served on the board of directors of Moundbuilders Babe Ruth League and the Newark Old Timers' Athletic Association and belonged to the Knights of Columbus. Their address in the late 1940s was 885 Brice Street and in the 1970s was 668 McKinley Avenue in Newark. The family were members of Blessed Sacrament church. She passed away at the age of 59 on March 27, 1977 when pronounced dead on arrival at Licking Memorial Hospital. A funeral mass was sung at the family church, with interment in St. Joseph Cemetery. An obituary appeared in the Newark Advocate. John only outlived his wife by a little more than a year. He died on April 4, 1978.
Granddaughter

Jennifer Cannizzaro ( ? - ? ) was born in (?). On June 7, 1969, in nuptials held at the

Blessed Sacrament Catholic Church

, she wedded Charles Edwin Bolen ( ? - ? ), son of Don L. Bolen of 64 Wing Street. Father Paul Laurinaitis of Blessed Sacrament, and Charles' cousin Rev. Harry H. Bolen of the Church of Christ in Youngstown, officiated at the wedding. News of the marriage was printed in the Newark Advocate. At the time of marriage, both the bride and groom were English majors in the college of education at Ohio State University. The Bolens lived in Newark in 1977 and in Akron in 2000.
Granddaughter Jane

Ellen Cannizzaro

( ? - ? ) was born in (?). In 1973, she received a bachelor of arts in English, secondary and library science certifications, magna cum laude, from Ohio Dominican College. She also was named to Who's Who Among Students in American Colleges and Universities and served as editor of the college's Tower literary arts publication. Upon graduation, she was employed to teach English at Reynoldsburg (OH) Middle School. She married John D. Meese ( ? - ? ), son of Clarence R. Meese of Bradford, PA and an instructor at the Ohio Institute of Technology. Their home in 1977 was in Columbus and in 2000 in Logan, OH.
Grandson Richard J. Cannizzaro dwelled at home in 1977. He is believed to have received a degree in business management technology in 1977 from Central Ohio Technical College. A college football fan, he once was named in the Newark Advocate as someone "who knows more about why Notre Dame didn't make it to a bowl this year than anybody." He married Linda J. ( ? - ? ). The couple divorced in 1995. Then in 2002, at the age of 46, he and 38-year-old Mary E. McConnell were licensed to wed.
~ Son James R. Minor ~
Son James R. Minor (1897-1915) was born on June 7, 1897 in Licking County.
He earned a living in the summer of 1915 as a timekeeper at the Wehrle Stove Works and lived at 10 Western Avenue in Newark.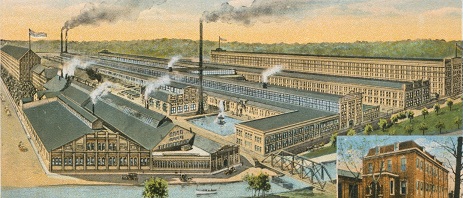 James' employer, the Wehrle Stove Works in Newark
On the fateful day of July 23, 1915, tragedy struck when the 18-year-old James was on a boating outing in Maple Swamp, Buckeye Lake. He dove off a boat in 30 feet of water and, for reasons unknown, drowned. The news was covered in the Akron Evening Times.
His remains were brought back to Brownsville to rest in Cedar Hill Cemetery.
~ Son George Raymond Minor ~
Obituary, 1948
Son George Raymond Minor (1900-1948) was born on June 13, 1900 in Newark.
He served in the US Navy during World War I.
He first married Gertrude Sigman (Dec. 23, 1905- ? ), of Newark. The couple produced a daughter, Constance O. Minor, born in June 1923.
The Minors divorced sometime between 1923 and 1930. By 1930, the U.S. Census shows that George, using the name "Raymond," had moved back into his parents' home in Newark. That year, he labored as a laundry deliveryman.
Former wife Gertrude had custody of their daughter and supported herself as a telephone operator. She married again on Aug. 19, 1927 to garage mechanic and truck driver Ralph B. Kuhn (1909- ? ), a native of Enterprise, WV and the son of John and Clara Thomas Kuhn. The wedding was led by Rev. Thomas B. Shearer of the West Side Church of Christ. On the marriage license application, she listed her father as "Elsa E. Sigman" and mother as "Jennie Moss." Their home in 1930 also was in Newark.
Later, George wedded his second bride, Nellie Marie Glass (1894-1966), daughter of Zary and Sarah (White) Glass of Brownsville, Licking County. She was a member of the Brownsville Methodist Church.
They bore a daughter of their own, Betty Weaver.
The Minors resided in the family home at 10 Western Avenue that had once belonged to George's grandparents. His usual occupation was playing billiards.
Tragically, at age 48, George suffered a fatal heart attack at home, passing away on Sept. 17, 1948. A newspaper said he "was apparently in his usual health until Thursday night when he complained of a severe pain in his arm. He was stricken suddenly this morning and the resuscitator squad was called from central station, but nothing could be done for him." His death occurred just five months after his father's passing, and 10 months after his mother's.
Nellie supported herself as a widow through her work at the Beverly Shop in Newark. Then in 1960, she relocated to Michigan, where she made a home in her final years in Utica. She died in Licking County Memorial Hospital at the age of 72 on Aug. 30, 1966. An obituary was published in the Newark Advocate, and burial was in Cedar Hill Cemetery.
Daughter Constance O. Minor (1923-1992) was born on June 8, 1923. She was a young girl when her parents divorced, and she grew up knowing Ralph B. Kuhn as a father figure. She was a member of the First Baptist Church. At the age of 25, in 1948, she lived in San Francisco. She spent 31 years employed by the U.S. Department of State as a U.S. Foreign Service staff officer. She was posted to Bangladesh (formerly East Pakistan) as secretary to American Consul General William Williams, Belgium, Japan and Zaire (formerly the Congo). She went on to work as a senior contracting officer with the Department of Health and Human Services in Rockville, MD. After leaving the government, she worked for 16 years in a private business. At some point by 1956, she married and used the name "Javorsky." Then in July 1965, the San Francisco Examiner reported that the 42-year-old was engaged to 44-year-old Edward Miccio Jr. of the U.S. Army. Over the years, she received degrees in public administration from the Federal City College in Washington, DC (1977), George Washington University (master's, 1980 and doctorate, 1988). Constance passed away in Maryland at the age of 69 on Aug. 12, 1992. Her remains were returned to Newark to rest in a grave beside her grandfather Joseph R. Minor. Rev. Ralph Lamb preached the funeral sermon. An obituary in the Newark Advocate gave her parents' names as the convoluted "G. Raymond and Gertrude (Sigman) Kuhn" and said that she was survived by "second and third cousins of Ohio and Pennsylvania."
Daughter Betty Minor was joined in matrimony with Charles Weaver. Their residence circa 1948-1966 was in Parma, Cuyahoga County, OH.
~ Daughter Julianne Olive (Minor) Evans Ogier ~
Daughter Julianne Olive Minor (1906-1971) was born on Aug. 8, 1906 in Newark, Licking County.
When she was age 21, on Oct. 1, 1927, using the name "Olive," she was joined in wedlock with Errett S. Evans (May 27, 1905- ? ), son of F.S. and Christie (Scott) Evans of Champaign County, OH. Rev. Howard Griffith officiated at the wedding.
At the time of marriage, Errett was a hotel clerk, working at Buckeye Lake.
The couple established a home in the state capitol city of Columbus. In 1930, federal census records show Errett working as a salesman for a soft drink company and Olive as a stenographer in a furniture store.
The Evanses' divorced during the 1930s or early '40s. Julianne made a home for herself at 71 13th Avenue.
At the age of 35, on Jan. 8, 1942, using the name "Julianne," she wedded 39-year-old widower Benson Sanford "Ben" Ogier (Aug. 18, 1902-1990), son of O.H. Ogier of Hamden, Vinton County, OH. At the time of marriage, he was an attorney and lived at 124 Tibet Road. Rev. Sheriden W. Bell officiated.
The couple lived in Columbus and did not reproduce.
Olive died in 1971 at the age of about 64 or 65. She rests next to her mother in Newark's Cedar Hill Cemetery under the name "Olive A. Minor."
Benson outlived Olive by 19 years. He succumbed on Feb. 27, 1990, at the age of 87. He rests in Union Cemetery in Columbus.
Copyright © 2005, 2019 Mark A. Miner