Mary 'Eva' (Minor) Perry
(1856-1946)

Oliver Hazard Perry
Mary "Eva" (Minor) Perry was born on Nov. 3, 1856 in Columbus, Franklin County, OH, the daughter of Daniel and Jane Ann (Duff Langdon) Minor Jr.
Like her father, Eva's husband -- seen here -- was "prominent in business and church circles" of Columbus and served as longtime treasurer of the Columbus Buggy automobile manufacturer which the New York Times once called the "largest concern of its kind in the world" and launched the careers of tire manufacturer Harvey Samuel Firestone and World War I flying ace Eddie Rickenbacker who went on to own the Indianapolis Motor Speedway.
Little is known of Eva's growing up years except that, in 1868, when she was 13, her father was killed in an accident in or near Columbus.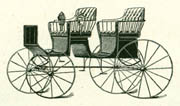 A Columbus Buggy product
In 1882, when she was age 26, Eva married 27-year-old Oliver Hazard Perry (1855-1935). He was a native of Stratford, Delaware County, OH, and the son of Norman Dewey and Mary (Crist) Perry. Oliver's father, said the Columbus Dispatch, "was one of the prominent paper manufacturers of Ohio and built the old paper mills at Stratford…"
Oliver was featured with a biography in the book, Centennial History of Columbus and Franklin County, Ohio History, Vol. II, authored by William Alexander Taylor. The profile states that he attended Ohio Wesleyan University and Ohio State University. He was a member of the Theta Deuteron Fraternity at Ohio Wesleyan and Phi Gamma Delta fraternity at Ohio State.
Following graduation from OSU, he clerked in the law office of Wood & Jones in Columbus, but eventually left after two years to join the Columbus Buggy Company in 1878 (affiliated with Peters Dash Company). The business had been founded by George M. Peters, Oscar G. Peters and Clinton D. Firestone, a partnership in which Firestone was the controlling stockholder.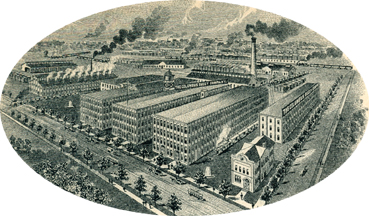 Massive Columbus Buggy manufacturing plant in Columbus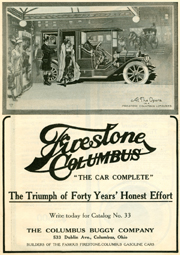 Company advertisement
After showing "business ability and enterprise," Oliver was promoted to cashier. When Columbus Buggy became incorporated in 1897, he was elected treasurer, serving in the role for many years until it was dissolved. Continued the History:
When he first entered the business it was of small and inconsequential proportions but the trade has grown rapidly until it now extends to every state in the Union and to various foreign countries as well. The volume of business annually transacted is represented by a large figure and the success of the undertaking is attributable in no small degree to the efforts of Mr. Perry.
Originally founded to construct horse-drawn buggies, such as the Eaton Wagon model, Columbus Buggy evolved into the manufacture of automobiles. Its product line included, among others, the famed Firestone-Columbus Gasoline Cars and a line of limousines. These vehicles were billed in company advertising as "The Car Complete -- The Triumph of Forty Years' Honest Effort. One of the ads for the Firestone-Columbus was published in Munsey's Magazine in 1910.
Oliver's position with such a prominent business such as Columbus Buggy gave him many opportunities to promote economic development and be involved with political leadership in touting the importance of transportation infrastructure. He served on the Ohio Good Roads Federation and was pictured in an issue of Good Roads Magazine, published by the League of American Wheelmen. In June 1900, he was an Ohio delegate at the Twelfth Republican National Convention, held in Philadelphia, which nominated William McKinley as candidate for President of the United States.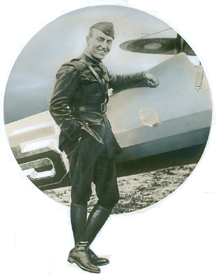 World War I flying ace Eddie Rickenbacker
Interestingly, two famous Americans got their early training salesman for Columbus Buggy -- Harvey Samuel Firestone and Eddie Rickenbacker. After several years of working at Columbus Buggy, Firestone left in 1890 to found the Firestone Tire and Rubber Company. Rickenbacker became an American flying ace in World War I, shooting down 26 enemy aircraft. He raced a Columbus Buggy car in the 1912 Indianapolis 500 and later owned the Indianapolis Motor Speedway for 18 years, from 1927 to 1945. A broadly smiling Rickenbacker was pictured posed against the chassis of a favorite World War I vintage aircraft.
Opportunity also arose for Oliver to help create other businesses that provided additional streams of income. Along with D.M. Parry and E.E. Perry of Indianapolis (relationship unknown) in February 1904, he helped incorporate the American Manufacturers' Mutual Fire Insurance Company headquartered in Indianapolis. They and the company were listed in Best's Insurance Reports for 1903-1904. In about 1894, he and E.E. Perry of Indianapolis, John W. Hahn of Toledo and W.A. Miles of Columbus were assigned seven-eighths' share of a patent in an apparatus for manufactured ice and refrigeration, although it's not known if the invention ever was brought to market.
In 1896, Columbus Buggy and Peters Dash faced serious financial risk as co-founder O.G. Peters had died, and G.M. Peters' health was in decline. The New York Times reported that a meeting of 125 of the company's creditors, "from nearly every state in the Union," was held in Columbus in mid-October that year for the purpose of "discussing the question of opening the shops to the 1,000 employees. A large number of orders are on the books."
Despite differences of opinion, said the Times, "it was determined to start the works and run them no at least half time." By July 1897, the company was back in production after questions regarding its debt were resolved in court. Said the July 18, 1897 edition of the Times, "The company has extensive conditional orders upon which to begin. The forges were started to-day, and about 400 men set to work getting the machinery in shape after many months of rust."



Left to right: Clinton D. Firestone, George M. Peters and Oscar G. Peters, the three primary owners of Columbus Buggy. Oscar's death in 1896 set off a battle for control of the company.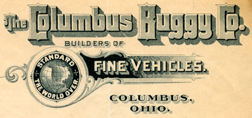 Company letterhead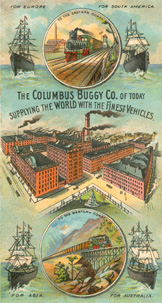 Creative advertising
With more than $1.2 million in liabilities, the assets of the Columbus Buggy partnerships were sold in mid-1897 to William A. Miles and John M. Thomas. But the partnership debts were tangled with complications, and lawsuits were filed in Probate Court of Franklin County. Firestone ultimately regained ownership of the companies, sold off the Dash business, and organized Columbus Buggy as a corporation registered in New Jersey, and sold all the assets to the new entity. Columbus Buggy of Ohio was formed in 1904, acquired all the company assets. At that time, Oliver received 51 shares in the new corporation (in comparison with Firestone's 5,200 shares). The company's shares were traded publicly on the open market. Clinton D. Firestone was president, C.E. Firestone secretary, J.F. Firestone vice president, and our Oliver treasurer.
In 1900, when the federal census was taken, Eva's widowed mother was residing in their home on Seventh Avenue, as was a servant and a coachman.
In December 1904, Eva was badly injured in a freak accident. She was knocked down by a bicycle rider and almost run over by an automobile. The Columbus Evening Dispatch reported that she suffered "a fractured left leg and dislocated left hip, and probable internal injuries." In describing the accident, the Dispatch said: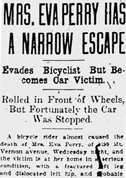 Columbus Dispatch, 1904
Mrs. Perry was crossing the street near her home when she saw a car approaching from one direction, and a bicycle from another. She became slightly confused, and attempted to cross in front of the cyclist, when she was struck and knocked down, falling directly in front of the car. The fender on the car failed to drop and passed over her body, rolling it along the ground, and when the wheels struck her she was pushed for some distance before the car was stopped. The bicyclist mounted his wheel during the excitement, which followed the woman's dangerous predicament, and rode away. Dr. S.M. Sherman was called to the Perry home after the injured woman had been carried there.
Holding an interest in community service, Oliver was elected in 1901 as a trustee of the Ohio Medical University. An apparently deeply religious man, he twice was a Sunday School superintendent with the Third Avenue Methodist Episcopal Church in Columbus, serving a membership of about 700. His father Newton Dewey Perry is thought to have been a member of the church and involved with major building renovations in the late 1870s. Oliver first held the Sunday School role under Rev. John C. Jackson Jr. until about 1885, when they both stepped down. After Jackson returned as pastor in 1891, Oliver agreed to re-assume his former duties as well.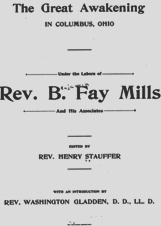 Book naming Oliver
When evangelical meetings were held in Columbus in 1895, led by Rev. B. Fay Mills, and involving cooperation by Third Avenue among 38 local churches, Oliver served as chairman of the music committee. He is pictured in a published report of the proceedings, The Great Awakening in Columbus, Ohio, edited by Rev. Henry Stauffer and published by Rev. W.L. Lemon.
He was a trustee of Third Avenue Church in 1892, and is mentioned in the 1892 book History of the City of Columbus, by Alfred E. Lee. Oliver later served as treasurer of the Broad Street Presbyterian Church until about 1934.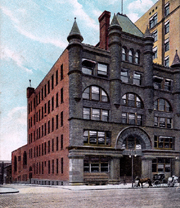 Columbus Board of Trade building
In 1909, Oliver was elected president of the Columbus Board of Trade. A rare old postcard of the Board of Trade's building is seen here. The following year, the board was reorganized into what is now the Columbus Chamber of Commerce.
Columbus Buggy's days slowly were numbered as the automobile overtook the horse-and-buggy as Americans' preferred mode of transportation. After a quarter century of producing horse-drawn vehicles, it began making electric automobiles in the early 1900s, but the new product line failed. One lawsuit of note was filed against the company in the District Court of Salt Lake County, and later appealed to the Supreme Court of Utah, for failure to deliver the electric vehicles as promised under contract to Consolidated Wagon and Machine Company of Salt Lake City (Smith v. Columbus Buggy Co., as reported in The Pacific Reporter, Vol. 123, May 20-July 1, 1912).
Facing involuntary bankruptcy in 1913, with some 100 vehicles in production, the legal control of Columbus Buggy was assigned to Daniel McLarin and Valentine & Co. as "receiver." Valentine was a dealer in oil and varnish which likely was owed quite a bit of money from the buggy company. McLarin, said The Automobile newspaper, "took control of the large plant of the concern, located on Dublin avenue, almost immediately and announced that no let-up in operations would take place." McLarin's intention was to sell product and assets to raise money to cover all of the substantial, outstanding debts. When G.M. Peters' widow objected to the liquidation of assets, until her legal rights could be ascertained, the matter went to back into litigation in Peters v. McLaren. A panel of two circuit judges and one district judge dismissed Mrs. Peters' complaint, with the case described in great detail in, The Federal Reporter, Vol. 218, January-March 1915.
Columbus Buggy's six-seater vehicle, featured in Cycle and Automobile Trade Journal, which noted the "doors swinging to front, showing ample ingress, and convenience of entrance, door opened by the driver for passenger to go in."
When Eva's mother died in 1909, Oliver served as co-executor of the estate. Eva inherited $1,000 cash and a town lot on North Broadway in Clinton Township, Franklin County, OH. Oliver inherited a set of books, entitled Beacon Lights of History.
When the federal census was taken in 1910, Eva and Oliver lived at the famed Southern Hotel as boarders. They had been married for 28 years at the time. His occupation that year was stated as "Treasurer - Buggy Company."
At some point before the end came, Oliver left the shambles of Columbus Buggy and became a stockbroker, said the Columbus Dispatch. He maintained this new career " for a number of years until his retirement because of ill health, with offices in the Chamber of Commerce building..." In early November 1918, the New York Times reported the dissolution of Columbus Buggy Parts Company of Manhattan.
Columbus Buggy letter signed by Oliver, 1909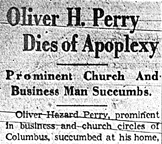 Obituary, 1935
The 1920 census shows the Perrys residing in their own home on East Broad Street. Oliver was employed that year as manager of a dental tool factory.
By 1930, Oliver's professional position had changed again. The census shows him at age 71 working as an investor in a brokerage business. Boarding in their home that year was 40-year-old Jessie A. Barr, a book saleswoman.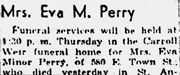 Ohio State Journal, 1946
Oliver suffered a cerebral hemorrhage in the early 1930s. He died after a second attack on Nov. 1, 1935, at the age of 80.
Eva outlived Oliver by 11 years, and resided at 580 East Town Street.
She suffered from "a long illness," said the Ohio State Journal, and died at age 90 on May 14, 1946 in Columbus. Eva was buried beside her husband at Green Lawn Cemetery.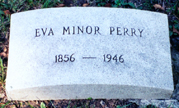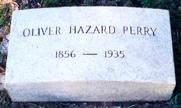 Perrys' understated graves at Greenlawn Cemetery in Columbus
Copyright © 2001-2005, 2008-2010, 2019 Mark A. Miner
O.H. Perry photographs and Great Awakening title page image courtesy of Google Books. Other Perry family information courtesy Joanne Rose-Layshock.