Rachel Ruamy 'Amy'
(Murray) Cole
(1881-1953)


Rachel and Lutelis Cole
Rachel Ruamy "Amy" (Murray) Cole was born on Dec. 6, 1881 in Normalville, Fayette County, PA, the daughter of Elijah and Hannah (Minerd) Murray.
Tragically, in May 1885, when she was only four years of age, Amy was rendered an orphan when her parents died eight days apart. The identity of who raised her is unknown, but it was someone who lived in Dunbar, Fayette County. After moving there in 1885 to begin a new life, she resided in Dunbar for her remaining 68 years of life.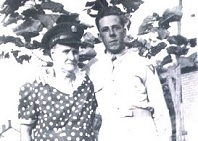 Rachel and son Ray
Amy married Lutelis Cole (March 10, 1877-1962), the son of Charles and Hannah (Johnson) Cole, and a native of Dunbar. They united themselves in marriage on Jan. 16, 1903, with W.W. Greene and Minnie L. Barbe as witnesses. At the time of their union, she was age 22, and he 25, and a laborer. Amy signed her marriage license with an "X," meaning she did not know how to write her own name.
They had seven children – Hannah Shupe, Albert N. Cole, Richard P. Cole, Jesse A. Cole, Raymond Cole, Homer Francis Cole Sr. and Ralph Cole.
The Coles resided at Pechin in rural Dunbar Township, near Dunbar, where Lutelis was employed as a laborer by the Pennsylvania Wire Glass Company. Circa 1962, he worked as a boiler fireman.
Several of their sons served in the U.S. Armed Forces during wartime.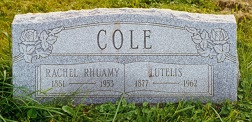 Franklin Cemetery in Dunbar
Amy was burdened with Parkinson's Disease for the last 15 years of her life. Also suffering from heart disease, she died at home on July 16, 1953, at the age of 72. Her daughter Hannah signed the official Pennsylvania certificate of death. In an obituary, the Connellsville Daily Courier said that she "had been a resident of Dunbar for 70 years" and that she was survived by 11 grandchildren and one great-grandchild.
The following year, heartache struck the family again when son Albert Cole passed away.
Lutelis outlived Amy by nine years. He suffered a massive heart attack and died within 10 minutes at the age of 85 on Oct. 14, 1962. Her funeral was conducted by Rev. Samuel Cummings, of the Church of the Nazarene of Holt, WV.
They are buried together in the Franklin Cemetery in Dunbar.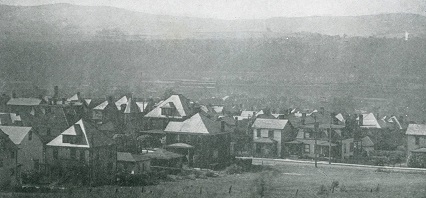 The hills of Dunbar Township circa 1929
~ Daughter Hannah (Cole) Shupe ~

Hannah Shupe
Daughter Hannah Cole (1904-1992) was born on April 7, 1904, in Dunbar.
In about 1928, when she would have been 24 years of age, she married 22-year-old Daniel Shupe (1906- ? ).
They had two known children, William Shupe and Lois Jean Donnan.
The federal census shows Hannah and Daniel as living in Cross Creek, Hancock County, WV, with Daniel employed as a laborer in a local steel mill.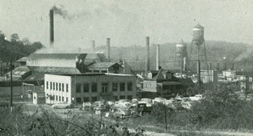 Anchor Hocking Glass in Connellsville
By 1940, the Shupes were separated, and Hannah and the children moved back into her parents' residence in Dunbar.
She lived in Pechin and later in the coal mining patch town of Monarch, near Uniontown.Active in the political life of her community of Dunbar, she was elected as inspector of elections of Dunbar Township No. 1 in 1949 and in 1951.
Hannah died at the age of 88 on Oct. 3, 1992.
Son William D. Shupe (1934- ? ) was born in about 1934 in Hancock County, WV. He served in the U.S. Army during and after the Korean War. Circa April 1954, he was in military training in the ordnance school of Aberdeen Proving Ground in Maryland. On Dec. 8, 1956, he married Wilma Blackstone ( ? - ? ), daughter of Mary Blackstone of Connellsville. The newlyweds both worked at Anchor Hocking Glass in South Connellsville. They produced two known children. Circa 1970, William was pictured in the Connellsville Daily Courier when, after 17 years with the company, he was promoted to lehr department formean in Anchor Hocking's selecting department. At that time, they lived at 627 Blackstone Road.
Daughter Lois Jean Shupe (1935- ? ) was born in about 1935 in Hancock County, WV.She was employed circa July 1956 in Pittsburgh with Bell Telephone Company. On Aug. 11, 1956, she married John Donnan ( ? - ? ), son of Hugh Donnan of Sewickley, near Pittsburgh. After serving during the Korean War with the U.S. Air Force,John worked as a teller for Mellon National Bank in Pittsburgh. The newlyweds made their first home in the Squirrel Hill suburb of Pittsburgh and by 1957 were in Dormont. They had two daughters, Joyce Karen Donnanand Sheila Donnan.
Granddaughter

Joyce Karen Donnan

(1957- ? ) was born in 1957 in Magee Womens Hospital in Pittsburgh. News of her birth was published in the

Uniontown Evening Standard

.
Granddaughter Sheila Donnan ( ? - ? )
~ Son Albert N. Cole ~
Son Albert N. Cole (1906 -1961) was born on June 12, 1906 in Dunbar.
He married Beulah Gordon ( ? - ? ). In 1930, the newlyweds lived next door to Albert's parents.
They had three children -- Thelma Jean Smiley, Betty Cole and Donald Cole.
The family made their home in Dunbar in 1940-1971, where Albert was a 33-year employee of the Pennsylvania Wire Glass Company.
He died at the age of 54, in Connellsville State Hospital, on Jan. 21, 1961. Burial was in Mt. Auburn Cemetery in Dunbar, following funeral services officiated by Rev. Lewis D. Hunter.
Daughter Thelma Jean Cole married Wallace Smiley. They lived in Dunbar in 1961.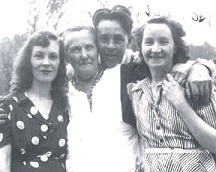 Richard, his mother, Ruth and Grace
~ Son Richard Cole ~
Son Richard Cole (1915-1988) was born in about 1915.
He lived in Dunbar circa 1953-1974.
He married Grace Clingan (1917-1983), daughter of W.B. Clingan. She was an employee of the popular Pechin's Market in Dunbar.
Richard was employed at the Liberty Powder Mill in Mt. Braddock and by Steel Scaffolding Co. of Uniontown.
Grace died in 1983 at about the age of 65.
Richard survived her by five years. In 1988, he passed away at the age of 73. Interment was in LaFayette Memorial Park in Brier Hill.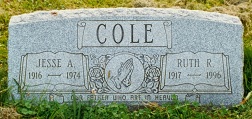 Franklin Cemetery, Dunbar
~ Son Jesse A. Cole ~
Son Jesse A. Cole (1916-1974) was born on Sept. 24, 1916, in Dunbar.
He married Ruth R. Landman (1917-1996).
They produced one daughter, Brenda Joyce Hustosky.
Jesse was employed for many years as a coal miner and was a member of Local 9584 of the United Mine Workers of America. Their address was 19 First Avenue in the Bryson Hill neighborhood of Dunbar.
Jesse died on March 10, 1974, at the age of 57. An obituary was published in the Connellsville Daily Courier. He is buried his parents in Franklin Cemetery in Dunbar.
Ruth outlived him by more than two decades. She passed away in 1996, and rests for eternity with her husband. Their grave marker is inscribed with the first line of the Lord's Prayer -- "Our Father, who art in Heaven."
Daughter Brenda Joyce Cole wed Robert Hustosky on April 24, 1971. Justice of the peace William J. Lincoln performed the nuptials in Dunbar. Their home was in Dunbar in 1974, where Robert was a construction contractor.

Raymond Cole
~ Son Raymond Cole ~
Son Raymond Cole (1919- ? ) was born in about 1919 in Dunbar.
He served in the U.S. Armed Forces during World War II. In 1942, he and his brother Homer were stationed about 150 miles apart from each other. Raymond made a surprise visit to see his brother at Camp Wheeler, GA in July 1942, with the news published in their hometown newspaper, the Connellsville Daily Courier.
Raymond made his home circa 1953-1974 in Dunbar.

Homer F. Cole Sr.
~ Son Homer Francis Cole Sr. ~
Son Homer Francis Cole Sr. (1920-2002) was born on New Year's Day 1920 in Dunbar.
He served in the U.S. Army Air Corps in World War 11, training as an airplane mechanic at Spence Field, Moultrie, GA. He was promoted to staff sergeant and assigned to the 431st Fighter Squadron, in the Pacific Theatre.
He had two children -- Homer F. "Tony" Cole Jr. and Bonnie Cole. He also had a step-daughter, Kathy Wade of Atlanta.
Later, he resided in Albany, GA (circa 1953), Odessa, TX (1961-1962), Jacksonville, FL (1974) and in Denver, CO, and was employed in highway maintenance. While in Albany, in 1947, he and his wife and family returned to Dunbar to visit with his brother Richard. In August 1976, his niece Brenda Shupe spent a month's vacation at Homer's residence in Jacksonville.
He passed away at age 82 on April 22, 2002, and was buried with military honors at Fort Logan National Cemetery in Colorado.
Thanks to the efforts of his son Homer Jr., he is honored with a digital plaque on the website of the new National World War II Memorial in Washington, DC.
Son Homer "Tony" Cole Jr. served in Vietnam. He married Sheila. When the Olympics were held in Salt Lake City in 2002, Sheila helped a volunteer escort the "eternal flame" during the 2002 Olympic Torch Run in their community of Sunset.
Worlds apart -- Tony Cole in Bien Hoa, Vietnam, 1968; and his wife Sheila (in blue) running with the Olympic torch bearer in Salt Lake City, 2002
~ Son Ralph E. Cole ~
Son Ralph E. Cole (1921-1975) was born on Oct. 1, 1921 in Dunbar.
He married Thelma Goodman, daughter of Jesse and Betty Lee (Parr) Goodman of Leisenring No. 1 near Uniontown.
They had two children, Janet Cole and Gregory Cole.
He lived in Pittsburgh, Allegheny County, PA in 1953. Later, by 1962, he resided in Rockwood, MI, where he worked for Calgon Corporation. In 1971, when his son Jesse's daughter Brenda was married in Dunbar, he and Thelma attended the event.
Ralph died at the age of 53, in Rockwood, on Feb. 11, 1975. His remains were returned to Fayette County for interment in Green Ridge Memorial Park near Connellsville.
Daughter Janet Cole lived in Rockwood, MI in 1975.
Son Gregory Cole made his residence in the 1970s in Mount Pleasant, MI.
Copyright © 2001, 2003, 2006, 2012, 2018 Mark A. Miner