Emma (Oberdorf) Rochty Stocking
(1855-1929)

Emma
Emma (Oberdorf) Rochty Stocking was born on July 30, 1855 in Wood County, OH, the daughter of of Samuel Stanwood Finley and Catherine (Van Horn) Oberdorf.
She grew up attending the No. 3 School in Weston Township, Wood County, and during the spring 1867 term had a record of perfect attendance, as reported in the local newspaper.
Her first husband was John Rochty (1849-1878), son of Simon Rochty. They were married in Wood County on March 27, 1873, when Emma was age 18 and John 24. George Graham officiated.
The couple had one daughter, Bernice Edel Rochty, born on Oct. 10, 1876 in Jackson Township.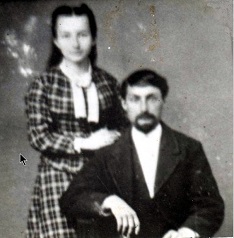 Emma and her ill-fated 1st husband
Tragedy rocked the family in 1878, after just five years of marriage. John, Emma and their 17-month-old daughter lived as tenants on the farm of Frank Manors. While en route to Grand Rapids, Wood County to sell their produce, at about 7 a.m. on April 2, 1878, they decided to take a shortcut by boat to Overty Island on the Maumee River. Perhaps they were anxious to get to Grand Rapids early to make the best sales. The boat they procured was leaky, and "began to fill before they had traversed one-third the distance," reported the Perrysburg Journal.
Mr. Rochty used every exertion to reach the Overty Island, but was swamped within twenty yards of the shore. Rochty attempted to swim ashore with his child and did reach the shore, but in some manner lost the child. He immediately sprang back into the water and swam towards his wife, but was seen to sink before reaching her. The accident was observed by a few persons on the north side of the river, who procured a skiff and reached the scene at the earliest possible moment, but not until the entire family had disappeared beneath the water.
Emma was found floating just under the surface of the water, kept buoyant by her dress. She was taken ashore and it took 20 minutes for her to regain consciousness. The Journal reported that John's body was not found until 10:30 a.m. The child's corpse was not recovered for 13 days. It was located 10 miles from the spot where the drowning occurred, near the head of Station Island. Said the Journal: "A diligent search has been kept up since the 2d of this month, and every article the boat contained has been found at different points within five miles" of Grand Rapids. "Mrs. R's health is gradually improving."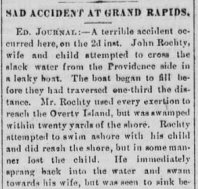 Perrysburg Journal, 1878
News of the tragic events also was carried in the Wood County Sentinel, with a copy on file today in the Rutherford B. Hayes Presidential Center in Ohio.
The remains of John and their daughter Bernice were interred side by side in Row 42 of Grand Rapids' Beaver Creek Cemetery. Stones were erected to mark the graves.
The senseless deaths of John and their child left Emma suddenly alone at the age of 23. Emma spent eight years in widowhood.
On April 17, 1886, in Wood County, she wed 31-year-old Willis Marshall Stocking (1855-1906). Performing the nuptials were Rev. J.M. Crim, the same clergyman who later would perform the marriage of her niece Sylvia M. Oberdorf to Arthur F. Valentine in 1897. The newlyweds were either the same age, or Emma was five years older -- sources differ.
The Stockings had one son, Terry "Lynn" Stocking, born in 1885 (or 1887).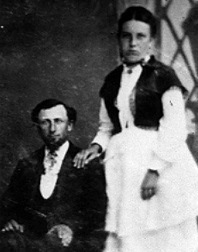 Emma and Willis
They made their home in 1900 on Fitchland Avenue in Toledo, Lucas County, OH. Willis earned a living there as a watchman.
Emma's second marriage lasted for two decades, until Willis' death on or about March 1, 1906. His remains were interred in Toledo's Woodlawn Cemetery.
When the federal census enumeration was made in 1910, the 55-year-old Emma boarded in the home of Jacob and Margreth Gundy on Norwood Avenue in Toledo. There, she was employed as a "private companion," most likely for the Gundys' 86-year-old widowed mother, who lived in the household.
In her later years, Emma apparently went to Illinois to be nearer to her son Lynn, and made her home in Kankakee Township, Kankakee County. She passed into eternity in Chicago on Nov. 15, 1929, at the age of 74. Her remains were transported back to Toledo for burial beside Willis in Woodlawn Cemetery. A short death notice was printed in the Toledo News-Bee.
~ Son Terry "Lynn" Stocking ~

Terry Lynn Stocking
Son Terry "Lynn" Stocking (1885-1945) was born on April 24, 1885 (or 1887) and grew up in Toledo.
As an adult, he was of medium height and stout build, with blue eyes and brown hair.
Circa 1906, he was a traveling salesman on assignment in northern California at the time of the great San Francisco earthquake. His name was printed in the Cincinnati Post stating that he among hundreds of other Ohioans were unharmed.
Later, he married Bess Corbett (1886-1960), of Peoria, Peoria County, IL. She was the daughter of John Glasgow and Sarah A. (Rice) Corbett, the father a Civil War veteran and mayor of Princeville.
The Stockings lived in Peoria and did not reproduce.
When registering for the World War I draft, Lynn disclosed his employer as Dennison Manufacturing Company of Chicago. In 1920, their home was in Chicago, with Lynn selling for a tag manufacturer. In 1930, still in Chicago, they lived on Clarendon Avenue.
He died on Sept. 20, 1945, and his remains were brought back to Toledo for burial in Woodlawn Cemetery.
Bess survived him by 15 years. She died in 1960, and was laid to rest beside her sister Maud Corbett Byrnes in Princeville Township Cemetery in Princeville, Peoria County, IL.
Copyright © 2015, 2021 Mark A. Miner
Rochty obituary courtesy Library of Congress/National Endowment for the Humanities' Chronicling America Project in cooperation with the Ohio Historical Society. Select photos courtesy of Karl Oberdorf.