Edward Dick Ogle
(1883- ? )
Edward ("Edwin") Dick Ogle was born in 1883 in or near Pennsville, Fayette County, PA the son of William D. and Sarah (Minerd) Ogle. Born under the name Edwin, he used the more common "Edward" during his lifetime. He was of medium height and stout build, with black hair and black eyes.
Edward married Carrie Clark (1883-1956), the daughter of Rufus and Amanda Clark, and a resident of Hawkeye, Westmoreland County, PA. The wedding took place on Nov. 12, 1902, in Uniontown, by the hand of Rev. John N. Dawson. Edward was age 19 at the time, and Caroline was 18, although they later stated that his age was 15 and hers' 14.
A notice about their marriage license was published in the Connellsville (PA) Daily Courier. On her marriage license application, unable to write her own name, Caroline signed with an "X."
The Ogles had at least two children -- Edward W. Ogle and Evelyn Tomko.
Edward was a blacksmith for decades, assuring consistent work in an era when the coal, coke and steel industries were booming in southwestern Pennsylvania.
Carrie made news in September 1908 in a court case involving her brother James Clark, who was accused of "stealing valuable cattle from the farm of Judge Work in Franklin township," reported the Daily Courier. After the brother was found guilty, Carrie also was convicted of perjury when she lied on the witness stand. However, the jury recommended "extreme mercy" on her for her act of defending her sibling. She only had to pay court costs, and was otherwise not punished.
In 1910, when the federal census was taken, the Ogles made their home on County Road in Pitcairn, Patton Township, Allegheny County, about 14 miles east of Pittsburgh, PA. That year, Edward was employed in the Pennsylvania Railroad shops.
With the United States drawn into the raging world war in Europe, Edward registered for the military draft in September 1918, at the age of 37. He stated that his occupation was as a blacksmith for the Pennsylvania Railroad Company and that wife Carrie was his nearest relative.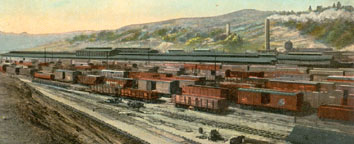 Busy railroad transfer yards in Pitcairn
When the census was enumerated again in 1920, the Ogles were counted twice, and are listed on two separate pages. Their home was still on County Road, near 14th Street. Edward is listed as working as a blacksmith for the Pennsylvania Railroad, also referred to as the "Steam Road."
The 1930 census shows the Ogles living on an "unnamed township road" near Pitcairn. Edward continued to work as a laborer on the steam railroad. That year, six-year-old granddaughter Dolores Weber resided under their roof.
Carrie passed away at the age of 73 in 1956. She was laid to rest at the Crossroads Presbyterian Cemetery in Monroeville, Allegheny County, PA.
Edward outlived Carrie, but the details are unknown. While their grave marker at Crossroads shows his name, there is a blank where the year of his death should be.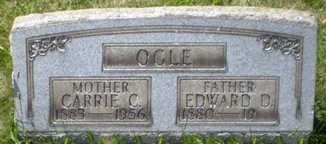 The Ogle grave at Crossroads Presbyterian Church in Monroeville, a suburb of Pittsburgh
~ Daughter Evelyn M. (Ogle) Tomko ~
Daughter Evelyn M. Ogle (1910- ? ) was born in 1910 in Connellsville, Fayette County.
At the age of 28, Evelyn resided in Erie, Erie County, PA, but had no employment. That year, in about March 1938, she married 30-year-old widower Andrew J. Tomko (1908- ? ), a house painter and resident of Elm Street in McKeesport. Born in New York City, Andrew was the son of Austrian immigrants Joseph and Mary (Urich) Tomko of McKeesport. Their marriage license was secured in Washington County, PA.
Nothing more is known.
Copyright © 2007-2008, 2013, 2018 Mark A. Miner
Ogle grave marker photo found online. If this is your creative work, please contact me.