John F. Overfield
(1862-1914)
John F. Overfield was born in 1862 in Preston County, WV, the son of John Edgar and Sarah (Hanshaw) Overfield. He also grew up in parts of nearby Taylor County.
In 1886, when John was 22, he married 16-year-old Bridget Virginia "Berdie" Mann (1870-1939). She was a native of Illinois, the daughter of Milton and Elizabeth (Johnson) Hawkins of Preston County.
The Overfields had four children -- Harry W. Overfield and Walter M. Overfield, and two others who died young.
Circa 1893, when their son was born, they lived in Bellaire, Belmont County, OH. Details of what took them to Ohio are not known.
By 1900, John and Berdie had migrated back to their home state, residing in Grafton, Taylor County, WV, as per the federal census. In 1900, John was employed as a brakeman on the railroad. John's unmarried, 33-year-old sister Lilly Overfield resided in their home. That year, the Overfields' neighbors included their cousins David A. Fawcett and William Henry Harrison Fawcett, who operated a local dry goods mercantile store.
In time, they settled for good in Morgantown, Monongalia County, WV. Their home was on Front Street.

Typical steamboat excursion cruise in West Virginia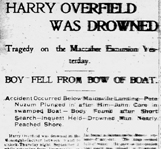 Morgantown New Dominion
Tragedy struck the family on Sept. 3, 1903, when 18-year-old son Harry, while on a steamboat excursion on the Monongahela River near Morgantown, fell into the water and drowned. The news created a sensational headline in the Morgantown New Dominion, which reported to its readers:
Harry Overfield was drowned ... while returning from Brownsville on the steamer Isaac Mason, with the excursion party given by the Lady Maccabees. The accident occurred about a quarter of a mile below Maidsville landing, and nearly opposite Van Voorhis. It case a deep gloom over the whole party, and the news received here caused general sorrow. The boy was known to nearly everybody in town through his connection with Dawson's store, and his handling of the city newspapers. Every body liked him, and his death causes deep regret.
Hardly two people saw the drowning and the circumstances attending it alike, though dozens of people saw it. From the best information obtainable, it seems that young Overfield was sitting on the bow of the boat, with his feet dangling over the size. Mal Turner, Chas. Johnson, Bill Young, Geo. Bower and perhaps one or two other boys were sitting with him. John Core and Lonnie Ride were directly behind him. The boys were singing, and were about to begin another song, when they heard a splash, and saw a vacant place where Harry had sat. No one can tell how he came to slip off.
[He] was the son of Mr. and Mrs. John Overfield who live on Front street. Had he lived until the eighteenth day of this month, he would have been 19 years old. His father, mother, and little brother, Walter, survive him. He was a member of the local lodge of Maccabees, and carried $1,500 insurance in that order. Though not a member of the church, he was a regular attendant at the M.E. Sunday school. He was an industrious, energetic young man, and his persistent good nature won him many friends.
At the death of his uncle Dr. Guy R. Hanshaw in 1908, John was entitled to 1/48 of the estate. He received an immediate payout from the estate of $38.54 in 1909.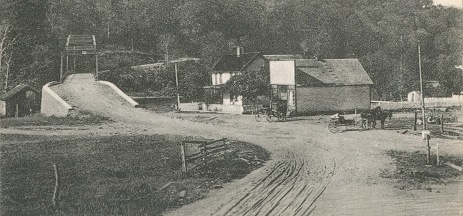 Cheat River Bridge near Morgantown
Sadly, John passed away on Nov. 12, 1914, from the effects of "inflammation of brain." At the time, they were living on Bridge Street in Morgantown. His remains were laid to rest in the city's Oak Grove Cemetery.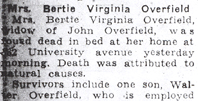 Morgantown Dominion-News, 1939
Surviving son Walter inherited the full right to his fatherís share of the royalty payments. At intervals over the years, through 1942, he received royalty payments from the oil and gas wells. The high point was in 1918, when he received $16.36. In total, father and son received $171.74 in inheritance.
Berdie resided at 862 University Avenue in Morgantown in her later years. When the federal census was taken in 1920 and 1930, she headed a household in Morgantown that included son Walter and boarder Lida Smith, the latter of whom worked as a cutter in one of the city's famed glass houses.
She died in her sleep at the age of 71 on Jan. 4, 1939. She was buried at Oak Grove Cemetery, following a funeral led by Rev. W. Sproule Boyd. Her son Walter was the informant for her death certificate. Her obituary was published in the Morgantown Dominion News.
~ Son Walter McClelland Overfield ~
Son Walter M. Overfield (1893- ? ) was born on Sept. 15, 1893 in Bellaire, Belmont County, OH. He actually thought the date was Aug. 14, 1893 and used that during his lifetime.
He grew up in Morgantown, WV. In adulthood he stood 5 feet, 6Ĺ inches and weighed 150 lbs. He sported a tattoo on his left arm.
He is believed to be the same "Walter McClelland Overfield" who was married twice in Monongalia County -- first at age 23 in 1915 to 17-year-old Jessie M. Billetter ( ? - ? ), daughter of Margaret Billetter. Rev. G.M. Kelley, of the Methodist Episcopal Church, officiated. At the time of the first marriage, he earned a living as a moving picture operator.
The 1920 census shows him at age 27 living with his mother and working as a mechanic in a local glass factory. Also the same year, on Jan. 28, 1920, he wed again at age 28 to 18-year-old Viola May Pastorius ( ? - ? ), daughter of J.C. and Eva Pastorius. Methodist Episcopal clergyman Rev. C.A. Isner led the nuptials. Walter claimed on his marriage license to have been a widow from the first marriage.
By 1930, he was single again and lived with his widowed mother in Morgantown, where he worked as a driver/sweeper for the city.
He was employed by the City of Morgantown circa 1939, the year his mother died.
By 1940, he had migrated to Los Angeles and lived at 4912 Van Ness Street. There, at the age of 47, he was employed by "Douglas LB." When required at that era to register for the military draft, he stated that Mrs. Edwin Overfield, of the home, would always know how to reach him. He probably was using a misspelled form of his wife's middle name, "Edwinna."
At some point he married Sarah Edwina Taylor (July 26, 1901-1987), a native of Pittsburgh.
Sadly, Walter died at age 58, in Los Angeles, on Feb. 4, 1952. His remains are at rest in Forest Lawn Memorial Park in Glendale.
Sarah outlived her spouse by 35 years. The angel of death swept her away in Los Angeles, at age 86, on Oct. 23, 1987.
Copyright © 2004, 2006, 2010, 2015, 2021, 2022 Mark A. Miner