William 'Henry'
Harrison Fawcett
(1855-1929)


Henry and Lizzie
William "Henry" Harrison Fawcett was born on July 28, 1854 (or 1855) in Independence, Preston County, WV, the son of William and Naomi (Fortney) Fawcett.
In 1880, when the federal census of Preston County was taken, William was age 25 and resided in his parents' home in the Lyon District. That year, he was employed locally as a coal miner.
At the age of 28, Henry married 21-year-old Elizabeth A. "Lizzie" Woodfill (1863-1942), the daughter of William and Laura Woodfill of Preston County. They were wed on Sept. 3, 1884, "on road near Evansville," by Rev. D.M. Simonton.
They had two daughters and one son -- Jessie Vivian Shaw, Grace Fay Robinson and Dorsey Lazelle Fawcett, plus one child who died young.
A dry goods merchant, Henry lived and worked in Grafton, Taylor County, WV when the federal censuses were taken in 1900 and 1910, likely in partnership with his brother David A. Fawcett. As residents of Grafton, their homes were in close proximity to the residence of their cousin John Overfield.
Later, after the business apparently ended, Henry moved to Morgantown, Monongalia County, WV, where he operated another dry goods store. While in Morgantown, they made their home "in the Flatts," said the Morgantown Dominion News.
Henry suffered from prostate cancer in his early 70s. After battling the illness for two years, he passed away from its effects on Aug. 20, 1929, just three weeks after his 74th birthday.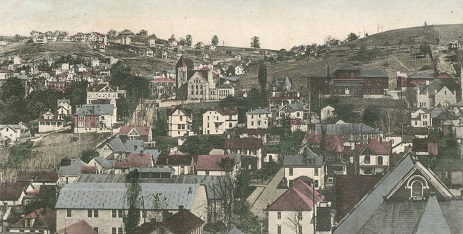 Morgantown's steep University Hill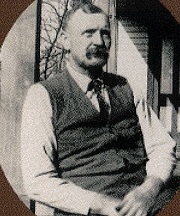 Henry, date unknown
After a funeral conducted by Rev. Frank L. Shaffer, pastor of the Methodist Protestant Church, his remains were laid to rest in the Bluemont Cemetery in Grafton, Taylor County, WV, "the former home of the deceased," said the Dominion News.
Elizabeth outlived her husband by 13 years. The United States Census of 1930 shows her residing alone in the family home in Morgantown, in the Flatts section.
As she aged, Elizabeth later moved overseas to live with her married daughter and son in law, Jessie and Charles Shaw, in the town of Gamboa in the Panama Canal Zone.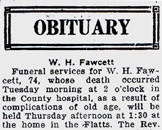 Morgantown Dominion News
She suffered from senility, and apparently fell down some steps at her home in June 1942, fracturing her left femur. She went for treatment to the local Gorgas Hospital, but did not recover from the shock, and died 16 days later at the age of 79 on June 28, 1942.
Her remains initially may have been interred at Corazal Cemetery in Panama, as the United States was in the midst of World War II at the time. Some time later, her casket was shipped home for burial beside her husband at Bluemont. She and Henry rest in the vicinity of his parents, as well as cousins Charles Francis Wayne Hanshaw and Robert Moses Henshaw, and also Anna Jarvis, the founder of Mother's Day.
Ironically, Elizabeth's sister in law Carrie (Freeburn) Fawcett, wife of David A. Fawcett, died just 36 days after Elizabeth, on Aug. 3, 1942, with burial also in Bluemont.

The Fawcett grave marker in Bluemont Cemetery
~ Daughter Jessie Vivian (Fawcett) Shaw ~
Daughter Jessie Vivian Fawcett (1886- ? ) was born in 1886 in Preston County.
At the age of 21, Jessie married 21-year-old Charles Crawford Shaw (1885- ? ), a native of Taylor County. The ceremony was held in Grafton on July 26, 1906, officiated by Crofford Queen.
Charles was tall and slender, with brown hair and brown eyes.
They apparently did not reproduce.
When Charles registered for the military draft during World War I, he disclosed that he and Jessie lived in Morgantown, Monongalia County, WV. At that time, he was employed as a tin worker with American Sheet and Tin Plate Company in the nearby community of Sabraton.
In 1920, the census shows them residing near Morgantown, where Charles was a cabinet maker in a general woodworking business.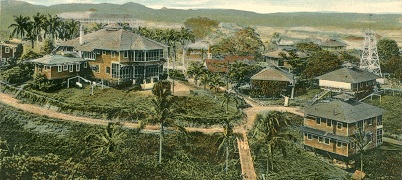 Ancon, Panama
Sometime during the 1920s, they made a major change in life and moved to the Panama Canal Zone. In 1929-1930, they made their home in Ancon, Panama, where the 44-year-old Charles worked as a carpentry foreman in the district quartermaster department. (In an interesting twist, several other cousins have resided or seen military service in Panama over the decades, including Clyde E. Pring who was pictured during construction of the canal with President Theodore Roosevelt.)
The Shaws remained in Panama at least through the early 1940s, and Jessie's widowed mother came to live there with them, in the town of Gamboa. The mother suffered from senility, and apparently fell down some steps in June 1942, fracturing her left femur. She went for treatment to the Gorgas Hospital, but did not recover from the shock, and died 16 days later at the age of 79 on June 28, 1942.
~ Daughter Grace Fay (Fawcett) Robinson ~

Harold Robinson Jr.

Grace
Daughter Grace Fay Fawcett (1893-1974) was born on July 19, 1893 in or near Grafton, Taylor County.
She married World War I veteran Harold Lee Robinson Jr. (1893-1951), the son of Harold Lee and Laverna Rebecca (Smith) Robinson II. They were wed on Aug. 20, 1917, by the hand of Rev. Charles N. Jarrett of the Christian Church in Morgantown. At the time of marriage, she lived in Morgantown and he in Uniontown.
Harold was of medium height and build, with brown hair and brown eyes. Harold was a member of what was considered "a pioneer district family" of Uniontown, Fayette County, PA, and his father was a local attorney in the county seat.
During World War I, Harold registered for the military draft, and at the time was living on Prospect Street in Uniontown. He later entered military service in August 1917, assigned to Camp Jackson, and was honorably discharged as a second lieutenant in March 1919. (He is pictured in the book, Uniontown's Part in the World War.)
They had five children -- Harold Lee Robinson, III, Allan Fawcett Robinson, Elizabeth Rebecca Lincoln, Agnes Fay Aponyi and Mary Kathryn "Kay" Heathscott.
The young family moved around frequently, to Ohio (1921); West Virginia (1922-1925); Pennsylvania (1926); and in 1929-1930 in Sutton, Braxton County, WV, where Harold was employed as a civil engineer.
They made their final home in Parkersburg, Wood County, WV, where Harold's engineering expertise was utilized for the State Road Commission. He was a member of the Methodist church and Masons, the American Legion and Veterans of Foreign Wars.
Grace and Harold
Sadly, at the age of 58, he died of cancer of the tongue, on Oct. 21, 1951. His remains were sent to Uniontown, Fayette County, PA, for burial in the Robinson Cemetery. In his obituary, the Uniontown Morning Herald said:
A graduate of Uniontown High school and West Virginia university, [he] was engaged as a civil engineer in West Virginia for the last 20 years. He was associated in the engineering business here and was identified with the Monongahela Railroad. He also engaged in the coal business in Braxton county, West Virginia, and had been with the State Road Commission at Parkersburg.
Grace died in October 1974 at the age of 81.
Son Harold Lee Robinson III ( ? - ? ) was born in (?). In the late 1940s, he lived in Parkersburg, WV. On Dec. 28, 1948, in nuptials held in the First Presbyterian Church of Goldsboro, NC, he was united in wedlock with Sarah "Doris" Smith ( ? - ? ), daugher of Coy Burnel Smith of Mount Olive, NC. Their four offspring were Patricia Johnson, Sarah Preuter, Jennifer Robinson and Harold Lee Robinson IV. He is known to have been stationed at Dayton (OH) Field during the Korean War. The Robinsons made a home in Morehead City, NC. Sadly, Harold passed away at Carteret General Hospital on April 27, 1998. His funeral was led by Rev. Timothy J. Havlicek at Morehead City's First Presbyterian Church. The remains were shipped to Bethelboro, PA to sleep for all time in the Robinson Family Cemetery. The Raleigh News and Observer published an obituary. His descendants graciously have shared information for this webpage.
Granddaughter Patricia Robinson married (?) Johnson. Her home in 1998 was in Nashville, TN.
Granddaughter Sarah Robinson wed (?) Preuter. Circa 1998, she lived in Chesterland, OH.
Granddaughter Jennifer Robinson resided in Dayton, OH in the late 1990s.
Grandson Harold Lee Robinson IV dwelled in Brecksville, OH.
Son Sgt. Allan Fawcett Robinson served with the U.S. Army at Fort Meade during the Korean War. He was deceased by 1996.
Daughter Elizabeth Rebecca Robinson wed (?) Lincoln. She made a home in in 1996-1998 in Salem, SC.
Daughter Agnes Fay Robinson ( ? -1996) was born in Brownsville, Fayette County. She earned a degree at Ohio University. Agnes was joined in wedlock with Theodore Joseph Aponyi ( ? - ? ). She belonged to St. Francis Catholic Church, Walhalla, SC and was a member of its Altar Society. Her final address was 14 Channel Lane in Salem, SC. There, she died at the age of 70 on April 22, 1996. Fr. Jery Aylward led the funeral mass held at the family church. The remains were shipped for burial to Calvary Cemetery, Dayton, OH. Her obituary was published in the Greenville (SC) News and the Anderson (SC) Independent-Mail.
Daughter Mary Kathryn "Kay" Robinson (1930-2021) was born on Oct. 9, 1930 in Sutton, Braxton County, WV. She grew to womanhood in Parkersburg, WV. Kay receied a bachelor's degree in elementary education and decided to start her career in Key West, FL. While there, she volunteered with the USO (United Service Organizations), providing live entertainment to American military service people. It was while at the USO that she met her future husband who was on shore leave with the U.S. Navy. In January 1957, Kay entered into marriage with John Parker Heathscott (Nov. 8, 1934-2021), son of John and Wilma Heathscott of Georgetown, AR. Their marital union endured the ups and downs of an extraordinary 64 years. Together, the pair bore two daughters -- Mary Jane "Janie" Heathscott and Josephine Parker Heathscott. John had joined the Navy upon his graduation from West Point High School. He remained in the Navy during his career, and received an officer's commission after a dozen years of service. At one point he was stationed in Vietnam, serving as an engineering officer for river patrol boats. When he returned to the States, he was named executive officer for the Navy's recruiting office in Little Rock. They relocated widely and often during the years as he was transferred. This included such places as Guantanamo Bay, Cuba and Scotland. Kay was able to secure teaching positions at these locations. When John retired in 1971, the Heathscotts moved to Arkansas where he farmed and she taught for 26 years at West Point Elementary School. John also owned several small businesses and engaged in local politics. The couple enjoyed traveling, especially on ocean cruises and securing seats on military flights on a "space available" basis. Among their destinations were Italy, the Azores, Hawaii and Wales. They dwelled during that era in Georgetown, Kensett and Searcy, AR. Kay liked to listen to classical music, make crfts, read mystery books, play cards and watch British television comedies. Said the Searcy Daily Citizen, she "had a love of life and adventure from an early age and told her grandchildren that, as a child, she wanted to 'do a different thing every day when she grew up!' " Even at age 80, she learned how to operate tablet technology so that she could connect via FaceTime with her grandchildren. Wife and husband died less than three months apart. On Feb. 12, 2021, he died first. Then as her health failed, Kay was admitted to Providence Assisted Living in Searcy. There, she succumbed to the spectre of death at age 90 on April 24, 2021. Obituaries were published in the Daily Citizen.
Granddaughter Mary Jane "Janie" Heathscott married Harry Heisner.
Granddaughter Josephine Parker Heathscott wed Meldon Tilson.
~ Son Dorsey L. Fawcett ~

Son Dorsey Lazelle Fawcett (1895- 1977) was born on Oct. 17 or 19, 1895 in Grafton.

He served in the U.S. Army during World War I.

Prior to marriage, at the age of 21, Dorsey lived at 35 Jones Avenue in Morgantown, and was employed as a glassware selector for Crystal Glass company. He was tall and of medium build, with blue eyes and light brown hair.

He married Mary A. Conrad (1896-1995), daughter of Ellsworth Elmer and Ida Ellen (Deal) Conrad of Meyersdale, Somerset County, PA.

Together, they bore at least two sons -- William E. Fawcett and Robert L. Fawcett.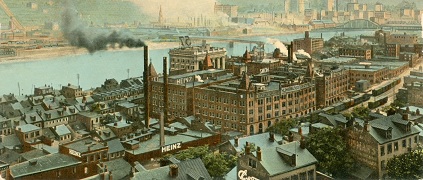 H.J. Heinz Company plant on Pittsburgh's North Side
The Fawcetts later relocated to Latrobe, Westmoreland County, PA. When the federal census of Latrobe was taken in 1930, Dorsey worked as a grocery and food products salesman for the H.J. Heinz Company of Pittsburgh. They made their home that year on Spring Street.
Dorsey remained with Heinz for a total of 32 years, working in a sales capacity.
The family belonged to Trinity Evangelical Lutheran Church of Latrobe.
After retirement circa 1964, the pair moved to South Daytona Beach, FL, where they held a membership in the Lutheran Church of Christ the King.
Dorsey died in the Clyatta Memorial Nursing Home in Daytona Beach at age 82 on March 24, 1978. Rev. Walter G. Marz led the funeral service. An obituary appeared in the Latrobe Bulletin.
Mary outlived her husband by 18 years. Starting in 1998, she spent her final six years as a resident of the Masonic Homes in Elizabethtown, PA. There, she passed away at age 96 on Jan. 15, 1995. The body was shipped to Florida for burial in Daytona Beach's Bellevue Memorial Park.
Son William E. Fawcett ( ? - ? ) was in Latrobe in 1978 and in Denver in 1995.
Son Robert L. Fawcett ( ? - ? ) relocated to Levittown, PA and was there in 1978. By the mid-1990s, he migrated to Whippany, NJ. Research is underway to confirm whether he passed away in Denville, NJ on Feb. 24, 2019.
Copyright © 2006, 2008, 2013, 2015, 2022 Mark A. Miner
Select Fawcett/Robinson photos courtesy of the Harold L. Robinson III Family