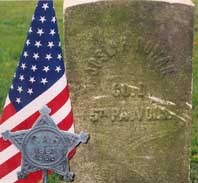 Josiah Rowan was born on Feb. 12, 1833 in Somerset County, PA, the son of James and Catherine (Harbaugh) Rowan.
Very little is known of his life. He was a veteran of the Civil War, as were his father and three of his brothers, and apparently gave his life as a result of wartime disability.
He served in the 5th Pennsylvania Infantry, and was assigned to Company D. Nothing about his actual wartime activities is known.
Josiah is mentioned in the 1947 book, Harbaugh History (Evansville, IN), authored by Cora Bell and J.L. Cooprider. The volume states that he never married and that he died shortly after the war's end, on July 12, 1865.
Josiah is buried near his parents and brothers at the Indian Creek Baptist Church Cemetery near Mill Run, Fayette County, PA.
A Bible record containing his name and information, used by the Coopriders for their book, was in the possession of George S. Rowan of Mill Run in the mid-1940s.
More will be reported here about him when learned.
Copyright © 2006 Mark A. Miner