Home

Leonard Rowan
(1838-1862)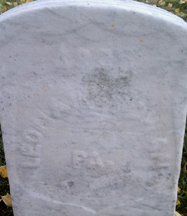 Leonard's fading grave,
Hampton National Cemetery
Leonard Rowan was born on Oct. 21, 1838 in Somerset County, PA, the son of James and Catherine (Harbaugh) Rowan.
He appears to have been named after his maternal grandfather, Leonard Harbaugh Sr., and is one of many of our cousins to have lost their lives in the Civil War. The photograph of his grave marker, seen here, is courtesy of the Hampton National Cemetery in Virginia.
Leonard was raised in Stewart Township, Fayette County, PA. As an adult, he worked as a laborer, and "his earning went to the support of his [parents]," said one source. One friend recalled that before the war, he "lived with his parents and worked for neighbors and gave all his earnings which consisted of money, Flour, Meat and Grain, to them except what would cloth him and that he was for five years or over fully one third support of the Family."
Leonard is said to have never married, and had no children. Yet another source, the Cooperriders' 1947 book, Harbaugh History, states that he married Ann Williams, and that after his death, she married his brother Jonas. But this is not proved.
The federal census enumeration of 1860 shows Leonard, age 22, living at home with his parents in Stewart Township, and making a living as a day laborer.
After the war broke out, when Leonard was age 23, he enlisted in the 85th Pennsylvania Infantry, on Aug. 18, 1861. His term was set forth as three years of service. He was one of many of our cousins in the unit, and earned $13 per month in pay.
Leonard and the 85th Pennsylvania saw heavy action in the battle of Fair Oaks/Seven Pines, VA, on May 30-31, 1862. They later took part in the Seven Days' Battle, and were stationed at various locations in Virginia and North Carolina.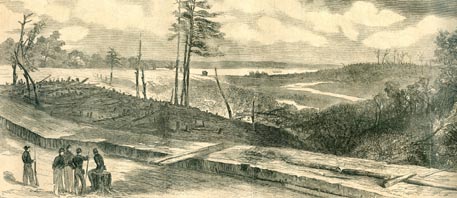 Harrison's Landing, as sketched by A.R. Waid and published in Harper's Weekly, Aug. 23, 1862, just five days after a deathly ill Leonard left there.
Records from the National Archives in Washington, DC show that Leonard suffered from "over exertion and fatigue while in line of duty." On Aug. 18, 1862, while on a march from Harrison's Landing, VA, he left the ranks due to illness. There also is evidence that he may have been captured by the Confederate Army and briefly held prisoner.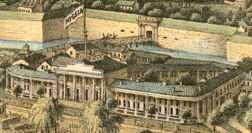 Hygeia Hospital where Leonard died
Leonard was transferred for treatment some 60 miles southeast to Hygeia General Hospital, a converted hotel at Fortress Monroe, near Hampton, VA. The imposing hotel (seen here) was once a "nationally prominent ... seaside resort during the 1830s, '40s and '50s," said the Newport News Daily Press. In this sketch, circa 1862, a flag bearing the word "HYGEIA" flies atop the building's arch-lined entrance.
Sadly, Leonard did not survive his ordeal. Records show that he died at the hospital just four days later of "Paralysis Aug. 22, 1862." He was age 24 at the time of his passing.
Leonard's body was not brought home for burial. He rests for eternity at the Hampton National Cemetery, Hampton, VA, in Gravesite 4925.
After Leonard's death, his 64-year-old mother successfully petitioned the federal government for a pension since she had been so dependent on her son for income. Witnesses in the matter, providing support in writing for government documentation, included her half-brother, Leonard Harbaugh Jr.; nephew Robert B. Leonard; and step-niece, Mattie (Knight) Jennings.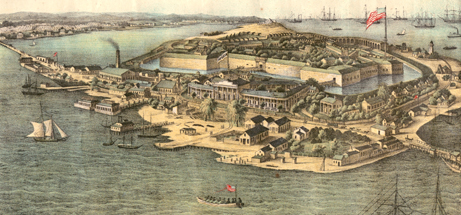 Fortress Monroe, surrounded by a moat on the Old Point Comfort peninsula along the Chesapeake Bay, circa 1862.
A prominent monument, cast in bronze, was erected at the Somerset County Courthouse in memory of its Civil War soldiers. It was dedicated on Sept. 17, 1888 by surviving soldiers and local citizens in a ceremony attended by 5,000 observers. Leonard's was among 203 names inscribed on the face of the statue under the heading of "Died of Disease." Funds for the effort were raised by members of the R.P. Cummins Post of the Grand Army of the Republic, a Union veterans lobbying organization.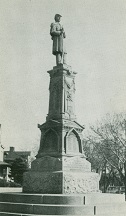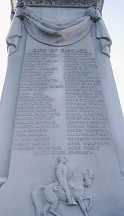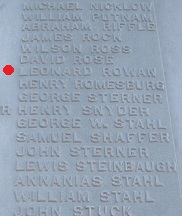 Leonard's name on the Civil War soldiers monument in Somerset (red dot)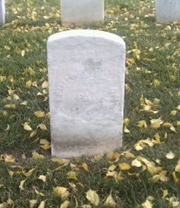 Hampton National Cemetery

In 1900, when Nelson's Biographical Dictionary and Historical Reference Book of Fayette County was published, Leonard's name was included in a list of soldiers from the 85th Pennsylvania. (Uniontown: S.B. Nelson, publisher)

In March 2001, during renovations to the YMCA at Fortress Monroe, the archaeological remains of the Hygeia hotel/hospital -- the building where Leonard died -- were discovered, yielding many important artifacts. Said the Newport News Daily Press, "little physical evidence of the massive structure remained after it was torn down during the Civil War." Thanks to the firm of J.W. Waller Associates, consultants to DPW/Environmental at Fort Monroe, a copy of the Fort Monroe Historic Architecture Repair and Maintenance Plan, Volume 2, of the Norfolk District, US Army Corps of Engineers, has been added to our archives.

Leonard is mentioned in a lavishly illustrated, 2011 book about one of his cousins who also served in the Civil War -- entitled Well At This Time: the Civil War Diaries and Army Convalescence Saga of Farmboy Ephraim Miner.

Copyright © 2001-2003, 2011 Mark A. Miner

Chromalithograph print of Fortress Monroe and the Hygeia General Hospital by Edward Sachse & Co., Baltimore, MD, 1862.