Home

Ella (Sherwood) Smith
(1873-1952)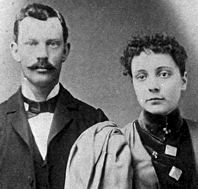 Mont and Ella Smith
Ella (Sherwood) Smith was born Dec. 1873 in Cardington, Morrow County, OH, the daughter of Lester E. and Margaret (Miner) Sherwood.
On Jan. 8, 1896, when she was age 22, Ella married 23-year-old Carey "Mont" Smith (1872-1961), the son of George W. and Mahala (Squibbs) Smith of Marion and Morrow Counties, OH.
The Smiths produced a family of five children -- Stella Guiher, Harry G. Smith, George "Allan" Smith and two daughters who died before 1952.
Mont and Ella were longtime farmers. Early in their marriage, the couple shared a home with Mont's parents on their farm in Claridon Township, Marion County, and are shown there in the federal census enumeration of 1900.
By 1910, the family had relocated to a farm in Congress Township in Morrow County, and then again during the decade of the 1910s migrated to a farm in Gilead, Morrow County.
The United States Census of 1930 shows the family now residing on a farm in Peru, Morrow County. By 1930, while all of their children had grown and left the household, Ella's 77-year-old widowed mother lived under their roof while married son Allen and family lived next door.
They are known to have lived in Stantontown, Marion County at some point and were members of the Salem Evangelical United Brethren Church. Having been raised as the daughter of an alcoholic father, Ella was very strict in regard to alcohol consumption in the family.
After Ella's mother was widowed in 1928, and suffered a debilitating stroke, she came to live with the Smiths. She died at their home in 1931.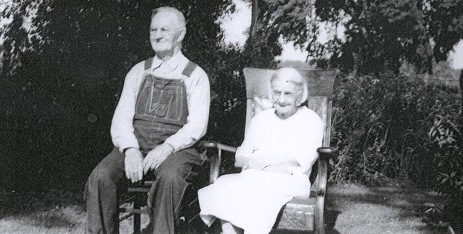 Above: Mont and Ella rest on their farm. Below: North Main Street, Mt. Gilead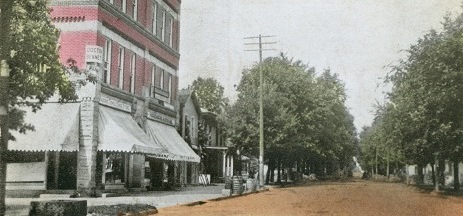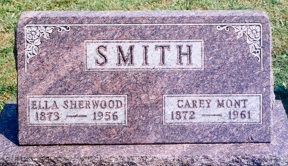 Salem EUB Cemetery
The Smiths were Democrats in their politics. Mont was particularly taken with President Franklin Delano Roosevelt and often remarked to family that he thought FDR was "right at the top."
In about 1941, they moved to near Cardington, along Edison Road northeast of town.
During the summer of 1952, Ella became ill, and was admitted to Morrow County Hospital.
She died there on Aug. 9, 1952, at the age of 78. She was buried at the Salem Evangelical United Brethren Church Cemetery, following funeral services preached by Rev. A.E. Clark. Her obituary was published in the Morrow County Independent.
Mont survived Ella by nine years.
He became ill in 1961, and died on June 6, 1961 at Chesterville Convalescent Home. His obituary also appeared in the Independent. His remains were lowered into repose beside his wife's.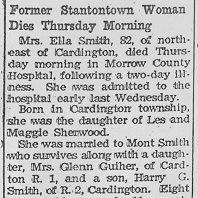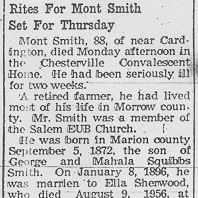 The Smiths' obituaries, nine years apart
~ Daughter Stella (Smith) Guiher ~
Daughter Stella Smith (1897-1982) was born on April 2, 1897 in Marion County, PA. At the age of about two, she relocated with her parents to Morrow County, OH, where she spent the balance of her long life.
When she was 21 years of age, on Feb. 8, 1919, she was joined in wedlock with World War I veteran Glenn G. Guiher (Jan. 2, 1895-1986), son of Andrew Johnson and Rilla J. Guiher of Johnsville, OH. Their marriage endured for more than six decades.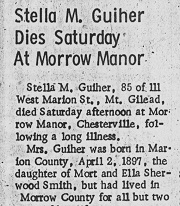 Obituary, 1982
They produced four sons -- Harold Guiher, George Guiher, Dale R. Guiher and Virgil L. Guiher.
The couple resided near Cardington in Westfield Township Morrow County and belonged to the Ashley and Trinity United Methodist Churches. They also were members of the Farm Bureau Council, Kensington Club, Gleaners Club and, later in life, Morow County Senior Citizens.
Glenn was employed as a teacher and labored for years as a farmer.
The couple celebrated their golden wedding anniversary in February 1969 and were pictured in a related story in the Marion Star.
In 1979, the Guihers moved from Westfield Township to Mt. Gilead. They lived at 111 West Marion Street.
As her health failed, Stella was admitted to Morrow Manor in Chesterville, OH. She passed away there at the age of 85 on Nov. 6, 1982. An obituary in the Morrow County Independent noted that she was survived by 14 grandchildren and eight great-grandchildren. Funeral services were jointly led by Rev. Gerald Kalb and Rev. Frank Spencer, followed by interment in Rivercliff Cemetery.
Glenn lived for another four years. He became a resident of Morrow Manor in Chesterville and died there at the age of 91 on June 13, 1986. Rev. Gerald Kalb presided over the funeral service. Burial was in Rivercliff Cemetery, and an obituary was printed in the Star.
Son Harold W. Guiher (1921-2008) was born on April 23, 1921 in Cardington. He married Ida Marie Sautter ( ? -1976). They were the parents of two daughters -- Karen Bachman and Kathy Belcher. Over the years his work ranged from railroad engineer to machinist to grain and livestock farming. One of Harold's passions was antique tractors and machinery, especially John Deere models. He was a member of the Delaware County Antique Farm Machinery Association. Said a newspaper, "Always willing to talk about farming and tractors, he was sought after for his vast knowledge of machinery. Whether it was how to fix old machinery or where to find a special part, he was the one to ask. At times ornery and even stubborn, he was very strong willed, a man of his word, with a dry sense of humor." The Guihers lived in Sunbury, OH in 1960s and '70s. Grief cascaded over the family when Ida Marie died on May 27, 1976, ending their marriage of 21 years' duration. He remained in Sunbury circa 1982 and then moved to Westerville, OH by 1986. At the age of 86, he died in St. Ann's Hospital, Westerville, on Feb. 8, 2008. Burial was in Sunbury Memorial Park.
Granddaughter

Karen Guiher wedded Charles "Chuck" Bachman. Sadly, their son John is known to have passed away on Jan. 4, 1997. Circa 2008, they lived in Johnstown, OH.
Granddaughter Kathy

Guiher

married Jerry Belcher

. Their home in 2008 was in Marengo, OH.
Son George L. Guiher (1922-2002) was born on Oct. 14, 1922. He was joined in the bonds of wedlock with Nanette Hoovler (Oct. 7, 1922-1996). She was a native of Buckeye City, OH. Their marital union lasted for 48 years. Two children were born to this marriage -- Bruce Guiher and Jill Neberman. The couple relocated to California and were in Whittier in 1969 and in 1980 moved to Valley Center, San Diego County, CA, where they remained for good. Active in the community, Nanette volunteered her time with the Escondido Library, Valley Center Republican Women's Club and Children's Home Society Casa De Cuna Thrift Store. Nanette passed into eternity in their home at the age of 73 on Sept. 17, 1996. The North County Times printed an obituary. George lived for another six years. He was gathered in by the Grim Reaper on May 12, 2002.
Grandson

Bruce Guiher

made his residence in 1996 in Cape Coral, FL.
Granddaughter Jill

Guiher

married (?) Neberman

. She dwelled in Chino Hills, CA in 1996.
Son Dale R. Guiher (1925-1977) was born in 1925. He served in the U.S. Navy during World War II and was discharged in April 1946. He was married and the father of five offspring -- Elizabeth Ferris, Marcia McGuire, Susan Guiher, John Guiher and Gregory Guiher. In about 1965, he relocated to Louisiana, putting down roots in Lafayette at 111 North Normandy Road. He earned a living for a quarter of a century as a self-employed geologist. Dale died in a Lafayette-area hospital on July 21, 1977. Rev. W.O. Lynch Jr. of the First United Methodist Church led the local funeral service, with the body then transported to Ohio to rest in a cemetery in Sunbury. An obituary appeared in the Lafayette Daily Advertiser. At the time of Dale's death, all five of his children resided in New Orleans.
Granddaughter

Elizabeth

Guiher

wedded James Ferris

. They lived in New Orleans in 1977.
Granddaughter Marcia

Guiher

married Charles M. McGuire

. Circa 1977, they were in New Orleans.
Granddaughter Susan Guiher

made a home in New Orleans.
Grandson John Guiher

dwelled in New Orleans.
Grandson Gregory Guiher

resided in New Orleans.
Son Virgil L. Guiher (1931-2013) was born on Dec. 14, 1931. He received a bachelor's degree in 1954 and a law degree in 1956, both from Ohio State University. After graduation from law school, he served in the U.S. Navy for from 1957 to 1961 in the Judge Advocate General Corps aboard the USS Yorktown. His tour of duty took him into the Pacific and Asia, and told his family that he once "inadvertently" strolled into Red China. After his military service ended, he practiced law in Ohio for a grand total of 57 years. In 1964, when he was 32 years of age, he was united in matrimony with Evelyn Irene Long ( ? - ? ). Their wedding was held in the Edison United Methodist Church, and their union endured for 49-plus years. The couple bore four children -- Howard Guiher, Rebecca Horner, John Guiher and Amy Randolph. He began in private practice in Mt. Gilead in 1961 and then from 1970 to 1976 as a Morrow County Judge. then for four years, from 1981 to 1985, he was the county's prosecuting attorney. The family were members of the Canaan United Methodist Church. By 1986, he was in San Antonio, TX. Virgil passed away at the age of 81 on Sept. 25, 2013. He was survived by 17 grandchildren and six great-grandchildren. Funeral services were held in the family church, co-officiated by Rev. Matt Skelton and Rev. Ron Davis. Interment of the remains was in Grand Prairie Cemetery. In his memory, a tribute was held at the county courthouse by friends in the Morrow County Bar Association, and an obituary was published in the Morrow County Sentinel.
Grandson

Howard Guiher

married Sandi.
Granddaughter Rebecca

Guiher

wedded Frederick Horner
Granddaughter Amy

Guiher

was united in marriage with Bruce Randolph

.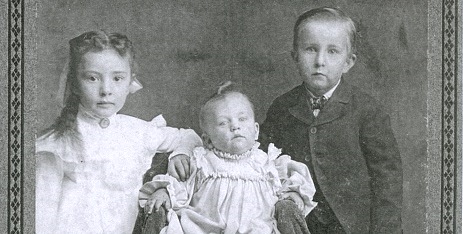 L-R: Stella, George "Allan" and Harry Smith

G. Allan Smith
~ Son George "Allan" Smith ~
Son George "Allan" Smith (1903-1938) was born on Jan. 11, 1903 in Marion County, OH.
He played football for Mt. Gilead High School circa 1920. After graduation, he earned a living as a young man waiting on tables at Mills Restaurant on North High Street in Columbus.
At the age of 22, on Nov. 5, 1924, Allan was united in holy matrimony with 23-year-old Clara Margaret Bowman (March 28, 1901-1998). She was the daughter of Leslie and Lydia (Garver) Bowman of Westfield Township. At the time of marriage, Allan lived in Peru Township and declared his occupation as farmer, while Clara resided in Gilead Township.
They were the parents of three children -- Walter Neal Smith, Merle Richard Smith and Doris Christian
For a number of years, the family resided one mile north of Stantontown, Morrow County.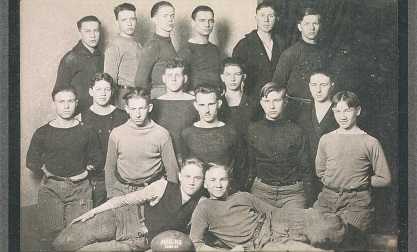 Above: George stands with his high school football team of 1920-1921, back row, right. Below: George and fellow waiters at Mills Restaurant, front, 2nd from left.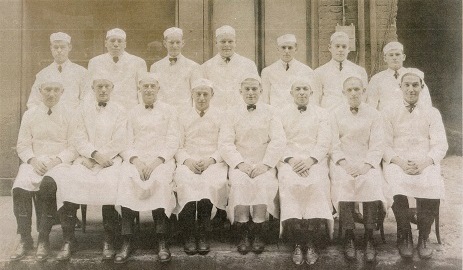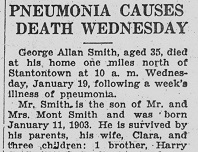 Obituary, 1938
Grief cascaded over the family when Allan died in July 1938 -- at age 35 -- after a week's affliction with pneumonia, to the profound grief of his wife and parents. His funeral service was held at the Stantontown Baptist Church. Interment of the remains was in Rivercliff Cemetery in Mt. Gilead.
She worked for Hydraulic Press Manufacturing and eventually retired from the position. At one time her address was on Elm Street in Mt. Gilead, ans she belonged to the Pleasant Grove Church of Christ.
Clara outlived her husband by an extraordinary nearly six decades. She married again, on July 2, 1960, to Earle Perrin ( ? -1973). He had been married previously and brought these children to the second union -- Forest Perrin, Ernest Perrin and Belva Doty.
Clara spent her final time in Delaware, Delaware County, OH. When she reached her 94th birthday in 1995, the happy event was noted in the Marion Star.
She passed into eternity at the age of 96 on Jan. 5, 1998, as a patient in Grady Memorial Hospital. Rev. Don Neumeister led the funeral service. Her remains were lowered into eternal repose beside her first husband's, rejoined in death after a separation of close to 60 years. An obituary in the Star noted that her survivors were counted as a dozen grandchildren, 18 great-grandchildren, one great-great granddaughter and four step-grandchildren.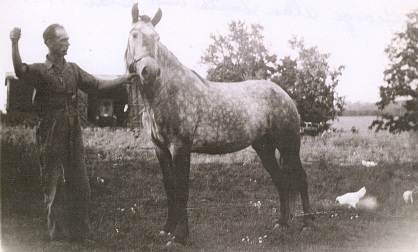 Allan with a favorite horse, Star, 1937
Son Walter Neal Smith (1926-1998) was born on Feb. 22, 1926 in Stantontown/Marengo, Morrow County, OH. When he was 23 years of age, on Sept. 26, 1949, he married Catherine "Katie" Gaverick ( ? - ? ), daughter of Mina Garverick of Galion, OH. Their nuptials were held in Decatur, IN. They bore five children -- Larry Allen Smith, Phillip Smith, Marjorie Smith, Cynthia Weston and Christine Thomas. Walter served as a private first class in the U.S. Army during World War II. For four decades, Walter earned a living with Hydraulic Press of Mt. Gilead, retiring in 1987 as foreman of the tool and die department. They were members of the First United Methodist Church of Cardington, and he belonged to the Jenkins-Vaughn Post of the American Legion. In retirement, they relocated to Tucson, AZ. In their new home, Walter volunteered with the Tucson Area Arthritis Foundation and in 1997 was named "Volunteer of the Year." As his health failed, Walter went to live with his daughter Christine in Cardington. Sadly, he died there, at the age of 72, on April 24, 1998. He was survived by 11 grandchildren and one great-grandchild. Rev. John Jackson led the funeral service, with burial in Rivercliff Cemetery. Catherine survived him by some period of time and suffered with arthritis.
Grandson

Larry Allen Smith

married Jean Showalter, daughter of Jack and Grace (Ilo) Showalter. They have resided in Cardington. At least two offspring were born to this union, Emily May Smith and Tommy Smith.
Grandson Phillip Smith

wedded Randy Foster. In 1984, they lived in Mt. Gilead and by 1998, they were in Minnesota. They are the parents of David Neal Smith.
Granddaughter Marjorie Smith

has not married and dwells in Venice, FL.
Granddaughter Cynthia Smith was united in wedlock with Brian Weston. They made a home in 1999 in Tucson, AZ.
Granddaughter Christine Smith was joined in matrimony with Roger Thomas

. they have lived west of Cardington.
Son Merle Richard Smith (1927- ? ) was born on July 5, 1927 in Marengo, OH. As a young man, he relocated to Akron, OH, where he earned a living as an export clerk. He wedded Lucille Marie Scalese ( ? - ? ). Rev. Robert W. Kline officiated at the ceremony, held in Cuyahoga Falls. She was the daughter of Joseph J. and Mildred (Coviello) Scalise of Cleveland, OH. At the time of marriage, she worked as a clerk in or near Cuyahoga Falls. They produced a family of four children -- Karen Marie Smith, Barbara Ann Smith, Diane McQuillen and David Smith.
Granddaughter

Karen Marie Smith

married Gideon ( ? - ? ). They have at least one daughter, Stephanie.
Granddaughter Barbara Ann Smith

wedded (?). Her two children are Brandon and Ashley.
Granddaughter Diane Smith was united in the bonds of matrimony with (?) McQuillen. Their daughter is Nicole McQuillen.
Grandson David Smith

was not married circa 1999.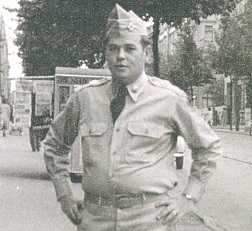 Lavern Smith, Germany, 1952
Daughter Doris Marie Smith ( ? - ? ) was born in about 1931 in Morrow County. She earned income as a young woman, working as a typist. On Feb. 4, 1951, when she was age 19, she married 21-year-old laborer LaVerne Vincent "Vern" Christian ( ? - ? ), son of Berle Vincent and Elsie Mae (Bradley) Christian of Miamisburg, OH. Vern was a veteran of the Korean War, serving in Europe with the 43rd Division. The three children born to this union were Terry Vincent Christian, Mark Christian and Carol Carr. In the late 1990s and early 2000s, Doris graciously opened her home to the founder of this website and generously shared content and photographs.
Grandson Terry Vincent Christian (1954- ? ) was born in 1954. He married Carol Stegner ( ? - ? ). Their only daughter is Erin Brianna Christian. Terry has been employed in Dayton, OH as an engineer at Wright Patterson Air Force Base, while Carol has taught kindergarten in Dayton.
Grandson Mark Christian (1955- ? ) was born in 1955. He was joined in wedlock with Diane Marie Basil. Their offspring are Kyle Christian and Ashley Christian. Mark moved to Arizona and worked there as a substitute teacher. Interested in forestry, he worked in a fire tower in the Grand Canyon and more recently has been a lieutenant in the sheriff's department in Flagstaff, AZ.
Granddaughter Carol Christian (1958- ? ) was born in 1958. She was twice wed. Her first spouse was (?). Her second husband is Ronald Carr ( ? - ? ). They established a residence in Kingsley, MI, where Ronald is employed as a geophysicist.
~ Son Harry G. Smith ~
Son Harry G. Smith (1899-1977) was born on Jan. 17, 1899 in Marion County, OH.
On June 29, 1921, he was united in matrimony with Nellie Marie Casto (Feb. 12, 1901-1993), a native of Mansfield, Richland County, OH and the daughter of Edward and Iva Belle (Shaffer) Casto
The couple bore one daughter, Helen Zinn.
The Smiths' home was on a farm along U.S. Route 42 northeast of Cardington. Harry earned a living as a farmer and as an employee of the Ohio Department of Highways. They were members of gilead Friends Church, and she belonged to the Wayside Garden Club.
Tragically, Harry was killed on Oct. 13, 1977 "when he was run over by a tractor at his home.... [He] had attached a brush hog to his tractor to clean up the garden prior to winter," said his obituary. He was rushed to Mansfield General Hospital, where he died later that day at the age of 78. Funeral services were officiated by Rev. Charles Robinson in the Gilead Friends Church. Burial was in Rivercliff Cemetery in Mt. Gilead.
Nellie outlived her husband by 16 years. Toward the end, she was admitted to Woodside Village Care Center in Mt. Gilead. She was gathered in by the Angel of Death at the age of 92 on April 26, 1993. Her obituary was printed in the Marion Star.
Daughter Helen Smith ( ? - ? ) wedded Roy Zinn ( ? - ? ). They dwelled in Cardington in 1977-1993 and were the parents of four children.
Copyright © 2001, 2006, 2020 Mark A. Miner
The Smiths' granddaughter Doris (Smith) Christian graciously has provided content for this biography.