John A. Logan Strauch
(1891-1926)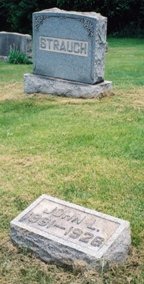 Dickerson Run Union Cem.
John A. Logan Strauch was born on April 18, 1891 near Dawson, Fayette County, PA, the son of John and Mary Hester (McKnight) Strauch. He was one of two brothers among many Minerd- Minard- Miner- Minor cousins to be killed in railroad and streetcar accidents.
John was married to Anna C. Moon (Feb. 19, 1890-1944), daughter of William B. and Rebekah (Painter) Moon of McKeesport near Pittsburgh.
They were the parents of two sons, Paul "Logan" Strauch and Kenneth Strauch. Sadly, son Kenneth died in infancy in 1919, with burial in Dickerson Run Union Cemetery.
John was a laborer for the Pennsylvania Railroad, working in connection with shipments to and from the W.J. Rainey coke operations in the region. He was a member of the Brotherhood of Railway Trainmen No. 461, an early union-type organization.
In 1918, the Strauchs lived in McKeesport, near Pittsburgh. By 1920, after the death of their son, they returned to Fayette County.
The 1920 federal census shows John, Anna and their two-year-old son Logan living on Braddock Avenue in South Union Township, near Uniontown. His occupation was written as "brakeman - railroad." John's widowed sister Dora McKnight, who had lost her husband in World War I just two years earlier, also lived under their roof.

John's union logo
Later, in the 1920s, the family resided in their Braddock Avenue home while John worked away at Clarksville, Greene County, PA.
Tragedy struck suddenly on June 6, 1926, when John was instantly killed in a railroad accident. He was just age 25. The Uniontown Morning Herald of June 7, 1926 reported that John fell:
... between two railroad cars while working on the Monongahela Division of the Pennsylvania Railroad at Clarksville.... [He] had worked for the railroad for a number of years, at one time working out of the Rainey yards here, and was employed in the Brownsville section at the time of his death. The crew was shifting cars when the accident occurred.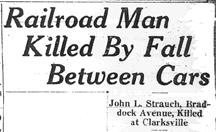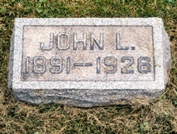 John's news obituary and grave at Dickerson Run Union Cemetery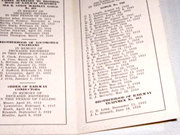 Memorial booklet naming John
among 56 dead BRT members
John was buried in the Strauch family plot at Dickerson Run Cemetery, near Vanderbilt, Fayette County.
More than four years later, on the evening of Sunday, Sept. 14, 1930, John's memory was honored at a memorial service held at the South Brownsville Methodist Episcopal Church on Second Street in South Brownsville. The service involved not only the Railway Trainmen but also the brotherhoods of Locomotive Engineers, Railroad Trainmen and Order of Railway Conductors, as well as the Ladies Auxiliary to the Railway Trainmen. In all, 56 deceased members were memorialized that evening, with their names printed in a special booklet.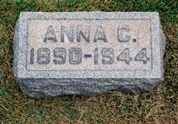 Dickerson Run Union Cemetery
A copy of that booklet today is preserved in the Minerd.com Archives, and is seen here. (John's name is the very last one on the right-hand page.)
Anna lived for another 18 years. Her address in 1944 was with her son Logan on 418½ North Beatty Street in the Hazelwood section of Pittsburgh.
Suffering from Banti's Disease, a chronic congestive spleen enlargement, she passed away at her home in Hazelwood at the age of 53 on Jan. 16, 1944. Following the funeral at the Fisher and Owen Funeral Home in Hazelwood, her remains were returned to Fayette County for burial in the Dickerson Run Union Cemetery.
~ Son Paul "Logan" Strauch ~
Son Paul "Logan" Strauch (1918-1994) was born on Feb. 20, 1918 in McKeesport near Pittsburgh.
In about 1938, he married Delilah Madison ( ? - ? ). The Strauchs were together for 56 years.
Their children were John Logan Strauch, Arthur Strauch and Nancy Micher.
Logan was "a veteran of World War II and was a retired employee of the former Pennsylvania Railroad," said the Uniontown Herald-Standard. He is believed to have been Assistant to the President of the Pennsy, attended a retirement dinner of a Monongahela Railway Company employee, and was pictured in a related newspaper article.
They were members of the Epworth United Methodist Church, and Logan belonged to the Masonic lodge in Pittsburgh and the Syria Shrine.
Their address in 1944 was 418½ North Beatty Street in the Hazelwood section of Pittsburgh. That year, Logan's mother died in their home.
Circa 1994, the Strauchs lived in Allison Park, Allegheny County, PA.
He died at Macrina Nursing Home in Uniontown on Sept. 29, 1994, and was buried at Dickerson Run Cemetery, with Rev. Ronald H. Love officiating at the funeral service. An obituary was printed in the North Hills News Record.
Delilah survived her husband by 16 years. She passed away on March 13, 2000, at the age of 81. She rests with her husband in Dickerson Run. In a death notice published in the Pittsburgh Post-Gazette, the family asked that any memorial donations be made to Juniata United Methodist Church.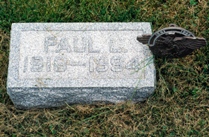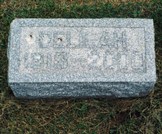 Paul's and Delilah's grave markers, Dickerson Run Union Cemetery
Son John Logan Strauch married Patricia "Pat" Gulas ( ? - ? ), daughter of John and Julia Gulas of Bradenville, Westmoreland County, PA. They produced three children -- Paul Logan Strauch, John Michael "Jack" Strauch and Lisa Ellen Strauch. Later, after a divorce, he married a second time to Gail ( ? - ? ). They lived in Pepper Pike near Cleveland, OH in 1994-2000. Patricia went on to wed (?) Edgar and dwelled in Pittsburgh.
Grandson Paul Logan Strauch (1965-2002) was born on June 6, 1965 in Cleveland. In childhood, he spent summers with his mother's parents in Bradenville near Latrobe, Westmoreland County, PA. He received a master's degree in landscape architecture in 1994 from Michigan State University. On July 30, 1994, in vows made at Rumple Memorial Presbyterian Church in Blowing Rock, NC, he wed Ellen Salsbury Burgin ( ? - ? ). Rev. James Stuart officiated at the wedding. Ellen was the daughter of Charles Burgin of Marion, NC. At the time of marriage, Paul lived in Baton Rouge, LA, and Ellen was pursuing her own master's degree in fine arts from Louisiana State University. The couple eventually divorced. Circa 2002, Paul was employed in Baltimore, MD with the architecture, engineering and planning firm Morris-Ritchie Associates. He enjoyed golfing. Sadly, he died in Baltimore at the age of 36 on May 15, 2002. His remains were returned to Pennsylvania to rest in St. Mary's Byzantine Cemetery in Bradenville. An obituary was printed in the Latrobe Bulletin.
Daughter Nancy Strauch wedded Edward Micher. They made a home in 1994-2000 in Uniontown.
Son Arthur Madison Strauch (1943-2008) was born on Feb. 18, 1943. He served in the U.S. Air Force, presumably during the Vietnam War, and attained the rank of sergeant. He was united in marriage with Marianne (?). The couple were the parents of two children -- Suzanne DePoy and Matthew Madison Strauch. They dwelled in Collierville, TN in 1994-2000. Later, they relocated to Hot Springs Village, Saline County, AR. Arthur died at home at the age of 65 on Nov. 18, 2008. Interment was in CedarVale Cemetery in Hot Springs Village, and a death notice was printed in the Hot Springs Sentinel-Record. [Find-a-Grave]
Granddaughter

Suzanne Strauch married (?) DePoy.
Grandson Matthew Madison Strauch

wedded Laurie.
Copyright © 2000-2006, 2010, 2011-2012, 2018 Mark A. Miner