Elizabeth Ann 'Lydia' (Turner) Heltebran Colosimo
(1877-1951)

Lydia Heltebran
Elizabeth Ann "Lydia" (Turner) Heltebran Colosimo was born in Nov. 1877 near Ohio Pyle, Fayette County, PA, the daughter of George Washington and Mary Frances (White) Turner. Her name also has been spelled "Lida."
At the age of 19, on June 19, 1897, Lydia married 26-year-old Samuel Heltebran (July 27, 1872-1911), also spelled "Helterbran" and "Helderbrand" -- the son of Jacob and Delilah (Rhodes) Heltebran of Belle Vernon, Westmoreland County, PA. Because she was legally underage, her father had to provide his consent to the union.
Lydia and Samuel produced three sons -- Clarence Thomas "Hiltey" Heltebran Sr., George Dewey Heltebran and Earl J. Heltebran.
When the federal census enumeration was made in 1900, the Heltebrans made their dwelling in Rostraver Township, Westmoreland County. Samuel earned a living that year as a farm laborer, as did his bachelor brothers Louis and Robert who lived in the household.
The family has not yet been located in the 1910 United States Census.
Sadly, Samuel began to suffer from hepatic (liver) congestion and heart failure in early February 1911. When he contracted typhoid fever, his health plummeted, and he passed away in Charleroi, Washington County, at the age of 39 on Feb. 11, 1911. Burial was in Hoffman Cemetery in Smithton, Westmoreland County.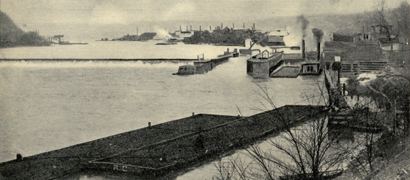 Lock 4 on the Monongahela River near Lydia's home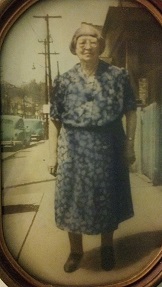 On a sidewalk in Charleroi

Lydia survived her husband by four decades. Initially she supported herself as a housemaid in Charleroi and belonged to the First Methodist Church in town.

On Feb. 9, 1915, after four years as a widow, she married again, to 32-year-old Italian immigrant and coal miner Antonio Colosimo (1883- ? ), son of Charlie and Mary Colosimo. Their wedding was held in Monongahela, Washington County. It's been said that she married him so that he could become a United States citizen. The name may have become Americanized to "Close."

The Colosimos are shown together in the 1920 census record for North Charleroi, with Antonio employed as a coal mine laborer. Lydia's sons Clarence and Earl lived under their roof that year.

That marriage must have fallen apart, as Lydia eventually took back her first married name. In 1940, still in Charleroi, the census-taker spelled her surname as "Hildbrant." At that time, son Clarence and his wife Beulah shared a home with her, along with lodger George Bousel, a steel mill laborer. She and Clarence's growing family and bachelor son Earl lived together in Charleroi in 1950, with that year's census-taker spelling the name "Helterbran."

She spent her final years at 1002 McKean Avenue in Charleroi, near Lock 4 along the Monongahela River

In March 1951, Lydia contracted a case of acute hepatitis. Her health declined rapidly, and she died four weeks later at the age of 74 on April 18, 1951 in Charleroi-Monessen Hospital. A newspaper reported that she was survived by five grandchildren and two great-grandchildren.

~ Son Clarence Thomas Heltebran Sr. ~


Clarence and Beulah
Courtesy Paul David Kyle

Son Clarence Thomas Heltebran Sr. (1896-1978) was born in Sept. 1896 in Ohio Pyle, Fayette County.

Despite having a "crippled right foot," he was a veteran of World War I, serving in Company D of the 17th Cavalry, and received a Purple Heart for wounds. Still a bachelor in 1920, at the age of 23, he worked as a "Sailor - at sea" and was listed in that year's census with his mother and stepfather Antonio Colosimo in North Charleroi, Washington County.

He married twice, first to Ruth Heron (1900- ? ), daughter of Robert and Rachel Pringle (Williams) Heron. Their wedding was held in Washington, Washington County on Aug. 26, 1922. At the time of marriage, Clarence was a mill worker and made his home at Lock 4 along the Monongahela River. They divorced in about 1929.

His second spouse, whom he wed on June 29, 1929, was Beulah Jane Williams (1915-1978), the daughter of Isaac Newton and Elizabeth Helen (Wilburn) Williams of Mill Run, Fayette County, PA.

Clarence and Beulah produced four children -- Clarence Heltebran Jr., Thomas Heltebran, Georgetta A. "Gig" Kiefer Tividor and Thelma Mae Kyle plus two unnamed infants who died young. They also took in a niece, Earlene (Heltebran) Russell, born in about 1937.

In 1930, the family made its dwelling-place at 505 Seneca in Monessen. Grief cascaded over the famiy on April 13, 1930 when seven-month-old son Clarence died, having suffered from bronchial pneumonia and malnutrition. The child's tender remains were laid to rest in Monessen's Grandview Cemetery.

In 1937, their address was 425 Eire Avenue in Glassport near McKeesport. That year, on June 24, 1937, their unnamed baby girl was stillborn in McKeesport Hospital from an umbilical cord prolapse. The child's name on the official Pennsylvania death certificate was "Hiltenbran." A year later, with the family residing at 604 Sixth Street in North Charleroi, they lost another unnamed baby boy just 15 minutes after birth on Aug. 16, 1938. Cause of death was suffocation during the birth process.

During the latter part of the Great Depression, Clarence was employed by the Works Progress Administration and was a laborer on the WPA work crew that reconstructed historic Fort Necessity. The WPA was one of the ways President Franklin Delano Roosevelt and the federal government tried to overcome unemployment during the Great Depression. It's widely considered one of the Roosevelt's largest and most ambitious undertakings of his "New Deal" to get the nation back on sound economic footing. Over the years, the WPA hired millions of out-of-work individuals to build public works projects, such as roads, bridges, retaining walls and buildings.

The 1940 federal census enumeration shows Clarence and Beulah sharing a home in North Charleroi with his widowed mother and him working for the WPA at that time.

The Pittsburgh Steel plant at Monessen, later part of Wheeling-Pittsburgh Steel Corporation, Clarence's employer in 1950.
Below, courtesy Library of Congress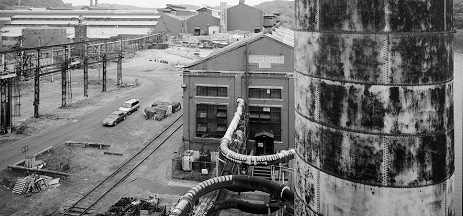 Clarence by 1950 was employed as a cutter in the Wheeling-Pittsburgh Steel plant in Allenport, PA, a position he held until retirement. He also was a member of the Charleroi Fishing Club. Beulah belonged to the Hiller Free Methodist Church.
Sadly, Beulah (Feb. 26) and her sister in law Frances (Sechez) Heltebran died one day apart in the winter of 1978. The viewings for both were held at the same funeral home, with Beulah in one room and Frances in the other.
Clarence Sr. passed away in Charleroi-Monessen Hospital on April 20, 1978, with burial at Monongahela Cemetery. At his death, a newspaper reported that he was survived by 13 grandchildren and five great-grandchildren.
Daughter Georgetta A. "Gig" Heltebran (1933-2000) was born on Dec. 4, 1933 in either Chalk Hill, Fayette County or in North Charleroi, Washington County. She was twice-wed. Her first husband was Raymond Thomas Kiefer (Dec. 21, 1926-1962), son of John and Lavurn (Worley) Kiefer. Raymond was drafted into the U.S. Armed Forces in February 1944 during World War II. Later, he earned a living as a laborer. One daughter in this family was Michelle "Moma Luch" McElroy Barber. The Kiefer home in 1952 was at 9 East Schoonmaker Avenue. Raymond and his future brother-in-law Ronald A. Kyle and friend Fred Bielecki were injured in an accident in February 1952 when "the auto in which they were riding crashed into a steel guard fence on Route 906 about a half-mile north of Monessen," reported the Monongahela Daily Republican. All three men received lacerations in the mishap but recovered. In the early 1960s, the Kiefers made their residence in Monessen, Westmoreland County, at the address of 410 Oneida Street. On the fateful day of May 4, 1962, Raymond suffered a heart attack at the age of 36 and died instantly. His remains were interred in Belle Vernon Cemetery. Georgetta outlived her first spouse by almost 38 years. She wed again to Michael "Dempsy" Tividor (April 1, 1926-2002), son of John and Anna (Ondish) Tividor Sr. of Van Voorhis, PA. He may have brought a daughter into the union, Michelle Molta. The Tividors produced a son, Clarence "Michael" Tividor. Dempsy was a World War II veteran, earning a Bronze Star with the 2nd Infantry Division. For years, he was a construction laborer, with Dick Corporation as his final employer at retirement. Her final home was in Brockton, Plymouth County, MA, where her daughter was residing at the time. She died there at the age of 66 on March 1, 2000. Her remains were cremated and the ashes scattered on her favorite beach on the Massachusetts coast. Dempsy lived for another two-plus years and at the end was in North Charleroi. He surrendered to death in Pittsburgh's Mercy Hospital on July 26, 2002. Interment was in Mon Valley Memorial Park.
Granddaughter Michele M. "Moma Luch" Kiefer (1954-2021) was born in 1954 in North Charleroi. She was married twice in her lifetime. Her initial spouse was Thomas McElroy ( ? - ? ). Their only daughter was Cecilia McElroy. Later, she was joined in wedlock with Francis J. "Frank" Barber ( ? - ? ). For many years, Michele was employed as a personal care assistant in the field of home health care. She held a membership in Brockton's Trinity Baptist Church. Said an obituary, she "had a great love for cooking and hated to see people not fed. She cared deeply for others. Mrs. Barber enjoyed crafting and liked handmade goods [and] had a strong passion and love for singing, which she also did at church." Michele relocated to Massachusetts and made her home in 2000-2021 in Brockton, Plymouth County. At the age of 67, she died in Signature Healthcare Brockton Hospital on Sept. 12, 2021. A memorial service was held in the family church.
Grandson Clarence "Michael" Tividor (1957- ? ) was born in about 1957. He resided in Brockton in 2021.
Step(?)-granddaughter Michelle Tividor wed (?) Molta.


Thelma and Ronald Kyle. Courtesy Paul D. Kyle

Daughter Thelma Mae Heltebran (1935-1987) was born on Aug. 31, 1935 in North Charleroi, Washington County, PA. On March 18, 1953, when she was 17 years of age, Thelma was united in marriage with her first husband, Ronald Albert "Sparky" Kyle (Oct 15, 1930-1992), son of Lewis Carmen and Margaret Frieda (Young) Kyle. They had six children, among them Timothy Kyle, Patrick Randall "Bush" Kyle Sr., Ronald Kyle Jr., Patricia Spalding and Susan Miller. Thelma is known to have borne a son Paul David Kyle with her companion Donald "Smiley" Vindivich (Jan. 6, 1931-1972) of Whitsett, Fayette County and the son of George and Darinka (Bognovich) Vindivich. Donald was an employee of the Baltimore and Ohio Railroad and lost his life in a work accident in Indiana on April 17, 1972. The Uniontown Evening Standard reported that Donald "was killed today when caught in a piece of equipment used to repair tracks. Authorities said the victim and other workers were uploading the machinery about seven miles southeast of LaPorte, Ind., near Walkerton. After the machinery was started, Vindivich got caught and was pulled into the machine [and it] had to be disassembled to remove him." The remains were sent back to Fayette County for funeral rites led by Rev. Smith C. Hixon and burial in Mount Washington Cemetery in Perryopolis. Obituaries were printed in the Connellsville and Uniontown newspapers. Later, Thelma and John Rudolph Harry "Swede" Carlson (May 3, 1930-1972), son of John and Signe (Karlsson) Carlson, produced a daughter, SherriLynn Davis. Harry resided in 1972 in Mentor Terrace in Forward Township, Allegheny County. Tragically, he was killed on June 23, 1972 in an autotmobile accident on Route 51 near Elizabeth, PA. Burial was in Round Hill Cemetery, Elizabeth, and a death notice printed in the Pittsburgh Press. Thelma's second husband was John D. Lucas (1937-1999). The second union ended in divorce. Then with companion Alvin Edward Kibe Sr. (Nov. 5, 1937-2020), they became the parents of David Lucas. Thelma passed away at the age of 52 on Aug. 1, 1987 in Washington Adventist Hospital in Silver Spring, MD. Her remains were returned home for burial in Monongahela Cemetery. Alvin outlived Thelma by 33 years. He died in Uniontown on Nov. 14, 2020.
Granddaughter Patricia Ann Kyle (1954- ? ) was born in 1954. Patricia and William Keener ( ? - ? ) became the parents of a daughter, Johanna Elaine in 1972. Patricia was twice married. Her first spouse was Leslie Wayne Hunt ( ? - ? ), son of Martin and Sarah (Dunn) Hunt. They bore three children -- Michelle Elisabeth Hunt, Peter Wayne Hunt and Christopher Martin Hunt. Later, Patricia was joined in marriage with Joseph Garland Spalding ( ? - ? ) and resided in Old Town, MD.

Great-granddaughter Johanna Elaine (1972- ? ) was born in 1972. She and her companion Eddie R. Dilley ( ? - ? ) produced an only son, Justin Nicholas Dilley, born in 1990. Her first spouse was Michael Thornton ( ? - ? ). Johanna's second marriage was with Edward Gilly ( ? - ? ). Their daughter Kaitlyn Nicole Dilley was born in 1992. After a divorce, Johanna wed a third time to Thomas Brode ( ? - ? ). Their duo of sons are Jacob Brode and Joshua Brode. The couple separated, with Thomas moving to Lonaconing, MD. As of 2012, Johanna was a companion of Keith Joy of Oldtown, MD. Double tragedy rocked this family when son Justin was killed on July 10, 2012 in Hyndman, PA when struck by a CSX Railroad train after tripping while trying to run across tracks near a railroad bridge south of town -- and then his 23-year-old girlfriend Shelly Leeann Murphy was badly injured in a July 27, 2013 vehicular accident in Cumberland, MD and died later that day in the University of Maryland Shock Trauma Center in Baltimore. Police found that her 2000 Mazda had gone off of Virginia Avenue and collided with a utility pole near Industrial Boulevard. Her death left behind an orphaned son Jadyn.

Great-granddaughter Michelle Elisabeth Hunt (1974- ? ) was born in 1974. She first wed (?) Cameron and was the mother of Adrey Cameron. Grief swept over the family when their son died young.

Great-grandson Peter Wayne Hunt (1977-2023) was born on Aug. 18, 1977. He resided in adulthood in Sanford, FL. Sadly, he passed away by his own hand on Jan. 4, 2023.

Great-grandson Christopher Martin Hunt (1983- ? ) was born in Nov. 1983. He wed Celina Yebba ( ? - ? ). The couple's two children are Gigi Hunt and James Hunt.

Grandson Patrick Randall "Bush" Kyle Sr. (1956-2014) was born on July 3, 1956 in Charleroi. He resided in Vanderbilt, Fayette County and married Catherine Werner ( ? - ? ). They became the parents of Patrick Randall Kyle II. Later, in about 2004, he married Rebekiah J. "Becky" Lyda (Dec. 30, 1963-2019), daughter of Earl Gordon and Sylvia (Lyda) Nygren. Becky brought two sons to the marriage -- Brandon Lyda and Tory Wefler. They dwelled in Monessen, Westmoreland County. Said the Valley Independent, "While Pat was in high school, he was a manager at the Arco Station in Brownsville. He graduated in 1974 from Brownsville High School and was a U.S. Army veteran, having served during the Vietnam era. He was very proud that his family members had served our country in every war from the Revolutionary to Iraq Freedom. Pat was an electrician and had designed and built many homes all over the Mon Valley area. His last place of employment, prior to his illness, was at Jimmy G's Remodeling in Carroll Township. He enjoyed fishing, the Pittsburgh Pirates and Steelers, watching the military channel, cemetery walking with his brother, and searching for genealogy." Sadly, Patrick died at age 57, in Latrobe Hospital, on May 6, 2014. Becky survived her husband by more than five years and maintained a home in Monongahela. Sadly, as her health failed, she was admitted to Havencrest Nursing Center in Carroll Township. There, at the age of 55, she was cut away by the Grim Reaper of Death on Oct. 10, 2019. Funeral services were private, and burial was in the Monongahela Cemetery.
Great-grandson Patrick Randall Kyle II ( ? - ? ) was born on (?). With Nicole Teets, he became the father of Xavier Teets. He went on to marry Lindsey Gray ( ? - ? ). They live in Johnstown, Cambria County, PA and are the parents of Adam Kyle, Patrick R. Kyle III and Julia Kyle.
Step-great-grandson Brandon Lyda has resided in Charleroi.
Step-great-grandson Tory Welfler has made a home in Donora.
Grandson Timothy Lewis Kyle (1959-2016) was born on Oct. 29, 1959 in Charleroi. He was was wedded to Carol Marie Dunseath ( ? -living), daughter of George and Lilliian (Murilla) Dunseath. They had two children -- Jason Timothy Kyle and Charlene Monique Kyle. Timothy was employed with Sebastian Enterprises in Belle Vernon, a company run by his friend Drew Rainey. Said the Uniontown Herald Standard, "Tim never drank a beer he didn't like." Tragically, both of their adult children died less than a month apart in 2015. Then, just a month and a half into the new year 2016, Timothy died in UPMC Presbyterian Hospital in Pittsburgh at the age of 56 on Feb. 15, 2016.

Great-grandson Jason Timothy Kyle (1981-2015) was born on April 18, 1981. Jason and Summer Majors produced a son, Dezmier Majors. Then with Cassandra Jarvis, they bore two sons -- Clayton Kyle and Jayden Kyle. As of 2015, his home was in Pricedale, PA. He died at age 34 on Sept. 13, 2015. An obituary appeared in the Valley Independent.

Great-granddaughter Charlene Monique Kyle (1982-2015) was born on Oct. 13, 1982. She was the mother of four sons with three different fathers. She and her first companion were the parents of Mitchell Kyle. Then with John Russell, she bore Timothy Russell and Jonathan Russell. She and Dean Cooper bore a son, Noah Cooper. As of the mid-2010s, she dwelled in Pricedale, PA. Sadly, she died by her own hand at the age of 32 on Oct. 7, 2015.

Grandson Paul David Kyle ( ? -living) was the son of Thelma Mae Helterbran and Donald Vindivich (Jan. 6, 1931-1972) and grew up thinking that Ronald Kyle was his father. Paul has been married four times. In order, his brides have been Brenda Everley, Susan Rose, Danda Cushey and Debbie Dakoski. He is deeply interested in his family roots and has generously shared his findings for this website.
Granddaughter Susan Renee Kyle ( ? - ? ) was born on (?). For many years, she was the common law wife of Joseph Dale Miller Sr. (Dec. 9, 1958-1979). Their two children were Joseph Dale Miller Jr. and Erica Renee Miller. Grief cascaded over the family when Joseph Sr. was murdered in the coal mine patch town of Filbert, Fayette County on Feb. 2, 1979. In time, Susan married her late husband's brother, Jerry Miller ( ? - ? ) and relocated to Front Royal, VA. The son they bore togehter is Jerry Lee Miller.

Great-grandson Joseph Dale Miller Jr. (1975-2009) was born on Nov. 11, 1975. He was a boy of three years of age when his father was killed. Joseph wed Leslie Estes ( ? - ? ). Their only daughter is Cameron Miller. The heartbreak of the family's suffering was compounded on Jan. 9, 2009 when Joseph was killed in an automobile accident in Port Royal, VA.

Great-granddaughter Erica Renee Miller ( ? - ? ) was born on (?). With Wiley Carter ( ? - ? ), she is the mother of Courtney. Then with Trevor Bailey ( ? - ? ), she has borne two offspring, Dillon and Hannah.

Great-grandson Jerry Lee Miller (1980- ? ) was born in 1980. He was united in matrimony with Melissa ( ? - ? ). Their daughter is Payton Miller.

SherriLynn Davis
Courtesy Paul David Kyle

Grandson Ronald Albert Kyle Jr. was joined in wedlock with Myra Lee Davis. They dwelled in Charleroi.
Granddaughter SherriLynn "Witch Hazel" Lucas (1972-2016) was born on Jan. 11, 1972 in Brownsville, Fayette County. She was married to Keith Allan Davis ( ? - ? ). Over the years, they lived in Erie and Dale Boro near Johnstown, PA. The couple together produced a family of two children -- Keith Allan Davis II and Stephen Michael Davis. SherriLynn earned a living as a server at Nino's Restaurant and was a member of Turners Hall in Johnstown. Sadness has blanketed this branch of the family. Keith passed away followed by SherriLynn in Johnstown, PA at age 44 on March 14, 2016. Less than a year later, their son Stephen at age 22 died at home in Dale Boro on Jan. 13, 2017.
Niece/daughter Earlene Alice Helterbran (1936-2019) was born on Sept. 1, 1936 in Charleroi, the daughter of George Dewey Helterbran Sr. and Anna B. Flanigan, who were not married. Born with spina bifida, she was adopted by her grandmother Lydia and also grew up in Charleroi with her uncle and aunt, Clarence and Beulah (Williams) Helterbran. Earlene is shown in their household in 1950, when she was 13 years of age. She has been described as "generous, courageous, feisty, and had the most amazing inner strength." Earlene enjoyed attending the Easter Seals summer camp in childhood. She was a 1955 graduate of Charleroi High School and then in 1956 from Borrough's Business School of Pittsburgh. On March 8, 1957, in a wedding ceremony held in Frostburg, MD's First Methodist Church, she entered into marriage with Rev. James Lee Russell (Aug. 8, 1934-1988), son of Carl Russell of Fairhope. The couple were pictured in a wedding announcement in Monessen's Valley Independent, which said that "For her wedding attire the bride chose an aqua colored knit suit accented with pearl and rhinestone trim and a matching tiara of seed pearls, which belonged to her sisteer. She carried a white bridal Bible, which was a gift of the bridegroom and her only jewelry was a family heirloom locket. For her flowers she chose a corsage of red and white rosebuds." James was a 1952 graduate of Bellmar High School and attended Waynesburg College before joining the U.S. Army during the Korean War. He went on to a career in Christian ministry. Together, they produced a family of three -- Kevin Russell, Dee Dee Russell and Tamara Crosser. The Russells made their home in Pennsylvania until 1968, when they relocated to Southern Maryland. Tragedy struck in 1984 when daughter Tamara was struck and killed by a car in Maryland while on her honeymoon. Said an obituary, "Earlene had a strong belief and love for God; she spent many years in ministry with her husband. Together they ministered in churches, conducted gospel street meetings, held revivals, worked with Teen Challenge and tirelessly helped those in need. While in LaPlata, she volunteered constantly in her community and church (Calvary Grace Church). Earlene was especially proud of her work as a Missionette Leader and the many years volunteering at the Richard Clark Senior Center." Widowed at the age of 52, she supported herself through employment in the admissions department of the emergency room of Physicians Memorial Hospital of La Plata, MD. At her 80th birthday, she received special recognition from the Richmond chapter of the Easter Seals as one of the oldest-living individuals with spina bifida. Sadly, James died on Sept. 11, 1988. Burial as in Maryland Veterans Cemetery in Cheltenham. Earlene lived as a widow for another three-plus decades. In 2015, to be closer to her daughter Dee Dee, she relocated to Richmond, VA. In her final years, Earlene received health care services from the Little Sisters of Richmond. She died in Richmond at the age of 82 on April 4, 2019. A memorial reading service was held at Calvary Grace Church, with interment next to her husband.
Grandson Kevin Russell ( ? - ? )
Granddaughter Dee Dee Russell ( ? -living) wed Richard Brindle ( ? - ? ). They reside in Virginia.
Granddaughter Tamara Russell (1960-1984) was born in 1960. She entered into marriage with (?) Crosser ( ? - ? ). Family lore says she was killed on her honeymoon in 1984 when struck by a car in Maryland.
~ Son George Dewey Helterbran Sr. ~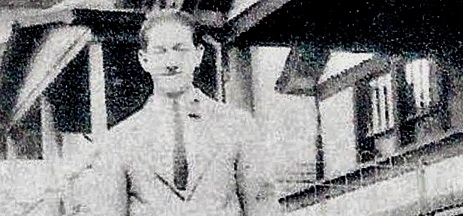 George Dewey Helterbran.
Courtesy Paul David Kyle
Son George Dewey Helterbran (1898-1983) was born on May 2, 1898.
As an adult, he was of medium height and build, with grey eyes and brown hair. At the age of 20, he was employed as a glass gatherer for Imperial Glass Company of Charleroi. He was a veteran of World War I.
On Sept. 19, 1920, he married Sylvia Joseph (Feb. 29, 1904-1974) of Ohiopyle, Fayette County and the daughter of William and Edith "Ella" (Shipley) Joseph.
They bore two known children, among them Thelma Pearl Hall, Betty June Casteel and James William Helterbran.
Later, they made a home in Charleroi, Washington County.
George left his family on Feb. 10, 1925, claiming he was going to obtain a paycheck, but never returned. The news was reported in the Daily Courier. Family lore says he had worked at the Brown Derby restaurant and "walked away with the payroll."
Now a single mother, Sylvia and her children moved back to Ohiopyle. Over the years, her name often was printed in the gossip columns of the Daily Courier for visits she made with family and friends in Charleroi, Dawson and Smithdale. Her address in 1931 was in Vanderbilt. When son James enlisted in the U.S. Armed Forces in December 1943, and he asked his mother to write a poem, she did so, entitled "Answering the Call," published in the Daily Courier on Dec. 28, 1943.
In 1936, George fathered a daughter with Anna B. Flanigan (1903-1988). The child was given the name "Earlene Alice Helterbran" and was raised by her grandparents and eventually her uncle and aunt, Clarence Thomas and Beulah Jane (Williams) Helterbran. See their entry for more.
George appears to have been in Charleroi in 1955 when he paid a fine plus restitution in connection with racketeering and an illegal lottery.
Sylvia married again in the mid-1940s to Jesse Domer Wilkinson (May 10, 1901-1949), a native of the Banning coal mine patch town and the son of George S. and Susanna (Forsythe) Wilkinson. He was divorced from his first wife, Edith Mae Wilkinson, and had not reproduced. They made a home together at 324 North Cottage Avenue in Connellsville. He earned a living as a machinist for the H.C. Frick Coke Company, with his final assignments at the Phillips mine and finally the Leisenring No. 3 mine. He belonged to Local 7914 of the United Mine Workers of America.
Stricken with cancer of the colon, at the age of 47, Jesse suffered for a year and underwent surgery at Mercy Hospital in Pittsburgh. He passed away in Connellsville on Nov. 17, 1949. Sylvia Cupp of Connellsville signed the official Pennsylvania certificate of death. Burial was in the Indian Creek Baptist Church cemetery in Mill Run, with funeral services led by Rev. Meade M. Snyder of the First Evangelical United Brethren Church. An obituary appeared in the Daily Courier.
The widowed Sylvia expected to receive their home her late husband's estate, but it was awarded to his first wife in a ruling in Fayette County Court. She appealed the decision to the Supreme Court of Pennsylvania in October 1950. Said the Daily Courier, she "claimed that the property should have been awarded to her as Wilkinson's widow, [and] said the first wife had lost all claim to title when she was divorced. The property, originally jonit-owned by Wilkinson and his first wife, had been sold for taxes and then re-purchased by Wilkinson following the divorce." The high court upheld the lower court's ruling, with Judge Morrow stating that "the tax sale did not wholly destroy the former estate for right of redemption remained -- a right that persisted as long as the title remained in the county," said the Daily Courier. "The Supreme Court held that Wilkinson's purchase in his life time was a redemption of the property and therefore inured to the benefit of both Wilkinson and his former wife whose interest as tenant by entirety under the law as it then stood continued despite the divorce."
She moved to Smithton, PA, where she resided in 1951 and for the remaining decades of her life. She passed away on Jan. 14, 1974. Funeral rites were conducted in the Grandview Church of God, by the hand of Rev. William D. Rodahaver. Burial was in the cemetry of the Indian Creek Baptist Church.
George later relocated to Phoenix, Maricopa County, AZ. There, he died on April 4, 1983.

Harry Hall's workplace, the Babcock & Wilcox plant at Beaver Falls. Painting by Howard Fogg for the Pittsburgh & Lake Erie Railroad Co., of the New York Central System.
Daughter Thelma Pearl Helterbran (1920-1991) was born on Dec. 2, 1920. She married Harry W. Hall (March 15, 1913-1982), son of Charles W. and Matilda (Schroyer) Hall. The couple did not reproduce. Harry was in the U.S. Armed Forces during World War II and stationed at Camp Haan, CA and in Mississippi. During that time, Thelma Pearl was employed at Riverside Drive, CA. In 1944, the Halls moved from Mill Run to Beaver Falls, PA, making a home on Herron Road in Chippewa Township. Harry obtained employment with Babcock & Wilcox Company in Beaver Falls as a burner. He eventually retired from the position. Charles held a membership in the Chippewa post of the Veterans of Foreign Wars. Sadly, after an illness of several weeks' duration, Harry passed away in the Medical Center of Beaver County at the age of 68 on Jan. 18, 1982. His obituary appeared in the Beaver County Times, which said he was survived by seven brothers and two sisters. Funeral services were conducted by Rev. Henry M. Howells, of the Church of the Living Christ in Bridgewater, with the remains transported to Mill Run to sleep for the ages in the Indian Creek Baptist Church cemetery. Thelma outlived him by nine years and succumbed to the spectre of death on June 9, 1991.
Daughter Betty June Heltebran (1923-2005) was born on July 3, 1923. She first married Ralph Casteel ( ? - ? ). They dwelled in the 1940s in Grafton, WV. Their two known daughters were Helen Marie Casteel and Carol Ann Casteel. Betty appears to have sued her husband for non-support in November 1944. At the time, he was living in Hazelton, WV and she had moved back to Connellsville. The couple appears to have reconciled for a time. Betty June's mother and grandmother are known to have traveled to Grafton for visits in November 1946 and March-April, 1948. In June 1948, Betty again filed a complaint against her husband in Fayette County Court. The Casteels eventually divorced, and in 1952 Betty dwelled in Friendsville, MD. Still residing in Bridgeport, WV, Ralph in 1953 was charged with two hit-and-run driving incidents by Uniontown alderman Robert F. Hopwood Jr., and was in continuous trouble with the law throughout the 1960s and 1970s. Betty June and the children relocated later in 1953 to McKeesport near Pittsburgh. On Sept. 29, 1956, she married a second time to Gerald I. Williams (Feb. 23, 1929-1999), son of Charles and Violet (Sherbondy) Williams. Their home in 1971 was in Scottdale and in 1974 was in Smithton. Betty June was active in the early 1970s with the Women's Christian Service Council of the Grandview Church of God, hosting meetings in their home. The Williams marriage also ended in divorce. Ex-husband Williams died on Feb. 7, 1999. Betty June remained in Smithton as of 1989. She passed away on July 17, 2005.
Granddaughter Helen Marie Casteel ( ? - ? ) was born on (?). She was an alumna of South Huntingdon Township High School and worked in young womanhood for Westinghouse Electric Corporation in Youngwood. On Feb. 2, 1963, in what the Connellsville Daily Courier called "a quiet ceremony in the Barren Run E.U.B. Church, near Smithton," she was united in matrimony with Robert Seighman ( ? - ? ), son of John Seighman of Ruffsdale. Officiating was Rev. Merle I. Potter. The newspaper story said she "was attired in a dark green wool suit with white accessories. She wore a white orchid corsage." Robert also was a South Huntingdon graduate and at the time of marriage earned a living in Ruffsdale with Jim's Cabinet Shop. Helen was quoted in the Pittsburgh Press in January 1998 after an arson fire destroyed the 139-year-old Barren Run church along Route 981 in South Huntingdon.
Granddaughter Carol Ann Casteel ( ? -2016) was born in Preston County, WV. She entered into marriage with Alvian Kenneth Rhoades ( ? - ? ). The Rhoades dwelled in Smithton, PA in the early 1960s in a home on Second Street. They were the parents of twins Donna Marie Rhoades and Diana Forsythe, Douglas Rhoades and Tammy Filer. Sadness blanketed the family when infant twin daughter Donna Marie died at the age of 10 days on Jan. 26, 1961 from bronchial pneumonia and congestive heart failure. The baby's tender remains were lowered under the sod of Barren Run Church near Smithton. Their final home together was in Ruffsdale, PA. At the age of 72, Carol Ann died in Excela Frick Hospital in Mount Pleasant, PA on Feb. 16, 2016. Interment was in the Barren Run cemetery, with an obituary published in the Greensburg Tribune-Review.

Great-granddaughter Diana Rhoades ( ? - ? ) was born in 1961 in Charleeroi-Monessen Hospital, a twin with her sister, Donna. Sadly, the twin died at the age of just 10 days from bronchial pneumonia and congestive heart failure. Diane grew to adulthood and married (?) Forsythe ( ? - ? ). One daughter of this couple was Tasha Long. Sadly, she was deceased by 2016.

Great-grandson Douglas Rhoades appears to have been tiwce-wed. His first spouse was a distant cousin, Teri Lee "Jo" Christman (July 21, 1961-2007), daughter of Charles Richard and Olive "Ruth" (Shroyer) Christman of the family of Jacob Adam and Laura Belle (Younkin) Shroyer. The pair bore a son, Alvian Kenneth Rhoades II. After a divorce, he wed Brenda and they have dwelled in Scottdale.

Great-granddaughter Tammy Rhoades was joined in wedlock with Kevin Filer. They put down roots in Smithton and bore a daughter, Bri Filer.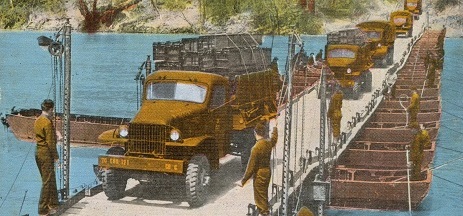 Army maneuvers at James Helterbran's workplace, Fort Benning
Son James William Helterbran (1925-1989) was born on Sept. 24, 1925. As a young man he was employed by Anchor Hocking Glass Corporation in South Connellsville. He stood 5 feet, 6½ inches tall and weighed 160 lbs., with a light complexion, brown hair and blue-grey eyes. He joined in the U.S. Armed Forces at the age of 18 on Dec. 9, 1943, during World War II, and trained as a rifle marksman at Fort Meade. He was shipped overseas as a member of the 12th Armored Division. While in action in France on Jan. 15, 1945, he was wounded slightly and treated in a hospital. He wrote to his mother, stating "Am back in the hospital again but you don't need to worry. I have frostbitten feet and they will be all right in a couple of days." In all,, he spent 14 months in the European Theatre, including engagement in three battles, and received a 90-day furlough in early 1946. After re-enlisting, he was posted to Korea and thence to Camp Barkley, TX, Camp Muroc, CA and Fort Benning, GA. He returned home again on Oct. 1, 1948. He remained in the Army and was assigned to Troop B, 16th Constabulary Squadron. During the Korean War, he was assigned in March 1950 to the U.S. Sector of Berlin, Germany, with responsibility for safety and security of occupation personnel in that locale. In July 1951, he graduated from a non-commissioned officers school at the military post in Berlin with training on command and leadership, tactics, personnel and administration. While in Germany, James met and married Margot Schlosser (Jan. 20, 1931- ? ). The three children they produced together were Frank James Helterbran, Barbara Ann Sorrell Colondres and William Frederick Heltebran. As of 1957, the family was in Columbus, GA, with James having completed 15 years of military service and recently re-enlisting for another six-year term. The following year, 1958, Margot became a naturalized citizen. Upon re-entering civilian life, James became employed with the Sing Oil Company service station on 3105 Macon Road, Columbus. Their address in 1969 was 4799 Gardiner Drive. The marriage ended in divorce, with James placing a classified advertisement in the Nov. 15, 1969 edition of the Columbus Ledger-Enquirer, saying "After this date I will no longer be held responsible for debts incurred by anyone other than myself." On March 9, 1973, James entered into marriage with Thelma Stanton (June 29, 1912-1994), daughter of Henry H. and Exie (Martin) Harp, and widow of Carl J. Stanton Jr. A reception was held at the home of Fred Robinson in the Kaldallen Estates in Phenix City. Another son in the family was Sambo Helterbran. They made their home in Columbus, where she had owned Stanton Grocery and then worked at Kirven's Department Store. James retired as a staff sergeant after 21 years of duty, and then went on to employment as a civil service plumber at Fort Benning. They belonged to the Calvary Baptist Church. Their address in 1989 was 4233 Chalfonte Drive. He passed away on Feb. 4, 1989 as a patient in Columbus' St. Francis Hospital. An obituary was published in the Ledger-Enquirer. Thelma died at the age of 82 on Sept. 4, 1994. Interment of the remains was in Parkhill Cemetery Her obituary in th Ledger-Enquirer said she was survived by two nephews and a niece. Former wife Margot wed again to (?) Morimoto ( ? - ? ) and was the mother of James Morimoto.
Grandson Frank James Helterbran (1951-2000) was born on May 11, 1951 in Berlin, Germany. His home in adulthood was in Columbus, GA and in 2000 in Phenix City, GA. Sadly, at the age of 48, he died on Feb. 13, 2000. His remains were laid to rest in Parkhill Cemetery in Columbus. A death notice was printed in the Columbus Ledger-Enquirer.
Granddaughter Barbara Ann Helterbran (1957-2005) was born on March 25, 1957 at Fort Benning, GA. She was twice-wed. Her first spouse was Michael Stephen Sorrell ( ? - ? ). They were divorced in Mucogee County Superior Court in June 1975. She entered into matrimony with Sgt. Maj. Rafael Colondres ( ? - ? ). The couple dwelled in Columbus, GA and were the parents of Stephanie Ann Colondres. Barbara Ann was employed as a hospital patient transporter with St. Francis Hospital. In her free time she liked to dine out and read. Sadness cascaded over the family when 47-year-old Barbara passed away on March 21, 2005 in Columbus Hospice House. Funeral services were held in the Fort Benning chapel, led by chaplain Maj. Luis Scott. Burial followed at Fort Benning's Fort Moore Main Post Cemetery. She was pictured in her obituary in the Columbus Ledger-Enquirer in which the family asked that any memorial contributions be made to the American Cancer Society's Pancreatic Research Center.
Grandson William Frederick Helterbran (1960-2017) was born on May 12, 1960 in Frankfurt, Germany. He married Vicki Lynn ( ? - ? ). The pair may have been the parents of Jeremy Helterbran. William sued for divorce in January 1984 in Muscogee County Superior Court. He then resided at 2472 Victory Drive in Columbus. Then circa November 1984, he wed a second time to Vickie Marie Gilbreath ( ? - ? ), daughter of Therman W. Gilbreath. News of their marriage license was published in the Columbus Ledger. One known daughter of this couple was Tiffany Christean Daniels, born in 1985. The second union ended in divorce. As of 1992, William dwelled at 39 Avalon Circle in Seale, AL. He remained in Alabama in 2005. William died on March 29, 2017.

Great-granddaughter Tiffany Christean Helterbran was born in 1985 in the Medical Center of Columbus, GA. News of her birth was published in the Columbus Ledger-Enquirer. She was united in matrimony with (?) Daniels and in 2017 lived in Wichita, KS.

Great-grandson Jeremy Helterbran ( ? - ? ) made a home in Texas in 2017.

Grandson Sambo Helterbran ( ? - ? ) was named in his father's obituary in 1989.
~ Son Earl J. Heltebran Sr. ~
Son Earl J. Heltebran (1899-1970) was born in Aug. 1899.
Earl earned a living in 1920 as a glass house laborer in North Charleroi, making his home with his mother and stepfather Antonio Colosimo.
When enumerated in the 1950 federal census, Earl at age 51 was marked as single, living with his mother and brother Clarence and family in Charleroi, and earning a living as a steel mill laborer.
He married Frances Sechez ( ? - ? ), a native of Belgium.
They did not reproduce.
The couple lived at 817 Rear Washington Avenue in Charleroi. Earl was employed by Allenport plant of Wheeling-Pittsburgh Steel. Frances belonged to the St. Jerome Catholic Church in Charleroi.
He died at the age of 70 in February 1970, with burial at Sacred Heart Cemetery near Monongahela. She outlived him by some years and died at the age of 76.
Copyright © 2003-2004, 2006-2007, 2009-2010, 2013, 2017 Mark A. Miner
Paul D. Kyle graciously has shared valuable information for this biography.