Austin Coleman VanHorn
(1843-1925)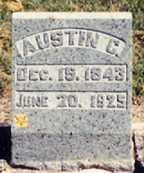 Austin Coleman VanHorn was born on Dec. 19, 1843 at Gilead (now Grand Rapids), Wood County, OH, the son of Samuel and Sophia (Minard) Van Horn. His birthdate also has been given as June 19, 1843 and June 19, 1844. He was a veteran of the Civil War.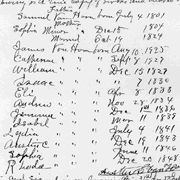 In 1914, when he was an old man, Austin was asked by the federal government to prove his age. With justice of the peace George W. Callin present, Austin brought out his father's old family Bible. Austin's date of birth was marked inside, and given as "Dec. 19, 1843." According to Callin, "the Bible was printed in 1851. That there are no erasures or alterations. And from the appearance of the writing in the record I firmly believe that the record is genuine, being yellow with age." The Bible also listed the birthdates of Austin's parents and 11 siblings. Callin wrote out the entire list and sent it to the Pension Commissioner. Today the original is in the National Archives in Washington, DC, with a copy (seen here) in the Minerd-Miner-Minor Archives.
While growing up, Austin was a playmate of his cousin Alpheus Minerd, who resided in nearby Tontogany, Wood County. Austin said he "was intimately acquainted with [Alpheus], youth up until the first of July 1863 when I enlisted in the service of the U.S. I have played with him, gathered hickory nuts, went to parties and spelling schools and all places of amusements that young people thare refined would go to."
As a young man, Austin stood 5 feet 8 inches tall, with black eyes and black hair. He once recalled that he had worked as a laborer "boy on [my] father's farm."
During the Civil War, he enlisted in the Union Army at Grand Rapids, on June 24, 1863. He was assigned to Company F of the 86th OH Volunteer Infantry. His brother Isaac also served in the war, with the 144th OH Infantry. Cousin Alpheus Minerd, and many others in the immediate family, also fought for the Union cause.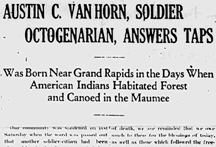 Austin's physical ailments began almost immediately. On the 4th of July, in camp at Cleveland, OH, he came down with "camp diarrhea," which led to severe hemorrhoids. He later was treated by the regiment's surgeon at Cumberland Gap. The sickness would plague him the rest of his life. During the "latter part of his service," a colleague later recalled, "[he] was not able to do any servise at all." Edward Wood, another fellow soldier, said "on our march from Cumberland Gap … he could not march and had to be halled to Nicholasville, Ky."
Austin was honorably discharged at Camp Cleveland, OH on Feb. 10, 1864, having served more than seven months. He returned home to Grand Rapids.

After the war, Austin worked performing manual labor. Eugene DeForest Hall, of Grand Rapids, said "During the year 1866 I worked with him every day for about eight months… He was employed on a farm and did general farm work." He also labored for John Guyer. Austin is thought to have had a toe crushed by a falling tree, and also suffering an accidental, deep knife cut on the inside of his right calf, causing a 6-inch scar. The wounds are seen here in a surgeon's sketch.
On Nov. 28, 1868, Austin married Calista Lucinda Rice (1851–1882), a native of Tongotany, Wood County. He was eight years older than she. They had five children – Stephen Gorrela VanHorn, Maggie May Anderson, Rosa Bell VanHorn, Daisy Elizabeth Willford and Newton VanHorn.
In about 1869, the VanHorns moved from Grand Rapids to Jackson Twp., Wood County. Austin remained there for 44 years.
Calista was a housekeeper and raised their children. Sadly, at age 31, she came down with a severe case of blood poisoning, and died of its effects in Wood County on Feb. 5, 1882. Two years later, tragedy struck again when daughter Rosa passed away at age 10. They are buried on either side of Austin at the Beaver Creek Cemetery near Grand Rapids.

Graves of Austin Van Horn, his wife Calista and daughter Rosa, as photographed in August 2002
Austin suffered over the years with chronic diarrhea. He drew a pension in compensation for his wartime illnesses. The highest he received was $50 per month, at the time of his death.
After 14 years as a widower, Austin married Emily Elizabeth (Buttles) Phillips (1854-1929) near Milton Center, OH, on Sept. 8, 1896. The ceremony was performed by C.M. Walling, a justice of the peace.
According to an article in the Wood County (OH) Herald, Emily "was converted at the early age of 10 years, and affiliated with the Christian church for a number of years, being a great Bible student. She loved the word of God."
Emily had been married three times before, to George Harmon (a Civil War veteran, from whom she was divorced); Frank Casher (who died in 1881 in Seneca County, OH); and Samuel "Martin" Phillips (who died at age 32 in 1889 in Wood County). Emily had a daughter from a previous marriage, Mary Phillips (also known as Alice Challen).
The Van Horns resided in Deshler, Henry County, OH. (The Main Street of Deshler is seen here in a rare postcard photograph from about that time.) In 1913, they moved to Bowling Green, Wood County.
When Austin's brother Eli died in 1914, Austin and Emily traveled to Deshler for the funeral. This was reported in the Wood County Daily Sentinel.
By 1915, son Newton was deceased, of unknown causes.
As an elderly man, Austin suffered from bladder problems, as well as "old age and exhaustion." He passed away from uremic poisoning at age 81 on June 20, 1925. He was buried at Beaver Creek Cemetery in Grand Rapids. His lengthy obituary was published in the Deshler Flag.

Emily then attempted to obtain her late husband's pension, which would have provided her with a steady monthly income. T.B. King, Cashier of the Corn City State Bank of Deshler, wrote several letters on her behalf.
On Christmas Day 1928, the Herald said, she "united with the Deshler Methodist church, and was a regular attendant at all services as long as her health would permit."
Emily passed away on Jan. 25, 1929, at the age of 74 years. Her obituary was carried in the Wood County Herald.
~ Son Stephen Gorella Van Horn ~
Son Stephen Gorella Van Horn (1870-1919) apparently never married, and worked as a laborer in Deshler.
He died of typhoid fever at the age of 49, on Oct. 14, 1919, with burial at Beaver Creek Cemetery.
~ Daughter Daisy Elizabeth (Van Horn) Willford ~
Daughter Daisy Elizabeth Van Horn (1876-1951) was born on May 2, 1876 in Henry County, OH.
She married (?) Willford and resided on West Elm Street in Deshler, Henry County.
Suffering from cancer of the bowels, and chronic asthma, Daisy died at the age of 74 on March 31, 1951, in Findlay Hospital. She was laid to rest in Woodlawn Cemetery in Deshler. "Edith Hobart" was the informant on her death certificate.
Copyright © 2002-2003, 2007, 2012 Mark A. Miner