Hazel (White) McManus Woodington
(1888-1951)
Hazel (White) McManus Woodington was born in June 1888 in or near Pittsburgh, Allegheny County, PA, the daughter of George H. and Helen "Ella" (Daugherty) White.
She was known to be living at age 11 with his parents and four siblings in Pittsburgh in 1900, when the federal census was taken, and then again in 1910 at the age of 21.
In 1912, when she was about 24 years of age, Hazel was united in matrimony with 26-year-old New Jersey native George McManus (1886- ? ). The ceremony was held in New Jersey. How she and George met may well remain a lingering mystery.
The couple generated at least four children -- Julia Muriel Noon Lemke, Robert McManus, Eileen McManus and Shirley Noreen Malcolm Testa.
When the federal census was taken in 1920, the McManuses made their home in Newark, Essex County, NJ, on Seabury Street. That year, George was employed as a railroad engineer.
Then in about 1929, at the age of 41, Hazel wedded again to Joseph Woodington Jr. (1898-1974), a native of Bristol, PA. He was a decade younger than his bride, although evidence suggests that she suppressed this detail. He may have been married previously and brought these offspring to the second union -- Cheryl Woodington, Karen Woodington, Joseph Woodington and Donald Woodington.
They went on to produce two daughters of their own, Yvonne Kenny Stahlin and Mary Ann Carlone.
The 1930 federal census enumeration shows the Woodingtons living in Morrisville, Bucks County, PA, with Joseph employed as a locomotive railroad fireman. He was a member of the Point Pleasant Beach lodges of the Masons and the Elks Club.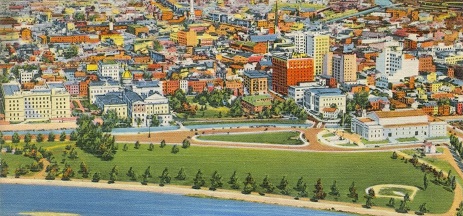 Trenton, NJ, featuring Stacy Park along the Delaware River
Her home in 1936 was at 217 North Broad Street in Trenton and in 1944 was along State Highway 29 in Green Brook Township near Bridgewater, NJ. On Christmas Eve 1936, the Philadelphia Inquirer printed her entry in the "Biggest Whopper" contest, writing the following: "On my father's farm is a cherry tree on which grow cherries so large that one alone fills a quart jar and the pits are used for cobble stones to pave the street."
Hazel lived on Grove Street in Point Pleasant, NJ in 1947. She was named in the 1950 Pittsburgh Press obituary of her sister Mary Jean Kapphan. Her residence in 1951 was on Metedeconk Avenue in Cedarwood Park.
On April 12, 1951, at the age of 58, Hazel died in Point Pleasant Hospital. The Bridgewater Courier-News said in an obituary that burial was in Greenwood Cemetery in Brielle and that she was survived by 10 grandchildren and two great-grandchildren as well as her brothers George of Pittsburgh and William of New York.
Joseph lived for another 23 years and married again to Ruth ( ? - ? ). He moved from Bricktown NJ to Merritt Island, FL in 1968. Their home was at 244 North Grove Street in Merritt Island, FL.
Joseph died at the age of 71 on Jan. 5, 1974. In an obituary, the Orlando Sentinel said he was survived by 16 grandchildren, 22 great-grandchildren and three great-great grandchildren.
~ Daughter Julia Muriel (McManus) Noon Lemke ~
Daughter Julia Muriel McManus (1915-1993) was born in about 1915 in Newark, NJ.
She married Spencer "John Noon" (1909-1966) in 1931 and lived in Trenton.
They were the parents of Patricia "Pat" Turner Hatchett, Nancy Peters Palmer Lukowicz, Shirley Bragg and Richard Noon.
Later, Julia wedded George D. Lemke ( ? - ? ). They were in Miami during all or part of the year by 1974. In about 1981, she moved for good from Trenton to Zephyrhills near Tampa, FL. The Lemkes attended the Catholic Church.
Julia died at home in Zephyrhills at the age of 78 on Feb. 19, 1993. An obituary was printed in the Tampa Tribune.
Daughter Patricia "Pat" Noon ( ? - ? ) was born in (?). She first married (?) Turner and resided in Tampa in 1993. By 2013, she was joined in wedlock with (?) Hatchett ( ? - ? ).
Daughter Nancy A. Noon (1943?-2013) was born in about 1943 in Trenton. She appears to have been married at least thrice. Her first husband is believed to have been (?) Peters. They bore a family of children -- Samuel "Gator" Peters, Samantha Peters and Ricky Peters. Her second spouse was Horace W. Palmer ( ?- ? ). They lived in or near Camden, NJ, and their children were William Albert Palmer, Terri Garino, Spencer Palmer, Florence "Chickie" Palmer and Narda Carrel Hinkle. Four other offspring were involved in the family, among them Greg Peters, Deann Peters, Patty Peters and Terry Peters. Later, after a divorce, she wedded (?) Lukowicz ( ? - ? ), while Horace married Darlene and made a home in Franklinville, NJ. Nancy lived in 1993 in Woodbury, NJ and in 2010 in Dover, DE. In later years, she dwelled in Wolfe, WV. She passed away in Bluefield (WV) Regional Medical Center at the age of 70 on Aug. 27, 2013. Survivors included 21 grandchildren and seven great-grandchildren. Her remains were cremated and are believed to be interred in Ewing Cemetery in Ewing, NJ.
Granddaughter Narda E. Palmer (1963-2010) was born on Feb. 20, 1963 in Camden, NJ. She wedded (?) Carrel had bore one son, Horace W. "Butch" Carrel. Later, Narda married William David Hinkle Jr. ( ? - ? ). They made their home in Ashville, OH. Narda was a member of the Veterans of Foreign Wars ladies auxiliary, Rickenbacker Family Support of the 121st Air Refueling Wing and the VFW's MOCA Pup Tent in Ashville. Sadly, they endured the death of son Butch. Narda's health failed and she was admitted to Berger Hospital in Circleville, Pickaway County, OH. There, she died at the age of 47 on July 29, 2010. Burial was at Reber Hill Cemetery in Ashville, and an obituary was printed in the Columbus Dispatch.
Daughter Shirley Noon ( ? - ? ) married (?) Bragg. Her residence in the early 1990s was at Fort Myers.
Son Richard Noon ( ? - ? )
~ Son Robert McManus ~
Son Robert McManus (1919- ? ) was born in about 1919 in New Jersey.
We are looking into whether he was the same "Robert H. McManus" who was born in 1918 and died in 1947 with burial in First Presbyterian Church of Ewing, Mercer County, NJ. [Find-a-Grave]
~ Daughter Eileen (McManus) Bennett ~
Daughter Eileen McManus (1922- ? ) was born in about 1922 in New Jersey. She grew up in Trenton and Wall Township, Monmouth County, NJ and is believed to have graduated from Plainfield High School in 1941.
She married Charles Bennett of Trenton.
Eileen's home in 1974 was in Trenton, NJ.
~ Daughter Shirley Noreen (McManus) Malcolm Testa ~
Daughter Shirley Noreen McManus (1927- ? ) was born in about 1917 in New Jersey. She grew up in Trenton and Wall Township, Monmouth County, NJ.
She graduated from North Plainfield High School and in July 1944 joined the Cadet Nursing Corps, undergoing training at St. Peter's Hospital in New Brunswick, NJ. She was pictured for her accomplishment in the Bridgewater Courier-News.
In February 1945, she obtained a license to marry World War II veteran John Alfred Malcolm ( ? - ? ), son of Everett James and Irene (Seaman) Malcolm. During the war, he enlisted in the U.S. Navy on Sept. 28, 1943 and trained at Newport, RI and the Naval Air Technical Training Center in Memphis. The couple made their residence in 1951 at 13 Berkeley Terrace in Plainfield.
By 1974, Shirley had remarried to (?) Testa (or "Pesta") and made her home in Thousand Oaks, CA. In 1993, she lived in Cape Coral, FL.
Nothing more about this couple is known.
~ Daughter Yvonne (Woodington) Kenny Stahlin ~
Daughter Yvonne Woodington (1929- ? ) was born in about 1929 in New Jersey. She grew up in her parents' home in Wall Township, Monmouth County, NJ as shown in the 1940 federal census.
As a Point Pleasant High School student, on June 22, 1947, she married U.S. Navy veteran Thomas E. Kenny ( ? - ? ), son of Benjamin Kenny of Arnold Avenue in Point Pleasant, NJ. The nuptials were held in Lakewood, NJ by the hand of Rev. C.M. Hogate. At the time, he worked with his father in a contracting and construction business. News of their wedding was published in the Asbury Park Press. The newlyweds made their home on Grove Street in Point Pleasant Beach.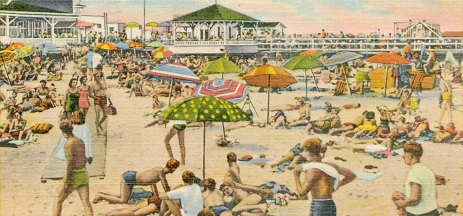 Point Pleasant Beach and boardwalk in New Jersey
Sadly, the marriage fell apart quickly. Yvonne married again less than two years later, on March 30, 1949, to Kenneth R. Stahlin ( ? - ? ), son of Mr. and Mrs. Donald Fink of Trenton. Their ceremony was held in Elkton, MD. The Stahlins established a home in Cedarwood Park, NJ, with news of their union printed in the Press. When Yvonne's mother died in 1951, she was named in the Bridgewater Courier News obituary.
They dwelled in Trenton in 1951 at the death of Yvonne's mother. By 1993, the couple had relocated to a new home in Fort Myers, FL.
~ Daughter Mary Ann (Woodington) Carlone ~
Daughter Mary Ann Woodington (1935- ? ) was born in 1935 in Trenton, NJ.
Circa 1951, her home was in Cedarwood Park, NJ and
By 1974, she had married to (?) Carlone and dwelled in Fairview, NJ.
The marriage ended at some point, and Mary Ann took back her maiden name. In 1993, she lived in Christmas, FL.
Copyright © 2009, 2018 Mark A. Miner