Frances Jeanette 'Nettie'
(White) Bailey
(1855-1889)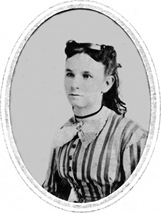 Nettie Bailey
Frances Jeannette "Nettie" (White) Bailey was born on March 8, 1855 near Cardington, Morrow County, OH, the daughter of Luther and Mahala (Minor) White.
A pioneer of Missouri and Kansas, her life was tragically cut short when she was killed by lighting during a Kansas harvest. Her husband also met a tragic, grisly end in a coal crusher accident.
As a 14-year-old, Nettie traveled with her parents as pioneers to Haseville, Linn County, MO. She met her future husband, Randolph D. "Dick" Bailey (1861-1908), a cooper, when he boarded at the home of her parents in Missouri. Dick was born on Oct. 8, 1861.
On Feb. 10, 1884, at the age of 29, Nettie and 23-year-old Dick were married.
They produced two daughters -- Mabel Philp and Blanche Ethel Peterie.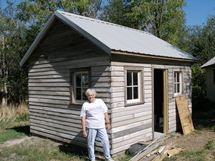 Great-granddaughter Janet Sperry
at the Bailey prairie house
Shortly after marriage, Nettie and Richard migrated with her parents and siblings to Isabel, Barber County, KS. Their bandbox of a house, measuring 12 ft. by 14 ft., sat within a family cluster of farms south of Isabel. Their little house on the Kansas prairie is seen here circa October 2011, with a great-granddaughter renovating it on her property in Isabel. (Click to see an enlargement, our "Photo of the Month" for November 2011.)
During his years in Isabel, Dick was treasurer of the first school board when it organized in 1886. He also served as president of the local literary society. These would have been important outlets for culture and social interaction on the otherwise unforgiving, hardscrabble plains.
"Nettie" loved to write letters, especially to her sister Helen Clark back in Missouri. A family history says these letters were "almost like a diary … [and] tell of a gay spirit and of her love of life and her family." The originals are preserved at the Kansas State Historical Society in Topeka, while typescripts of these letters -- 150 pages in all -- are on file today at the Lincoln Library in Medicine Lodge, the county seat of Barber County, KS, with a copy in the Minerd.com Archives.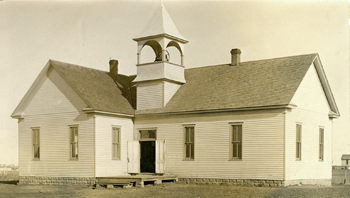 School in Isabel, where Dick sat on the board of education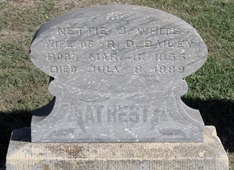 Nettie's grave in Isabel
Tragedy struck without warning during the summer harvest of 1889. On July 8, 1889, with her husband away in Missouri visiting relatives, Nettie and her young children went to visit neighbor William R. and Anna Sellers during summer harvest. A hard rain approached from the south just after the midday dinner.
Every one of the dozen or so gathered there stopped to watch as the torrents came closer, with the children dispatched to the dugout cellar for safekeeping. As the storm hit, the adult women also fled to the cellar, with the men taking refuge in the first floor, leaving a door open to watch the rain. When lightning flashed to the south, the men closed the door for fear of another strike.
Five minutes later, when the rain seemed to abate, Nettie and her niece Nona White decided to ascend from the cellar and investigate. As they reached the cellar door, with Nettie holding her baby Blanche, a blinding bolt of lightning struck the flue pipe on the roof of the Sellers house.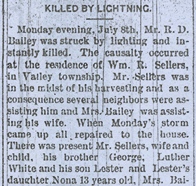 Cresset coverage of the tragedy
What happened next was told in exquisite, tragic detail by the Cresset:
The lightning ... passed down the stove pipe, divided at the stove -- a current passing down each back leg and through the floor into the basement and into the ground. Mrs. Bailey was standing directly under one current. The bolt struck her on the left shoulder and passing down her body passed off her right foot. her clothing was not torn in the least and only a small mark was left on her body; her right shoe was torn off. Nona White was almost under the other current, it passing so close to her as to knock her senseless. Mrs. Bailey had her baby in her arms when she was struck, and strange to say the baby was not injured. The men rushed into the basement and at once carried the woman and girl out into the rain. Miss White soon began to show signs of life, but Mrs. Bailey was dead... Mrs. Bailey's husband was in Missouri and was at once telegraphed. Altogether the fatality is very sad indeed and has cast gloom over the entire community.
A despondent family and neighborhood buried her near the grave of her mother on Isabel's Cemetery Hill.
At the age of seven, daughter Mabel was taken into the home of an aunt, Helen (White) Clark of near Laredo, Grundy County, MO. Ethel, a baby, was brought into the household of her uncle and aunt, Lester and Susan (McCarty) White, in Isabel.

The red star shows the cluster of trees where once stood the house of William and Anna Sellers near Isabel, and where Nettie was struck by lightning.
Dick spent two years as a widower. In about 1891, he married a woman who shared the same name as his first wife -- "Nettie." He is said, however, to have called her "Kate." In another irony, Kate's maiden name may also have been "White." She was born in September 1870 in Illinois.
He and Kate had two more children -- John Bailey (born in Kansas in January 1900) and Frank Bailey.
In 1900, when the census was taken, the Baileys made their home in Hutchinson, Reno County, KS. There, Dick was employed as a laborer in a local salt works. Boarding in their home that year were brothers in law Frank White (born in 1872 in Illinois) and Theodore White (born in 1882 in Indian Territory) and sister in law Edna White (born 1886 in Kansas).
Later that decade, by 1908, they moved to Iola, Allen County, KS, where their residence was at 410 North Cottonwood Street.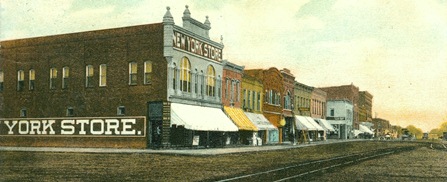 Iola's Washington Avenue, looking north from Madison Avenue. Note the prominent New York Store, trolley track and dirt paving.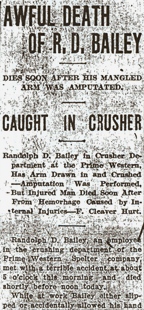 Iola Daily Record, 1908
Dick secured employment in Iola in the coal crushing department of the Prime Western Spelter Company, which produced zinc from ores mined west of the Rockies. It was a substantial industrial operation, with 3,200 retorts (airtight structures in which chemical reactions are produced) in place as of 1908.
He also joined the Knights of the Maccabees of the World and presciently bought a policy of $1,000 worth of life insurance through this mutual benefit type of organization.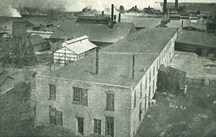 Smoky zinc works in Iola
On Aug. 24, 1908, the Grim Reaper exacted its terrible toll once again on this doomed family. While at work, Dick either slipped or became distracted. As he fell, his arm accidentally became "caught in the tubular machine lined with heavy cogs for crushing coal for the retorts," reported the Iola Daily Record in a front page story.
His arm was slowly but surely drawn inward, the desperate struggle of the strong man being of no avail to escape from his awful predicament. A fellow workman in trying to effect his release came near meeting a like fate, but escaped with slight injuries to his hand. The arm was drawn in to the elbow, and must soon have been torn from his body, but at this stage the machinery was stopped. At first it was hoped by Dr. Reid, the company physician, that the man's life might be saved, and immediate amputation of the arm, already mangled to a pulp, was performed by Drs. Reid and Garlinghouse. The strain on the man's body must have been terrible, indeed, as the physicians soon gave up hope of his recovery. A series of internal hemorrhages followed and about six hours after the accident he sank rapidly and died.
Dick's sons were age seven and nine at the time of the accident. Their and their mother's fates are unknown.
Copyright © 2000, 2004, 2009-2011, 2018 Mark A. Miner