Home

John Irving White
(1843-1863)

John Irving White -- also known as "John J. White" -- was born in 1843 in Somerset County, PA, the son of Perry G. and Charlotte (McClatchey) White.
He is one of many of our cousins to lose their lives in the Civil War.
At age 15, in about 1858, John's mother died. His father then married Mariah Minerd.
John stood 5 feet 8 inches, with blue eyes and light hair. He grew up in nearby Wharton Township, Fayette County, PA, and was a blacksmith before the war.

Uniontown Genius of Liberty, 1863

When the Civil War broke out, John was age 18. He enlisted later that year, in September, in Co. E of the 85th
Pennsylvania Volunteer Infantry at Uniontown, Fayette County. He was detailed for provost guard duty in May 1862.

Tragically, after more than a year of service, John was severely wounded in the battle of Fort Wagner, SC. This battle was made famous in the 1989 film, Glory, starring Denzel Washington, Matthew Broderick and Morgan Freeman, because an entire regiment of black troops -- the 54th Massachusetts -- was wiped out.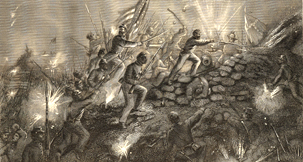 Assault over the top of Fort Wagner
According to Luther S. Dickey's 1915 book, History of the Eighty-Fifth Regiment, Pennsylvania Volunteer Infantry:
Aug. 27. The enemy kept up a continuous fire with light guns and mortars from Fort Wagner throughout the night, on shell exploding over the position held by Company E, causing more than a dozen casualties in that company, killing two instantly, Privates John H. Linn and Joseph Nelly, and mortally wounding two, John I. White ... and William H. Marquis...
John was taken for treatment to the post hospital at Morris Island, SC. Sadly, he died of his wounds four days later on Aug. 31, 1863. At death, his possessions included a great coat, uniform coat, blouse, pair of cotton drawers, flannel shirt, pair of shoes, pair of socks, blanket, haversack, knapsack and gun blanket.

Beaufort National Military Cemetery today. The burials are arranged in the shape of a half-wheel, with the grounds serenely landscaped with numerous shrubs and large trees including magnolia, live oak and palmetto.
His hometown newspaper, the Uniontown Genius of Liberty, published a lengthy and moving eulogy.
...The deceased was a highly esteemed member of the M.P. Church of this place, and was a consistent man and a devoted christian, always endeavoring to 'walk in the fear of the Lord,' that he might 'reap the reward of the rightelous' in the Eternal City. Young White, like other noble youths of our land, seeing our once prosperous and happy government quaking to its very centre, and threatened with destruction by wicked men, who had risen up in arms to strike a death-blow, which would blot forever from the face of the earth the last vistage of free government, volunteered in its defence. Young and buoyant with that fire which burns in the bosom of patriots; forsaking the scenes of his childhood, leaving behind an aged and loving father, and kind brothers and sisters, took his departure to assist in sustaining the honor of the nation. He lived not to see his patriotic hope consummated -- he lived not to see the Angel of Peace unfold his wings and hover over this mighty nation, and say to the contending hosts -- peace -- he lived not to return home and receive the friendly embrace of his father, brothers and sisters -- he lived not to see his comrades in arms return to their former avocations, under the protecting folds of the symbol of our nationality -- that flag for which Washington fought, La Fayette bled, and Warren died. He died far from home, with no father to stand by the dying couch of the young warrior, to catch the last dying words ere his spirit had taken its final exit, no kind sister to wipe the death-damp from his brow, but died as the God fearing soldier dies, in the service of his country, and in the cause of God and humanity.
John rests for eternity at the Beaufort National Cemetery in Beaufort, SC, Section 37, Gravesite 4224. He is among more than 7,500 Civil War soldiers buried at Beaufort, which was one of the first U.S. National Cemeteries designed by President Abraham Lincoln, who personally authorized its establishment.
Copyright © 2000-2003, 2006, 2009 Mark A. Miner
Grave marker and cemetery photographs courtesy of Janice (Hess) Manen.