Thomas J. White
(1845-1921)
Thomas J. White was born on July 8, 1845 in Somerset County, PA, the son of Perry G. and Charlotte (McClatchey) White. His middle initial sometimes has been given as "H." He was a pioneer of Iowa and served as a Union Army soldier in the Civil War.
When Thomas was a boy, he migrated with his family to Hopwood, Fayette County. There, in the mid-1850s, the mother died. Although his father later remarried to Mariah Minerd and they were all together for few initial years in Hopwood, an offer was made for Thomas and his younger sister Nancy to go to Iowa to be raised by an uncle and aunt, Charles M. and Martha McClatchey.
The McClatcheys had arrived a few years earlier in the town of Pella, Marion County, where they established a woolen mill. Thomas and his sister made the move in about 1862 or 1863.
Just a few months after arriving in Pella, with the Civil War raging, the 18-year-old Thomas and his friend Alexander Moore both enlisted in the army, and were placed in the 33rd Iowa Volunteer Infantry, Company G with the rank of private. He stood 5 feet, 10 inches tall, with a fair complexion, dark hair and blue eyes.
Later, on Oct. 7, 1864, Thomas joined the 34th Iowa Infantry, Company G. The Osakaloosa Daily Herald newspaper said he served "in the Army of Gen. Steele in Arkansas, and later with Army of Gen. Candby on the Gulf of Mexico. During the army service he was in several battles, long campaigns, doing the work of a true soldier."
In the latter part of October 1864, while stationed at Memphis, TN, he "was taken sick with Typhoid fever, and taken to Wash. Hosp'l at Memphis," noted an army report. "Fever settled in left lung, causing injury and disease of the lungs & weakness of the chest."
Having served in the army for 10 months and nine days, Thomas was discharged at Davenport, IA on Aug. 15, 1865. He returned to Pella.

Oskaloosa, Iowa streetscape, early 1900s
Restless, he relocated to nearby Oskaloosa, Mahaska County, where he secured employment in the Seibel Woolen Mill as a "fuller." The job is believed to have involved washing raw wool with soap and heat to create friction that shrank the wool and tightened its strength for weaving. He also learned the trade of masonry, where he progressed "through the grades, from hoe and hod to trowel wall. He was a good workman," said the Daily Herald. In about 1869, Uncle Charles McClatchey moved the family owned woolen mill to Knoxville, IA, and took in more partners, renaming the business Jones, McClatchey & Van Houten. The firm continued for four years until Charles retired.
Thomas was twice married. His first bride was Virginia F. "Jennie" Silvey (1861-1887). Their marriage took place on Feb. 25, 1879, in Mahaska County. He was age 34 and she 18 at the time.
They had three known sons -- John W. White, Thomas Henry White and Charles Jefferson White.
Thomas became friends in about 1876 with two Oskaloosa men who remained on close terms the rest of his life -- James W. Myers and James Sparks. Among the other friends made over the years was Harvey F. Fisk.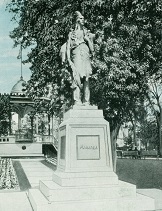 Chief Mahaska statue in
Oskaloosa, a local landmark
Sadly, after eight years of marriage, Jennie was afflicted with a fatal case of consumption, better known as tuberculosis. Unable to recover her health, she passed away at the age of 26 on May 6, 1887. She was buried in the "old cemetery" in Oskaloosa, with J.B. McCundy serving as undertaker. A record of her death is on file in Mahaska County (Book 1, page 61).
In June 1889, suffering from wartime ailments that included rheumatism (chest and lung discomfort), heart disease, stomach problems and injured hearing, Thomas began receiving a government pension as compensation. He drew monthly payments until his death. [Invalid App. #714240, Invalid Cert. #491164]
He spent five years as a widower, and wed again on Nov. 18, 1892 to Iowa native Elvira "Alice" (Norris) Davidson (1872-1952). Rev. J.D. Guthrie officiated. Husband and wife were 27 years apart in age. Alice had been married once before, to Albert J. Davidson, and they divorced in Mahaska County in 1892 after just three years of marriage (District Court Record 6983, Book 15, page 541).
The couple produced two more children -- Bessie May Beitel Bensmiller and Clarence Lester (or "Leslie") White.
When the federal census was enumerated in 1900, the mixed family made its home in Oskaloosa, with the family residence located on Eighth Avenue West. Thomas' occupation that year was as a brick mason, with his two teenage sons laboring as coal miners. Nellie Risney, age 14, worked as a servant in their home.
Thomas sister Mary Frances Turner died in 1904 back in his old hometown of Uniontown. He was mentioned in her newspaper obituary, which stated that he was living in Iowa.
To support Thomas' claims for increased pension funds circa 1907-1908, his married sisters Nancy E. McDonald in Comstock, NE and Charlotte J. Ingles in Hopwood, PA signed affidavits attesting to his age. Sister Charlotte penned the following on Dec. 12, 1907:
I am a sister of said Thomas J. White - my father and mother are both dead many years, also our oldest sister Mary - and brother John E. White. I have made diligent search for my father's family bible - in which the names and ages of all my brothers and sisters were recorded - but I am unable to find said bible - though I have often seen said Bible and read the ages of our family in the same. I have always kept a careful account of the ages of each of our family - brothers and sisters and I know well that my brother Thomas J. White said soldier was born July 8" AD 1845 in Summerset County Penna. and while I am younger than he - about 4 years - I know well the ages of all my brothers and sisters having learned the same from mother - father, and our family Bible.
On Feb. 17, 1908, sister Nancy wrote as follows:
I am a sister of Thomas J. White, said soldier. I can remember him as far back as I know any person. My mother died when I was a child - shortly after her death brother Thomas J. White, said soldier, and I were taken to Iowa - and resided with some of our folks until grown. We often talked about our ages and I know that the folks gave my birth day as 26 day of March AD 1856 and that my brother Thomas about 12 years older than I am - or July 8, 1845 which latter date lacks some 3 months of making him 12 years older than I am. I have all my life kept up writing and talking with my own folks and I feel sure that this is the correct date of birth.
Sadness enveloped Thomas in December 1908 when he learned that sister Charlotte, despondent over her failed marriage and her daughter's elopement, took her own life in the basement of her home in Hopwood, PA, using a razor.
In 1910, the census again shows the family in Oskaloosa, at 922 South D Street South, with Thomas laboring as a brick mason for house-building, with 17-year-old daughter Bessie earning money as a servant in a local boarding house, and 15-year-old son Lester working as a laborer in a furniture store. At times in the mid 1910s their post office was Beacon, Mahaska County.
Thomas and Alice adopted a young girl, Alberta Arlene White, born on June 4, 1914. The girl's father was a native of Pennsylvania, and her mother was from Iowa, but nothing more is known.
In 1920, the Whites made their home at 607 Sixth Avenue East in Oskaloosa. Thomas, age 75, was retired, and five-year-old Alberta White lived under their roof. Circa 1915, his monthly pension payments were $19, but by 1921 they had grown to $72 each month.
Thomas suffered from hardening of the arteries in his later years. Dr. K.L. Johnston made a house call on June 20, 1920, and reported that "I found patient suffering with disease of heart, vascular renal sclerosis, in advanced condition. He was confined to his house and bed much of the time, requiring the aid of another personal continually...." Dr. J.C. Barringer, in the employ of the Veterans Administration, had to visit Thomas' home for a mandatory examination because the old soldier was so infirm. "This claimant is ... totally and permanently helpless from disease of the heart and senility...."
He died of their effect on June 17, 1921, at the age of 76. Funeral arrangements were handled by E.M. Cheesman. Longtime friends James W. Myers and James Sparks attended the burial. He was laid to rest in the soldiers' lot of Forest Cemetery near Oskaloosa.
At his death, the Daily Herald said Thomas was "a true soldier -- an industrious, decent citizen -- a good husband and kind father. Through prayers and suffering, he found our Savior, passing away in the Christian belief. Having lived a life of toil and health 75 years, it's well that the ending of his life follows well the words of Robert J. Burdette, the soldier:"
"And again they are playing the regiment into camp.
The fifes blow softly as flutes.
The roll of the muffled drums, tender as the patter of rain on autumn leaves times the slow steps of old soldiers with the Dead March to which
We listened so oft when life was in the spring time:
There's no sorrow there, John;
There's neither cauld nor care, John.
The day is aye fair
I' the Land o' the Leal."
As a widow, Alice applied for and began receiving her late husband's Civil War pension payments. [Widow App. #1175887, Widow Cert. #905289, XC #2704577] Circa 1928, her home was at 300 East Miss Boulevard in Bettendorf, Scott County, IA. In about 1926, she moved to Des Moines, Polk County, IA, and her postal addresses were 1337 Bluff Street, 914 West Seventh Street (as of 1937) and 833 Sixth Street (beginning in 1947). There, she joined the St. John's Lutheran Church.
Occasionally she carried on correspondence about her pension with the Veterans Administration in Washington, DC. She is believed to have been a member of, or at least a friend of the Grand Army of the Republic, a veterans' and widows' lobbying organization. In 1947, Amy Noll of the GAR's Des Moines chapter wrote to the Veterans Administration to request assistance with payments being made to Alice. The Veterans of Foreign Wars also represented her interests for all benefits due her from the federal government.
By 1942, the amount of her pension payment was $40 each month, and in 1952 it had grown to $51.60.
She suffered a heart attack and passed away in Des Moines' Broadlawns General Hospital on Sept. 23, 1952, at the age of 80. She was pictured in her obituary in the Des Moines Tribune, which noted that she "had lived in Des Miones 26 years." She was survived by a step-grandchild and 11 great-grandchildren.
~ Son John W. White ~
Son John W. White (1880- ? ) was born on Oct. 18, 1880. Nothing more is known.
~ Son Thomas Henry White ~
Son Thomas Henry White (1882- ? ) was born on Sept. 7, 1882 in Eddyville in or near Oskaloosa, Mahaska County< IA.
At the age of 17, circa 1900, he worked in and around Oskaloosa as a coal miner.
On Feb. 15, 1905, Thomas wed Katie (Deal) Stahl (1885- ? ), daughter of Abediah and Nina (Herriman) Deal, the mother an immigrant from Sweden. The nuptials were held in Marion County, IA. Thomas was age 22, and Katie 20, at the time of marriage, and it was her second marriage.
The couple produced one known child, whose identity is not yet known.
When the federal census enumeration was made in 1910, the Whites lived in Farmington Township, Van Buren County, IA. That year, Thomas labored in a local coal mine and Katie earned income as a seamstress for a clothing factory. For reasons not known, their child was not in the household that year even though the census-taker marked that one was living at the time.
The family has not yet been located on the 1920 census.
~ Son Charles Jefferson White ~
Son Charles Jefferson White (1885- ? ) was born on Sept. 5, 1885 in Oskaloosa, Mahaska County, IA.
At the age of 14, he worked in and around Oskaloosa as a coal miner.
On Sept. 11, 1907, at age 22, Charles wed 17-year-old Etha "Leota" Crouch (July 13, 1890-1939), daughter of Sylvester and Sylvia/Sinna (Anderson) Crouch of Knoxville. The ceremony was held in Knoxville, Marion County, IA.
The couple bore two known daughters, Sylvia White and Emogene White, 17 years apart in age.
Federal census records for 1910 show the Whites in Knoxville, with Charles working as a laborer and Leola's 14-year-old brother Thomas Crouch living under their roof.
The Whites remained in Knoxville during the decade of the 1910s and are shown there in the 1920 census. Charles earned a living that year as a farmer. Then during the 1920s, Thomas turned to coal mining as his primary occupation. The family was in Knoxville in 1930, with an address later in the 1930s of 1020 Henry Street.
Leota suffered with bronchial and sinus problems. Grief swept over the family when she was felled with a brain abscess on Nov. 24, 1939 and lingered for several weeks until death carried her away on Dec. 19, 1939, at the age of 49 years, five months and six days. Burial of the remains was in Knoxville's Graceland Cemetery. A stone was placed at her grave. [Find-a-Grave]
By 1940, the widowed Charles worked as a service man at an oil station in Knoxville.
Daughter Sylvia White (1909-1957) was born in about 1909 in Knoxville, Marion County, IA. When she was age 21, on July 10, 1930, she was united in holy matrimony with 29-year-old William A. Bredy (Aug. 22, 1900-1987), a physical therapist and the son of Henry and Christina Bredy of Pepperton, MN. The wedding was held in Newton, Jasper County, IA. The couple established their residence inthe early 1930s in Danville, Vermilion County, IL. Circa 1940, the couple was childless, and William was employed in physo-therapy with a U.S. facility. The Bredys eventually migrated to Colorado, putting down new roots in or around Pueblo, Pueblo County. Sadly, Sylvia died in 1957, with interment in Roselawn Cemetery in Pueblo. William outlived his wife by three decades. He passed into eternity on June 1, 1987, at the age of 86.
Daughter Emogene White (1927- ? ) was born in about 1927 in Marion County, IA. After the presumed death of her mother in the early 1930s, Emogene moved into the home of Rev. Ancel Newton and his wife Ruby in Knoxville. Census records for 1940 show the 13-year-old in the Newton household.
~ Daughter Bessie Mae (White) Beitel Bensmiller ~
Daughter Bessie Mae White (1893-1972?) was born on April 14, 1893 in Oskaloosa, Mahaska County. At the age of 17, in 1910, Bessie lived at home and was employed as a servant in a local boarding house.
Prior to marriage, she may have produced a son, known as Junior White.
When she was age 21, the day after Christmas 1910, Bessie Mae wedded 22-year-old Fred Edward Beitel (Feb. 3, 1891-1925), the son of Nellie Beitel. The wedding ceremony was held either in Grinnell, Poweshiek County or in Marion County, IA.
One son is known to have been borne by this marriage, Clare Beitel.
When the federal census was taken in 1920, the Beitels made their home in Bettendorf near Davenport, Scott County, IA. Circa 1925, their address was 8 Mississippi Boulevard in Bettendorf. Fred made a living there as a machinist in the Bettendorf shops, and was a member of the Fraternal Order of Eagles.
The specter of tragedy visited this family in October 1925. While Fred and Bessie Mae were passengers in their automobile, the vehicle ran into a C.D. & M. streetcar which was moving slowly on its track near the East River streetcar garage. The streetcar operator later claimed that the oncoming car was moving at a speed about 30 miles per hour and that he blew a warning signal when it was 200 feet away, but that the car did not stop. Fred's skull was fractured in two different places. He was rushed to Mercy Hospital and underwent surgery but never regained consciousness. He died on Oct. 20, 1925. Bessie Mae was badly injured but eventually recovered. Burial was in the Beacon Cemetery in Mahaska County, IA. Fred was pictured in an obituary in the Daily Times.
The Davenport Daily Times reported that "witnesses claim that the automobile was being driven in a reckless manner at the time of the crash." R.E. Cochran, whom authorities believed had been the driver, and who also was seriously injured, was arraigned on a drunk driving charge. A jury in the coroner's inquest returned an "open verdict" where it was alleged by another witness that Bessie Mae had been the driver, but the fact was never proven.
Within five months of the accident, the 33-year-old Bessie married again to 40-year-old Anthony J. Bensmiller ( ? - ? ), a carpenter and painter living in Des Moines. He was the son of Peter and Barbara (Peck) Bensmiller and a native of Sigourney, IA. Witnessing the marriage, held on March 20, 1926, were Frank C. Walrath and H.C. Dawson.
The Bensmillers dwelled in Des Moines in the 1940s at an address of 914 Seventh Street. Anthony worked as a building carpenter and Bessie as a laundress in a laundry.
Bessie worried as her son Clare served in World War II and saw action overseas in Dieppe, France. He returned home safely.
Bessie is believed t ohave died in Missouiri in December 1972.
Son Junior White ( ? - ? ) was born in (?). Circa 1979, he made his home in Des Moines.
Son Clare Phillip Beitel (1920-1979) was born on Sept. 8, 1920 in Oskaloosa, IA. He was only five years of age when his father was killed. When his mother then married Anthony Bensmiller, Clare went to live in their household in Des Moines. During World War II, he is believed to have served as an Iowa Ranger, stationed in North Africa and operating a machine gun during the raid of Dieppe, France. He was featured in a story about his ranger service in the May 14, 1943 edition of the Des Moines Tribune. He also was pictured in the May 31, 1942 edition. Clues hint that Clare was joined in wedlock with Shirley J. ( ? - ? ). The couple bore a son, Herbert T. Beitel. The couple divorced in Des Moines in about 1956. Later, he wedded again to Verda Lucille "Granny" Hayes (1923-2003), daughter of Allen and Mary Glenn Hayes and a native of Sewall, IA. Clare resided in Pineville, MO and then in 1970 relocated to Arkansas, establishing a residence in Springdale, Washington County. There, he worked for General Securities, and Verda for Moore Company. He was a member of the American Legion and Freewill Baptist Church, while Verda belonged to Christian Life Cathedral. Clare died at the age of 58 on Feb. 5, 1979. His remains were lowered into eternal repose in Friendship Cemetery in Springdale. Verda survived him by 24 years. She died in Fayetteville, AR on Dec. 23, 2003.
~ Son Clarence Lester White Sr. ~
Son Clarence Lester White Sr. (1896-1951) was born in October 1896 in Oskaloosa, Mahaska County, IA.
In about 1916, he relocated into Des Moines, IA.
During World War I, Clarence enlisted in the U.S. Army and returned home without injury.
On July 6, 1920, at the age of 24, he wed 24-year-old Esther Reick (1896- ? ), daughter of W.H. and Mary Jane (Stakey) Reick. The ceremony was held in Davenport, Scott County, IA.
Later, he was united in matrimony with Ruby McDowell ( ? - ? ). She brought a daughter to the union, Betty Grant.
Clarence was the father of Donald White, William White and Clarence Lester White Jr. He also may have helped raised a fatherless nephew, Clare Beitel.
The Whites lived at 3220 Southeast Fifth Street in Des Moines in the early 1950s. They were members of the Indianola Heights Evangelical Free Church, and Clarence was an active volunteer with the Beams of Grace Undenominational Church.
In the early 1950s, Clarence earned a living as a brick mason, working for Ringland-Johnson Construction Corporation. On the fateful day of March 6, 1951, while working on scaffolding at the Colonial Baking Company, the scaffolding collapsed, and Clarence and co-worker Robert Exford fell 30 feet onto a concrete driveway and were killed. His obituary in the Des Moines Tribune included his photograph and noted that he "had lived in Des Moines 35 years." Burial was in Highland Memory Gardens Cemetery in Des Moines.
Ruby survived her husband by six years and remained in their Fifth Street home, keeping her membership in the Fouir Square Tabernacle. Suffering from cancer, she was admitted to the Paradise Nursing Home and died there on Dec. 15, 1957. Interment of the remains was in Glendale Cemetery. She was pictured in her obituary in the Tribune.
Son Donald E. White served in World War II with the 8th Air Force and is known to have flown on 35-plus missions. He resided in 1957 in Des Moines.
Son William White dwelled in Des Moines.
Son Clarence Lester White Jr. ( ? - ? ) may have married Dorothy E. ( ? - ? ) and divorced in 1947 and then married again to Helen Darlene Rebeck of Des Moines circa 1948. He lived in Des Moines in 1957.
Stepdaughter Betty Grant ( ? - ? )
~ Daughter Alberta Arlene (White) McKee ~
Adopted daughter Alberta Arlene White (1914- ? ) was born on June 4, 1914 in Lakonta, Mahaska County.
Alberta was joined in the bonds of matrimony with (?) McKee ( ? - ? ).
She made a home in Des Moines in 1952.
Copyright © 2003, 2013-2014, 2020 Mark A. Miner