Emily 'Alice' (Wilson) Williams
(1848-1931)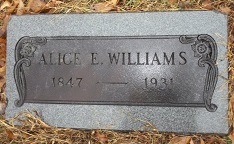 Mt. Washington Cemetery, Independence
Emily "Alice" (Wilson) Williams
was born on July 18, 1848 in or near Cardington, Morrow County, OH, the daughter of Sanford H. and Elizabeth "Libby" (Minor) Wilson.
She was very young when her parents divorced. At the age of 12, in 1860, she lived with her mother, stepfather and stepbrothers in Cardington.
Emily relocated with her mother and stepfather to Indiana during the 1860s and settled in South Bend, St. Joseph County, IN. There, unmarried at age 22 in 1870, she earned a living as a "milliner" -- women's hat maker.
On Sept. 25, 1872, in nuptials held in South Bend, Alice at age 24 entered into marriage with 26-year-old Henry Azariah Williams (1846-1915), son of Norval Hawkins and Martha (Perry) Williams of Logansport, IN. Rev. G.M. Boyce, of the Methodist Episcopal Church, officiated.
Six known children produced by this union were Cora Annette Goldstein, Caroline May "Carrie" Smith, Helen Elizabeth Martin, Archie Dewitt Williams, Mary "Mayme" Liebenstein and Norval Herbert "Bill" Williams.
Henry was a native of St. Joseph County. According to his profile in Alfred Theodore Andreas' 1883 book, History of the State of Kansas:
He received a common school education and began learning the tinner's trade at La Porte, Ind., went to Chicago, Ill., in 1869, and perfected himself at his trade. In August 1871 he joined another young man in jobbing business in his line with shop on East Madison street. The great fire of October of that year closed out their business effectually.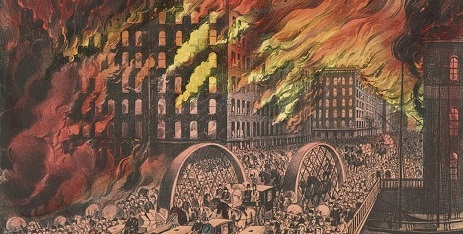 The Great Chicago Fire of 1871 destroyed Henry's business on East Madison Street.
Currier & Ives, courtesy of the Library of Congress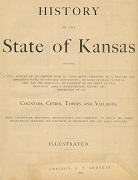 Book profiling Henry

Chicago's Great Fire of 1871 was one of America's greatest tragedies up to that time. Reputedly started when a cow of "Mrs. O'Leary" kicked over a lamp in its barn stall, the fire spread all through the city comprising a damaged area of 3.3 square miles, destroying 17,000 buildings and leaving more than 100,000 people homeless. Some 300 were killed over the three-day period from Oct. 8 to Oct. 10, 1871. Property damages totaled an estimated $222 million in the dollars of the time, about one-third of the Windy City's overall value.

Henry fortunately survived but was forced to start over at the age of 25, and he set his sights upon Kansas. So six months before their marriage, Henry in March 1872 traveled to Paola, seat of Miami County, KS. His father N.H. and brother Frank also moved to Paola and were well-known grocery merchants.

Then in March 1873, the newlyweds established their home some 12 miles to the east and north in the newly formed community of Louisburg, Miami County. It was a promising location for the enterprising young couple. Having only been laid out in town lots a few years earlier, it featured a stop along the Missouri, Kansas & Texas Railroad.

So firmly implanted in Louisburg, Henry opened a hardware store. When the federal census enumeration of Louisburg was made in 1880, Henry earned a living there as a hardware merchant, and three young daughters were in the household. In Louisburg's very first municipal election, on Nov. 17, 1882, he won a seat on the town council. Said the History of the State of Kansas, "The population of the city is about 900 now, in January, 1883; and gives promise of a rapid and healthy growth. The city now has eight brick business buildings and three church buildings." It had its own newspaper and a lodge of the Masons at the time.

Henry's entry in small print, History of the State of Kansas. Below: unpaved Main Street in Louisburg, KS, where Henry operated a hardware store.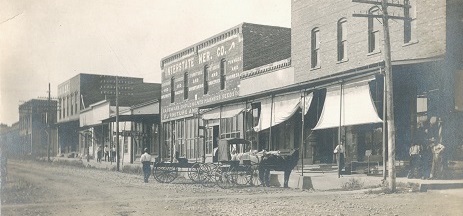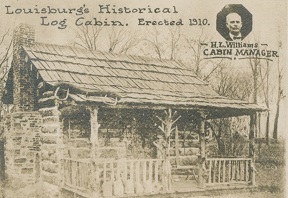 Log cabin reconstructed in Louisburg by
Homer L. Williams, connection unknown
He often was named in local newspaper articles, providing free publicity for his business. For example, he was quoted in the Louisburg Weekly Review of New Year's Day 1880 among short snippets from other Louisburg businessmen, saying "The past year has been the best I ever witnessed; cannot give the exact increase over '78 but think about 50 per cent., last six months being best. I handled more cereals this year than ever before, and would have handled more than I did had it not been for the fact that freight rates prevented my competing with Spring Hill." The article went on to say he had "increased his stock of hardware and stoves fully one-half, and thinks the outlook for the future is decidedly encouraging."
The Williamses remained in Louisburg for a number of years including at the time of the death of Alice's mother in 1893, when she was named in the obituary. Henry served on the local school board and took an "active interest in all public movements for the settlement of the community," said the Louisburg Herald. He "was a charter member of the First Presbyterian church of Louisburg of which was the first elder for several years and for several years Sunday School Superintendent."
The family pulled up stakes in 1894 and migrated to Arkansas, residing in the town of Siloam Springs, Benton County, with Henry operating a hardware store. They were in Siloam Springs in 1894 at the death of Henry's father back in Kansas.
Six years later, circa 1900, they moved yet again to Kansas City, MO, and stayed put for the balance of their lives together.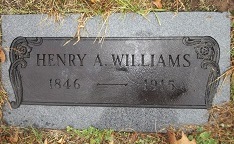 Mt. Washington Cemetery, Independence

Their final address together was 3020 Chestnut Avenue in Kansas City. In about 1906, Henry suffered a cerebral hemorrhage and became paralyzed to some extent.

Then when he fell and broke his right hip in June 1915, he lingered for a month and 10 days and finally died at home at the age of 69 on Aug. 11, 1915. Funeral services were held locally, with interment in Mt. Washington Cemetery. An obituary was printed in the Herald. It said that "Old residents of Louisburg will recall the late Mr. Williams as one of the pioneer and leading citizens of Louisburg." A poem printed in the obituary said: "Blessed one we have laid Thee, In thy silent tomb embraced; But thy memory will be cherished Till we see thy heavenly face." Another obituary, in the Miami Republican, said that Henry "was a Christian gentleman of high character." Yet another notice of his death appeared in the Lincoln Nebraska State Journal.

Alice survived her husband by 16 years. In October 1927, with her health in decline, she and her daughter Mary moved in with married daughter Carrie Smith in Stillwater, Payne County, OK. Their address at the time was 614 West Street.

Death came to claim her away in the Smiths' Stillwater home, at the age of 84, on March 9, 1931. A funeral service was led by Rev. Fred Mesch locally, and the remains were returned to Kansas City. At the gravesite, Rev. George Fowler, formerly of the Stillwater Methodist Church, led a ceremony. An obituary was published in the Payne County (OK) News, in which her parents and siblings were not named. She sleeps for the ages beside her spouse.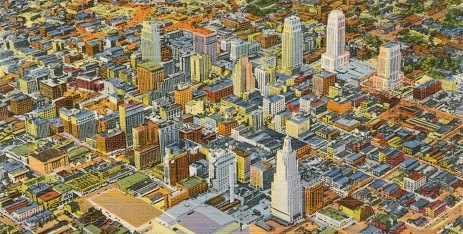 Kansas City, Missouri
~ Daughter Cora Annette (Williams) Goldstein ~
Daughter Cora Annette Williams (1874-1936) was born on March 14, 1874 in Louisburg, KS.
In about 1896, living in Siloam Springs, AR, she was joined in wedlock with 33-year-old German immigrant Jacob Goldstein (Jan. 22, 1863-1941), son of F. Morris and Dora (Talby) Goldstein of Bischofswerder, Germany. The nuptials were held in or near Kansas City. A dozen years separated the wife and husband in age. At the time of marriage, Jacob also dwelled in Siloam Springs.
The couple became the parents of four known children -- Morris H. Goldstein, Gladys A. Goldstein, Dorothy T. Goldstein and Joseph Goldstein.
Jacob had come to America in 1876, at the age of about 13. Once married, the Goldsteins moved to Siloam Springs, AR and then in 1899, at the birth of their elder daughter, were in Kansas. They were in Oklahoma in 1903 and in Missouri in 1907. The family resided in Kansas City, MO in 1910-1931, with Jacob employed over that time as a salesman in a clothing store.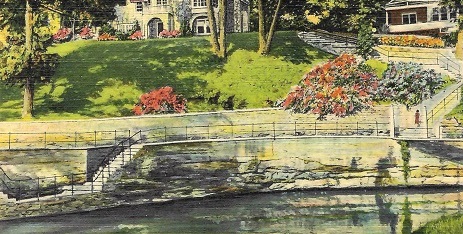 Twins springs at Siloam, AR, where the Goldsteins dwelled in the 1890s
In 1920, Jacob filed a petition to become a naturalized citizen, and disclosed that they were making a home in Camp Edgewood, Fairmount Park. His application was approved, and he was sworn in as a citizen on April 18, 1921.
They are known to have moved to Emporia, Lyon County, KS where in 1930 Jacob earned income as a retail salesman in a clothing store. Their final home together was at 3135 Spruce back in Kansas City.
In 1931, Cora was diagnosed with cancer of the cervix and uterus. She endured the illness for five years until surrendering to the spectre of death at the age of 62 on June 1, 1936. Her brother Arch signed the official Missouri certificate of death. Burial was in Mount Moriah Cemetery. An obituary in the Kansas City Star said she "had been a resident of Kansas City twenty years."
Jacob survived his bride by five years and moved to the residence of his married daughter Gladys Hill at 3919 Olive Street. As a patient in Kansas City's Research Hospital, burdened with congestive heart failure, hypertension, kidney problems, an enlarged prostate and hardening of the arteries, death carried him away at the age of 79 on May 23, 1941. A short notice of his passing was published in the Kansas City Times.
Son Morris Harry Goldstein (1896- ? ) -- also known as "Harry Murray" -- was born on Sept. 4, 1896 in Siloam Springs, AR. In 1920, at the age of 23, he was a bachelor and lived at home in Kansas City, selling wholesale cigars for a living. In 1936, he dwelled in New York and in 1941 in Chicago. His residence in 1967 was in Illinois.
Daughter Gladys Alice Goldstein (1898-1967) was born on Sept. 29, 1898 at Chetopa, Labette County, KS. When she was 21 years of age, in 1920, she was employed as a saleslady in a dry goods store in Kansas City and in 1923 dwelled in Mt. Washington, Jackson County, MO. On April 21, 1923, when she was about age 24, Gladys entered into marriage with World War I veteran Oliver W. Hill (Feb. 16, 1894-1976), originally from Seward County, NE. One known daughter in this family was Doris A. Plough. During the war, Oliver had served in the U.S. Army and attained the rank of corporal. They shared a home with Gladys' widowed mother and unmarried sister in 1936 at the address of 3919 Olive Street, Kansas City. Federal census records for 1940 show Gladys' widowed father living under their roof, and Oliver working that year as a night manager in a railroad restaurant. During the 1940s, the family pulled up stakes and relocated to Los Angeles. The 1950 U.S. Census lists Oliver as employed as a machinist in an aircraft manufacturing company. The pair's final home together was in Sylmar, a neighborhood in the San Fernando Valley. Gladys passed away in Los Angeles on June 2, 1967. An obituary was printed in the North Hollywood Valley Times. Oliver outlived her by nine years. Death carried him away in 1976, also in Los Angeles. Burial was in Eternal Valley Memorial Park in Newhall, CA.
Granddaughter Doris A. Hill (1933- ? ) was born in about 1933 in Missouri. She moved with her parents to Los Angeles during the 1940s. On Jan. 28, 1961, in Los Angeles, Doris entered into marriage with World War II Army veteran Stanley Gordon Plough (March 28, 1924-2009). In 1967, the Ploughs resided in Reseda near Los Angeles. Their final home together was in Woodland Hills, Los Angeles County. Stanley passed away on Christmas Day 2009.
Daughter Dorothy T. Goldstein (1902- ? ) was born on July 17, 1902 in Collinsville, OK. She appears not to have married. At the age of 38, in 1940, she dwelled at 3919 Olive Street in Kansas City with her married sister and widowed mother. As with her sister, Dorothy migrated to Los Angeles during the 1940s and in 1950, living alone, was an assembly worker in a thermostat factory. She was named in the 1967 obituary of her sister and at the time was still in Los Angeles.
Son Joseph Gary Goldstein (1906- ? ) was born on March 18, 1906 in Aurora, MO. He resided in 1936 in Chicago. Going by the name "Joe Gary" Goldstein, he dwelled in Illinois in 1967 when named in the newspaper obituary of his sister Gladys.
~ Daughter Caroline May (Williams) Smith ~
Daughter Caroline May "Carrie" Williams (1876-1960) was born in about 1876 in Louisburg, KS.
On March 26, 1897, in nuptials held in Siloam Springs, AR, she was united in matrimony with John Wright Smith (1863-1955), a native of Morristown, IA and the son of Elisha and Hanna Smith. The groom was 13 years older than the bride.
Three known sons in this family were Harry E. Smith, Wayne W. Smith and Philip Wright Smith.
Caroline and John as newlyweds lived on a farm in Newberg, Yamhill, OR and were there in 1900 with their young son Harry. Also in their household in 1900 were John's mother Hannah, brother Demsey Smith, sister Elizabeth (Smith) Hubbard and her children Stella and Lyle. In time they relocated to Siloam Springs, where he earned a living as a photographer and Caroline taught school. They moved back to Newburg at some point, where he and a brother ran a prune farm.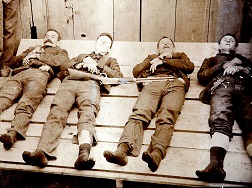 Dead members of the Dalton Gang
on display in Coffeyville, KS. Wikipedia

The Smiths relocated again to Kansas City, and thence by 1910 to Coffeyville, Montgomery County, KS, where he acquired a photography studio. Coffeyville gained fame in 1892 as the scene of two failed bank robberies by the Dalton Gang. Comprised of four brothers and several friends, the gang engaged in train and bank thefts, until the fateful day of Oct. 5, 1892, when four of the men were gunned down in Coffeyville by law enforcement officials. The corpses were placed on public display and the image recorded by an enterprising photographer (but not our John).

The family shortly thereafter migrated to Denver and were there in 1911 at the birth of their son Philip. Yet another move was in 1915 to Horton, KS and then in 1916 to Stillwater, OK, where he bought another studio business.

Once in Stillwater, John ran his Smith's Studio and employed his sons Harry and Philip and sister-in-law Mary. The business address was 712 Main Street. One of their largest clients was Oklahoma A&M College, today's Oklahoma State University , where they photographed students and activities for 18 years. Said the Stillwater News-Press, "One of his photographs was displayed by the International Association of Photographers."

The family held a membership in the Christian and Missionary Alliance Church, with Caroline involved in the Women's Christian Temperance Union.

Harry retired in 1937, with his sons taking over the reins. They stayed in Stillwater for the remainder of their lives at the address of 614 West.

John died at the age of 91 on Jan. 14, 1955. His funeral service was led by Rev. C.F. Hanold, with burial following in Fairlawn Cemetery. An obituary in the 4 News-Press asked that any memorial contributions be made to the Christian and Missionary Alliance Church to support mission work.

Carrie survived for another five-and-a-half years. She passed away in Stillwater at the age of 84 on Aug. 23, 1960. The Oklahoma City Daily Oklahoman published an obituary.

Son Harry E. Smith (1899- ? ) was born in April 1899 in Oregon. He was joined in wedlock with Iowa native Minnie B. Clausen (1901- ? ). Together they produced a family of three sons -- Harry E. Smith Jr., John K. Smith and Robert Clausen Smith. The Smiths dwelled in Stillwater, where Harry and his younger brother Philip ran the family photography business, Smith's Studio. Harry continued to operate Smith's Studio after his brother left the business after World War II. At one time in the early 1960s, he sought to exit the business. But others convinced him to stay the course. Circa 1963, advertising in the Stillwater Daily O'Collegian, the company said it would remodel and rename the store discontinue framing and gift sales and shift to selling Hallmark greeting cards, albums, stationery, cameras, film, camera repair services, rentals "and everything photographic." After Minnie's death, Harry married again.
Grandson Harry "Edward" Smith Jr. (1924-1983) was born on Christmas Day 1924 in Stillwater. The angel of death spirited him away at age 58 on July 25, 1983. He sleeps for the ages in Fairlawn Cemetery. A brief listing of his death was printed in the Tulsa World.
Grandson John K. "Jack" Smith (1928- ? ) was born in about 1928 in Stillwater.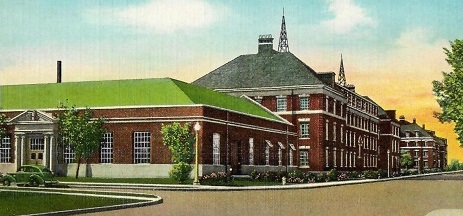 Engineering building at Oklahoma A&M, where Robert Smith studied
Grandson Robert Clausen Smith (1930-2006) was born on Aug. 25, 1930 in Stillwater. He was awarded a bachelor's degree in mechanical engineering from Oklahoma A&M College, today known as Oklahoma State University. When he was 20 years of age, on March 7, 1951, he wed his high school girlfriend, Shirley Anne White (March 8, 1931-2018), originally from Moberly, MO, and the daughter of George and Bertha (Owings) White. Their union endured for a remarkable 54 years. A trio of offspring born to the couple included Steven Smith, Deborah Fimple and Robert Smith. Immediately following marriage, Robert entered the U.S. Army during the Korean War and was assigned to the 45th Infantry Division, 120th Engineering Battalion. He remained in the Army National Guard for several years after the war and held the rank of commander. As an engineer, he "designed heating, air conditioning and plumbing systems for homes, schools and churches, as well as commercial and government buildings," said the Oklahoma City Daily Oklahoman. "In 1988, he and Shirley opened the 050 Engineering Firm where he mentored numerous young engineers in the 'old school' methods of quality design and client service. In the mountains of Southwest Colorado, Bob ventured into the engineering science of log home construction, producing a home enjoyed by all of his family." The family relocated in 1957 from Stillwater to Oklahoma City. In his free time, Roberted liked to fly-fish and ride his four wheeler on mountain trails. Sadly, at the age of 76, Robert died at home on Sept. 28, 2006. He was pictured in his obituary in the Daily Oklahoman. Interment of the remains was in Fairlawn Cemetery, Stillwater. Shirley outlived her spouse by a dozen years. She passed away in Edmond, OK at age 87 on April 19, 2018.
Son Wayne W. Smith (1902-1969) was born on March 20, 1902 in Missouri. He relocated to Texas. On July 13, 1935, in her hometown, Wayne was united in holy matrimony with Laurita Belle Carver (Nov. 1, 1913-2006), a native of Farmersville, TX and the daughter of Walter R. and Nell (McGuire) Carver. Their nuptials were held in the First Baptist Church, officiated by Rev. Bommer, and announced in the Stillwater Gazette. The Smiths became the parents of two -- Patricia "Patsy" Pearce and John Carver Smith. Laurita was a 1934 graduate of Texas Womens University, where she earned her bachelor's degree in library science. She taught school at Farmersville High School where she also was engaged as librarian, and after marriage performed both roles at a school in Kaufman, TX. For decades, the family made a home in Dallas, TX. With her children now in school, she in 1953 became librarian for her place of worship, Dallas' First Baptist Church, and then in 1955 became librarian for City Park Elementary School in the Dallas Independent School District. Sadness blanketed the family when Wayne passed away on Dec. 9, 1969 at the age of 67. Laurita endured for another nearly 37 years as a widow. In time she worked in the libraries at DeGolyer Elementary School and Walker Middle School, retiring in 1984. She was a 60-year member of her church, with involvement in Sunday School and its Conversational English program, and belonged to the Dallas School Librarians Association. Laurita died at home in Dallas on Oct. 11, 2006. Funeral services were conducted by the hand of Rev. Dr. David Stubblefield, with interment in the Odd Fellows Cemetery in Farmersville. The Dallas Morning News published an obituary.
Granddaughter Patricia "Patsy" Smith wed Leon Pearce ( ? - ? ), son of Joseph and Delphia Pearce. Their home in 2006 was in West Des Moines, IA.
Grandson John Carver Smith married Jean. They relocated to Maine and were in Bar Harbor, ME in 2006.
Son Philip Wright Smith (1911-1962) was born on Christmas Eve 1911 in Denver. He was a boy of age 4 when he and his parents moved to Stillwater, OK. He remained in Stillwater for the rest of his life and was a 1930 graduate of Stillwater High School. He attended Oklahoma State University. On Dec. 9, 1933, he entered into marriage with Mary Katherine Thatcher (Jan. 25, 1914-1968). Their nuptials were held in Cushing, OK. Two children born to this union were Linda Smith and Lawrence W. "Larry" Smith. He with his father and brother Harry together operated Smith's Studio. During World War II, he joined the U.S. Navy and was posted to the Naval Air Station in Anacostia, MD, working in a photograph science laboratory that was "supposedly the finest in the world," said the Stillwater News-Press. He was "in the aerial division and copy section in charge of making aerial photographical maps." At the close of the war, the family moved back to Stillwater. He struck out on his own, forming Phil's Photo Finishing, which he ran until becoming seriously ill in 1959. Continuing to hone his professional skill, Philip in March 1946 attended a master photo finishers convention in Buffalo, NY. In the 1950s and '60s, their address was 1724 West Admiral Road, and the family held a membership in the Methodist Church. Philip helped found the Stillwater Junior Chamber of Commerce and held a term as vice president. He also was active with the Rotary Club, Elks Lodge, American Legion and Izaak Walton League. Sadly, Philip passed away in Stillwater Memorial Hospital four days after his 51st birthday on Dec. 28, 1962. The remains were placed into eternal repose in Fairlawn Cemetery, Stillwater. Rev. Henry Morton conducted the funeral, with graveside rites provided by the Hanner Sharp post of the American Legion. An obituary was published in the News-Press. The widowed Mary Katherine lived for another nearly six years. Death swept her away on Oct. 18, 1968.
Granddaughter Linda Smith ( ? - ? ) grew up in Stillwater.

Grandson Lawrence W. "Larry" Smith (1942-2007) joined the U.S. Air Force. During the Vietnam War, circa 1962, he was stationed in West Germany. Lawrence succumbed to the spectre of death on July 23, 2007. Burial was in Fairlawn Cemetery, Stillwater.
~ Daughter Helen Elizabeth (Williams) Martin ~
Daughter Helen Elizabeth Williams (1879-1963) was born in about 1879 in Louisburg, KS. She resided in young womanhood at 1814 Woodland in Jackson County, MO.
On June 25, 1902, when she was 24 years of age, she entered into marriage with 28-year-old William Elliott "Will" Martin (1868?- ? ) of Franklin, Howard County, MO. Rev. C.S. Baird officiated.
Two known children in this family were Helen Belle Martin and George Eugene Martin.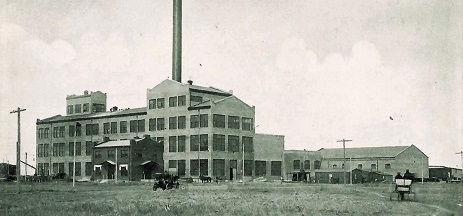 Sugar factory in Fort Morgan, CO, likely Will Martin's employer
The Martins relocated to Colorado and were in Fort Morgan, CO in 1910 -- Sterling, CO circa 1915 -- North Fort Morgan in 1920-1936 -- Denver in 1940-1951 -- and Englewood, CO in 1960. William is known to have been employed in 1910 as a mechanic in a sugar factory in Fort Morgan and in 1920-1930 as a master mechanic in the plant.
Helen passed away in 1963 and William in 1968. The pair rests for eternity in the soil of Chapel Hill Memorial Gardens in Littleton, CO.
Daughter Helen Belle Martin (1904-1997) was born on New Year's Eve 1903 on her grandparents' farm near Warren, Trumbull County, OH. She was a talented pianist and in 1928 graduated from the Denver Conservatory of Music. She went on to further study at the Lacey and Mullins School of Dramatic Art. In 1930, at the age of 26, she lived at home and was a teacher of music and dramatic art. Then when she was 29 years of age, on Nov. 11, 1933, she wed John Stevenson Daley ( ? -1969), a resident of Flint, MI. The marriage was held in her parents' home, with Rev. E.H. Robinson officiating, and announced in the Fort Collins Coloradoan. She "was most charming in a gown of ivory satin cut in princess style with rhinestone trim," said the Coloradoan. "She wore a veil of silk tulle caught up with tiny pink rosebuds and carried a bouquet of pink brides roses and sweet peas." John had been married previously and brought two stepdaughters to the second union, Dorothy Vokes and Doris Petrick. Two offspring born to the union were John Martin Daley and Isabelle Scott. At the time of marriage, John was employed with Buick Motor Company in Flint, and the newlyweds made their first and only residence in the Michigan city. He spent his career with Buick and retired from the company as a supervisor. Said the Lansing State Journal, Helen Belle "was a gracious lady with keen interest in all the fine arts, history, current events and nature. Although she had no church affiliation, she had a deep, abiding faith in God. Her vigorous years found her active in many Flint area music clubs including the Michigan Federation of Music Clubs." Sadly, John died in 1969. Helen Belle outlived him by almost three decades. She passed away in the Mary Avenue Care Facility on Aug. 19, 1997. She was pictured in a State Journal obituary, which called her a "long-time Flint area piano teacher, devoted wife, mother and grandmother..."
Grandson John Martin Daley (1939-2017) was born on Feb. 3, 1939 in Flint. He was a 1957 graduate of Flint Northern High School and received an associate degree from Mott Community College. For a time, he was employed at the Flint Public Library and, said the Lansing State Journal, "was a lover of books, cars, trains and baseball. Suffering from some type of mental illness, he was brought to Lansing in 1997 by Community Mental Health Older Adult Services where he found housing at Grand Manor, CMH's Loretta House for almost a dozen years and then Capital Area Medilodge for his final nearly six years. He died in McLaren Hospice at the age of 78 on July 28, 2017. His remains were lowered into peace and rest in Sunset Hills Cemetery, with an obituary appearing in the State Journal.
Granddaughter Isabelle Daley wed Robert Scott. The pair were in Lansing, MI in 1997-2017.
Step-granddaughter Dorothy Daley married (?) Vokes. She was deceased by 2017.
Step-granddaughter Doris Daley ( ? - ? ) was born on (?). On July 23, 1949, in Detroit, she was joined in marriage with Robert D. Petrick (Jan. 5, 1926-1995), son of Edward W. and Anna B. Petrick. The couple did not reproduce. Robert grew up in Port Huron was a graduate of Port Huron High School then attended Port Huron Junior College and Wayne State University. He was a World War II veteran of the U.S. Navy and owned a sports car dealership in Flint. The couple made their residence in Port Huron until 1955 when they relocated to Flint, remaining there for 31 years until 1986. Eventually they retired and moved to Mesa, AZ. Robert passed away at home at the age of 69 on Feb. 26, 1995. His obituary was published in the Port Huron Times Herald. The remains were returned to Michigan for interment in Lakeside Cemetery.
Son George Eugene Martin (1906-1969) was born on April 4, 1906 in Raytown, a suburb of Kansas City, MO. He migrated to Colorado with his parents and grew up in the Fort Morgan area. In adulthood he stood 5 feet, 11 inches and weighed 220 lbs., with grey eyes and blonde hair. On March 21, 1928, he entered into marriage in Denver with Mary Irene Chriss (1907-1993), a native of Illinois. Rev. C.H. Brady officiated. Together, they bore one daughter, Vivian Jeanine Martin. When the federal census enumeration was made in 1930, the Martins dwelled in the Salt Creek oilfield community of Natrona County, WY. There, George was employed as a chemist in a gasoline plant, likely operated by Standard Oil, considered the largest plant of its kind in the world. From there they migrated to Denver, with George earning a living in 1934 as a salesman for B.K. Sweeney Inc. The marriage ended in divorce in Denver on Nov. 22, 1937. A little more than two months later, on Feb. 4, 1838, the 31-year-old George was joined in matrimony with 26-year-old Lola "Evelyn" Roland (Jan. 5, 1911-2001), originally from Barnard, MO. Their nuptials were held in Brush, CO, by the hand of justice of the peace C.A. Gray. A brood of children borne of this union included Mary A. Martin, Florence Julia Ellis, Elizabeth Jean Lang Maher, Stephen W. Martin and Paul Martin. They moved sometime between 1935 and 1937 from Fort Morgan, CO to California and then circa 1938-1939 to Colorado. The 1940 U.S. Census gives their residence as Englewood, Arapahoe County, CO, with George and Evelyn working together as proprietors of a retail grocery store located at 3901 Broadway. By 1950, George provided general woodwork services in his labors for a trunk manufacturing business, while Evelyn generated income as an operator for a leather garments manufacturer. George surrendered to the angel of death in Denver on Sept. 26, 1969. Interment was in Littleton. Evelyn remained in Englewood as a widow. Death carried her away on Jan. 13, 2001.
Granddaughter Vivian Jeannine Martin (1928-2010) was born on Oct. 22, 1928 in or near Fort Morgan, CO. On Feb. 6, 1960, at the age of 31, she wed 38-year-old Alfred J. Maresca ( ? - ? ) in Sacramento, CA. News of their marriage license was published in the Sacramento Bee. Alfred was employed by the U.S. Air Force. Circa 1963, the Marescas made a home in Roseville, Placer County, CA. The pair divorced in Honolulu in September 1967, as announced in the Honolulu Star-Bulletin. Jeannine appears to have taken back her maiden name. She resided in Reno, NV at some point in time and was in Denver in the 1990s. She died in the Mile High City on Jan. 23, 2010.
Granddaughter Mary A. Martin (1937- ? ) was born in 1937 in California and grew to womanhood in Englewood, CO.
Granddaughter Florence Julia Martin (1938-2011) was born on May 28, 1938 in Fort Morgan, CO. She lived at 1181 Rowena Street in Thornton, CO as a young woman. When she was 21 years of age, on March 11, 1960, she married Orbie Rosco Ellis (June 12, 1922-2002). The ceremony was led by Rev. Eldon W. Coffey of the Pleasant View Community Church. One son born to the pair was Elliott Luther Ellis. Orbie had served in the U.S. Army during World War II, attaining the rank of staff sergeant. In September 1966, the marriage officially was dissolved in divorce in San Mateo, CA. Florence returned to Colorado and made her final years in Denver/Englewood. The spirit of death whisked her away in Englewood on Aug. 14, 2011. Following a long Army career, former husband Orbie died at the age of 79 in Muskogee, OK on March 21, 2002. An obituary was printed in the Tulsa World, and his remains sleep for all time in Fort Gibson National Cemetery in Oklahoma.

Great grandson Elliott Luther Ellis (1961-2022) was born on Jan. 23, 1961 in Aurora, CO. After his parents divorced, he grew up in Council Hill, OK and was a 1979 graduate of Midway (OK) High School. He was united in matrimony with Rose Maria ( ? - ? ). They became the parents of four -- Dustin Luther Ellis, Stephanie Dawn Ellis, Nevaeh Marie Ellis and David Elliott Ellis. Elliott joined the U.S. Army after high school with a military occupational specialty as a telecommunicator, posted to Fort Bragg. When his four-year term of service ended, the family relocated to Warner, OK. Elliott was employed as an installation and repair technician over the years with Cross Telephone and Southwestern Bell Telephone, today part of AT&T. He retired in 2021. Elliott spent his free time working on old automobiles and motorcycles and "road trips." He raised a garden which he wanted to become bigger and better each year. Having been diagnosed with cancer, and after enduring a lengthy illness, he passed away on July 5, 2022.

Granddaughter Elizabeth Jean Martin (1942-2002) was born on Oct. 19, 1942 in Denver. She was twice-wed. Her first spouse, circa 1965, was (?) Lang ( ? - ? ). By 1972, she had married (?) Maher ( ? - ? ). She resided for many years in Lakewood, CO. Elizabeth died in Englewood on Sept. 26, 2002.
Grandson Stephen W. Martin (1946- ? ) was born in about 1946 in Colorado. He lived in Englewood, CO in young manhood and was a graduate of Englewood High School. He was employed in the early 1970s as an electronics techician for Honeywell Corporation in Littleton, CO. On Sept. 4, 1971, in St. Peter's Lutheran Church in Portage, IN, he wed co-worker Sylvia J. Gottlieb ( ? - ? ), daughter of Arthur Gottlieb of Hobart, IN. Rev. Robert Schroeder officiated, with the marriage announced and Sylvia pictured in the Porter County (IN) Vidette-Messenger. The newlyweds made their initial home in Colorado.
Grandson Paul G. Martin (1948- ? ) was born in 1948 in Colorado. He resided in Englewood in 1971.

~ Son Norval Herbert "Bill" Williams ~
Son Norval Herbert "Bill" Williams (1881-1951) was born on June 15, 1881 in Louisburg, KS.
In about 1903, Norval wed Prue (Irwin) Wise (1882- ? ), a fellow Kansan. She may have brought a stepson or adopted son to the union, Graham Wise, born 1899 in Colorado.
Norval and Prue do not seem to have reproduced.
They made their residence in 1910 in Kansas City, where Norval was employed by an iron company as sales manager. Then in 1915 they resided in Lincoln, NE and in 1931-1951 in Indianapolis. His occupation in 1930, as indicated by the federal census enumeration, was as a district sales manager for a candy company.
They belonged to the Methodist church. For 23 years, Prue's aged father came to live with them in Indianapolis. A Civil War veteran, the father was a "member of the famous Sixth Michigan Cavalry Brigade," said the Indianapolis Star, who "followed Gen. Custer through the battle of Gettysburg and later witnessed Lee's surrender to Grant at Appomattox. During this war he was interested in the restoration of Fort Laramie, Wyoming, where he was sent at the close of the Civil War in charge of a mail-carrying detail. After his discharge from service he became an extensive landowner in northeast Kansas, engaging in farming and cattle raising." The father died in their home at age 100 on Sept. 6, 1943.
Circa 1948, Norval was appointed sales manager with Genn Air Company. Their address win 1943 was 5912 Madison Road and in 1951 at 3002 East Fall Creek Boulevard.
At the age of 70, on Dec. 20, 1951, he died from the effects of an acute obstruction in his intestinal tract. Prue, who signed the death certificate, was unable to furnish the names of her husband's parents. Burial of his cremains was in Indianapolis, with an obituary appearing in the Indianapolis News, saying he had resided there for 20 years The family asked that any memorial contributions be made to the Cancer Fund.
Prue's final fate is not yet known.
~ Daughter Mary Anna "Mayme" Williams ~
Daughter Mary Anna "Mayme" Williams (1885-1977) was born in 1885.
She lived in Kansas City, MO in 1915. In 1927-1931, she and her aged mother shared a home with Mary's married sister Caroline Smith in Stillwater, OK, where she is known to have been employed in the photography studio of her brother-in-law John W. Smith.
On June 27, 1938, she married German immigrant Victor Liebenstein (June 16, 1875-1960). Their wedding vows were made in the home of her married sister Carrie Smith, by the hand of Rev. John Callan of the First Methodist Episcopal Church. The nuptials were announced on the pages of the Stillwater Daily Press, which noted that the bride "wore a white lace dress made oveer turquoise blue taffeta with a corsage of pink rose buds, sweet peas and fern. The ceremony was performed before the mantle, the top and sides being decorated with gladioli, roses, pinks and fern."
Originally from Bad Liebenstein, Germany, Victor had come to the United States in boyhood and lived in Gloversville, NY before another move to New York City. After college, he began his professional career in banking and accounting. Said the Stillwater News-Press, "Following his conversion to Christianity, [he] attended the First Baptist church in NYC and later attended the Moody Bible Institute in Chicago. He did home missionary work throughout the eastern and central states."
Mary was active over the years with the Wesleyan Service Guild of their church. In 1951, at the death of Mary's brother Norval in Indianapolis, the couple made a home in Stillwater.
After a lengthy illness, Victor passed away on April 15, 1960. Officiating the funeral was Rev. Joe Masters of the Christian and Missionary Alliance Church. His remains were laid to rest in Fairlawn Cemetery, Stillwater. His News-Press obituary said he had resided in Stillwater since 1938.
Mary lived for another 17 years as a widow. Death enveloped her on July 11, 1977.
~ Son Archie Dewitt "Arch" Williams ~
Son Archie Dewitt "Arch" Williams (1891-1943) was born on June 19, 1891 in Louisburg, KS. He moved to Kansas City at the age of two and maintained his residence there permanently, a timespan of some 50 years.
On March 8, 1913, in Liberty, Clay County, MO, he was joined in wedlock with June Jennie Wilmoth (July 3, 1892-1965).
The only son they produced was Howard L. Williams.
Archie signed his father's Missouri certificate of death in 1915 and at the time had an address of 3012 Wabash Avenue. Their home in 1936 was 4631 Madison Street. In 1941, he and June motored to Stillwater, OK to visit his sisters Carrie and Mary before continuing on to Los Angeles. The visit was fodder for the gossip columns of the Stillwater Gazette.
Archie was employed as sales manager for Gelhaar Uniform Company, a business which produced caps, Shrine wearing apparel and woolen uniforms, with a specialty in shirts ranging from highway patrol officers, musicians and transport companies to bakeries, dairies, hotels and military schools.
In 1935, reported the Kansas City Star, Archie "was a candidate for the Jackson County court, representing the western district," and in 1938 ran for state treasurer on the Republican ticket.
The pair's final residence was at 3812 Bell Street. In about January 1943, Archie suffered a heart attack but fortunately recovered to some extent.
Sadly, though, five months later, on June 29, 1943, he was stricken again and was dead within 10 hours, at the age of 52. His remains were laid to rest in Mount Moriah Cemetery. He was pictured in his obituary in the Star.
Jennie outlived her spouse by 39 years and married again to widower Harley Claire Shoemaker (Aug. 18, 1895-1984), widower of Ruth Ann Garden (1901-1946). He brought three stepsons into the second union, Harley G. Shoemaker, Don M. Shoemaker and Roger Shoemaker. Harley was an "Illinois corn farmer [who] sold his farm and moved the family to California to open a truck stop," said the Lincoln (NE) Journal Star. They later opened one in New Mexico on Route 66." The family in time purchased a Skelly Oil Company truck stop in Lincoln, NE and "grew it into a multi-million-dollar operation with a restaurant, barbershipand many other services." June and Harley established theirhome in Ventura County. There, he served as chairman of the California Truck Service Station Operators Association.
She died in Ventura at the age of 72 on Nov. 6, 1965, with an obituary published in the Kansas City Times. The remains were transported to Kansas City for interment.
Harley lived for another 18 years. He passed away in Montalvo, CA at age 88 on March 6, 1984. His burial was held in Wyoming (IL) Cemetery.
Son Howard Lee Williams (1913-1999) was born on Nov. 6, 1913 in Kansas City. On Jan. 11, 1942, when he was age 28, Howard entered into marriage with Alma Copeland ( ? - ? ). The nuptials were led by Rev. David Owen of the Country Club Christian Church. They stayed together for a remarkable 57 years but did not reproduce. Following marriage, Howard joined the U.S. Army Air Corps during World War II and was assigned to the 8th Photo Squadron. Their postwar residence was in North Hollywood, CA in 1965 and later in Overland Park, a suburb of Kansas City. Howard is known to have held a membership in several automobile clubs. Sadly, he passed away in Kansas City at the age of 85. on April 14, 1999. His obituary was printed in the Kansas City Star. Alma lived on in widowhood for another three years. At the age of 92, death carried her away on Dec. 17, 2002. Services were held at Mount Moriah South Cemetery, and a death notice appeared in the Star.
Copyright © 2000-2004, 2020, 2022 Mark A. Miner