Samuel Denton Wiltrout
(1846-1914)
Samuel Denton Wiltrout was born on June 19, 1846 in Somerset, Somerset County, PA, the son of James and Eleanor "Nellie" (Younkin) Wiltrout.
He moved with his parents to Indiana when he was very young, perhaps an infant. His mother died soonafter.
In his young teen years, after the death of his mother, Samuel migrated to Wisconsin with his father and stepmother. They settled in or near Viola, Richland County, WI.
Samuel as a young man stood 5 feet, 9inches tall, weighed 160 lbs. and had a dark complexion, blue eyes and dark hair. The 17-year-old joined the Union Army during the Civil War, on New Year's Eve 1863, for a term of three years, at Madison, WI. He was placed into the 11th Wisconsin Infantry, Company D and maintained the rank of private through the duration.
The 11th Wisconsin saw action in the Battle of Fort Blakeley, AL on April 9, 1865. In that fight, he recalled "while trying to scale the rebel works ... he was knocked into the ditch by the discharge of a Rebel Cannon, that his Cap was blown off and left side of face burned with powder, that the Eyebrows and hair was singed and that the Eye commencedd paining him immediately."
He received treatment from the regiment's surgeon Dr. Everett/Everts at Montgomery, AL. Fellow soldier Lewis M. Berry saw that the eye was "swollen & inflamed" and that Samuel "was obliged to wear a covering over his eye till the time of his discharge & on trip home." William A. Davis of the regiment also saw the injury.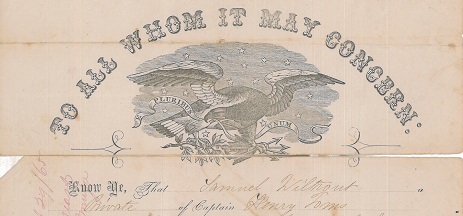 Samuel's Army discharge certificate, above, and soldier pension certificate.
Courtesy National Archives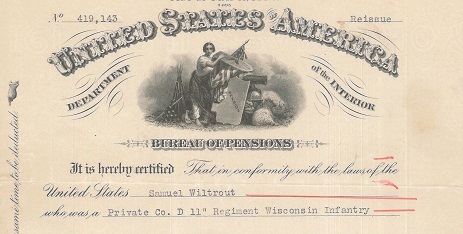 Samuel was honorably discharged at Mobile, AL on Sept. 4, 1865. Upon his return home, he received medical treatment from his boyhood friend and family physician, Dr. Adam Shambaugh. The doctor later wrote that "All that I accomplished by treatment of eye was reduce inflammation and great pain but failed to restore the eye to its former health and seeing power."
In the postwar years, Samuel was a farmer. Federal census enumeration records for 1870 show Samuel, single at the age of 24 and working as a farm laborer for Hugh Jones in Forest Township, Howard County, IA. He also labored alongside H.W. Ambrose near Viola, WI.
By 1872, he had relocated back to a farm in Forest Township, Richland County, WI. On June 23, 1872, he was united in marriage with Anna Joseph (1852- ? ), daughter of John and Ann (Morris) Joseph, the mother an immigrant from England. The civil ceremony was held in Forest Township and performed by Jeremiah Black. Witnesses were John Jones and John B. Morris.
Five children known to have been borne of this marriage were Leona Wiltrout, Susan A. Wiltrout, Norman Wiltrout, Lucy Wiltrout and Eleanor Wiltrout.


Location of the Samuel's farm, circa 1874, east of Viola, Wisconsin


Atlas of Richland Co. Wisconsin, published by Harrison & Warner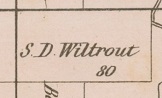 Detail of Samuel's farm,
directly north of his father's
The Wisconsin State Censuses of 1875 and 1885 list the growing family in Forest Township. The Atlas of Richland County, published in 1874, shows that the farm comprised 80 acres and was directly to the north of, and abutted, the farm of his father.
The U.S. Census of 1880 shows the Wiltrouts on a farm near the town of Viola along Camp Creek in Forest Township, with Anna's younger brothers Thomas and Isaac Joseph living under their roof.
Samuel suffered from a host of ailments after the war, among them rheumatism of the right hip and leg and loss of sight in the left eye. In 1877, he was awarded a military pension for his wartime service. [Invalid App. #238.014 - Cert. #419.143]. As he received occasional payment increases over the years, the news was printed in local newspapers such as the Vernon County (WI) Censor.
Sadly, Anna died on July 26, 1888 in or near Viola.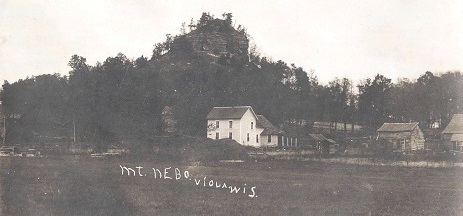 Mt. Nebo rock formation, a landmark in Viola,WI
The widowed Samuel made a decision to return to Iowa where he settled on a farm in Guthrie County. There, at the age of 49, he wed a second time, on Nov. 25, 1893, to 39-year-old Mary E. Simmons (June 9, 1855-1912), a fellow Guthrie County resident and the daughter of Thomas and Cecelia (Evans) Simmons of Belmont County, OH. Elder George W. Brader of Bagley, IA officiated the nuptials, witnessed by C.D. Evans and J.B. Campbell. The bride and groom were a decade apart in age.
The newlyweds made their first home together in Bagley, Guthrie County, IA. Within less than two months after the wedding, the Viola (WI) Intelligencer of Jan. 19, 1894 reported that "Samuel Wiltrout, of Bagley, Iowa, returned last Saturday with his wife for a visit with relatives and friends in the Kickapoo country."
One more daughter was produced in this second marriage -- Bessie C. Golden.
When the Wisconsin census again was made in 1895, the Wiltrouts dwelled in Rockbridge Township, Richland County. Their post office circa 1898 was Sylvan, WI.
In 1900, the Wiltrouts pulled up stakes and migrated to Kentucky. The United States Census of 1900 shows the family dwelling in Eubank Township, Pulaski County, KY. He is known to have filed a declaration for a Civil War soldier's pension from Eubanks in 1908.
The couple moved once again in 1910 to the home of his daughter Mrs. Ralph Golden in Current Township, Texas County, MO. Sadly, stricken with cancer of the liver and breast, Mary died there on April 23, 1912, at the age of 56. Her remains were lowered under the sod of Casto Cemetery.
Samuel's final years were spent as a widower in his daughter's home in Current Township after a move in 1910.
There, suffering from pyaemia (blood poisoning), he succumbed to death at the age of 67 on Jan. 25, 1914. Bessie Golden of Hartshorn, MO was the informant for the official Missouri certificate of death. Burial of the remains was in Riley Cemetery.
~ Daughter Leona Wiltrout ~
Daughter Leona Wiltrout (1873- ? ) was born on Aug. 30, 1873 in Wisconsin.
When she and other girls enrolled for another year of high school in Viola in 1893, it was announced in the local newspaper, the Viola Intelligencer. Her graduation in May 1894 also was news in the Intelligencer's gossip columns.
~ Daughter Susan A. "Susie" Wiltrout ~
Daughter Susan A. "Susie" Wiltrout (1876- ? ) was born on June 4, 1876 in Wisconsin.
At the age of about 21, she is known to have spent a year working in southern Richland County. When she made a visit back home to Viola in January 1898, it was announced in the gossip column of the Viola Intelligencer.
By 1906, she had relocated to Illinois and had been hired to look after household affairs of Mrs. J.H. Frazier in Wheaton, IL.
~ Son Norman Wiltrout ~
Son Norman Wiltrout (1878- ? ) was born on New Year's Eve 1878 in Wisconsin.
~ Daughter Lucy Wiltrout ~
Daughter Lucy Wiltrout (1881- ? ) was born on Sept. 20, 1881.
~ Daughter Eleanor Wiltrout ~
Daughter Eleanor Wiltrout (1884- ? ) was born on Nov. 25, 1884. in Wisconsin.
~ Daughter Bessie C. (Wiltrout) Golden ~
Daughter Bessie C. Wiltrout (1896- ? ) was born on June 2, 1896 in Wisconsin.
She wed (?) Golden ( ? - ? ).
In 1914, she dwelled in Hartshorn, MO.
Copyright © 2021-2022 Mark A. Miner
Karole (Bertram) Carroll graciously has contributed content for this biography.