Catherine (Younkin) Gass
(1835-1876)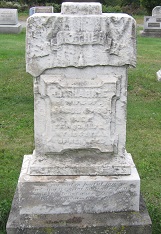 Catherine's fading grave,
Hiland Presbyterian

Catherine (Younkin) Gass was born in 1835, in Turkeyfoot Township, Somerset County, the daughter of Frederick F. and Mary (Sanner) Younkin. She traveled as a newborn with her parents and elder siblings to Indiana, settling into the town of Terre Haute.
Catherine was only about four years of age in 1839 when her mother died. Her grieving, widowed father then moved back to the old homeplace in Somerset County. Catherine and her sister Mary were taken in by the family of John and Eve Gephart.
The Gepharts were merchants who resided in Allegheny City (today Pittsburgh's North Side). When the federal census was taken in 1850, 16-year-old Catherine and 14-year-old Mary resided under the Gephart roof along with 21-year-old clerk John McClay.
She is the first known Younkin offspring to migrate into the Iron City of Pittsburgh. One of the few sources for her married name is in handwritten Younkin genealogy notes deposited in the surname file of the Historical and Genealogical Society of Somerset County, prepared by a thoughtful-yet-unidentified researcher. Another source was the death certificate of a son.
Catherine married Jacob Gass Jr. (1829-1878), son of German/Swiss immigrants Jacob and Amelia Gass Sr. The wedding took place sometime in the early 1850s. How the two would have met is equally a mystery.
They produced a family of six known children -- John G. Gass, William E. Gass, Mary E. Gass, Charles Gass, Luella Gass and Harry Theodore Gass.
Jacob was raised in the Manchester section of Pittsburgh's North Side, then known as Allegheny City. His father's farm was located on the site where the Pittsburgh and Fort Wayne Railroad depot later was constructed. The father was a gardener and farmer, and weaver of carpets and coverlets, and Jacob himself followed his father's gardening occupation.
Jacob's brother in law, Jacob G. Vogeley, is pictured with a biography in the 1904 book, Memoirs of Allegheny County, Pennsylvania, Personal and Genealogical., Volume II. A nephew, Christian H. Gass, is profiled in the 1889 book History of Allegheny County, Pennsylvania, by A. Warner and Company.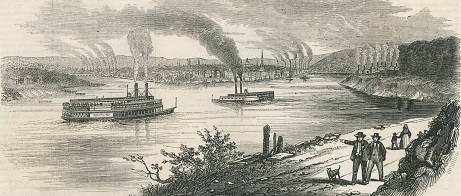 Pittsburgh, about the time the Gasses began married life there. Gleason's Pictorial Drawing-Room Companion, 1853
The Gasses resided circa 1856 in Allegheny City, where their son William was born. By 1870, they relocated to Perrysville, Ross Township, in the North Hills section of Pittsburgh. Circa 1880, when the federal census was taken, Jacob continued to make a living as a gardener.
Perrysville at the time was a quiet farming village along Perry Highway (Route 19) about eight miles north of Pittsburgh. Today it is a bustling suburb and part of the North Hills School District, one of the largest K-12 public education systems in Western Pennsylvania. The founder of this website lived in Perrysville for the first seven years of his life.
Jacob prided himself in the quality of the produce he grew. In 1874, he decided to enter a competition that the seed firm of Peter Henderson & Company was holding nationwide, offering $100 as a prize "for the heaviest and best specimen" of its Trophy tomato, said the American Agriculturalist, a trade journal. "Over thirty fine specimens were sent in, the best of which was from Jacob Gass, Perrysville, Pa., who says that it was grown without any extra effort, and was selected from a load of forty bushels that he was that day (September 8th) taking to market. It is very doubtful if Mr. Gass received as much money for his whole load as Peter Henderson & Co. paid him for this single tomato, which weighed 23½ ounces, and was perfect in form."
Catherine passed away on Jan. 17, 1876 in Perryville, in her 42nd year of age. (Her date of death also has been recorded as a month later, on Feb. 17, 1876). She rests in the cemetery of Hiland Presbyterian Church in Perrysville. Inscribed at the base of her fading grave marker is this epitaph, taken from an old Presbyterian hymn: "Awake my soul in joyful lays, And Sing thy great Redeemer's praise: He justly claims a song from me, His loving kindness is so free."

Catherine's epitaph, taken from an old Presbyterian hymn
Jacob outlived his wife by only two years. He died on April 29, 1878, with entombment beside his wife in Hiland Presbyterian cemetery. His grave marker is inscribed with the word "FATHER" at the top. [Find-A-Grave]
Less than a month later, son Charles Gass also died, followed two years later by three more of the children in what appears to have been an epidemic harvest by the Grim Reaper. Another was swept away in 1894. The only one of their offspring to survive into marriage was their eldest, John.
In the 1880s, upon the death of Catherine's father back in Somerset County, the old home place farm was subdivided into the ownership of her brother Jacob C. Younkin and half sister Salome Liston. But John G. Gass objected to the same and filed a lawsuit in Somerset County Court of Common Pleas (156 Feb. Term 1895) to eject the Listons from their ownership. In January 1896, he and his uncle Michael Younkin were paid $650 by John's half uncle Simon Liston to relinquish their inheritance claim to the farm. The quit-claim deed was filed in Somerset County court.
The effort must have failed, as the farms remained in the Younkin and Liston families for many generations and in 1996, a great-great grandson Wilbur Henry received a plaque from Somerset County Agriculture Commissioner Kenneth Lowery for the property's 200-year continuous family ownership.
Nothing more of their lives is known. As far as known, this line of the family died out completely in 1939 with the death of their last surviving son.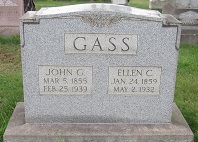 Hiland Presbyterian Church
~ Son John G. Gass ~
Son John G. Gass (1855-1939) was born on March 5, 1855, and likely was named for his mother's guardian, John Gephart.
He was the only one in the family to marry, but ironically, never reproduced.
In about 1885, at the age of 30, he wed 26-year-old Ellen C. "Ella" Faulk (Jan. 24, 1859-1932). She was the daughter of Philip and Agnes (Craig) Faulk, the father from Alsace Loraine, in France and the mother from Scotland.
About that time, John learned of the death of his grandfather Frederick F. Younkin on the old home place near Kingwood, and was not pleased that he did not receive a proper inheritance. He filed an ejectment lawsuit in the Somerset County Court of Common Pleas (No. 156 February Term 1895) to recover the value of the "undivided three-eighths interest" then in the ownership of his half uncle, Simon Liston.
In 1900, the federal census enumeration shows them living on Perrysville Road in Ross Township, after 15 years of marriage, with John making a living as a farm laborer. When the census again was made in 1910, John worked as a laborer in "odd jobs." His primary occupation appears to have been farming.
Sadly, Ellen died from the effects of chronic kidney disease and hypertension on May 2, 1932, at the age of 73. In a short obituary, the Pittsburgh Post-Gazette stated that the funeral was to be held at the church -- "Friends are invited. Flowers gratefully declined."
John survived her by almost seven years. Burdened with hardening of the arteries, he was stricken with cerebral apoplexy and passed into eternity on Feb. 25, 1939. They rest side by side in the Hiland Presbyterian cemetery. Nephew James A Faulk of Bellevue provided vital information for the Pennsylvania certificate of death, stating that the maiden name of John's mother was "--- Yunken."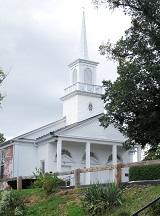 Hiland Presbyterian Church
~ Son William E. Gass ~
Son William E. Gass (1856-1880) was born on Dec. 11, 1856 in Allegheny City (today's North Side of Pittsburgh).
As a young man, following his father's line of work, William earned a living as a gardener.
He was not married.
In early August 1880, suffering from phthisis pulmonalis (tuberculosis infection of the lungs), he was admitted to West Penn Hospital. He succumbed to the illness just 10 days later, at the age of 23, on Aug. 11, 1880. His remains were placed at rest in the Hiland Presbyterian cemetery. His demise was duly recorded in the register of Pittsburgh city deaths.
~ Daughter Mary E. Gass ~
Daughter Mary E. Gass (1859-1880) was born on Dec. 1, 1859.
On April 24, 1880, at the age of 20, she passed away.
Her remains were lowered into eternal sleep in the Hiland Presbyterian Cemetery.
~ Son Charles Gass ~
Son Charles Gass (1861-1878) was born on Aug. 13, 1861.
As a teenager, he resided in Perrysville with his parents.
He died at age 16 on May 27, 1878.
Entombment was in Hiland Presbyterian Cemetery.
~ Daughter Luella K. Gass ~
Daughter Luella K. Gass (1864-1880) was born on March 1, 1864. She only lived to be a teenager.
A few weeks before her 16th birthday, she passed away, on Feb. 6, 1880.
Interment was in Hiland Presbyterian Cemetery.
~ Son Harry Theodore Gass ~
Son Harry Theodore Gass (1869-1894) was born on Jan. 6, 1869.
He never married, nor had any children.
Sadly, Harry died at the age of 25 on March 19, 1894.
Burial was in Hiland Presbyterian cemetery.

Final resting place of the ill-fated Gass family -- 2 parents and five children -- Hiland Presbyterian Church, Perrysville, in Pittsburgh's North Hills
Copyright © 2013-2014, 2020 Mark A. Miner
Research for this page graciously shared by the late Olive (Rowan) Duff and the late Donna (Younkin) Logan