William K. Younkin
(1832-1917)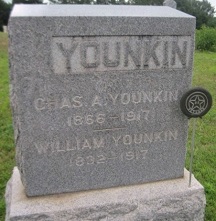 Graves of William and son Charles,
Timber Creek. Courtesy Connie Langvardt
William K. Younkin was born on Sept. 15 or 16, 1832 in Turkeyfoot Township, Somerset County, PA, the son of Henry F. and Mary (King) Younkin.
As with some of his brothers, William migrated to Kansas in the early 1850s. He settled in Clay County in 1856, "near the mouth of Timber creek on the farm where he died," said a newspaper. Another description of their homestead farm was two miles north of Timber Creek school.
At the age of 30, on Dec. 7, 1862, he wed his first wife, 20-year-old Ruth Ann Howard (1842-1885). She was the daughter of Aaron Howard and a native of Kentucky.
They had six children -- Joseph Marcon "Bert" Younkin, Elias D. Younkin, Charles Albert Younkin, Ina Belle Wiese, Aaron Younkin and Effie Ann Knowles Gleason Hall. The two eldest children were born in Illinois.
When the 1875 Kansas State Census was taken, William and Ruth lived in Gatesville, Grant Township, Clay County.
Sadly, Ruth died at the age of 42 on May 12, 1885 in Wakefield.
Her passing left her husband with three children under the age of 18.
A little more than two years later, he wed a second time, to 38-year-old Elida Scott (1849-1902), on Sept. 4, 1887. They were 17 years apart in age. She had been married before (perhaps twice) and brought four children to the marriage -- Arthur Sheppeard, Lee Sheppeard, Walter Finney and Lillie Finney White. The couple had one son of their own, Jesse A. Younkin, born in 1890.
On Christmas 1894, while at the railroad depot at Clay Center, preparing to return home, she was struck by a Rock Island train. An article in the Clay Center Times said "We all trust that it may be found not so serious as at first supposed. Mrs. Younkin during the time she has resided among us has gained the respect of all who have come in contact with her, and we trust she may very soon be restored to her family in good health."

William with his brothers Moses and Jeremiah and nephew Edwin named in the 1908 booklet, The Wakefield Colony.
Heartbreak visited this family again on Oct. 5, 1902 when Elida died at the age of 53, leaving behind her son who was 12 years of age.
William lived on for another 15 years. In 1916, he endured the passing of his son Albert and in 1917 the death of his son William.
He died at the age of 85, in Wakefield, on Nov. 23, 1917. Burial was in Timber Creek Cemetery, following funeral services held in the Timber Creek school house, preached by Rev. Honstedt. An obituary noted that he had "lived continuously on the former homestead since 1856, excepting the seven years in which he resided in Wakefield. He was one of the first white men to permanently locate within the limits of Clay county. He united with the Evangelical church and was a man much loved by all for his kindly deeds and help in time of need." Another newspaper obituary said that he "lived in a time when it took men to do things and he played his part like a man. He saw the development of the prairies to beautiful farms and homes. The memory of his good heart and kindly deeds will remain for long years to come."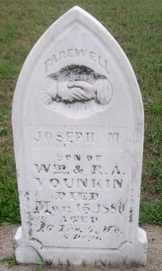 Joseph's grave, Timber Creek.
Courtesy Connie Langvardt
~ Son Joseph Marcon Younkin ~
Son Joseph Marcon Younkin (1863-1880) was born on Sept. 9, 1863 in Illinois. He came to Clay County, KS as a boy with his parents and siblings.
Sadly, Joseph died at the age of 16 years, six months and six days on March 15, 1880, of unknown causes, in Clay County. His remains were placed into rest in the Timber Creek Cemetery, with the words "Farewell" inscribed at the top of the marker.
~ Son Elias D. Younkin ~
Son Elias D. Younkin (1864-1934) was born on Nov. 11, 1864.
As an adult, he made his residence in Oregon circa 1929 when mentioned in a Wakefield newspaper obituary of his brother Aaron. He then moved to Idaho in the city of Boise where he lived in 1934.
He died in Boise at the age of 69 on July 17, 1934. Ron Younkin of Huntington Beach, CA provided family history details about Elias.
~ Son Charles "Albert" Younkin ~
Son Charles "Albert" Younkin (1866-1917) was born on April 26, 1866 in or near Wakefield, Clay County, KS. Whether or not he married or reproduced is clouded by the mists of history.
He spent many years as a miner in the western United States.
Upon becoming seriously ill, he returned to Wakefield and died in his father's home there "of paralysis" at age 50 on March 1, 1917. Following a funeral in his father's home, William's remains were placed at rest in the Timber Creek Cemetery. Sadly, his father died the same year, and both rest under the same grave marker.


Ina Belle and Henry Wiese
~ Daughter Ina Belle (Younkin) Wiese ~
Daughter Ina Belle Younkin (1869-1940) was born on Oct. 6, 1869 near Wakefield, Clay County, KS.
On March 9, 1892, at the age of 22, she married Heinrich Wilhelm "Henry" Wiese (Sept. 1865- ? ), with the ceremony held in Wakefield. Henry was a German immigrant from Hahlen, Westphalia, Germany.
The couple went on to produce five children -- William Henry Wiese, August Howard "Gus" Wiese, Clara Edith Wiese, Ada Caroline Scheel and Delilah Ruth "Lila" Helvey.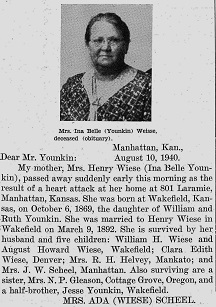 YFNB, September 1940

For many years, the Wieses made their residence on a farm west of Wakefield. The federal census of 1900 shows the family residing on a farm in Gill Township, Clay County, with 37-year-old English immigrant Edward Keen living under their roof and providing farm help.
Henry also made money on the side by dragging and leveling dirt roads for the county. Henry built a new house on the property in May 1905. In late March 1916, Henry and one of his brothers in law motored into Clay Center and "reported the roads in pretty good shape and mostly dragged from their places to Clay Center," reported the Clay Center Times.
In later years the family lived in Manhattan, Riley County, KS. In the 1930s, when Younkin genealogy researchers in Pennsylvania were identifying and classifying the various branches of the clan, Ina Belle was included in the lists with her address noted as 801 Laramie Street in Manhattan.
She died in Manhattan at the age of 70 on Aug. 10, 1940. Her remains were returned to Wakefield for interment in Highland Cemetery. The day of her death, her married daughter Ada Scheel wrote a letter to a distant cousin back in Pennsylvania, Charles Arthur Younkin, who was serving as editor of the Younkin Family News Bulletin and secretary of the Younkin National Home-coming Reunion. In her note, later published in the Sept. 25, 1940 edition of YFNB, she wrote:
My mother, Mrs. Henry Wiese (Ina Belle Younkin), passed away suddenly early this morning as the result of a heart attack at her home at 801 Laramie, Manhattan, Kansas. She was born at Wakefield, Kansas, on Oct. 6, 1869, the daughter of Willilam and Ruth Younkin. She was married to Henry Wiese in Wakefield on March 9, 1892. She is survived by her husband and five children: William H. Wiese and August Howard Wiese, Wakefield; Clara Edith Wiese, Denver, Mrs. R.H. Helvey, Mankato; and Mrs. J.W. Scheel, Manhattan. Also surviving are a sister, Mrs. N.P. Gleason, Cottage Grove, Oregon, and a half brother, Jesse Younkin, Wakefield.
Henry outlived her by nine years. He too died in Manhattan, at age 84, on Oct. 9, 1949.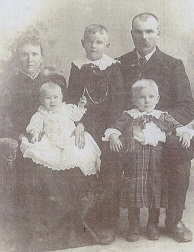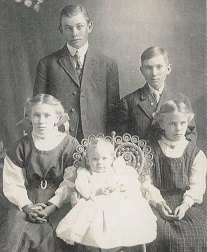 Ina Belle and Henry and the children -- left: William, August and Clara -- right: William, Gus, Clara, Lila, Ada (in birth order)
Son William Henry Wiese ( ? - ? ) was born in April 1893 in Gill, Clay County.
Son August Howard "Gus" Wiese (1895- ? ) was born in September 1895 in Clay County, KS. He assisted his father in dragging and leveling dirt roads in the early 1920s. In November 1921, he married Annie Peach Budden, daughter of S.S. Budden who lived two miles woutheast of Wakefield. It was a double wedding with Annie's sister Ethel May joining in matrimony with Lester C. Babst. Said the Brown County World in nearby Hiawatha, KS: "Both young men are quite well known here and are considered efficient farmers. The ceremony was performed by Rev. E.T. Rice, Methodist minister at Hiawatha in the presence of Mrs. Rice and their daughter, Miss Ruth. The wedding was performed at Hiawatha on account of Mr. Babst being employed at Sabetha, nearby."
Daughter Clara Edith Wiese (1897- ? ) was born in December 1897. Circa 1916, she attended Colorado Woman's College in Denver, and she remained there through the early 1920s.
Daughter Delilah Ruth "Lila" Wiese (1901- ? ) was born in 1901 in Gill Township, Clay County. Circa 1921, she was a teacher in the Milford schools near Wakefield. She was wedded to (?) Helvey ( ? - ? ). Evidence suggests that they spent their married lives in Manhattan, KS, where Lila was president of the Quest Club.
Daughter Ada Caroline Wiese (1908- ? ) was born in about 1908 in Gill Township, Clay County. She was married to J.W. Scheel ( ? - ? ). Circa 1940, the Scheels resided in Manhattan, KS.
~ Son Aaron Younkin ~
Son Aaron Younkin (1872-1929) was born in 1872 along Timber Creek near Wakefield, Clay County, KS, about two miles north of Timber Creek school. He completed grade school at Timber Creek and then studied at a business college for several months in Salina, Saline County, KS.
On April 20, 1910, at the age of 38, he married Florence Edith Gardner (1885-1965). An article in the Clay Center Times reported that the ceremony was held at the home of the bride's parents, L.F.C. Gardner, with Rev. Buckner officiating, and music performed by Lenora Buckner and Mrs. L.A.Kiner. "The groom is one of the wealthy farmers of this vicinity," said the Times, "and has a fine new house ready for his bride. The bride has been a cleerk in Guy's store for several years and has many friends."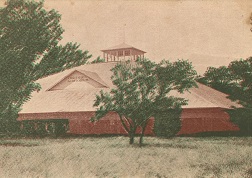 Chautauqua Auditorium, site of a cultural
event held Aug. 7-16, 1908 in Clay Center, KS
They produced five children -- Marion Howard Younkin, Emma Genevieve Clements, William Aaron Younkin, Henry Curtis Younkin and Ruth Evelyn Petet.
Their farm was southeast of Wakefield. He made news in the publication of the Duroc-Jersey Swine Record Association in 1916 when he purchased four boars and five sows from A.S. Grable Jr. of Dearborn, MO. Later in life, said a newspaper, he "attended the church services regularly for a number of years, and accepted Christ as his Lord and personal Savior at a public service [in 1926], after which he was soon baptized. he joined the New Salem church of which he remained a faithful member, and attended the services as long as his health permitted."
During the winter of 1929, he was stricken with influenza and never fully recovered. He succumbed to the illness in addition to heart problems at age 57 on July 21, 1929, when he "fell quietly and peacefully asleep," said a newspaper. His funeral sermon was preached by Rev. David W. Bletscher of the New Salem Church, with burial in the Highland Cemetery in Wakefield. A newspaper reported that "Mrs. and Mrs. Ralph Gardner of Kansas City, Mr. and Mrs. Curtis Gardner of Junction City and Mr. and Mrs. Glen Gardner of Leonardville attended the funeral yesterday of Aaron Younkin. The Gardner boys are brothers-in-law. Mrs. John Beatty of this city is a sister-in-law, and Mrs. Emma Gardner, mother-in-law of the deceased."
Florence survived him by a remarkable 36 years. She relocated to Gardena, Los Angeles County, and died there at age 80 on Dec. 18, 1965.
~ Daughter Effie Ann (Younkin) Knowles Gleason Hall ~
Daughter Effie Ann Younkin (1872-1963) was born on April 6, 1872 (or Dec. 18, 1873) along Timber Creek near Wakefield, Clay County, KS.
She was married thrice but had no children. For three years, she worked in Kansas City.
One of her husbands was (?) Knowles.
Another was N.P. Gleason.
In late October 1905, when she was age 33, Effie married again, to railroader O.W. Hall ( ? - ? ) of Springfield, IL. The ceremony was conducted at the Clay County Courthouse by Judge Loader, with the bride wearing a handsome blue folard suit with hat to match." Noted the Clay Center Times, Effie was "an estimable young lady and has many friends in the vicinity of Wakefield." After spending their first winter in St. Louis, they were expected to make their permanent home in Springfield.
In 1929, her home was in Cottage Grove, OR.
Effie died on Oct. 11, 1963 at the age of 89.
~ Son Jesse A. Younkin ~
Son Jesse A. Younkin (1890-1976) was born on May 23, 1890 near Wakefield, Clay County, KS. He was 27 years younger than his eldest brother.
In 1917, he made his home in Wakefield, and continued to do so through the decades..
On April 18, 1920, when he was 30 years old, he wed Eunice Jones ( ? - ? ). Their only son was William Younkin, who sadly died in infancy.
Jesse died in Wakefield at age 86 on Nov. 11, 1976.
Copyright © 2014-2016 Mark A. Miner
Research for this page graciously shared by the late Donna (Younkin) Logan, Marian (Smith) Posey, Laurel Posey, Loretta (Adams) Kelldorf, Blair E. "Junior" Younkin Jr. and Kay Lynn Younkin.