William Gustin 'Gus' Younkin
(1897-1960)

Gus Younkin

William Gustin "Gus" Younkin was born on May 10, 1897 in Clay Run near Mill Run, Fayette County, PA, the youngest son of William "Dayton" and Lucinda (Harbaugh) Younkin.
He was married to Elizabeth Logan ( ? - ? ).
Gus was raised on the family farm. He stood 6¾ inches tall and weighed 150 lbs., with brown eyes and black hair.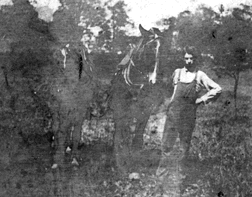 Gus with farm horses

Later, on June 26, 1916, he joined the U.S. Army. He was promoted to sergeant and served in World War I, in the 59th "Mtr Trans Co OMC." While in France, as part of the fifth general offensive from July 14-17, he took part in the advance on the towns of Ourcq and Veale.

He was "severely" wounded by shrapnel on July 30, 1918 and then by a bullet on Sept. 6, 1918. He received his honorable discharge at Camp Dix, NY on May 23, 1919.

His brother Warren also was a soldier in the first world war and was wounded in action in France when gassed by the Germans.

As of 1934, he dwelled on Snyder Street in Connellsville.

Gus is said to have once run a store on Baum Boulevard in the Oakland section of Pittsburgh. A check of Pittsburgh deeds did not reveal his name as the property owner, so he probably was an employed manager.

When Gus was required to register for the military draft at age 44 as World War II loomed, he lived in Connellsville. He declared that he was employed by L.M. McBride in Bradford Woods, a tony and leafy northern suburb of Pittsburgh. The registrar reported that he had "No joint of right index finger" and bore a "scar on right shoulder."

A niece said that Gus later worked for the Office of Special Services (OSS), forerunner to today's Central Intelligence Agency, and that he would "just drop in unannounced." He once promised her that if he ever got back to Australia, he would bring her a kangaroo.

Gus resided in Chicago in 1947 and at Smicksburg, Indiana County, PA at the end of his life. His occupation in 1960 was as a maintenance mechanic in Smicksburg.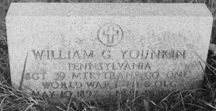 Imel Cemetery

In his final years, Gus was stricken with cancer of the left lower lobe of one lung. The mass then spread to his liver. He was admitted on Nov. 7, 1960 to the Veterans Administration Hospital on University Drive in Pittsburgh.

There, 15 days later, he succumbed to the spectre of death on Nov. 22, 1960, at the age of 65. The remains were transported to the community of his birth, where they were laid to rest at the Imel Cemetery.

The summer after his death, in 1961, Gus's relatives at the annual Harbaugh Reunion paid a moment of respect in his memory.

Copyright © 2001-2002, 2022 Mark A. Miner