Sarah 'Sally' (Younkin) Kreger
(1834-1897)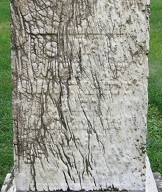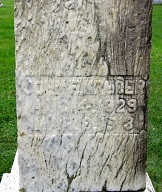 The Kregers' fading and badly rutted graves in Kingwood
Sarah "Sally" (Younkin) Kreger was born in 1832 or 1834 near Kingwood, Turkeyfoot Township, Somerset County, PA, the daughter of "Yankee John" and Nancy (Hartzell) Younkin, She and her husband were pioneer settlers of Kansas.
Even though she was his aunt, Sarah was like a "sister" to her nephew Ephraim Miner, as they grew up together and were only four to five years apart in age.
At the age of 16, in 1850, she lived with her aged father and married sister and brother in law, Susan and Andrew Schrock in in Hexebarger. In fact, some in her family thought her maiden name was "Schrock."
Sally was united in the bonds of holy matrimony with German immigrant John Frederick "Fred" Kreger (Aug. 4, 1829-1913), son of Henry and Elizabeth Kreger.
Born in Hanover, Prussia, Fred and his parents had sailed from Bremen, Germany to America in 1834, when he was five years of age, and settled in the Kingwood area, where they stayed for good.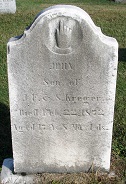 Son John's grave, 1872
A descendant once wrote that Fred's parents "never learned to speak the English language well; the grandchildren, because of their many pranks, received scoldings in German which they couldn't understand."
The couple produced a family of seven children, of whom six are known -- Wilson S. Kregar, John R. Kreger, Josiah Kreger, Edward Kreger,
Caroline Younkin
and Albert Kreger.
Sarah and Fred lived in Kingwood for their entire married lives and were longtime farmers.
He held an account at the John McMillan tannery in Listonville, and entries from the years 1852 to 1868 are recorded in the tannery's business ledger which is preserved today. The entries read as follow:
...a Cip at $9.50, Oct. 17, 1866 – a side of harnace weight 8½, cost $2.65, and Whng leather at 20 cents, Jan. 27, 1849 – a side of Harnace at 9 ¾ lbs., cost $3.04 and a peece of Whang leather at 62 cents, Nov. 24, 1852 – a side of up as per Henry, cost $3.00 and a Qr. SL weight 10¼ lbs, cost $3.20, Sept. 13, 1852 – a Qr. of SL weight 8¼ lbs. at 45, cost $3.71, April 21, 1866 – a side of up at 6½ cents at 65, $4.22, Aug 23, 1866 – 20 feet oak boards at $1.25, cost $2.50, Nov. 20, 1866 – a peece of Harnace pr. George at $2.00, Dec. 12, 1866 – a Cip pr George at $5.50, June 29, 1867 – a Carridge at $652.00, cost $55.00, March 15, 1868 – a peace of Leather for straps pr. Fread, cost $1.00, Aug. 17, 1868 – 2 Whangs, cost 60 cents, 2 plank for watter wheel, cost $1.00, 2 loads cole 30 bushels at 8 cents, cost $2.40 and a silke + cradle, cost $1.50.
Fred is among a number of Younkin cousins mentioned by name as founding members of the Old Bethel Church of God in Hexebarger near Kingwood. In a history of the church penned in the 1880s or early 1890s, Harrison Grant King wrote that as a result of preaching, tent-meetings and evangelism by visiting preachers, a Christian spiritual interest "sprang up with the result that a Church of God was organized, with Fred Dull, Jonathan Dumbauld, wife and daughter Susan and son George, Fred Kreger and wife, William Spencer, James King, Christopher King and wife Rachael, Josiah Gross, William Younkin, Rebeca King and Sarah King, with perhaps a few others, constituted the charter members of the first Church of God in Somerset Co."
Circa 1876, their home farm was near the Old Bethel Church and Cemetery in Hexebarger, to the south and west of Kingwood. Sarah's sister and brother in law Polly and Henry Minerd had once owned the 123-acre farm in the 1840s and early '50s, which in turn had been inherited from Jacob and Catherine (Younkin) Minerd Jr.

The Kregers named the 1906 History of Bedford and Somerset Counties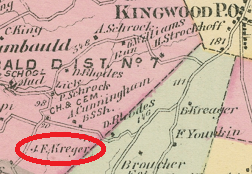 Kreger farm. 1876 Atlas of Somerset County
Sadly, the Kregers' son John died as 17-year-old on Feb. 22, 1872, with burial in the Old Bethel Cemetery in Hexebarger. The cause of the teenager's untimely passing is unknown. His grave marker is upright and legible today.
The nation's census record for the year 1880 shows the Kreger family in Upper Turkeyfoot Township. The 50-year-old Fred labored as a farmer, assisted by their 14-year-old son Albert. Son Edward, age 21, was marked as a laborer.
Sarah died on March 22, 1897, at the age of 64. No obituary has been located in the Somerset Herald or the Meyersdale (PA) Commercial in Somerset County.
The following text was inscribed on her grave marker in the Kingwood Church of God Cemetery, a tall shaft with a sphere at the very top: "Green be the turf above thee, Friend of our better days. None knew thee but to love thee, None named thee but to praise."
Fred survived his wife by a baker's dozen years.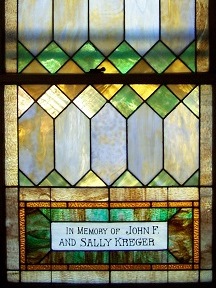 Kingwood Church of God. Linda Marker
When the United States Census was taken in 1900, the widowed, 70-year-old Fred boarded in the home of his double cousins, woodchopper Frederick Albert and Alice Jane (Younkin) Ream in Kingwood. The census-taker noted that our Fred was employed as a "Supervisor (on roads)." Frederick A. was the son of Albert and Barbara Ellen (Dull) Ream, of the family of George and Christina (Younkin) Dull Sr., and Alice Jane was the daughter of William "Henry" and Rachel (McClintock) Younkin.
Fred moved into his own home during the first decade of the 1900s. Circa 1910, the federal census enumeration shows him heading his own household in Upper Turkeyfoot, located beside the residences of Frederick E. and Cora Trimpey and William and Mary Romesburg.
Fred was afflicted for many years with nephritis (kidney inflammation) leading to an infection of "auto toxemia" which spread poisonous wastes throughout his body.
He passed away on May 8, 1913, at the age of 83. He was laid to rest beside his wife. Mrs. Thomas Williams of Markleton, PA gave information for his certificate of death. No obituary has been found in the Meyersdale Republican.
Circa 1920, the family's longtime church was renovated, including a two-story addition and a vestibule with a bell tower. New stained glass windows were installed, and the family made a donation to dedicate one of the windows in their parents' memory.
The Kregers are mentioned in a section about "The Henry Kreger Family" in the book 1980 book, 'Mongst the Hills of Somerset, published by the Historical and Genealogical Society of Somerset County.
The couple also is named in an entry about their son Edward and his wife Susan in the 1912 book Descendants of Jacob Hochstetler, the Immigrant of 1736, edited by Rev. Harvey Hostetler, D.D., and produced by the Brethren Publishing House of Elgin, IL.

Younkin researchers clean dirt and organic matter from Sarah and Fred's marker, August 2013, Kingwood Church of God Cemetery
~ Son Wilson S. Kregar ~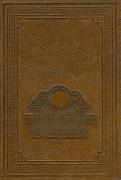 'Mongst the Hills of Somerset, 1980
Son Wilson S. Kregar (1853-1895) was born on Oct. 22, 1853 in Kingwood.
On Oct. 5, 1874, when he was age 21, Wilson married a cousin, 20-year-old Louisa Dumbauld (1854-1901), daughter of Jonathan Cable and Elizabeth (Dull) Dumbauld and granddaughter of George and Christina (Younkin) Dull. They labored as farmers in and around Kingwood until March 1878, when the family migrated to Wakefield, Republican Township, Clay County, KS. Upon arrival, they purchased a farm from a man named Hanna, about one-half mile south of Wakefield.
The couple had 10 known children -- W. Harvey Kreger, George Kreger and Sarah Elizabeth Myers -- the first three born in Pennsylvania -- and Anna Kreger, Marcellus Kreger, Leroy Kreger, Pete Kreger, Edith Kreger, Susan "Susie" Kreger and Corda Kreger.
Wilson was a prominent farmer and stock dealer.
In about 1893, at age 39, he became seriously ill with a cancerous tumor. His family physician recommended that he obtain treatment by specialists, so he underwent surgery in St. Joseph Hospital in Kansas City. He returned home weakened but optimistic that the doctors had removed the growth. But in the spring of 1895, the cancer re-emerged, he again was examined at the Kansas City hospital, and was told that there was no cure. He passed away in Wakefield on May 18, 1895 at the untimely age of 41. Reported the Clay Center Times in an obituary:
He was brought home and he resigned himself with patience and fortitude to await the summons of the maker. Last Saturday afternoon the call came and found him ready, and our old friend Wils (as he was familiarly called) passed over the Valley of Death. Mr. Kregar, as a father, has been known for his extreme solicitude for the proper training and well-being of his children and his generous rewards for good conduct on the part of the older boys and girls, and his kind encouragement in well doing has become proverbial. As a business man generally and as a buyer and shipper of stock he has been known for integrity and fair dealing. This community has sustained a loss in a business point of view which may never be recovered.
Rev. S.D. Vincent of the Methodist Episcopal Church preached the funeral sermon, with burial following in Highland Cemetery. Hundreds attended the funeral "from all points." Assisting were lodge friends from the Odd Fellows and Modern Woodmen of America from Junction City, Industry, Broughton and Clay Center.
Sadly, Louisa only survived him by six years. She also died in Wakefield, at the age of 47, on April 27, 1901. She is interred in Highland Cemetery. [Find-a-Grave]
Son W. Harvey Kreger (1874-1942) was born on March 16, 1874 in or near Kingwood. He died on March 3, 1942.
Son George Kreger (1876-1961) was born in 1876 in or near Kingwood.
Daughter Sarah Elizabeth Kreger (1878-1930) was born in 1878 in or near Kingwood.
Daughter Anna Kreger ( ? - ? ) was born most likely in the early 1880s in Clay County, KS. She may be the same Anna Kreger who, in 1908-1909, moved to her parents' old home community in Somerset County, where he was employed for a year in the Markleton Sanatarium. An article in the Clay Center Times reported in March 1909 that she had returned to Wakefield and was preparing to spend the summer in Colorado.
Son Leroy Kreger (1886-1969) was born in 1886. Circa 1919, he spent six months in Norton, KS (?) before returning to Wakefield.
Daughter Edith Kreger (1890-1958) was born in 1890. Circa 1918, she dwelled in Junction City.
Daughter Corda Kreger ( ? - ? ) graduated from high school in Clay Center in May 1904. Having held the highest score in her final examinations, she was offered a one-year scholarship to either Baker University or Campbell University, as reported in the Clay Center Times. In July 1913, she left Wakefield and traveled to Los Angeles where she intended to remain indefinitely.
Daughter Susan K. "Susie" Kreger (1894-1979) was born in 1894. She was only 11 months old when her father died.

Clay Center, Kansas
~ Son Edward Kreger ~
Son Edward Kreger (1859-1931) was born in June 1859 in Kingwood. As an adult, his name also was spelled as "Kregar."
At the age of 21, on Dec. 15, 1880, he wed 18-year-old Susan Hostetler (1862-1941), daughter of Joseph and Rebecca (Cunningham) Hostetler of Kingwood. Justice of the peace Jacob Gerhard performed the nuptials. Showing the closeness of the Kreger and Younkin clans, Edward's cousin Minnie Moon (daughter of Andrew and Harriet [Younkin] Moon) married Susan's brother John A. Hostetler.
They were members of the Church of God at Kingwood. In about 1886, the Kregers decided to try their luck in Kansas, and so migrated there, remaining for a period of time. A son was born in Kansas, in October 1886, but they returned home to Somerset County by the winter of 1889.
Their residence was in Rockwood circa 1918.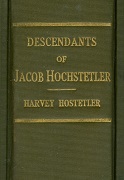 Descendants of Jacob Hochstetler book
The couple produced at least eight children -- Lloyd Kreger, Clara Gilmore, Milton Kreger, Frank Kreger, Sarah E. "Dott" Kreger, Harry Kreger, Lawrence Kreger and Blanche Caddean Parks -- born between 1881 and 1898. All were born in Pennsylvania with the exception of son Frank who came into the world in Kansas.
Suffering from chronic kidney disease and an enlarged prostate, Edward was admitted to St. Francis Hospital in Pittsburgh. There, he died just a week before his 73rd birthday, on June 11, 1931. Burial was in the Rockwood IOOF Cemetery.
Susan outlived her spouse by a decade. She joined him in death in 1941.
Edward and wife Susan are featured in an entry in the 1912 book Descendants of Jacob Hochstetler, the Immigrant of 1736, edited by Rev. Harvey Hostetler, D.D., and produced by the Brethren Publishing House of Elgin, IL.
As well, Edward and his parents were chronicled circa 1934 in typed genealogy notes of Otto Roosevelt "Pete" Younkin, who was president of the Younkin National Home-coming Reunion held in Kingwood, Somerset County.
Son Lloyd Kreger (1880- ? ) was born on Feb. 12, 1880 in Somerset County.
Daughter Clara Eleanor Kreger (1882- ? ) was born in July 12, 1882 in Somerset County. On Nov. 4, 1911, in Fayette County, PA, the 29-year-old Clara married 43-year-old widower Robert W. Gilmore (1868- ? ), son of James S. and Margaret J. Gilmore. They were joined in matrimony on Pittsburgh's North Side by Rev. Frank M. Silskey. At the time, she was a stenographer residing in Uniontown, Fayette County, and he was a coke manufacturer living in Dunbar, Fayette County. Robert's first wife had died four years earlier, on Nov. 2, 1907.
Son Milton D. Kreger (1884-1949) was born on July 2, 1884 in Somerset County. He never married. In about 1911, he fathered a son with his cousin Anna "Annie" Clevenger (March 12, 1885-1917), daughter of Benjamin Franklin "Badger" and Emily J. "Emma" (Younkin) Clevenger. See the Clevenger biography for more.
Son Frank E. Kreger (1886- ? ) was born on Oct. 6, 1886 in Kansas but moved to Somerset County as a young boy. Frank was a farmer. On Nov. 28, 1908, when both husband wife were age 22, he married Mary S. May (1886- ? ), daughter of Levi and Jane May of near Kingwood. Rev. G.A. Sparks performed the nuptials at the United Brethren Church parsonage in Connellsville, Fayette County.
Daughter Sarah E. Dott "Sallie"Kreger (1892- ? )was born on June 21, 1892 in Somerset County.
Son Harry H. Kreger (1892- ? ) was born on Feb. 11, 1889. At the age of 22, on Aug. 5, 1911, at Somerset, he wed 17-year-old Edith Faidley, daughter of Simon and Nancie Faidley of near Kingwood. Because she was underage, Nancie's parents both had to provide their consent to the union. The ceremony was held in New Lexington, Somerset County, and officiated by justice of the peace H.D. Moore. They were farmers.
Son Lawrence Kreger (1895- ? ) was born in June 11, 1895 in Somerset County. In 1931, living in Rockwood, he signed his father's official Pennsylvania certificate of death.
Daughter Blanche Caddean Kreger (1898- ? ) was born on March 1, 1898 in Somerset County. She was joined in matrimony with Edward Clifford Parks (1894- ? ), son of George and Annie (Coulter) Parks, on June 17, 1918. At the time, she was age 20 and living in Rockwood, and he was 24 and residing in Havre de Grace, MD, employed as an assistant supervisor with the Baltimore and Ohio Railroad. Rev. J.M. Feightner led the ceremony held at the United Brethren Church parsonage in Somerset.
Copyright © 2013-2018
Research for this page graciously shared by the late Velda (Gingrich) Stitt, the late Olive (Rowan) Duff, the late Donna (Younkin) Logan and Linda Marker.