Home

Sarah 'Sally' (Younkin) Kreger
(1834-1897)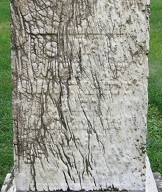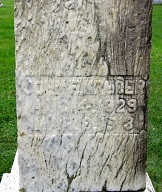 The Kregers' fading and badly rutted graves in Kingwood
Sarah "Sally" (Younkin) Kreger was born in 1832 or 1834 near Kingwood, Turkeyfoot Township, Somerset County, PA, the daughter of "Yankee John" and Nancy (Hartzell) Younkin, She and her husband were pioneer settlers of Kansas.
Even though she was his aunt, Sarah was like a "sister" to Ephraim Miner, as they grew up together and were close in age. At age 16, in 1850, she lived with her aged father and married sister and brother in law, Susan and Andrew Schrock in in Hexebarger. In fact, some in her family thought her maiden name was "Schrock."
She married German immigrant John Frederick "Fred" Kreger (1829-1913), son of Henry and Elizabeth Kreger.
Born on Aug. 4, 1829,in Hanover, Fred and his parents had sailed from Bremen, Germany to America in 1834, when he was five years of age, and settled in the Kingwood area.
A descendant once wrote that Fred's parents "never learned to speak the English language well; the grandchildren, because of their many pranks, received scoldings in German which they couldn't understand."
The couple produced seven children -- Wilson S. Kregar, John R. Kreger, Josiah Kreger, Edward Kreger, Caroline Younkin, Albert Kreger and one unknown.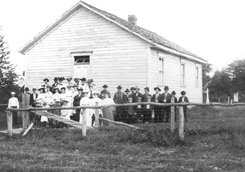 Old Bethel Church, Hexebarger - enlarge
Sarah and Fred lived in Kingwood for their entire married lives and were farmers.
Fred is among a number of Younkin cousins mentioned by name as founding members of the Old Bethel Church of God in Hexebarger near Kingwood. In a history of the church penned in the 1880s or early 1890s, Harrison Grant King wrote that as a result of preaching, tent-meetings and evangelism by visiting preachers, a Christian spiritual interest "sprang up with the result that a Church of God was organized, with Fred Dull, Jonathan Dumbauld, wife and daughter Susan and son George, Fred Kreger and wife, William Spencer, James King, Christopher King and wife Rachael, Josiah Gross, William Younkin, Rebeca King and Sarah King, with perhaps a few others, constituted the charter members of the first Church of God in Somerset Co."
Circa 1876, their home farm was near the Old Bethel Church and Cemetery in Hexebarger, to the south and west of Kingwood. Sarah's sister and brother in law Polly and Henry Minerd had once owned the 123-acre farm in the 1840s and early '50s, which in turn had been inherited from Jacob and Catherine (Younkin) Minerd Jr.
Sadly, the Kregers' son John died as 17-year-old on Feb. 22, 1872, with burial in the Old Bethel Cemetery in Hexebarger. The cause of his untimely passing is unknown. His grave marker is upright and legible today.
Sarah died on March 22, 1897, at the age of 64. No obituary has been located in the Somerset Herald or the Meyersdale (PA) Commercial in Somerset County.

The Kregers named the 1906 History of Bedford and Somerset Counties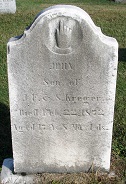 Son John's grave, 1872
The following text was inscribed on her grave marker in the Kingwood Church of God Cemetery, a tall shaft with a sphere at the very top: "Green be the turf above thee, Friend of our better days. None knew thee but to love thee, None named thee but to praise."
When the federal census was taken in 1900, the widowed, 70-year-old Fred boarded in the home of woodchopper Fred A. and Alice Ream in Kingwood. The census-taker noted that our Fred was employed as a "Supervisor (on roads)."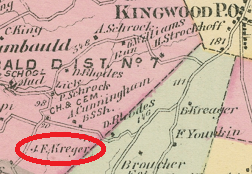 Kreger farm in Kingwood, formerly Henry
Minerd's, 1876 Atlas of Somerset County
Again in 1910, the federal census enumeration shows Fred heading his own household in Upper Turkeyfoot, beside the residences of Frederick E. and Cora Trimpey and William and Mary Romesburg.
Fred was afflicted for many years with nephritis (kidney inflammation) and auto toxemia which spread poison wastes through his body.
He passed away on May 8, 1913, at the age of 83. He was laid to rest beside his wife. Mrs. Thomas Williams of Markleton, PA gave information for his certificate of death. No obituary has been found in the Meyersdale Republican.
They are mentioned in a section about "The Henry Kreger Family" in the book 1980 book, 'Mongst the Hills of Somerset, published by the Historical and Genealogical Society of Somerset County.
The couple also is named in an entry about their son Edward and his wife Susan in the 1912 book Descendants of Jacob Hochstetler, the Immigrant of 1736, edited by Rev. Harvey Hostetler, D.D., and produced by the Brethren Publishing House of Elgin, IL.

Younkin researchers clean dirt and organic matter from Sarah and Fred's marker, August 2013, Kingwood Church of God Cemetery
~ Son Wilson S. Kregar ~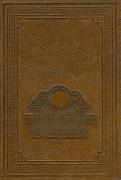 'Mongst the Hills of Somerset, 1980
Son Wilson S. Kregar (1853-1895) was born on Oct. 22, 1853 in Kingwood.
On Oct. 5, 1874, when he was age 21, Wilson married a cousin, 20-year-old Louisa Dumbauld (1854-1901), daughter of Jonathan Cable and Elizabeth (Dull) Dumbauld and granddaughter of George and Christina (Younkin) Dull. They labored as farmers in and around Kingwood until March 1878, when the family migrated to Wakefield, Republican Township, Clay County, KS. Upon arrival, they purchased a farm from a man named Hanna, about one-half mile south of Wakefield.
The couple had 10 known children -- W. Harvey Kreger, George Kreger and Sarah Elizabeth Myers -- the first three born in Pennsylvania -- and Anna Kreger, Marcellus Kreger, Leroy Kreger, Pete Kreger, Edith Kreger, Susan "Susie" Kreger and Corda Kreger.
Wilson was a prominent farmer and stock dealer.
In about 1893, at age 39, he became seriously ill with a cancerous tumor. His family physician recommended that he obtain treatment by specialists, so he underwent surgery in St. Joseph Hospital in Kansas City. He returned home weakened but optimistic that the doctors had removed the growth. But in the spring of 1895, the cancer re-emerged, he again was examined at the Kansas City hospital, and was told that there was no cure. He passed away in Wakefield on May 18, 1895 at the untimely age of 41. Reported the Clay Center Times in an obituary:
He was brought home and he resigned himself with patience and fortitude to await the summons of the maker. Last Saturday afternoon the call came and found him ready, and our old friend Wils (as he was familiarly called) passed over the Valley of Death. Mr. Kregar, as a father, has been known for his extreme solicitude for the proper training and well-being of his children and his generous rewards for good conduct on the part of the older boys and girls, and his kind encouragement in well doing has become proverbial. As a business man generally and as a buyer and shipper of stock he has been known for integrity and fair dealing. This community has sustained a loss in a business point of view which may never be recovered.
Rev. S.D. Vincent of the Methodist Episcopal Church preached the funeral sermon, with burial following in Highland Cemetery. Hundreds attended the funeral "from all points." Assisting were lodge friends from the Odd Fellows and Modern Woodmen of America from Junction City, Industry, Broughton and Clay Center.
Sadly, Louisa only survived him by six years. She also died in Wakefield, at the age of 47, on April 27, 1901. She is interred in Highland Cemetery. [Find-a-Grave]
Son W. Harvey Kreger (1874-1942) was born on March 16, 1874 in or near Kingwood. He died on March 3, 1942.
Son George Kreger (1876-1961) was born in 1876 in or near Kingwood.
Daughter Sarah Elizabeth Kreger (1878-1930) was born in 1878 in or near Kingwood.
Daughter Anna Kreger ( ? - ? ) was born most likely in the early 1880s in Clay County, KS. She may be the same Anna Kreger who, in 1908-1909, moved to her parents' old home community in Somerset County, where he was employed for a year in the Markleton Sanatarium. An article in the Clay Center Times reported in March 1909 that she had returned to Wakefield and was preparing to spend the summer in Colorado.
Son Leroy Kreger (1886-1969) was born in 1886. Circa 1919, he spent six months in Norton, KS (?) before returning to Wakefield.
Daughter Edith Kreger (1890-1958) was born in 1890. Circa 1918, she dwelled in Junction City.
Daughter Corda Kreger ( ? - ? ) graduated from high school in Clay Center in May 1904. Having held the highest score in her final examinations, she was offered a one-year scholarship to either Baker University or Campbell University, as reported in the Clay Center Times. In July 1913, she left Wakefield and traveled to Los Angeles where she intended to remain indefinitely.
Daughter Susan K. "Susie" Kreger (1894-1979) was born in 1894. She was only 11 months old when her father died.

Clay Center, Kansas
~ Son Edward Kreger ~
Son Edward Kreger (1859-1931) was born in June 1859 in Kingwood. As an adult, his name also was spelled as "Kregar."
At the age of 21, on Dec. 15, 1880, he wed 18-year-old Susan Hostetler (1862-1941), daughter of Joseph and Rebecca (Cunningham) Hostetler of Kingwood. Justice of the peace Jacob Gerhard performed the nuptials. Showing the closeness of the Kreger and Younkin clans, Edward's cousin Minnie Moon (daughter of Andrew and Harriet [Younkin] Moon) married Susan's brother John A. Hostetler.
They were members of the Church of God at Kingwood. In about 1886, the Kregers decided to try their luck in Kansas, and so went there for a period of time. A son was born there, in October 1886, but they returned home to Somerset County by the winter of 1889.
Their residence was in Rockwood circa 1918.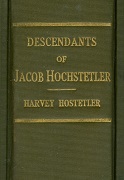 Descendants of Jacob Hochstetler book
The couple produced at least eight children -- Lloyd Kreger, Clara Gilmore, Milton Kreger, Frank Kreger, Sarah E. "Dott" Kreger, Harry Kreger, Lawrence Kreger and Blanche Caddean Parks -- born between 1881 and 1898. All were born in Pennsylvania with the exception of son Frank who came into the world in Kansas.
Suffering from chronic kidney disease and an enlarged prostate, Edward was admitted to St. Francis Hospital in Pittsburgh. There, he died just a week before his 73rd birthday, on June 11, 1931. Burial was in the Rockwood IOOF Cemetery.
Susan outlived her spouse by a decade. She joined him in death in 1941.
Edward and wife Susan are featured in an entry in the 1912 book Descendants of Jacob Hochstetler, the Immigrant of 1736, edited by Rev. Harvey Hostetler, D.D., and produced by the Brethren Publishing House of Elgin, IL.
As well, Edward and his parents were chronicled circa 1934 in typed genealogy notes of Otto Roosevelt "Pete" Younkin, who was president of the Younkin National Home-coming Reunion held in Kingwood, Somerset County.
Son Lloyd Kreger (1880- ? ) was born on Feb. 12, 1880 in Somerset County.
Daughter Clara Eleanor Kreger (1882- ? ) was born in July 12, 1882 in Somerset County. On Nov. 4, 1911, in Fayette County, PA, the 29-year-old Clara married 43-year-old widower Robert W. Gilmore (1868- ? ), son of James S. and Margaret J. Gilmore. They were joined in matrimony on Pittsburgh's North Side by Rev. Frank M. Silskey. At the time, she was a stenographer residing in Uniontown, Fayette County, and he was a coke manufacturer living in Dunbar, Fayette County. Robert's first wife had died four years earlier, on Nov. 2, 1907.
Son Milton D. Kreger (1884-1949) was born on July 2, 1884 in Somerset County. He never married. In about 1911, he fathered a son with his cousin Anna "Annie" Clevenger (March 12, 1885-1917), daughter of Benjamin Franklin "Badger" and Emily J. "Emma" (Younkin) Clevenger of the family of Frederick J. Younkin. See the Clevenger biography for more.
Son Frank E. Kreger (1886- ? ) was born on Oct. 6, 1886 in Kansas but moved to Somerset County as a young boy. Frank was a farmer. On Nov. 28, 1908, when both husband wife were age 22, he married Mary S. May (1886- ? ), daughter of Levi and Jane May of near Kingwood. Rev. G.A. Sparks performed the nuptials at the United Brethren Church parsonage in Connellsville, Fayette County.
Daughter Sarah E. Dott "Sallie"Kreger (1892- ? )was born on June 21, 1892 in Somerset County.
Son Harry H. Kreger (1892- ? ) was born on Feb. 11, 1889. At the age of 22, on Aug. 5, 1911, at Somerset, he wed 17-year-old Edith Faidley, daughter of Simon and Nancie Faidley of near Kingwood. Because she was underage, Nancie's parents both had to provide their consent to the union. The ceremony was held in New Lexington, Somerset County, and officiated by justice of the peace H.D. Moore. They were farmers.
Son Lawrence Kreger (1895- ? ) was born in June 11, 1895 in Somerset County. In 1931, living in Rockwood, he signed his father's official Pennsylvania certificate of death.
Daughter Blanche Caddean Kreger (1898- ? ) was born on March 1, 1898 in Somerset County. She was joined in matrimony with Edward Clifford Parks (1894- ? ), son of George and Annie (Coulter) Parks, on June 17, 1918. At the time, she was age 20 and living in Rockwood, and he was 24 and residing in Havre de Grace, MD, employed as an assistant supervisor with the Baltimore and Ohio Railroad. Rev. J.M. Feightner led the ceremony held at the United Brethren Church parsonage in Somerset.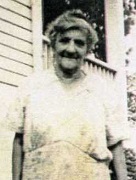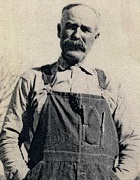 Caroline and Nessly Younkin
~ Daughter Caroline (Kreger) Younkin ~
Daughter Caroline Kreger (1862-1945) was born on March 7, 1862, in Kingwood.
She wed a cousin, Nestor "Nessly" Younkin (1856-1925), son of Civil War veteran Frederick J. Younkin and his wife Delilah (Faidley) Younkin. The ceremony was held at Delilah's home on March 5, 1883, with justice of the peace G.W. Anderson officiating. The news was published in the Somerset Herald.
Caroline and Nessly's children were Effie Florence Gaston, John Frederick Younkin, Goldie Ethel Gingrich, H. Edward Younkin, Millie Elizabeth Fleming, Joseph C. "Joe" Younkin, Ivy May Adams and Theodore Roosevelt Younkin.
The Younkins were members of the Kingwood Church of God.
As with many of their Kreger and Younkin kin, the Younkins decided to relocate to Kansas immediately following marriage. They made the trip in about 1883, and their daughter Effie was born there in November 1883. They remained in Kansas for several years, with children Effie, John and Edward born in the Sunflower State. But for reasons not yet known, they migrated back to Pennsylvania by 1890 or '91, where children Millie (1891) and Joseph (1892) were born.

Caroline's obituary, 1944
Under the name "Nestor Younkin," Nessly wrote the following letter which was printed in the Somerset Herald on Dec. 18, 1895:
I left my home in Upper Turkeyfoot township on October 5th, with a railroad ticket reading to Wakefield, Clay county, Kan., via Kansas City; arrived at my destination three days later without anything having occurred to mar the pleasure of the trip. Wakefield is a town of about 600 inhabitants, located a few miles from Clay Centre, the county seat of Clay county. They surrounding community is largely made up of Somerset county people, who were among the original settlers. Moses Younkin, who was murdered a few years since at Seattle, was the first white settler in this county, he having emigrated thither in the early fifties, and whose only neighbors were the half-civilized Indians of the plains. He was followed by other Somerset countians, among whom were the following: William, a brother of Moses Younkin; D.H. Meyers and his three brothers, John, H.H., and Uriah; John P. King, Stephen D. Hartzell and others. In later years Henry Younkin, then an old citizen of Addison township, bought a fine farm here and moved his family upon it, and like all Somerset county people here, prospered. He died a few years ago and his venerable wife, now eighty-eight years of age and in the enjoyment of good health, resides with her son –in-law – D.H. Meyers – at Clay Centre.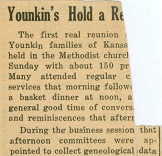 Younkin Reunion news story, Wakefield, Kansas, 1930s
The Younkins spent the rest of their lives in Wakefield. Said the Clay Center Dispatch, "Mrs. Younkin was one of the pioneer mothers who knew the hardships of frontier life. She worked hard for her family and had many friends.... [She] represented one of the prominent pioneer families of Clay county, who are fast passing on to their eternal reward." Caroline was a charter member of the Royal Neighbors.
Nessly passed away in Wakefield on July 7, 1925, at the age of 68.
Caroline outlived her husband by almost two decades, and made her home with her son Edward in Wakefield. In the mid-1930s, she attended what was billed as the "first real reunion of the Younkin families in Kansas," held at the Wakefield Methodist Church with about 150 attendees. Said a local newspaper, "Although all ages were represented at Sunday's gathering, from the cradle up, Mrs. Nesley Younkin appeared to be the oldest, at 75; or at least she was willing to admit her age, though there were others near that mark."
She suffered a stroke in the winter of 1944 and died a year later, on Feb. 13, 1945 at the age of 82. Her last words, said the Dispatch, "were of her religious faith in Jesus."
At her death, she was survived by 17 grandchildren and six great-grandchildren. Funeral services were held in the Wakefield Methodist Church, led by Rev. Benjamin White. Music was performed by Richard Heikes, Onne Faulkner, Eldon and Duane Todd, Louise Davidson and pianist Mrs. C.W. Rankin.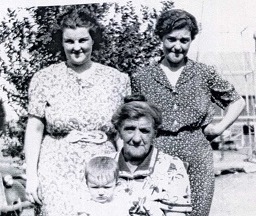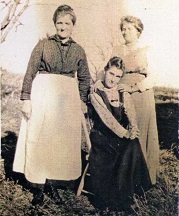 Above, left: 4 generations -- Caroline holding Barbara Morrison with Adena Morrison and Millie Fleming behind. Above right: Caroline with presumed daughters. Below: their graves in Wakefield, Kansas

Daughter Effie Florence Younkin (1883-1911) was born in November 1883 in Kansas. She married Edward Gaston (1883-1969). The couple produced one daughter, Edra M. Luter. The Grim Reaper cut her away on Nov. 11, 1911, at the age of 28. Her remains were lowered into the earth in Highland Cemetery in Wakefield, Clay County. [Find-a-Grave] Edgar survived his wife by an astonishing 58 years. He succumbed in 1969.
Son John Frederick Younkin (1886-1939) was born on July 7, 1886 in Kansas. As a young adult, he obtained employment with Alexander Lumber Company. In Feb. 10, 1909, when he was 22 years of age, he wed Mary E. Billingham (Oct. 2, 1889-1962), daughter of Walter G. and Sarah P. (Johnson) Billingham of Wakefield. The ceremony was held in the office of Clay County Probate Judge Otis, with Mary wearing a brown traveling suit. They took a short honeymoon trip to Formosa. Reported the Clay Center Times, "By this marriage two of Wakefield's excellent young people join hands for life's battle and their many friends wish them a life of joy and happiness." Their three sons were Lawrence Walter Younkin, Allen Dale Younkin and Russell John Younkin. John operated a produce business in Wakefield circa 1930 and later a cream station and cafe. He died on March 23, 1939. Burial was in Highland Cemetery in Wakefield, Clay County. [Find-a-Grave] Mary outlived her husband by 23 years. She passed away on April 2 or 15, 1962. The Younkins are named in the article "Pioneers of the Bluestem Prairie," published in 1976 and 1991 by the Riley County Genealogical Society in Manhattan, KS, and later reprinted in the January-February-March edition of the Younkin Family News Bulletin.
Grandson

Lawrence Walter Younkin

(1909- ? ) was born in 1909. He married Marion Riordan ( ? - ? ).
Grandson

Allen Dale Younkin

(1912-1964) was born in 1912. He died on Oct. 12, 1964.
Grandson

Russell John Younkin

(1915- ? ) was born in 1915. He wedded Ethlyn Clair Lofton (1924- ? ). They produced two sons -- John Michael "Mike" Younkin and James Russell Younkin.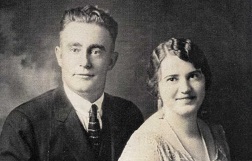 Edward and Naomi Younkin, in better times
Son H. Edward "Edd" Younkin (1887-1959), also known as "Edwin," was born on Nov. 14, 1887 in Kansas. As an infant, he moved to his parents' home region of Somerset County, PA, but then returned to Kansas after a few years. At the age of 34, on Aug. 7, 1923, Edward was united in holy matrimony with Naomi Crane ( ? - ? ). The nuptials took place in Denver, CO. Annuoncements of the marriage were sent to family and friends in Wakefield. In reporting on the wedding, the Clay Center (KS) Times said that "The groom is a son of Mr. and Mrs. Nessley Younkin of Wakefield and has always lived in this community, where he is well and favorably known. The bride is a stranger to Wakefield people. They will probably live in Wakefield." Sadly, the Younkins' marriage endured for only "a short time," according to family notes. The U.S. Census of 1930 lists the 41-year-old Edward as living in his mother's home in Wakefield, with his brother Joseph, working as a railroad section hand and marked as "divorced." Circa 1940, when the federal census enumeration was made, he was marked "single" and lived with his mother and supported them through his work as a section hand with the Union Pacific Railroad Company. Tragically, he died from a self-inflicted gunshot wound in 1959. His remains were lowered into eternal repose in Highland Cemetery in Wakefield, Clay County.
Daughter Mildred Elizabeth "Millie" Younkin (1891-1970) was born on March 23, 1891 in Kingwood, Somerset County, PA after her parents had returned from Kansas. But as a young girl, she and her family moved back to Kansas and settled in Republican Township, Clay County. On Dec. 10, 1913, in Junction City, at the age of 22, Mildred married 27-year-old Warren Robert Fleming (June 8, 1886-1964), also a native of Pennsylvania. They were the parents of three offspring, Adena Lee Morrison, Thomas Nesley Fleming and Mary Louise "Lou" Fleming. Circa December 1916, the Flemings dwelled in Abilene, KS, and Mildred made news in the gossip columns of the Junction City Weekly Union when she came home to visit her parents. When the U.S. Census was enumerated in 1920, the Flemings made their residence on North Gordy Street in Eldorado, Butler County, KS. There, Warren earned a living as a carpenter in the house construction trade. Warren died on Nov. 15, 1964. Interment was in Wakefield. Mildred survived her spouse by six years. She passed away in Wichita, Sedgwick County, KS on Oct. 22, 1970. Her remains were returned to Wakefield to repose beside her husband's.
Granddaughter Adena Lee Fleming (1917-1995) was born on Oct. 27, 1917 in Abilene, KS. News of her birth was published in the gossip columns of the Clay Center (KS) Times. On Oct. 25, 1936, when she was two days shy of her 19th birthday, Adena married James Blaine Morrison Jr. (Jan. 27, 1914- ? ). Their five children were Barbara Sue Morrison, James Thomas Morrison, Mary Lee Ellender, Richard Craig Morrison and Robert Greg Morrison. Sadly, Adena passed away in 1995. Their daughter Mary has attended our Younkin Reunion in Somerset County, PA.
Grandson Thomas Nesley Fleming (1920-1975) was born in about 1920 in Eldorado, Butler County, KS. He passed away in 1975.
Granddaughter Mary Louise "Lou" Fleming (1921-2004) was born in 1921. She succumbed in 2002.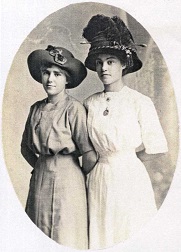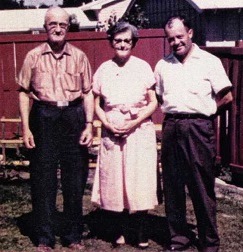 Left: sisters Goldie Gingrich and Millie Fleming (right). Right: Millie and Warren Fleming with son Thomas.
Son Joseph C. "Joe" Younkin (1894-1966) was born on Aug. 2, 1894 in Kingwood, Somerset County, PA. As a very young boy, he and his parents and siblings left Somerset County and the hills of southwestern Pennsylvania for a new home on the flat prairie of Kansas. Joseph thus grew up in and around Wakefield, Clay County, KS. He was a soldier in World War I, serving as a sergeant at base hospital 119. After the war's end, he returned to Wakefield where he appears to have spent most if not all of the remainder of his long life. For reasons not known, he and his brother Edward were unable to attend a family reunion at the home of his parents in September 1923, although they were named in a related story in the Clay Center (KS) Times. Single in 1930 at the age of 36, he dwelled with his widowed mother and divorced brother Edward in Wakefield, and earned a living performing labor for odd jobs. He died on April 16, 1966, at the age of about 72, and rests in Section 35, Grave 3518 in Arlington National Cemetery, one of a very few cousins to have received that singular honor.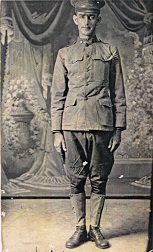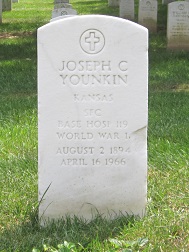 Joseph Younkin, World War I -- and his grave in Arlington National Cemetery

Goldie Gingrich
Daughter Goldie Ethel Younkin (1897-1956) was born on Jan. 4, 1897 in Republican Township, Clay County, the first of the Younkin offspring to be born after the second move to Kansas. When she was 20 years of age, on Aug. 17, 1917, Goldie was married to a prominent local farmer and politician, 37-year-old Robert "Ray" Gingrich (1890-1954), son of Joseph Gingrich. The groom was seven years older than the bride. Their wedding ceremony was held at the home of Goldie's sister Millie Fleming in Abilene, KS. Said the Clay (KS) Center Times, the marriage "will be of unusual interest in the county, due to the popularity of the couple among the young people of their home communities.... The marriage was celebrated in a quiet way, there being no attendants and no wedding guests aside from the immediate members of the Fleming family." The newlyweds took a honeymoon driving trip in a new Dodge automobile through the state of Colorado. At the time, Robert's father was serving as a Clay County Commissioner. The Gingriches produced six offspring -- Velda Stitt, Joe Ray Gingrich, Lloyd Leroy Gingrich, Robert Alan Gingrich, Darlene Gottfried and Ralph Gingrich. The family were longtime farmers. In 1920, the United States Census shows the family dwelling on a farm in Gill Township, Clay County. That year, 14-year-old Anna Hill lived in the household as a servant girl. The Gingrich brood relocated during the 1920s to a farm in Wakefield, Clay County, and they are shown there in the 1930 census. When the federal census enumeration was made in 1940, Goldie and Ray and their six children continued to reside on a farm in Gill Township. Ray passed into eternity on March 22, 1954. Goldie Ethel died just under two years later on Jan. 21, 1956. They repose for eternity in Mizpah Cemetery in Clay County. [Find-a-Grave]
Granddaughter

Velda Gingrich (1920- ? ) was born on Jan. 10, 1920. She was joined in matrimony with Dale Stitt

(Nov. 30, 1919- ? ). They did not reproduce. Their home in the early 1990s was at 1611 Ninth Street in Clay Center. Velda provided valuable information about these Younkin and Kreger branches to the founder of this website in the early 1990s.The Stitts were pictured in the July-August-September 1991 edition of the

Younkin Family News Bulletin

. In a letter penned in August 1991, she wrote:
I am ashamed to say that this is all I have... We are both retired. I taught school (the old one-room, country type) for 17 years at the same time we were run & owned a country gasoline station, and farmed 160 acres we owned. In 1962 we sold the farm & gas station & moved to Clay Center. They had just started the construction of our new high school. We bought a newe house just across the street from the school. The construction boss wanted to hire Dale so he worked there until it was finished & when it opened in the fall of 63 he was hired as custodian and held that position until we retired 8 years ago. I worked up there in the lunch room kitchen for 18½ years. Now we go to a lot of auctions and have done some traveling. Just wish it wasn't so far to Somerset (PA).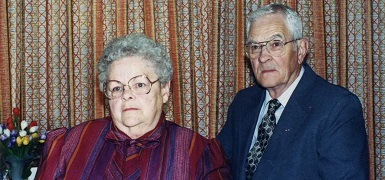 Velda (Gingrich) and Dale Stitt
Grandson Joe Ray Gingrich

(1921- ? ) was born on Dec. 12, 1921 in Clay County. He wedded Elva Wilson (Aug. 8, 1921- ? ). Their children were Barbara Gaylord and Melanie Mueller. Joe Ray was a professor of agronomy and spent time in India, Korea, Pakistan, Africa, South America and the Philippines.
Grandson

Lloyd Leroy Gingrich

(1924- ? ) was born on Sept. 5, 1924 in Clay County. He was united in wedlock with Eunice Butler (Aug. 25, 1925- ? ). They were the parents of Scott Gingrich and Janice Kahle Vander Veldte.
Grandson

Robert Alan "Bobby" Gingrich

(1927- ? ) was born on July 19, 1927 in Clay County. He was wed to Betty Engert (April 19, 1931- ? ). Their five children were Phillip Gingrich, Ronald Gingrich, David Gingrich, Karen Gingrich and Randy Gingrich. Robert was a longtime employee of the U.S. Postal Service and retired from this position.
Granddaughter Darlene Gingrich (1929- ? ) was born on Dec. 6, 1929 in Clay County. She married George John Gottfried Sr.

(1928- ? ). They had two sons -- George John Galtfried Jr. and Robert Dale Galtfried. Darlene was employed as a dental assistant at Fort Benning, GA, while George served with the Army. After retirement, he worked for a brick factory.
Grandson

Ralph Harold Gingrich

(1932- ? ) was born on March 9, 1932. He wedded Beverly Pettet (June 20, 1934- ? ). They produced three children -- Debra Rae Gill Chesebro, Susan Frederick Snepp and Terry Eugene Gingrich. Ralph earned a living over the years working in the field of outdoor advertising. After undergoing heart bypass surgery, he died on Feb. 22, 1983.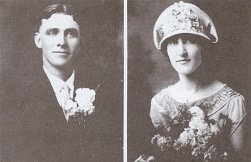 Benjamin and Iva (Younkin) Adams
Younkin Family News Bulletin, April 1992
Daughter Iva May "Ivy" Younkin (1900- ? ) was born on April 25, 1900 in Wakefield, Clay County, a twin of her brother Theodore Roosevelt "Ted" Younkin. They were the only Younkin children to be born in Kansas. She married Benjamin "Ben" Adams ( ? - ? ). They were farmers for decades. The couple produced one daughter, Elaine Harrison.
Son Theodore Roosevelt "Ted" Younkin (1900-1972) was born on April 25, 1900 in Wakefield, a twin of his sister Iva. He also may have been known as "Oliver." On July 3, 1923, in Brixey, MO, he wed Esther Eva Byerley ( ? - ? ), daughter of William and Mary Edgie (Little) Byerley of Brixey, MO. They were the parents of Doyle Nessly Younkin and William "Dale" Younkin. Ted died on July 9, 1972, in Larned, Pawnee County, KS. Esther joined in him death a year later, in Emporia, KS, on Sept. 10, 1973. They are buried in Larned Cemetery.
Grandson

Doyle Nessly Younkin
Copyright © 2013-2018
Research for this page graciously shared by the late Velda (Gingrich) Stitt, the late Olive (Rowan) Duff, the late Donna (Younkin) Logan and Linda Marker.