Home

A History of Old Bethel Church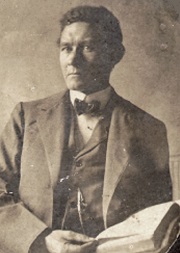 Harrison Grant King
Courtesy Linda Marker
[Note: The following is a reproduction of the original writing of Harrison Grant King and considered a partial history of the "Old" Bethel Church in Hexieberger, Upper Turkeyfoot Township, Somerset County, Pennsylvania. The original manuscript is held by Dr. Douglas W. Baker, current pastor of the Church and Grandnephew of the author.]
[Note from the late Clyde B. Miller, a cousin of Rev. Baker's: I have determined that the approximate years of writing is 1892 to February 1899, as he mentions that Hester (Weimer) Faidley had passed away 14 years before. She died in 1878. Thus, he was about 21 years old when he started writing this history, having been born in 1869.]
High up in the forties that honorable personage Elder John Hickernell, whose name and service in the cause of Christ will live for centuries in the memories of the rising generations of Gods people, made a journey from Westmorland (sic) Co., to Upperturkeyfoot Twp Somerset Co, Pa. and there preached with the power and eloquence to the people the words of God and the doctrine of the Church of God. Those journeys were made and sermons preached at different intervals and thereby the seeds of truth being sown on good ground in 1850.
(Under Elder William J. Davis, an other mighty factor for good in the service of the master whose untiring effort and rich harvest of souls are an inspiration to all who are now enlisted in the Masters service) sprang up with the result that a Church of God was organized, with Fred Dull, Jonathan Dumbauld, wife and daughter Susan and son George, Fred Kreger and wife, William Spencer, James King, Christopher King and wife Rachael, Josiah Gross, William Younkin, Rebeca King and Sarah King, with perhaps a few others, constituted the charter members of the first Church of God in Somerset Co.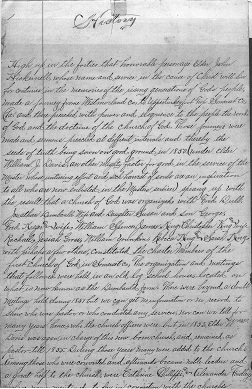 Page 1 of Harrison Grant King's manuscript
The organization and meetings that followed were held in an old log school house, located on what is now known as the Dumbauld farm. There were beyond a doubt meetings held during 1851 but we can get no information or no record to show who was pastor, or who conducted any services, nor can we tell for many years hence, who the church officers were, but in 1852, Elder Wm. Davis was again in charge of this new born church, and remained as pastor till 1855. During those years many were added to the church. Among those who were converted and afterwards became noble leaders and a great help to the church, were Cathrine Phillippi, and Alexander Faidley whose name mentioned to day in connection with the church's progress calls to the mind of those who can remember when his power the necessity of becoming Christians.
During the year of 1852, the first camp meeting was held on a site on the Dumbauld Farm near where the church was organized, this was a season of refreshing from the Lord to those enlisted soldiers of the cross. At the close of Elder Davis time in 1855 Elder J.J. Miller became pastor remaining in charge of the church for about two years 1856 and 1857. It may be well to state here that during several years previous, up to perhaps the early part of 1857, the members of the Church of God, held their meetings in a Methodist church house located on what is now known as the Alexander Rhoads farm.
About this time on account of some difficulty between these churches, the Church of God people were prohibited from meeting there, whereupon they formulated plans and secured money to erect a church house of their own, with the result that towards the dose of 1858 they dedicated the church house then called Bethel, later Old Bethel. Some difference as to location occured but this was overcome and a lot purchased of Alexander Cunningham in Upperturkeyfoot Township Somerset Co. Penna. where the church house still stands.
Quite a difficulty has been met by the writers at this point, as to who really was pastor of the church for the latter part of 1857 and the year of 1858. The honor has been attributed by some of the aged brothers and sisters who were then members, to Elder Seth Richmond the year of 1857, and the year of 1858, to Elder John A. Plowman, while others attribute the year 1858, to Elder John Hickernell, and give Elder Plowman 1857. The most prevalent belief however is that Elder William 1. Davis was the pastor in charge when the church was dedicated which was close towards the close of 1858.
After a careful search of records including the record of Elder Davis pastorate as given in the history of "Our First-Half Century" by Elder S. G. Yahn, and also gleaning from the memories of Brothers and Sisters, the writers are inclined to believe that Elder Davis was pastor in charge when the church was dedicated, notwithstanding the fact that Elder Yahn in his biographical sketch of Elder Davis says that he did not come to Somerset Co. till the beginning of 1859. Another argument in favor of Davis is that a second camp meeting was held in 1858, and the aged Brothers and Sisters are unanimous in declaring that Elder Davis was then pastor in charge, but leaving that unsettled matter in silence.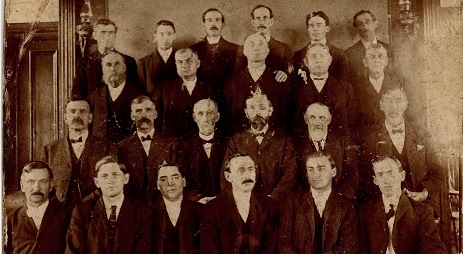 Church of God pastors, including several of Old Bethel's, at a General Conference meeting. Top row, L-R: R.B. Bowser, L.E. Yahn, S. Fulmer, R.N. Dillon, F.O. Aiken, J.O Martin. 2nd row, L-R: H. Armstrong, H.L. Hall, J.S. Boyd, J.T. Byers, W.H. Means. 3rd row, L-R: W.J. Umstead, W.B. Elliott, R.L. Byrnes, S.G. Yahn, J.C. Cunningham, D.A. Stevens. 1st row, L-R: T.S. Woods, J.W. Whisler, W.W. Anderson, J.L. Updegraph, W.H. Guyer, G.M. Hulme.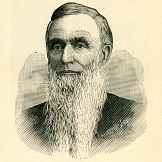 Rev. John Hickernell
It might not be out of place to say here that Joseph Hostetler, Foster Waible, and H.D. King were the parties who erected the church house, of whom the two former have crossed to the other side and the latter is still living and is a member of the church having joined in later years. Elder John Hickernell preached the dedicatory sermon in 1858 and very soon after there was at least one sermon preached by Martha J. Beecher, the first female preacher licensed in the West Pennsylvania Eldership and perhaps the first in the state. We are sure that Elder Davis was pastor in 1859 and perhaps a part of 1860. His labours were blessed by the addition of between thirty and forty new members to the church and among them Andrew Schrock and Ephraim Minor. The latter is still living and is an active member of the church.
Nor let us fail to mention Sisters Delilah Younkin and Hester Faidley, the former still living and a member of the church, of her we can say she hath done what she could and the recollections of the good she done for the cause and Kingdom will live long after it is said of her body dust to dust, ashes to ashes. And while the latter has gone to her reward some 14 years ago her name is dear to the church today, for her motherly kindness and her deep love and interest she manifested for the church "Down life's dark vale we wander" was one of her favorite hymn's.
During the following 3 or 4 years the church pastorate was filled by Elder Benjamin Walker, a venerable and eloquent minister who has ever since remained in this county and is now a member of the Church of God at Kingwood. The earnest zeal which he onced displayed as a fisher of men has somewhat cooled and he has these many years ceased to be a minister in that sense, but suffice to say during his 3 or 4 years as pastor in Somerset Co. the church kept the course set by Elder Davis. As an illustration, during one of his revivals which lasted for forty successive evenings more than sixty souls was converted to the living faith, sister Louis (sic) Williams, who is still living and whose life work as a member of the church is known to all was converted at one of these revivals. Great good was done for the church, and in the language of Elder Christopher Kreger "I know of no minister that I have heard that could excell Elder Walker in awakening the sympathies of an audience when he wished to do so."
[Editor's note -- Rev. Walker is known to have performed the weddings for Joel and Catherine (Seneff) Minerd on Sept. 15, 1861 -- Martin and Amanda (Williams) Miner on Jan. 1, 1867. -- and Squire and Dianna (Nicklow) Shipley on Jan. 5, 1867.]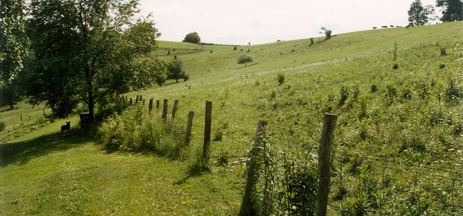 Farm where the 1866 tent-meeting was held -- owned over the years by Jacob Minerd Jr. (1837), Henry Minerd (1848), Samuel Storm (1849), Garrett Forespring (1851), Alexander Rhoades (1859), William J. Baer (1864), John F. Kreger (1866), Irvin Younkin (1885), Milton Bruce, Ella and Susan Younkin (1897), Marcellus Tressler (1901), Chester Tressler (1930) and Paul C. Tressler (1968).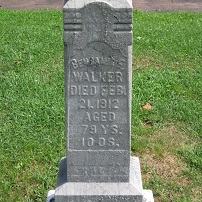 Rev. Walker's grave, Kingwood
Following Elder Walker in 1865, Elder John A Plowman was pastor in charge, Mary Sanner, still a member of the church, Sarah Romesburg and others were added to the church. It was during this year that the brothers and sisters under their pastor's leadership again and for the third time erected large tents on what is now known as the Irwin Younkin Farm for the purpose of holding another good old camp meeting and which was held but not till after some wicked person or persons had burned them to the ground and the undaunted soldiers of Christ had again erected their tents on the site where the former ones had stood.
In 1866 Elder Miles Pritts was pastor according to best authority obtainable. Of his success we have gleaned little, yet being assured that good was done, we pass on to the eventful years of 1867 and 1868. Elder John A. Plowman was pastor of the church during these years which were rich in the harvest of redeemed souls by and for the Master.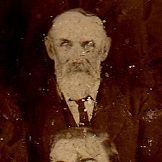 Rev. J.C. Cunningham
During a revival in 1868, that lasted for 6 weeks, more than 90 souls were converted. In the language of an eye witness of this "when the meeting closed there were no more to be converted at that time." This church being the only Church of God in the county at that time, the people came long distances to see and hear the great soul awakening. In 1869 Elder H.M. Lynn, was pastor he having assisted Elder Plowman in 1868 remained or was returned as pastor for 1869.
A reader familiar with the church to day who reads these lines might think this the end of the churches progress, but at the close of 1869, or the beginning of 1870, and for the next three years Elder William J. Davis, that now familiar warrior of Christ, was pastor and leader. As to his success I quote from our "First Half-Century" by Yahn. "He returned to Somerset County and laboured for three years more, his work was blessed with about one hundred conversions and his salary was $320 Dollars being the highest remuneration he had yet received." Near the end of these years Bro. H.H. Phillippi was converted and let us say in honor of his work as a member of the church, he has ever been a noble leader in church and Sunday School, and as his steps are now growing feeble and his locks while with the snow of age, when he answers the roll call up yonder the church will miss a leader whose place they scarce can fill.
Let us say here that up in the sixties many able sermons was preached at Bethel by such long to be remembered ministers as Elder Jacob M. Domer, Elder Peter Loucks and others. With the passing years 1873 and 1874 Elder John Hickernell was placed in charge, but for reasons we do not know he did not remain his alloted time and Elder Edward Jordan was here as pastor till about the close of 1875 when Elder Shadrach Woods assumed charge as pastor and remained until the fall of 1877. We need add no eulogy of honor or praise to his name or work, as it will be perpetuated for years to come in the minds of living epistles.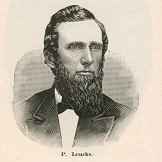 Rev. Peter Loucks
It was during this term of Elder Woods on October 8th 1876 that the church house at Kingwood was dedicated and it was from this date that now Old Bethel ceased to be the lone Church of God in Somerset Co. From Oct. 1877 to Oct. 5.1879, Elder William B. Long, was pastor of Old Bethel, and for the next two years or till October 1881, J. G. Bartlebaugh was pastor in charge, he was assisted for a short time by Elder S. B. Crafts. It was during these two years of Elder Bartlebaugh's pastorate that the two great and last camp meetings was held in 1880 on the J. L. King farm near Kingwood and in 1881 in September on or near the old site where the tents were burned nearly twenty years before. These were happy and refreshing times from the Lord and quite a number professed faith in the Spirits saving power.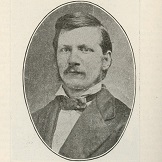 Rev. Thomas S. Woods
At the close of 1881, Elder J. C. Cunningham took up the labor for two years or till October 1883. J. W. Bloyd was pastor for one year from Oct. 1883 to Oct. 1884. Elder John Galantine from the fall of 1884 to October 1885 when Elder Abner Flowers was assigned as pastor. He was assisted by his father Elder Franklin Flowers, they remained on the work only about four months when they left the circuit, which since Oct. 8, 1876 embraced the church at Kingwood. Elder T.S. Woods assumed charge and completed the unexpired year and was returned for one year more or till October 1877, when Elder J. C. Cunningham became pastor in charge for four years or till the fall of 1891 and during the year of 1892 Elder Cunningham and Elder T.S. Woods preached at Old Bethel alternately each filling additional appointments in the County. In the fall of 1892, Elder Shadrach Woods again, and for his last time, became our pastor at Old Bethel also at Kingwood and Milford, the latter having been since 1891 a part of the circuit.
Following Elder Woods, Elder J.R. Campbell was pastor till Oct. 1895 one year, when he was succeeded by Elder Herbert Dyke was pastor of Old Bethel for two years or till Oct. 1897, when by order of the West Penna. Eldership Old Bethel was severed from Kingwood and Milford, having the church standing alone. We might here say that the church house had by neglect and age become almost unfit for service, and the church being weak financially, the members were quite discouraged. Elder J. O. Martin was sent by the Eldership as pastor and by his efforts and kind encouragement during the year of 1898 its close saw the Brothers and Sisters in Christ greatly encouraged and plans well under way to repair the house, so that February 5, 1899 found Old Bethel thoroughly repaired and it was rededicated on the above date, Elder William B. Elliot preaching the dedicatory sermon. It was also on this date that the name of the church was changed from Old Bethel to (Alpha)."
Reproduced with consent of Rev. Dr. Douglas W. Baker. Images courtesy Linda Marker and Minerd.com Archives.
Page copyright © 2017-2018, 2020 Mark A. Miner