Laughery Reunion Archives
Reunions of the Family of David Leander Laughery and
Martha Jane Harbaugh Since 1965, Continuing Today
Beginning married life together in Fayette County, PA, David Leander and Martha Jane (Harbaugh) Laughery made a major life decision in about 1911 to uproot their family of children and relocate to Delaware. They settled on a farm near Farmington, Kent County, on Farmington Road in Kent County.
Only daughter Cathleen, married to Percy Martin, remained behind in Pennsylvania. The five others -- Leona, Ira, Arthur, Anna May and Willis -- made the move to a new life and home in a new state.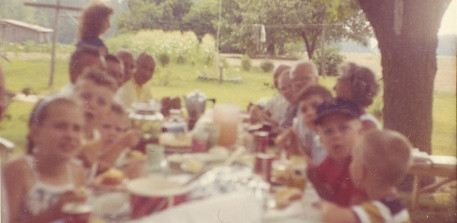 Laughery picnic in 1963, on tables in the front yard of Willis and Dorothy's home. This led to the creation of the Laughery Reunion in 1965, an annual event which continues today in Delaware.
More than a half-decade later, the adult children of David and Martha, now married with their own broods of children and grandchildren, held a family picnic at what was now the "old home place" in Farmington. The event was so well-received that the clan decided to meet again each year. In 1965, the event was formalized into the annual Laughery Reunion. Some of their cousins from Pennsylvania occasionally made the long trip to attend, among them of the families of Cathleen Martin, Cyril "Edgar" Ream and Charles David Ream.
They continue today, held on the third Saturday of August, with attendees now counted among the fourth and fifth generation of descendants of David and Martha. The 2012 reunion will be the family's 48th yearly gathering.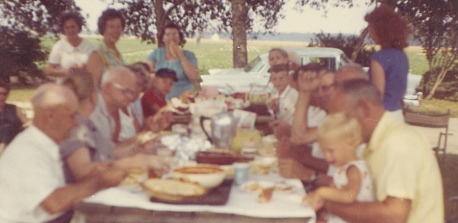 Laughery picnic lunch at the "old home place" in Farmington, DE in 1963.
~ Laughery Reunion Presidents Since 1965 ~
| | |
| --- | --- |
| 1965 - Willis Harbaugh Laughery | 1994 - Nancy D. Thompson |
| 1966 - same | 1995 - Susan Thompson Powell |
| 1967 - Robert Vincent | 1996 - Nancy D. Thompson |
| 1968 - same | 1997 - John Winand |
| 1969 - Ronald Case | 1998 - Ronald B. Case |
| 1970 - same | 1999 - same |
| 1971 - JoAnn Thompson | 2000 - same |
| 1972 - same | 2001 - Jerry Thompson |
| 1973 - Ronald Case | 2002 - same |
| 1974 - same | 2003 - same |
| 1975 - same? | 2004 - Keith Winand |
| 1976 - Loretta Downes | 2005 - same |
| 1977 - Harry Winand | 2006 - Tim Douglas |
| 1978 - same | 2007 - same |
| 1979 - Robert Vincent | 2008 - same |
| 1980 - Steve Winand | 2009 - Steve Winand |
| 1981 - same | 2010 - Tim Douglas |
| 1982 - Irene Vincent | 2011 - Sheila Laughery |
| 1983 - Gene Passwaters | 2012 - Karen Case Holman |
| 1984 - Alvin "Buck" Thompson | 2013 |
| 1985 - same | 2014 |
| 1986 - Harry Winand | 2015 |
| 1987 - David Laughery | |
| 1988 - Clayton Downes | |
| 1989 - Alvin "Buck" Thompson | |
| 1990 - Steve Winand | |
| 1991 - Ron & Peggy Case | |
| 1992 - Susan Thompson | |
| 1993 - Susan Thompson Powell | |