World War II
Through a Porthole
Part 1 of 4 - A Memoir of Wartime By James Melvin Younkin
Edited By His Daughter, the Late Diana (Younkin) Egan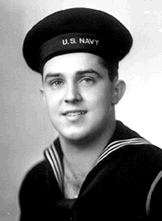 James Melvin Younkin Sr.
Introduction: The late James Melvin Younkin, son of Alfred Arthur and Lillian (Rhoads) Younkin, was an apple-grower in Washington State who served aboard the U.S.S. LaSalle during World War II. In 1998, his daughter Diana (Younkin) Egan lovingly compiled and published his memoirs in a small booklet for the Younkin Reunion-West. We are grateful for Diana's vision and dedication, as well as for her interest in having her important work re-published on our website. Sadly, she passed away in 2006.
In Diana's words: "This chapter in the history of an American patriot is both singular and yet representative of the experiences of many servicemen who fought in the Second World War. If there are others in the family who would like to share their stories, I envision a book of many chapters."

Diana (Younkin)
Egan
I STILL THINK AND DREAM about the minutes I spent floating in that cold water. At one time, I saw my ship upside down, coming toward me. I knew I had to do something quick, so I pushed off by placing my feet against the hull. I kept doing this until the vessel slipped past me in the rolling waters.
It was February, 1943. The United States was expecting Japanese attacks anywhere along the long western coast, and Navy patrols were part of the domestic defense. Just off the Oregon coast, I was on a 135-foot wooden minesweeper along with 28 other sailors when the ship was struck by tremendous wind and lashing seas. The skipper asked the helmsman to put the wheel hard over and head out of the bay and back to sea. Such an order under the circumstances might have afforded an incentive for a second "Caine Mutiny," but the command was obeyed. When the vessel came broadside to the watery onslaught it was struck with such force that it rolled over not once, but time after time.
One sailor aboard our ship had made a comment a few hours before that he did not need a life jacket; he was a good swimmer and could make it. After the ship passed me, who should emerge alongside of me, but this sailor who was a good swimmer. I hung onto him as long as I could but after the third 30-foot-wave washed over us both I could no longer hold the man, and he slipped beneath the surface of the 45-degree water. He was one of the 15 who died in the accident. I was glad that I had a life jacket on.
Luckily for us, there was a Navy observation plane that arrived minutes after the upset. Manned by L.T. Barco and O.K. Novak, they helped guide the rescue boat to men in the water.
The Coast Guard rushed to rescue the men. After being in the cold water for almost an hour, I heard someone say, "Grab the boat hook so we can pull you in." I did. I was the first one in the Coast Guard boat. Then another survivor, P.T. Palafox, a Filipino mess attendant, came in.
How many more they pulled in, I don't know, as I must have fallen asleep. From the Coast Guard lifeboat we were put aboard an Oregon fishing boat, Five Brothers. The Coos Bay-built 50-foot boat had accommodations for six, but they now had to hold 34. The Coast Guard boat had also capsized, and everyone had to crowd onto the tough tuna boat.
Manned by captain R.G. (Tony) Graham, and helped by brothers Richard, Sterling and John, the fishermen used blankets, coats and life preservers to keep the injured warm and comfortable. All my gear, including heavy foul weather clothing, was gone.
The high waves and strong wind kept the ship from reaching port, and we were aboard the rescue boat all Saturday night. The Navy flyers dropped off medicine and food, while we wallowed in the night.
Our captain, Captain Leitz, and Richard Manion, a Navy pharmacist's mate known as "Doc," kept our minds off the trauma by assigning watch to those who were able, and caring for the injured.
The next day, amid calm seas we arrived at Port Orford, and a safe harbor. We were later transported to the Coos Bay naval hospital, and stayed there for a week or so.
I had enlisted in Seattle, Washington in May, 1942. I went to the recruiting office by myself because at that time I was working in Seattle. Raised on an apple farm in Wenatchee, Washington, I knew a lot about making wooden boxes, picking and packing fruit, and driving a tractor. Now I would have a new career. I chose the Navy because I wanted to see the world -- through a safe porthole. I had no choice of where I would serve; I became the property of the U.S. Navy.
After six week of boot camp training at Bremerton, Washington, I was assigned to a yard mine sweeper and spent nearly seven months stateside. I was not expecting to be thrown in the water so close to home. Now, the mine sweeper was gone and I was to have a new assignment. My full name is James Melvin Younkin, but I went by "Jim" or "Younk" in the service.
We were due to transfer to Alaskan waters, as part of the defense there, but our orders were changed, and on March 30, 1943, I traveled by train to San Francisco where I was assigned aboard an A.P.A., the U.S.S. La Salle. On April 14 we went to Oxnard, California, and then set out across the Pacific. We called her the "Lucky Lucy" because she went through World War II without being sunk.
The news was not good from the Pacific. The Japanese were getting control of that largest of oceans from Alaska to New Guinea; from China almost to the Hawaiian Islands. I was anxious to see some action myself. My older brother, Leland, had been in the fight from the first, as a pilot in the European theater. We sailed to Port Huenome and loaded 1,200 Sea-Bees to where we did not know.
According to Sidney Moody in his book, War Against Japan, the war became "one of supplying resources for the Americans fighting Japan, a war Japan could not win, as its few visionaries had foretold. Every U.S. fighting man was backed up by four tons of equipment, each Japanese soldier 21 pounds. Everything they eat, everything they wear, every place that they live has to be brought in from the United States,' said Navy Capt. M.B. Gardner." (page 81)
The necessity of moving troops and their equipment fell to us, the transport ships. As the war went on we got better and better at our job. There were lots of things for me to get used to aboard this large ship. One thing was the food.
There was one continuous chow line. All they could serve was stew and beans. I lost 8 pounds in the first couple of weeks.
We crossed the equator and the 180th Meridian. We dropped anchor after 18 days at Vita Lavu, Fiji Island on May 3, 1943. While laying at anchor at Vita Lavee my good friend from Pasadena, California, Bob Staley, and I decided to go ashore. We had heard that there was some ripe juicy pineapples somewhere on the island.
So ashore we went and where to go we did not know. We noticed two natives waiting along a road for a ride. We stood by them and soon an Army truck came and the four of us climbed aboard. We noticed that each of the natives had a couple of gunny sacks.
Not knowing how to speak Fiji, we smiled and followed them. The truck stopped and of course all four of us got off. Luck was with us for they were after pineapples also. After some time doing hand signs, we learned how to distinguish the ripe pineapples from the green fruit.
It reminded me of home, picking ripe apples for color. Bob and I caught on fast and soon had a large pile of pineapples. Now, how to bring them back to the ship?
The two natives appeared with their gunny sacks full of fruit, also. They looked at our pile and shook their heads. "Crazy Yanks," they seemed to say. But, they helped us by stripping off bark from nearby trees and weaving our fruit into strands we could carry.
Now it was time to return to the ship. The natives took us to where some narrow gauge train tracks were. During peace time these trains were used to haul the sugar cane, pineapples and workers to and from the large fields.
Now, the trains just rank back and forth between the harbor and the fields. The trains did not stop, they just traveled slowly along; it was up to the passengers to get on and off.
We figured out that when the train came we had to throw our pineapples onto the front car, then grab for the next. We threw our fruit loops into the first car, jumped for another car, and enjoyed the ride back down toward the harbor.
There were many natives aboard already, and most of them got off when the train stopped at a swimming area. Away the men, women and children went, stripping off clothing as they walked toward the water.
The tracks ended near the harbor, and we got off with our pineapples. When we got aboard ship, everyone wanted to be best friends with us. We had not had much fresh fruit, and the pineapples were a welcome relief from dried stores.
The temperatures in Fiji were hard to take compared to chilly Puget Sound and Coos Bay. It was 100-plus degrees Fahrenheit day or night. When we left the Fiji islands we headed for Naume, New Caledonia June 3, 1943 to June 7, 1943.
Next month: Mel makes money running clandestine non-military operations (better known as a poker game in the ship's laundry) ... and decides that excessive facial hair is not the best way to attract dance partners.
Copyright © 1998 James Melvin Younkin and Diana (Younkin) Egan.
Published on Minerd.com with permission.