Home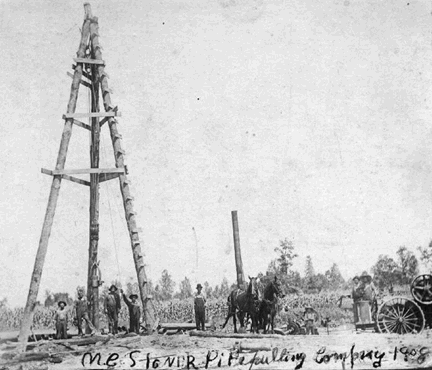 When oil was discovered in 1859 by Edwin Drake at Titusville, PA, and then easily refined into kerosene, it became a new and inexpensive source of energy for Americans. "This burning fluid extended the day in the cities and removed much of the lonely darkness from rural life," writes Ron Chernow in his national bestseller, Titan: The Life of John D. Rockefeller Sr.
For many years, Western Pennsylvania was the only major petroleum source in the nation. Then, in the 1880s, oil was found in abundance in Ohio and West Virginia, spawning a new industry on a much larger scale that employed many of our Minerd-Minard-Miner-Minor cousins. Later, discoveries in Kansas, California, Oklahoma and Texas led to the migration of some of our cousins to these regions.
In 1890, one of the richest oil fields in West Virginia was discovered at Sistersville, Tyler County. Entrepreneur Nathan C. Stoner and his wife Letitia (Harbaugh) Stoner moved to Sistersville where he began to manufacture vacuum pumps to support oil and gas drilling operations. This photograph, dated 1908, shows his workers preparing to pull a pipe from a well under his supervision. (He's standing in a bowler hat and overalls just to the left of the horses.) Later, after West Virginia's oil production passed its peak, the Stoners moved to Robinson, Crawford County, IL, where Nathan was a leasing agent for oil properties.
Copyright © 2004 Mark A. Miner