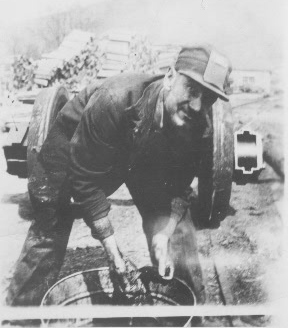 Arthur " Earskin" White (1884-1935), the son of George H. and Ella (Daugherty) White, is one of a mindboggling 27 known cousins in the extended Minerd-Minard-Miner-Minor family to lose his life in the industrial workplace. Here, he washes his oily, grimy hands in a bucket at W.J. Rainey Inc.'s Clyde Mine near Fredericktown, Washington County, PA, shortly before he met a tragic death there.
A machinist by trade, Earskin is one of hundreds in our clan to have labored in the coal, coke and steel industries. He is said to have been president of the United Mine Workers of America local union No. 688, the second person to hold that office. Tragically, on Thanksgiving Day 1935, he was found badly injured, with a fractured skull, after falling into a coal barge while working at the Clyde Mine. He died a day later at Brownsville General Hospital, at the age of 57. A newspaper article claimed that just prior to his death, he had drawn his first pay in more than a year due to debts he owed to the company store. His remains were laid to rest in the Hopwood Cemetery, near the final resting place of his grandparents and great grandparents.

This is one in a series of photographic images published on Minerd.com in 2007-2008 to promote our 2008 "Pittsburgh 250" reunion and to acknowledge the family's collective, long-term contributions and sacrifices to Western Pennsylvania as the city celebrates its 250th birthday.
Copyright © 2008 Mark A. Miner