Home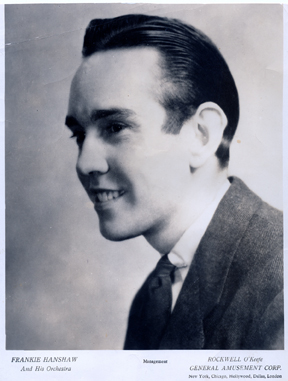 New York-born Frank Wayne Hanshaw Jr. was a longtime talent agent with General Artists Corp., heading offices in New York, Cincinnati and Miami. He dealt primarily with big-name stars, and arranged Midwestern and Southern night club and theatre performances for the likes of Perry Como, Johnnie Ray, Eddie Fisher, Patti Page, the Dinning Sisters, Paul Weston, Cab Calloway, Conway Twitty and others. He also "played a role in aiding the early careers of such artists as Nat 'King' Cole, the Four Lads, Stan Kenton, Bobby Darin and many others," said the Atlanta Journal Constitution.
While in General Artists' Miami Beach office, said the Miami Daily News, Frank's work involved "booking Miami Beach nightclubs and spots in South Carolina, Alabama, Georgia, Puerto Rico and until Fidel Castro came into power in Cuba." During their years in Miami, Frank and GAC represented superstar Jackie Gleason. Later, he became president of the Arnold Agency, Inc., "one of the South's oldest entertainment agencies," said the Journal-Constitution.
Frank's wife W. Jayne (Fowler) Hanshaw later was president of the Arnold Agency, and was one of the first women franchisees in Georgia for the American Federation of Television and Recording Artists (AFTRA) and Screen Actors Guild (SAG).
Copyright © 2009 Mark A. Miner