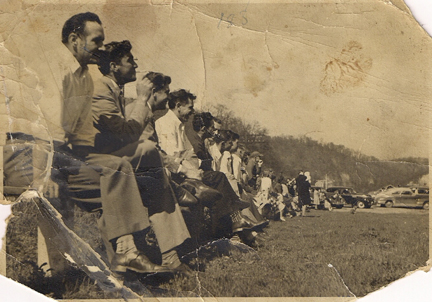 Ralph

William
In the quiet, peaceful years following World War II, brothers Ralph Lorenzo Minerd (left) and William Byron Minerd (sixth from left) enjoy a baseball game in the summer of 1949, in or near Clarksville, Greene County, PA. Their faces are enlarged here for easier identification.
The brothers both were military veterans of the war, as were their brothers Thomas Minerd and Clifford John "Tip" Minerd. They were the sons of Wade Lorenzo and Sarah (Farr) Minerd -- and grandsons of Thomas and Katherine (Ramsey) Minerd of Smithfield, Fayette County, PA.
Having not seen each other during the war for nearly four years, Ralph was digging a foxhole in France one day when to his great surprise his brother Thomas drove up in a jeep. "Even though their visit was short," said a newspaper, "it will be one long remembered, they stated in letters home."
Copyright © 2009 Mark A. Miner