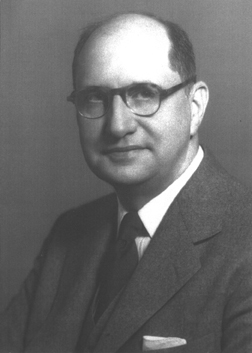 Donald Miner Davidson Sr., Ph.D., (1902-1960) was a renowned geologist in Africa, Europe and the United States who rose to become president of the E.J. Longyear Company in Minneapolis and was inducted in 2002 into the National Mining Hall of Fame. He is one of many hundreds in the extended Minerd-Minard-Miner-Minor clan to work in the coal and minerals industries over the past two centuries.

National Mining
Hall of Fame logo
Mining Engineering magazine once quoted his belief that "attitudes are more important than techniques, that people are more important than rocks." He is mentioned in numerous Who's Who volumes for his stature in the industry, and authored many scholarly publications preserved today in our family archives.
Donald's career with Longyear primarily involved the search for iron ore in the Mesabi Range of Northern Minnesota. The company's business model was to drill for other prospectors and invest in real estate. His hall of fame biography states that "In the years from 1945 to 1960, he logged more than 1 million travel miles in propeller aircraft." Another of his more ambitious efforts was a joint venture with Kennecott Copper and Calumet and Hecla Copper Company in the 1940s which sought to extract underlying mineral deposits in Utah. He also helped produce a first-ever accurate survey and map in the 1950s of the geological resources of Angola and Mozambique. Born in Illinois and raised in Minnesota, he was the son of Isham "Gaylord" and Eleanor "Frances" (Stillman) Davidson.