Home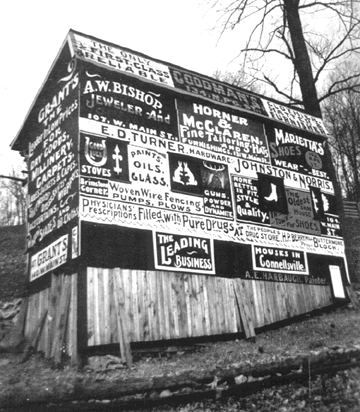 If you look closely at the bottom right-hand corner of this billboard-like building, from the early 1900s, you will see the words "A.E. HARBAUGH, Painter." The shed, likely in the Connellsville region of Fayette County, PA, was decorated with advertising signs for some of the leading businesses of the time and place.
The artist, Allen Edward Harbaugh, bore the nickname of "The Mountain Poet" and used the pen-name of "Al-Ed-Ha." Based in Mill Run, just a few miles from where Fallingwater would later be built, Harbaugh was a true Renaissance man. He was a poet, journalist, sketch artist, sign painter, historian, economic development champion and political analyst. He also was a Minerd family genealogist, with his 1913 family history serving as a vital framework for our understanding of the early generations.
Beginning in the 1860s, when he learned the trade of printing and his word and math puzzles appeared in a children's magazine, Harbaugh's name was known throughout the Fayette County coal region, and at times beyond. His works were published in newspapers, books and magazines, and at his death, the Pittsburg Press and Pittsburg Gazette Times both called him the "Mountain Poet" and noted his work as an editor. On Christmas Eve 1888, his powerful sermon from the pulpit of the Indian Creek Baptist Church was so well-received that the congregation broke into a storm of applause. The 2,400-word sermon, entitled the "Joys of Christmas -- Christ Brought Us Life, Light and Divine Grace" -- was reprinted in the Uniontown Genius of Liberty newspaper, and is republished here in celebration of the 2005 holiday season.
Copyright © 2005 Mark A. Miner